Microsoft's dual-screen Surface Duo will be coming later this year and it will have a little bit of everything. You'll get the productivity and all apps you love on Android, a touch-friendly Android interface powered by Microsoft Launcher, and the premium Surface design and branding.
But what if you want to go out and buy something like this right now (without the phone or dual-screen features?) I recently purchased a Samsung Galaxy Tab S6, and as a Microsoft fan, I find that it's filling the gap and fits all my tablet needs ahead of the Surface Duo release.
Design: Just like the Surface lineup.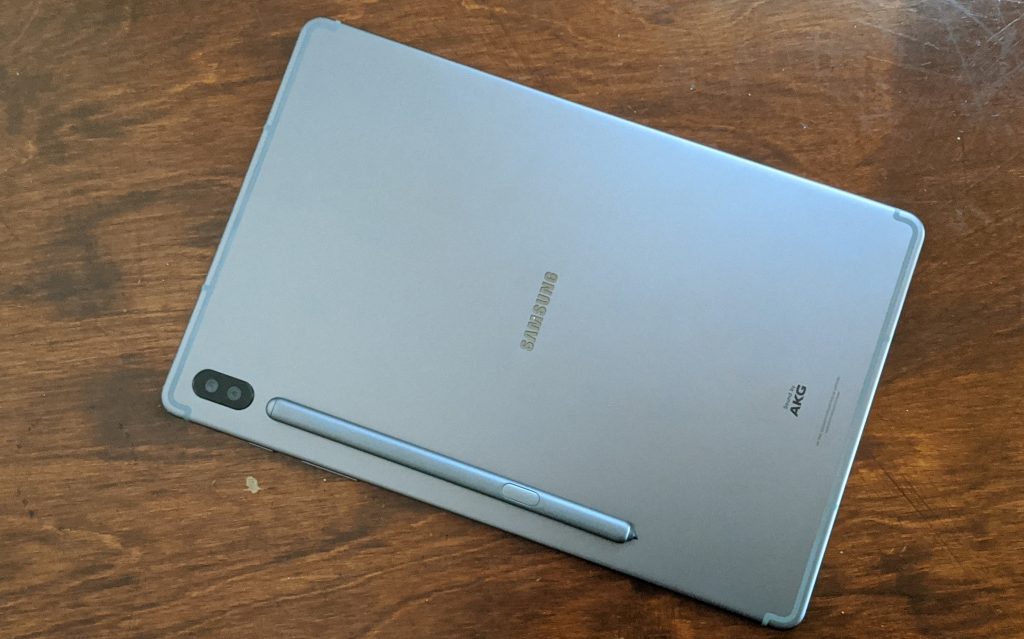 Starting at $649 (with the optional keyboard coming in at another $179,) there's a lot to love about the Galaxy Tab S6 for the price. With a glass front, aluminum back, and aluminum frame, the device feels absolutely great in the hand. I've reviewed the Surface Go before, and both devices have similarly sized 10-inch screens (Samsung's is bigger at 10.5 inches,) but I couldn't help but to prefer the Galaxy Tab S6. It's rounded corners and square edges just feel so great in the hands. It makes me eager to see what the Surface Duo will feel like in my hands, too.
Coming in at 9.63 x 6.28 x 0.22 inches in dimensions, and 0.92 pounds, the Tab S6 is also quite lighter than any Surface device I've ever used. For comparison, the Surface Go is 9.65 x 6.90 x 0.33 inches in dimensions, and 1.15 pounds in weight. We obviously don't know much about the Surface Duo yet, but Microsoft has told publications that it would be 0.19 inches thick. If it holds up to be true, that would be the same as around the same as the Galaxy Tab S6.
But of course, the Galaxy Tab S6 is not a dual-screen device like the Duo. It's rather a traditional single-screen Android tablet. But, it can behave like a dual-screen device, without all the awkward folding and the hinges.
As weird as it sounds, that's largely in part thanks to the slim bezels around the screen. Coming in at 10.5 inches and at the 1,600 x 2,560 resolution (287 PPI,) this tablet is designed for productivity. It isn't foldable, like the Duo or the Galaxy Fold, but with such slim bezels, and a beautiful AMOLED panel, the Tab S6 works very well for multitasking.
As I describe later, I was able to use it to get some work done, and even use it to write this review. The slim bezels invite you to snap your Android apps side by side, pick up the Spen and draw, or just glide your fingers across the screen. The display panel is also great for media consumption too. With its peak brightness of around 473 and the use of an AMOLED panel, colors can get extremely vivid and bright. After coming off using a Surface Laptop 3 for work, the Tab S6's panel makes the Surface's look boring.
For some additional comparison, the Surface Duo two 5.6-inch screens fold out to a total of 11.2 inches. The resolution, meanwhile, was rumored to be 1,350 x 1,800 on each of the two displays. Obviously, though, the Duo is visually flanked by thicker bezels. It's also larger, but if you're considering buying or using the Duo as a tablet-only, the Tab S6 is the closest you can get right now thanks to its beautiful screen and design. It's not too big, not too small, nor is it dull.
Specs and Performance: Can it shape up to be just like the Duo?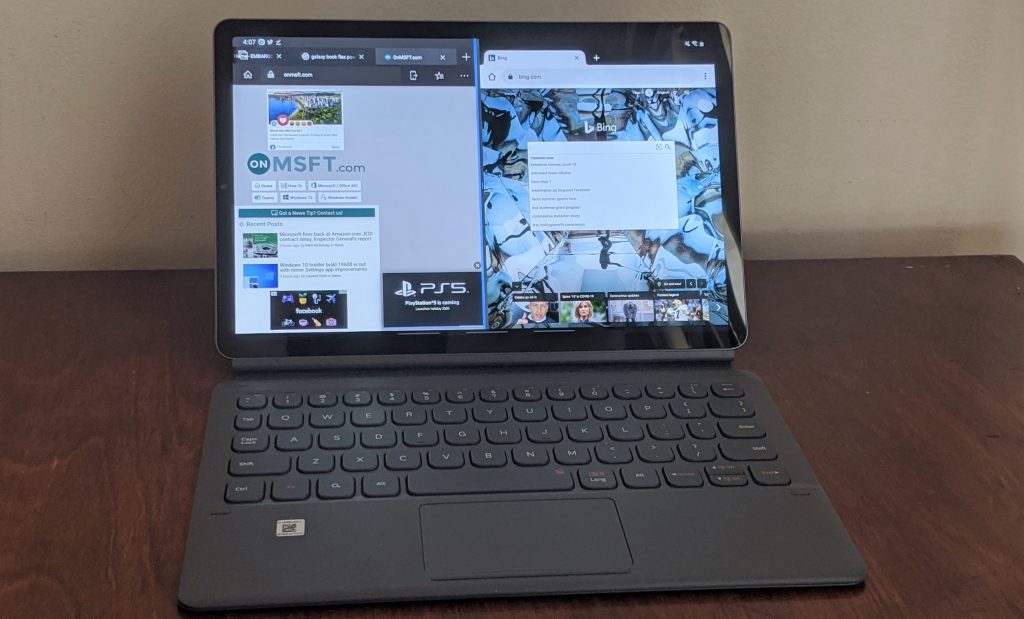 Under the hood of the Galaxy Tab S6 is something that should sound familiar to Microsoft Fans: a Qualcomm Snapdragon 855 processor. Microsoft hasn't officially said what processor would be in the Duo as of yet, but it's widely believed that the Snapdragon 855 will be Microsoft's choice. Some have argued that this might be "last-gen" technology whenever the Duo launches, but with my experience on the Tab S6, I think there's little reason to worry.
Simply put, the Snapdragon 855 inside the Tab S6 is a true beast. Paired with 6GB of RAM on my model (and 8GB of RAM if you buy the model with 256GB of storage,) there isn't anything this tablet couldn't handle. When opening up both Chrome and Edge side by side, the tablet was easily able to juggle a combination of 10 tabs across both browsers. It also handled games like Fornite and Pokemon Go and Animal Crossing: Pocket Camp with ease.
Switching between all the open apps and games was also buttery smooth, and I never once experienced any slowdowns, crashes, or freezes. Once I went to the list of open apps when in split-screen mode, Android would automatically show my open apps switch me into the second app I needed. I find this a bit similar to those "swiping" gestures Microsoft promised for the Duo and dragging apps from one screen to the next. There's even a blue bar in the middle when multitasking which lets you resize apps as needed.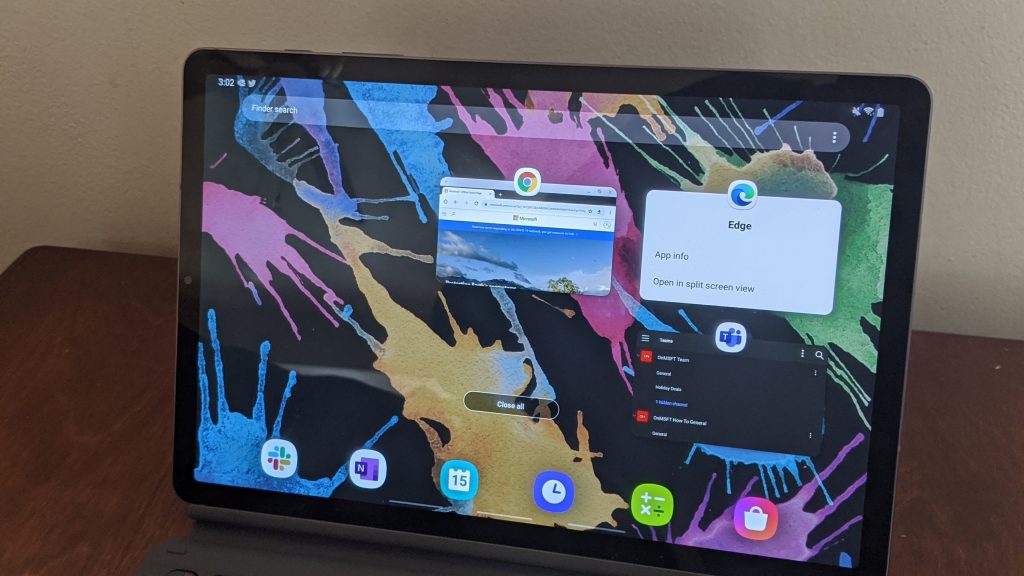 There was, however, the issue of websites giving me their "mobile" version. I had to manually make sure that sites were loading the desktop version, each time. There's also no spell check in Chrome or Edge, and I had to manually copy my posts and texts into Word to make sure everything was spelled right before submitting my assignments ( and yes there's Edge Editor, but it's not available for mobile Edge yet).
Other than that, Android really feels right at home on this tablet. Microsoft's apps especially ran smoothly. I installed Microsoft Launcher, and I enjoyed some of the same Windows to Android synergies promised for the Duo. I had a quick glance at my calendar, tasks, sticky notes, documents, and other things from my Windows PC. I opened up Word, Excel, and PowerPoint, and thanks to OneDrive, all the files I needed were available for me on my tablet. Considering that the Duo will also be powered by Microsoft Launcher, this really whets my appetite.
Battery life is also great, too. I used the Tab S6 for work, and it got me through an entire 6-hour writing shift, with roughly 30% battery left over. I carried one full charge throughout the day for both work, play, and media consumption. It's unknown to me if that's thanks to the Snapdragon processor or the OLED panel, but either way, if this tablet has enough juice to last throughout the day, so might the Duo.
I'll also want to mention that there is an LTE version of the Tab S6 available, which will let you make calls and receive texts. You will need to link your Samsung Phone to the tablet to help sync both devices. This wasn't available for me in testing, though, as I have a Google phone. There's still no phone hardware in the device, though, unlike the Duo.
Ports: One port that does it all
Much like Apple's iPad Pro, and what we can tell about the Duo, the Tab S6 has only one USB-C port. It's designed to do it all, charging data, and even as a headphone port. That's right, there is no dedicated headphone jack on the Tab S6. That might be problematic for some, but it never really bothered me.
I think Microsoft and Samsung are opting to exclude the jack for design reasons and to keep the devices slim, and there's a good reason why. I already own Bluetooth headphones and used them with the tablet. Most times, I didn't need them anyway, as the Tab S6 has a quad-speaker set up. They're located on the bottom and top half of the tablet and fire the sounds outwards. Watching old NASCAR replays was quite a joy thanks to this.
Other ports of note relate to the fingerprint sensor, which is embedded in the display. There's even an option for facial login too. Both are appreciated and make the tablet extra secure.
Camera: Compete with the Duo?
Elsewhere, there's the need to talk about the camera. Of course, this has been the most controversial area of the Duo. If someone were to use it as a tablet (as I plan to,) they'd have to "flip" the screen over to make use of the front-facing camera. There's no back camera, as there is on the Tab S6. We don't know much about the Duo camera to do a true comparison here, but the Tab S6 does make me hopeful.
It features a 13 MP, f/2.0, 26mm (wide) camera, and a 5 MP, f/2.2, 12mm ultrawide camera on the rear. The front, meanwhile, sports an 8 MP, f/2.0, 26mm (wide) selfie lens. I never was one to use a tablet for photos, but the quality is quite impressive. Some sample shots can be seen below.
Panos Panay, though, has teased the Duo's image quality before. We saw a picture of his son in focus, with the woods and the flames of a fireplace looking vivid. If anything, I think the Tab S6 is a bit on par. The colors in the images are particularly bright, and the focus is great.
Samsung also has a lot of great software elements like a Food mode, Pro mode, and Live Focus which help you take the right photos for various situations. Even the selfie camera has two modes, letting you zoom in to a wider or narrow shot to fit more in the frame. It will be hard for Microsoft to beat Samsung, though and I do hope they have something similar on the Duo.
A Pen that reminds me of the new Surface Slim Pen
Other than the dual-screen layout, one of the other would be the highpoints of the Surface Duo is its support for the Surface Pen. Satya Nadella was recently caught dogfooding this, saying to Geekwire that he loves the annotations features on the Duo.
This isn't strange, as Microsoft's Surface devices have long been compatible with the Surface Pen. However, Samsung too shares this heritage with the SPen, and the Tab S6 has its own pen as a result. Overall, I think the pen experience with the Tab S6 might end up being a lot like the Surface Duo.
Samsung includes the pen for free right in the box of the Tab S6, and it magnetically attaches to its own housing at the back of the tablet. It also has some "Air Actions" features that let you remotely take pictures or play/pause slideshows via Bluetooth connection with the tablet. Charging is optional, though, and it would work without a charge if need be. That's a bit different from the current Surface Pen, which has its own charging cradle and won't when the battery has died out.
Aesthetically wise, the Tab S6 pen shares a lot with the new Surface Slim Pen. Both are flat and similar to a carpenter's pencil. It feels ergonomic and is great for taking notes. The pressure sensitivity is also the same, at 4,096. I used the pen for drawing and scribbling in OneNote, and it felt just like my experience with the Slim Pen on the Surface Pro X. Smooth, easy, with no lag. If this carries over to the Duo, with Surface Slim Pen, they'll be a lot to look forward to.
Dex Mode and the keyboard adds new possibilities
So far, throughout my review, I've mentioned Android experience on the Tab S6. Samsung, though, has a special software feature known as DeX mode which turns the Tab S6 into PC like experience. It's activated in the software side when a keyboard and mouse are detected, and it's one of the best points of this device. This is where the Tab S6 is less like a Surface Duo, and more like a Surface Pro.
The best way to experience the Tab S6 is with the DeX mode and the $180 keyboard accessory. The keyboard case has two parts. A top part attaches to the back of the tablet with a rubber suction material and holds it solid. It gives you a kickstand to prop-up the Tab on your desk or lap or desk. The bottom half is the keyboard cover, which attaches to the bottom of the device via a POGO connection.
It's quite small(and expensive) at 10 inches, but it adds a trackpad and mouse, allowing you to get the mode of DeX mode. I never had an issue with the size and typed this entire review on the tablet.
This mode is what makes the Tab S6 so unique. I was able to use my Tab as a PC, and get Android apps in windows, drag them around, and stack them side by side. I also connected the Tab to a monitor and was able to get my work done, just as if I were using a Surface.
Buy it now if you're eager for the Duo
Without having a Surface Duo in my hands, it's hard to truly compare the Tab S6 to the Duo. However, so far, I do think a lot of experiences on the Tab S6 can carry over to the Duo as well. In terms of performance, Android apps, and ports, the two seem very on par with each other, at least on paper. So, if you're looking for something to whet your appetite for the Duo, buy this now.