Rock Jaw Audio is a UK-based manufacturer of audio products which aim to precisely strike the fine line between quality and affordability. The company's new T5 Ultra Connect is its first set of wireless earphones, which it describes as a "fresh and new" product which "holds no punches." Having tested several Rock Jaw products in the past, I took a look to find out whether the T5 might be an ideal set of earphones for on-the-go computing – such as with a Microsoft Surface.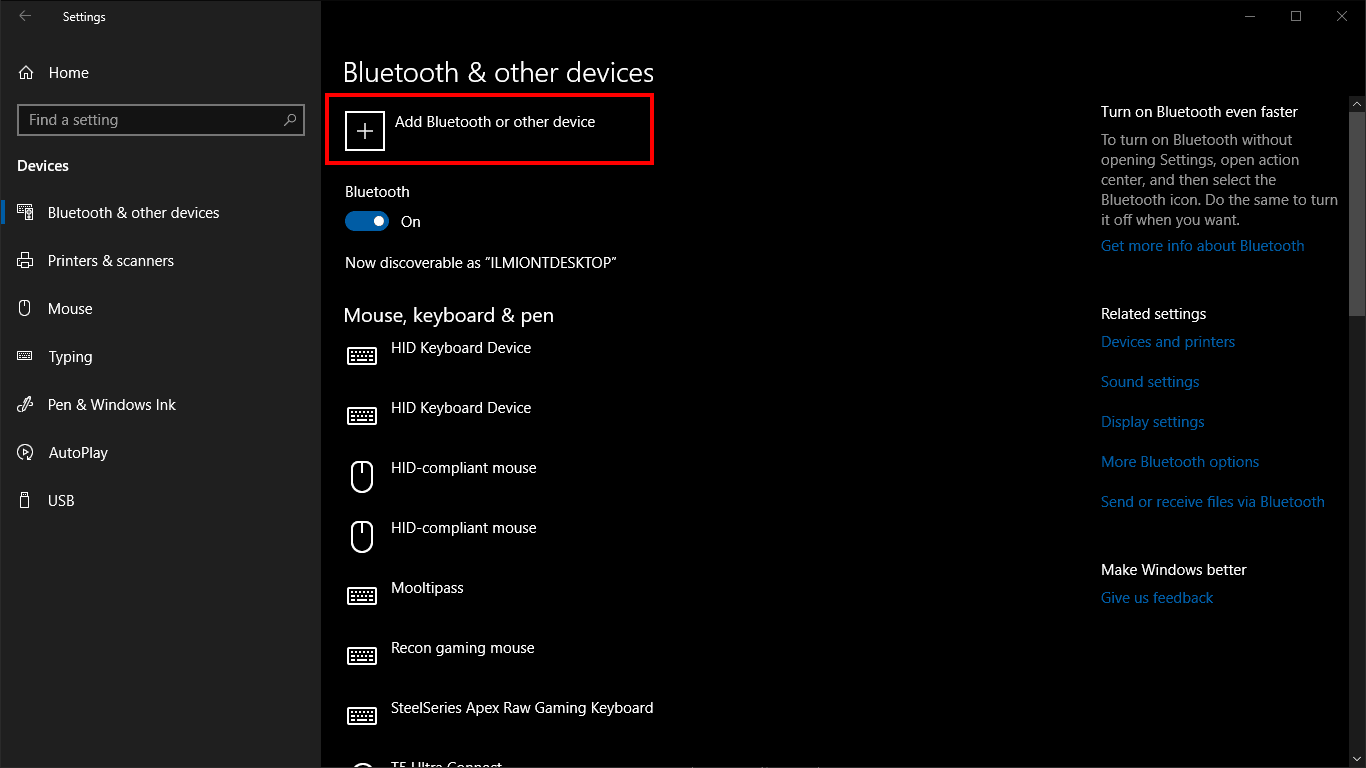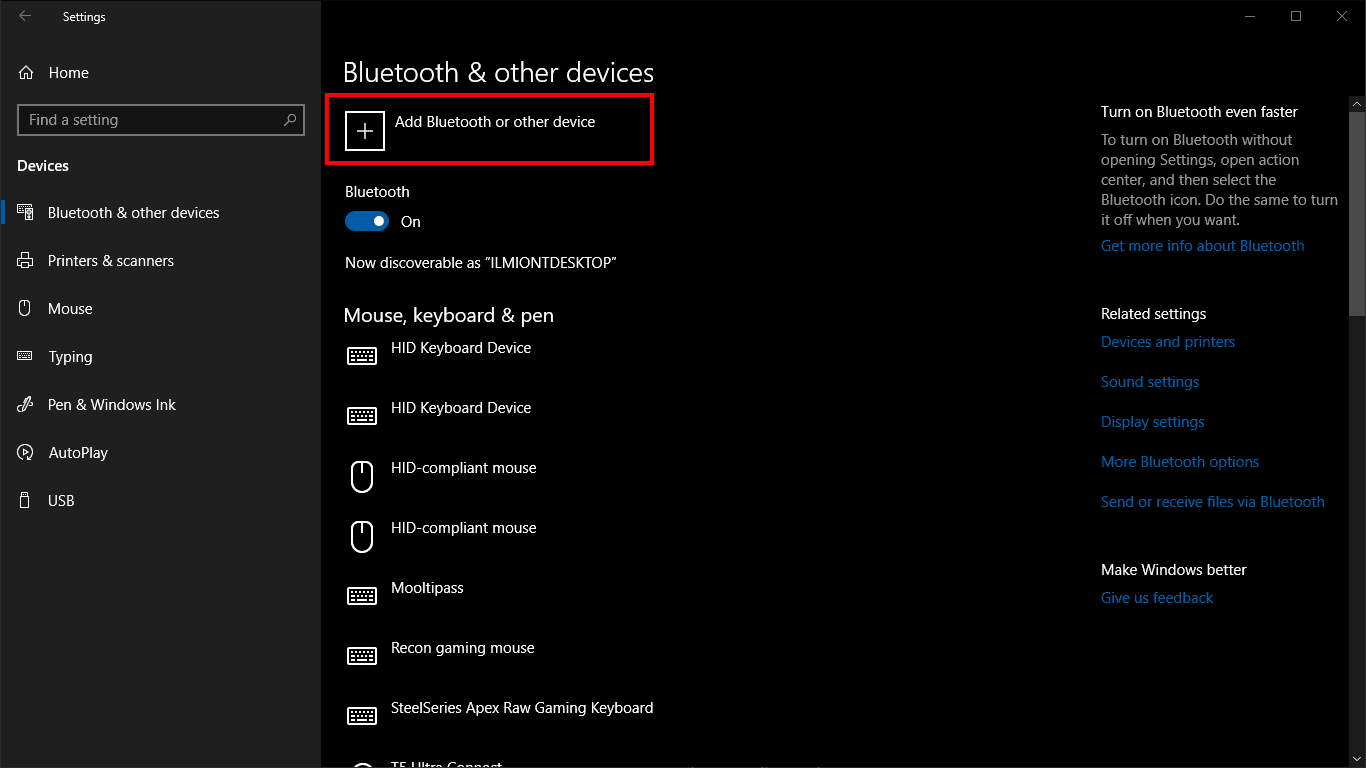 Throughout my time with the T5, I've been using them with my Surface for one simple reason: its top-mounted 3.5mm jack makes for a frustrating time when using wired earphones. The dangling cable is all too easy to snag or swipe over the screen, so I find Bluetooth earphones highly preferable when working with the device.
Getting set up with the T5 in Windows 10 is a simple procedure – pairing through the Settings app took just a few seconds, with the T5 providing voice feedback as the connection completed. Rock Jaw has equipped the T5 with Bluetooth 5.0 for maximum performance, but you don't need to worry if your device has an older version. Bluetooth 5.0 is fully backwards compatible with older specs, so the T5 works identically irrespective of the Bluetooth version in use.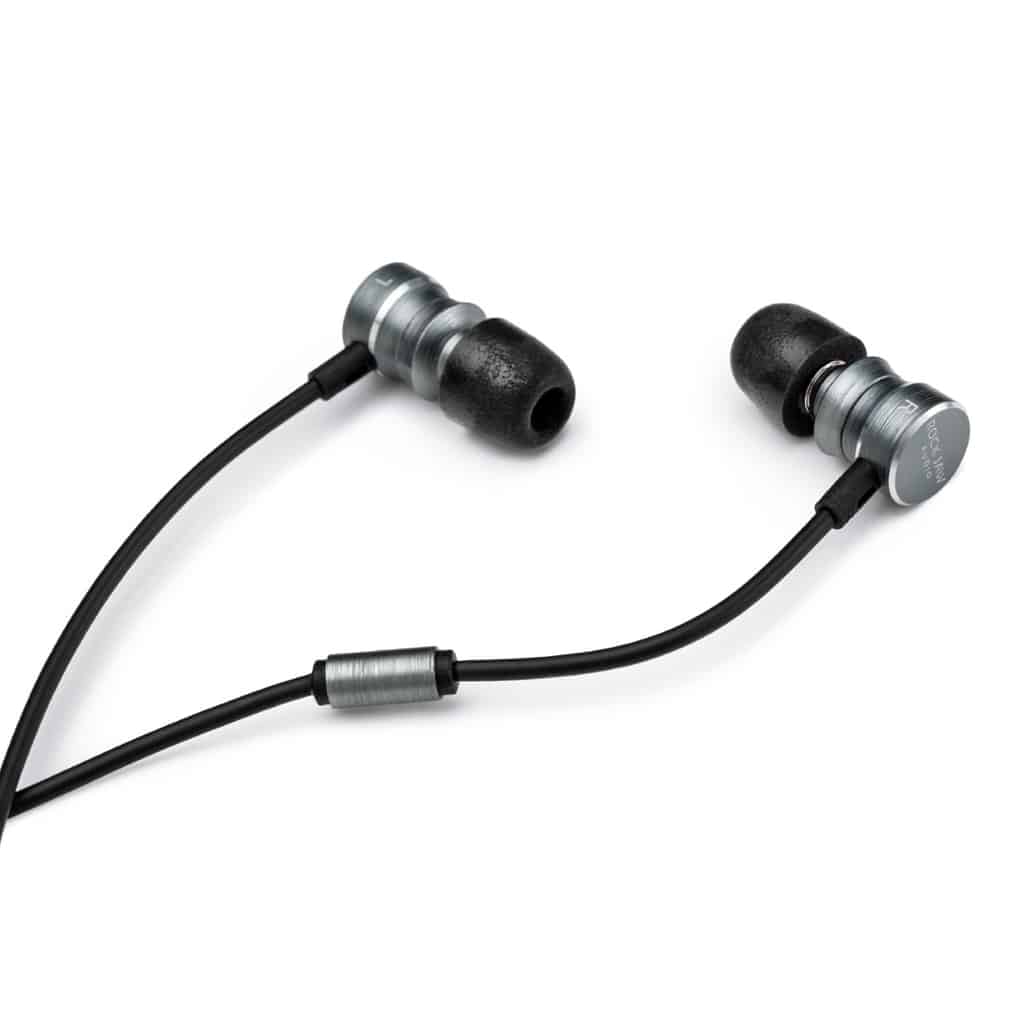 Design-wise, the T5 is a clear evolution of previous Rock Jaw designs. The cylindrical earphones are made from brushed aluminium which makes for a very refined look. They're pleasingly cool to the touch and have that hard-to-describe "premium feel" about them. Strong magnets ensure they stay together when not in use.
Rock Jaw has added two control modules – the one on the right side of the cable contains the three-button control system, while the module on the left cable houses the battery. The buttons are simple enough to use, with volume, play/pause, track controls and call handling all supported. However, they aren't particularly tactile and can be difficult to press, usually presenting a spongy feel.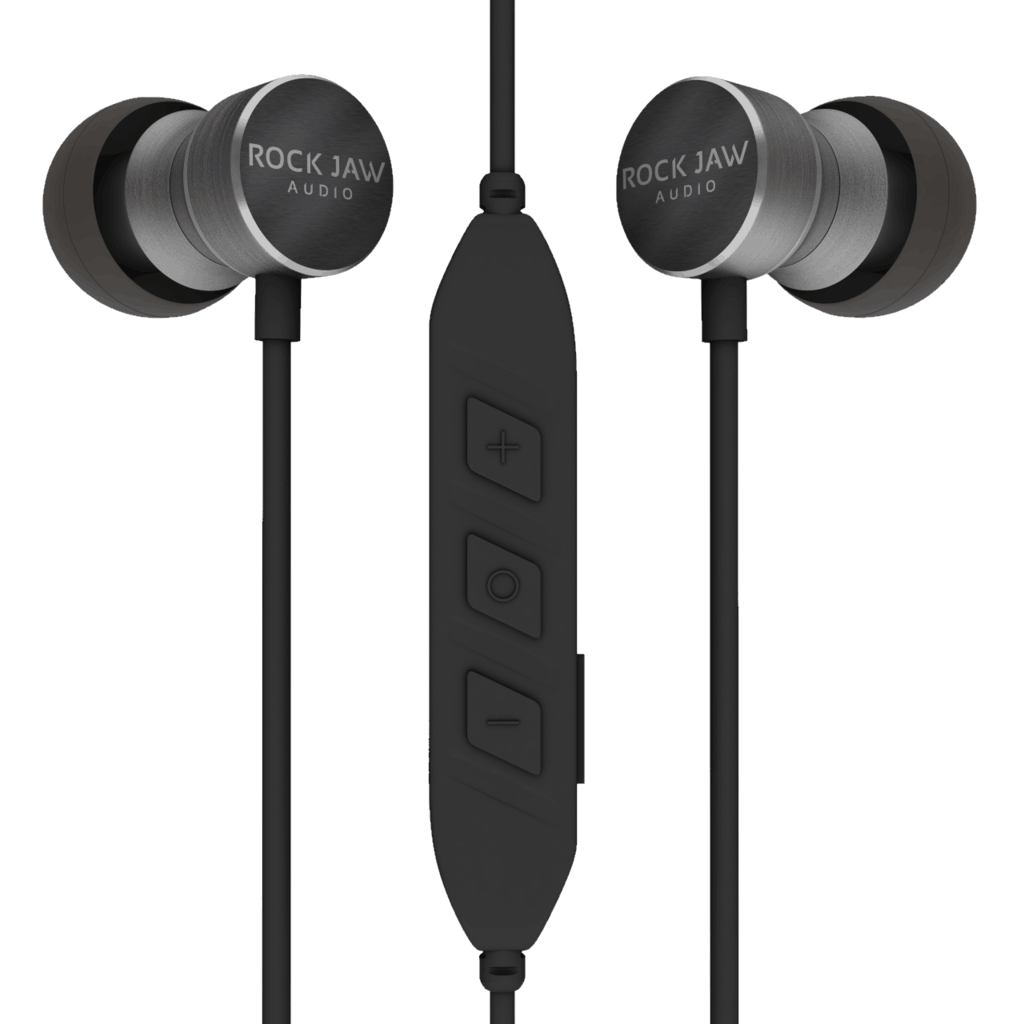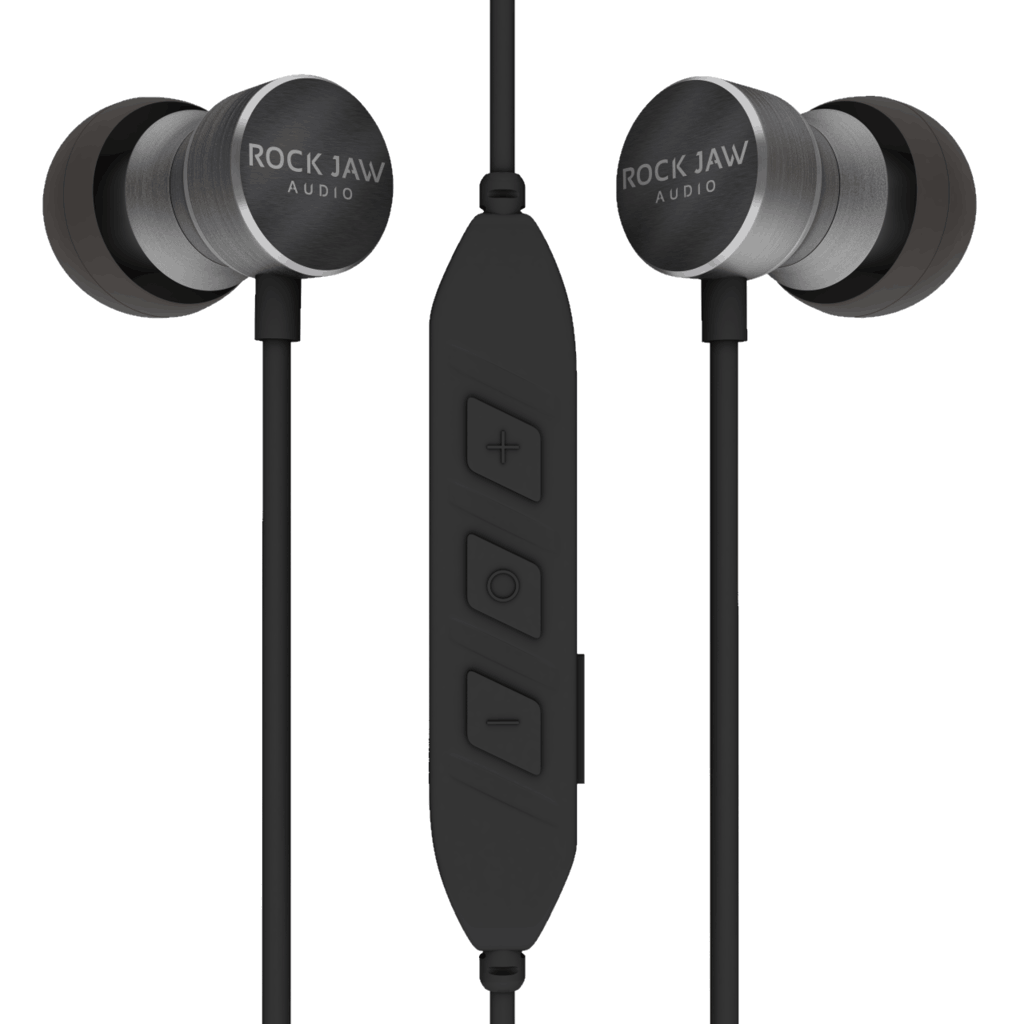 How about the sound though? I was pleased to find that the switch to wireless hasn't significantly impeded Rock Jaw's usual performance. There is a persistent background hiss, but once music is playing you're unlikely to notice it. It may be more of an annoyance if you tend to listen to podcasts or other spoken content.
Audio is clear and punchy. There's adequate bass, good treble and a decent midrange response. All this is uniquely customisable – Rock Jaw has retained its signature tuning filters, which allow you to tailor the T5's output to the genre of music you're listening to.
Out of the box, you'll the find the standard gold-coloured filters fitted. These attempt to strike an acceptable balance between treble and bass for everyday listening. Switching to the silver ones amplifies the bass output, while the black filters emphasise treble.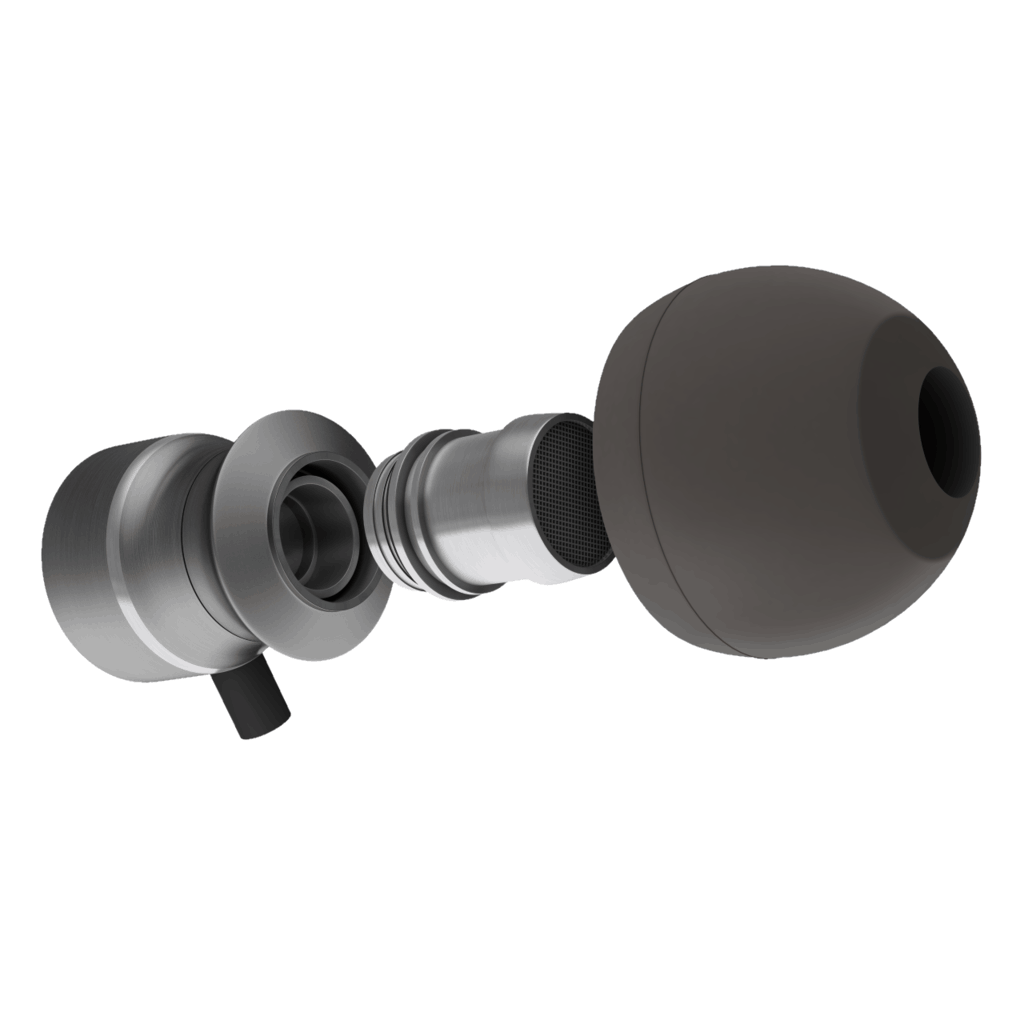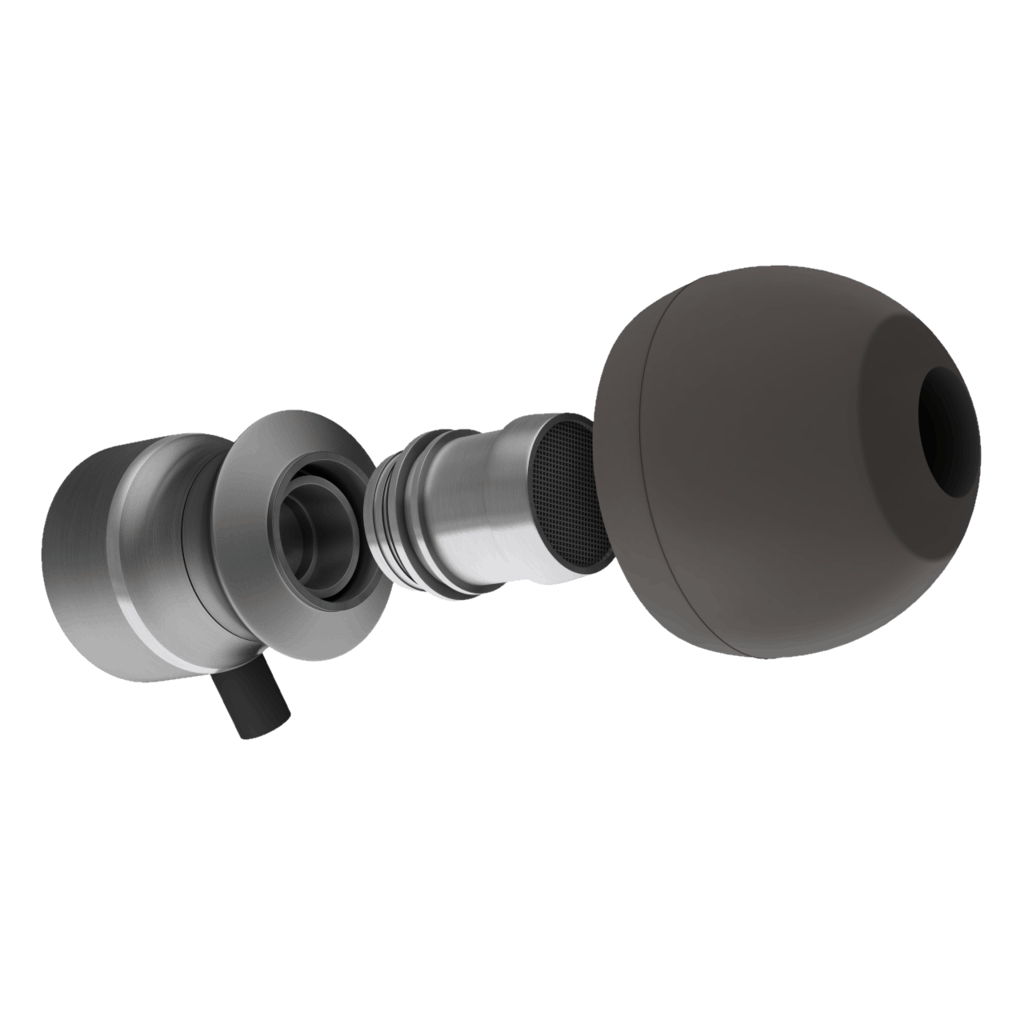 The difference is real and immediately noticeable, although my existing views of their usefulness are unchanged. I expect most people will end up sticking with a single set of tuning filters and for me, it's going to be the silver, bass-centric ones. I found the standard gold filters lacked an adequate low-end for my typical mix of classical, pop and country listening, whereas the increased bass from the silvers increased my enjoyment of all three genres. Naturally, your own experience may vary.
Rock Jaw recently published an impassioned blog post asserting its tuning filters are "more than gimmicks." Quoting the company, "a little treble can mean much more detail to one person, but sound too harsh to another. Which is exactly why we provide three options in the box. When a customer purchases a pair of earphones […] from Rock Jaw Audio, they get flexibility and choice."
This approach to customer preferences is admirable and a large factor in Rock Jaw's success. Even so, I can't help but feel that developing a single, more balanced sound signature would be more likely to please all audiences.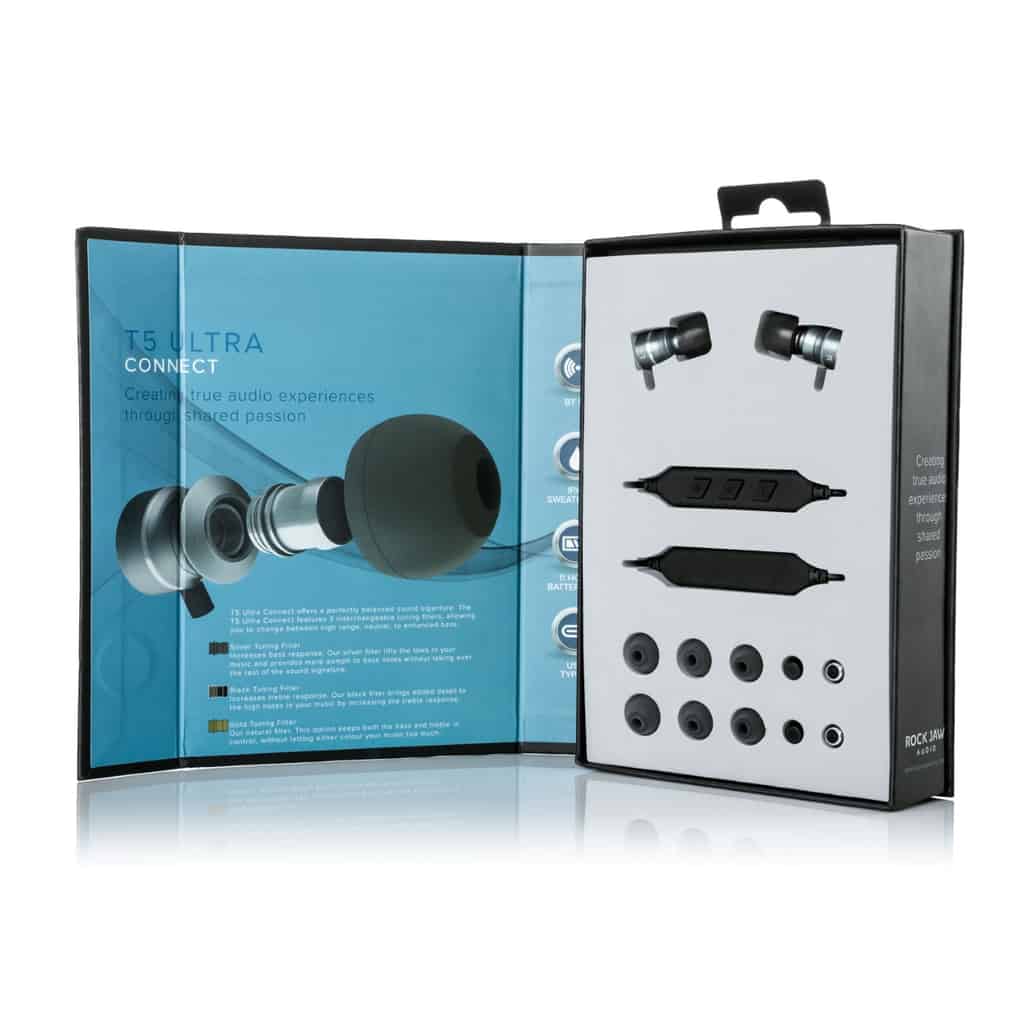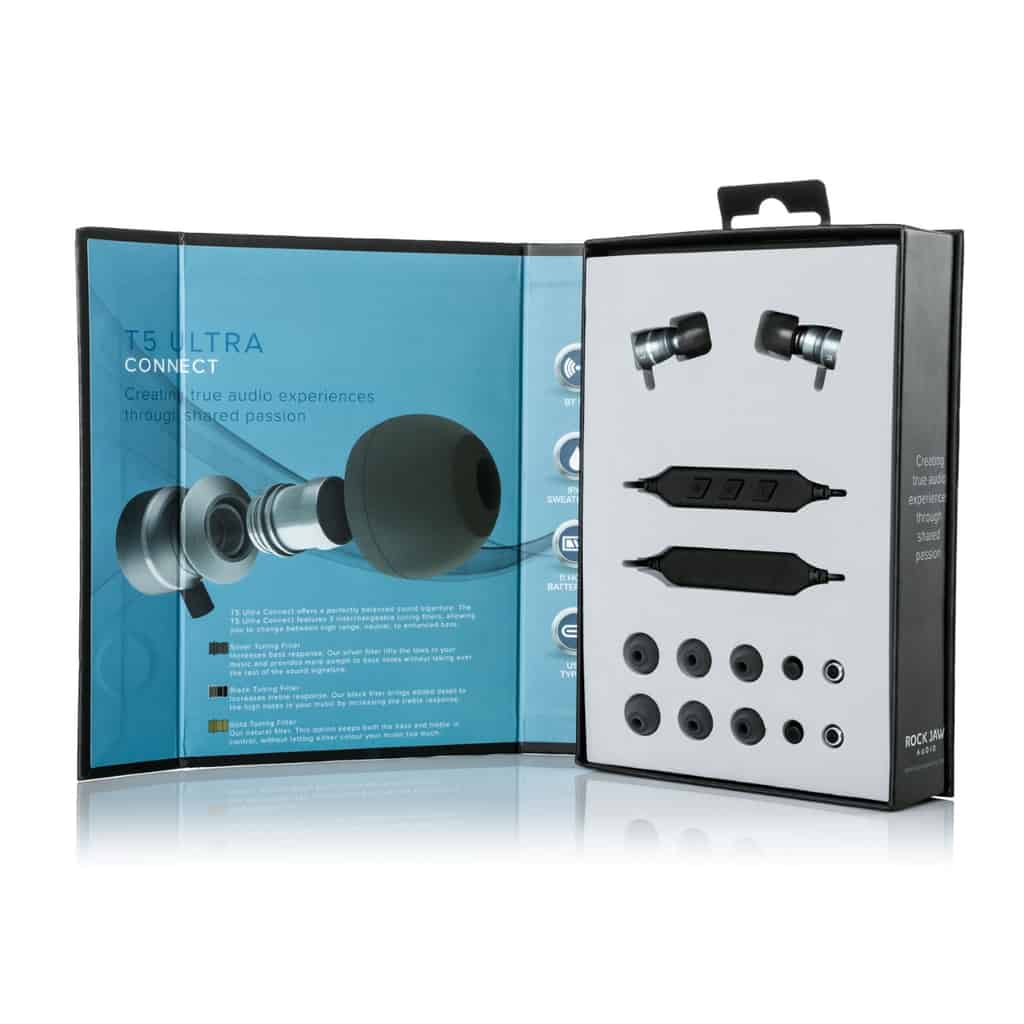 While the filters do materially alter the audio output, the process of changing them (remove tip, unscrew filter from earphone, insert new filter, reapply tip) makes them difficult to switch out on-the-go and ultimately offers little more value than adjusting equaliser settings would. Nonetheless, Rock Jaw's tuning filters do have many fans too, and the T5 will continue to please people who enjoy this unique customisation system.
Alongside the tuning filters, Rock Jaw also provides a choice of two kinds of earphone tip, with three different sizes provided for each. It's expected most people will wear the Comply memory foam tips, which mould themselves to the shape of your ear for a secure and noise-isolating fit. If you're not a fan of foam tips, you can opt instead for the silicone alternatives in the box. A soft mesh carrying case is also included.
Rock Jaw claims an 11-hour battery life, with recharging achieved via a USB-C connection. The earphones also have IPX5 sweat and water-resistance, so you can safely use them while exercising in wet weather. The technical specs claim an impedance of 24 ohms at 1KHz, with a frequency response of 15-25,000Hz. Bluetooth range is rated at 12m.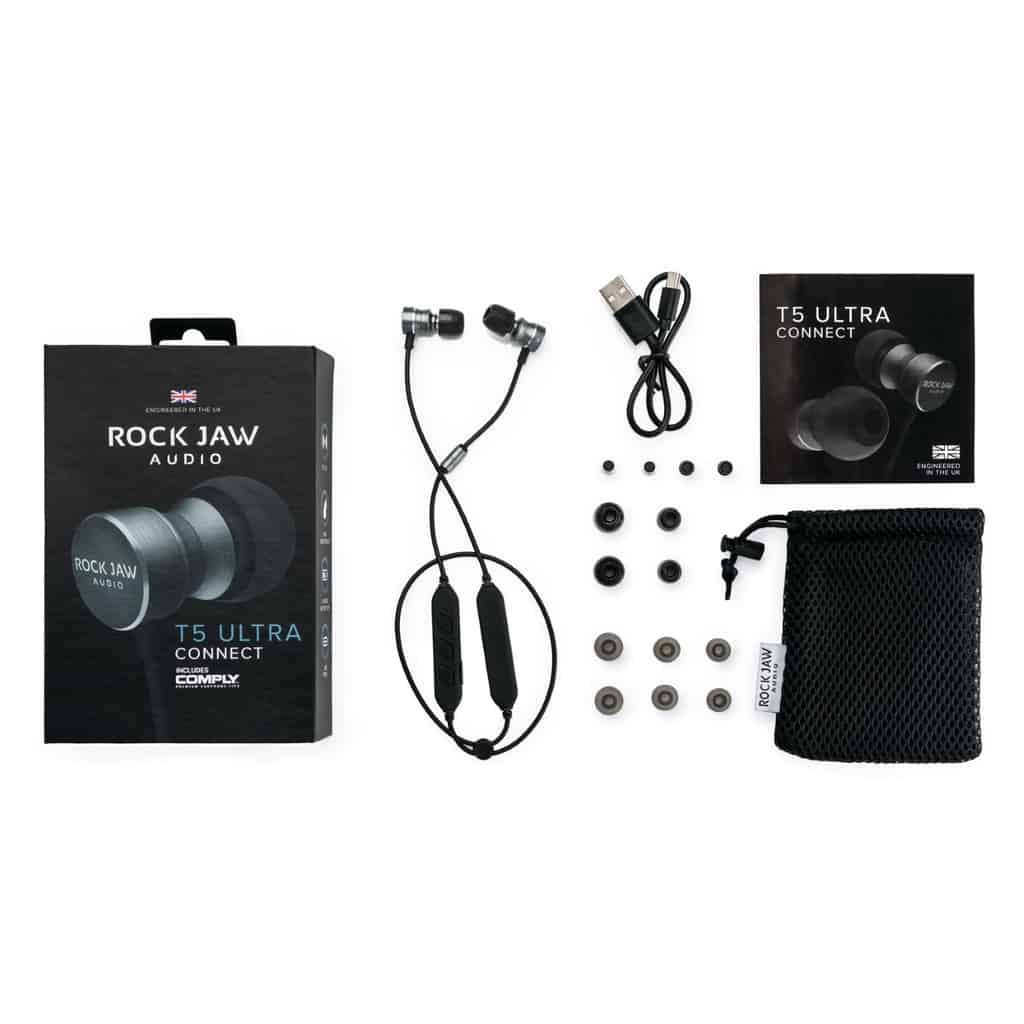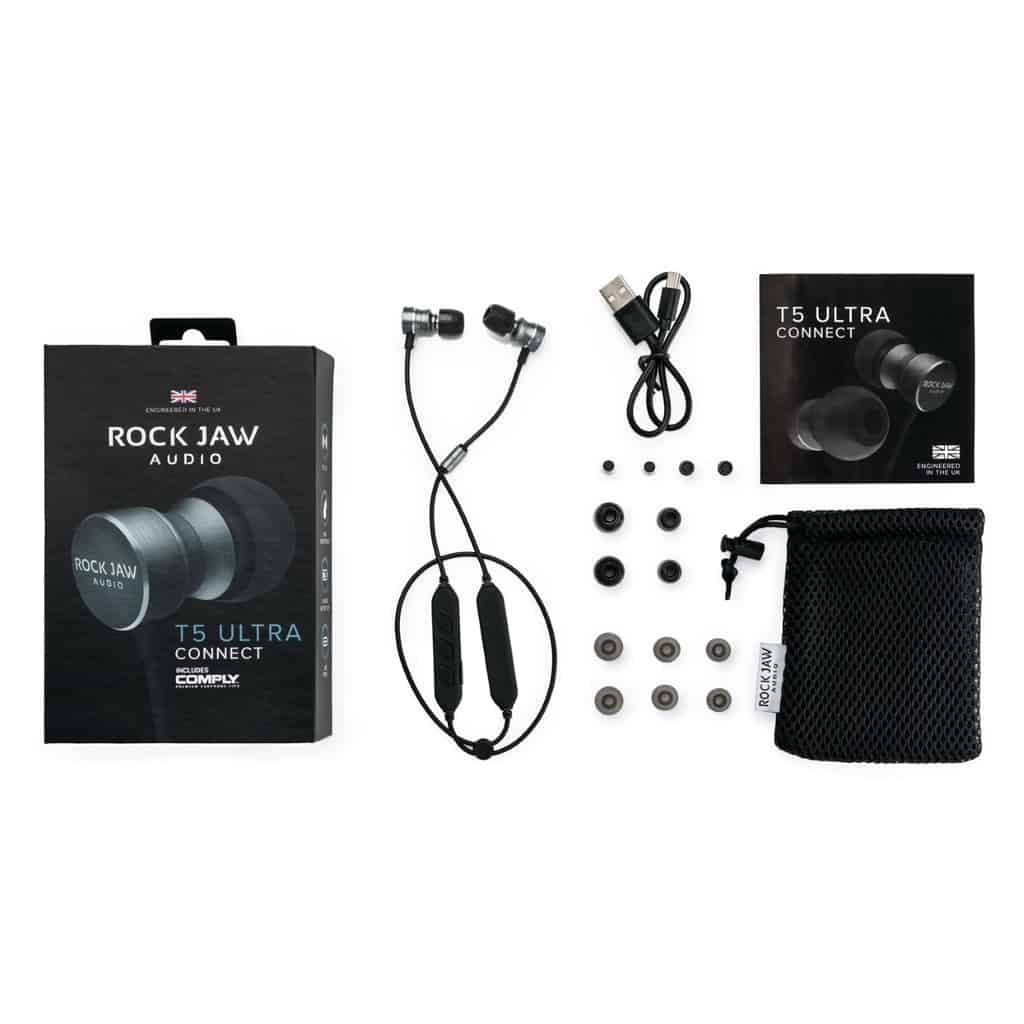 Rock Jaw has priced the T5 Ultra Connect at £75, which means they aren't particularly cheap earphones. However, they are well-built, with the earphones themselves the standout component. Sound quality is good, but not exceptional, while the tuning filters will be seen by some as a defining feature and by others as little more than a gimmick – sorry, Rock Jaw.
With all things considered, the T5 is a competent contender for wireless earphones in this price bracket, and perhaps the best option available. Nonetheless, it occupies a tricky position in the market, too expensive to attract casual listeners but with a sound quality that's not necessarily going to satisfy demanding audiophiles.
The tuning filters really are the key feature here, along with the Bluetooth 5.0 connection, IPX5 resistance and USB-C charging port. Still, if you're looking for earphones with these qualities, the T5 may be an attractive proposition. You can find out more and order from the Rock Jaw website.