Lepow brings another high-quality contender to the portable monitor market with its 15.6" Z1 model. But does this entry stand out from the crowd? Read on to find out.
First off, let's go over what's in the box.
15.6" portable monitor
Smart cover/stand
1x USB Type-C to Type-C cable
1x HDMI to USB Type-C cable
1x USB Type-C to USB Type-A cable
Wall charger
Screen protector
User Guide
FAQ booklet
Cleaning kit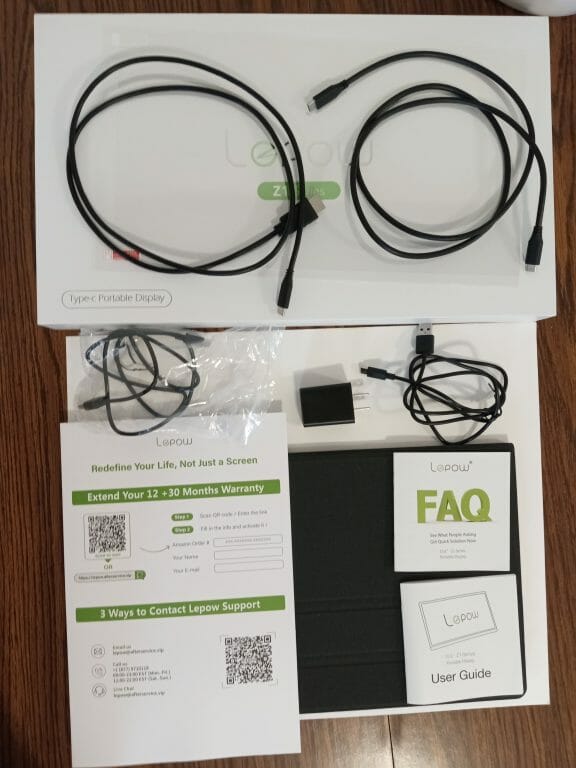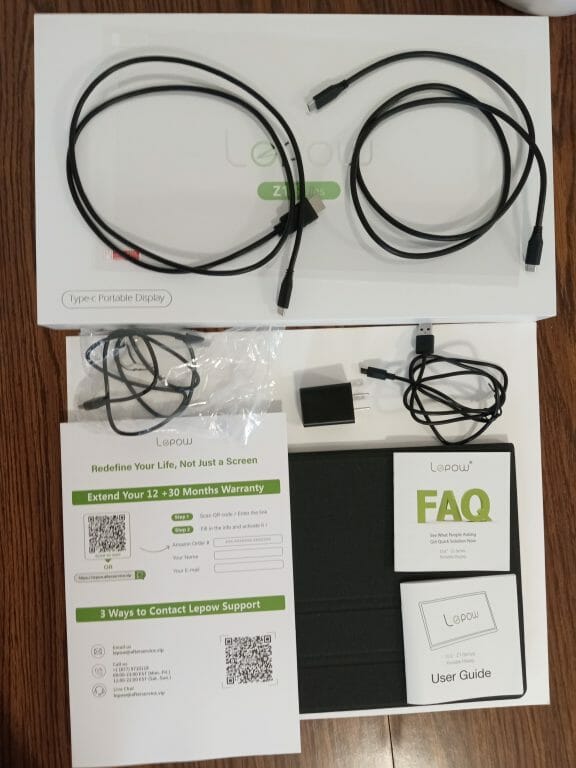 Setting the monitor onto the smart cover stand is easy once you know how to do it as explained in the User Manual. The stand allows for two positions in horizontal mode, so you can adjust the monitor's angle. It can also be positioned upright for Portrait Mode, and when not in use the case doubles as a screen cover.
The Z1 has great build quality overall for both the monitor and the PU leather smart case. The monitor is very thin and lightweight, and features two USB Type-C ports, one of which is full-function and one that is for power only. A power/menu button brings up the OSD (On-Screen Display) from which various settings can be configured. Plus and Minus buttons function as menu navigation buttons and also open the brightness and volume menus.
The monitor has three viewing modes, and can be used as a duplicate screen, extended screen or as a secondary screen.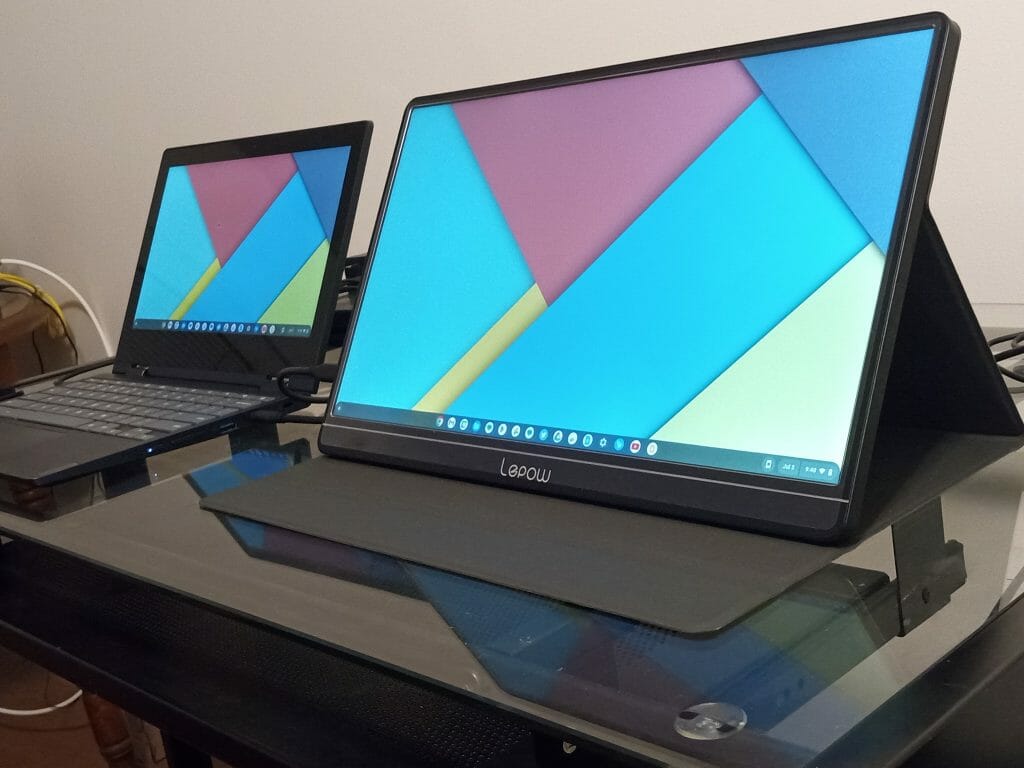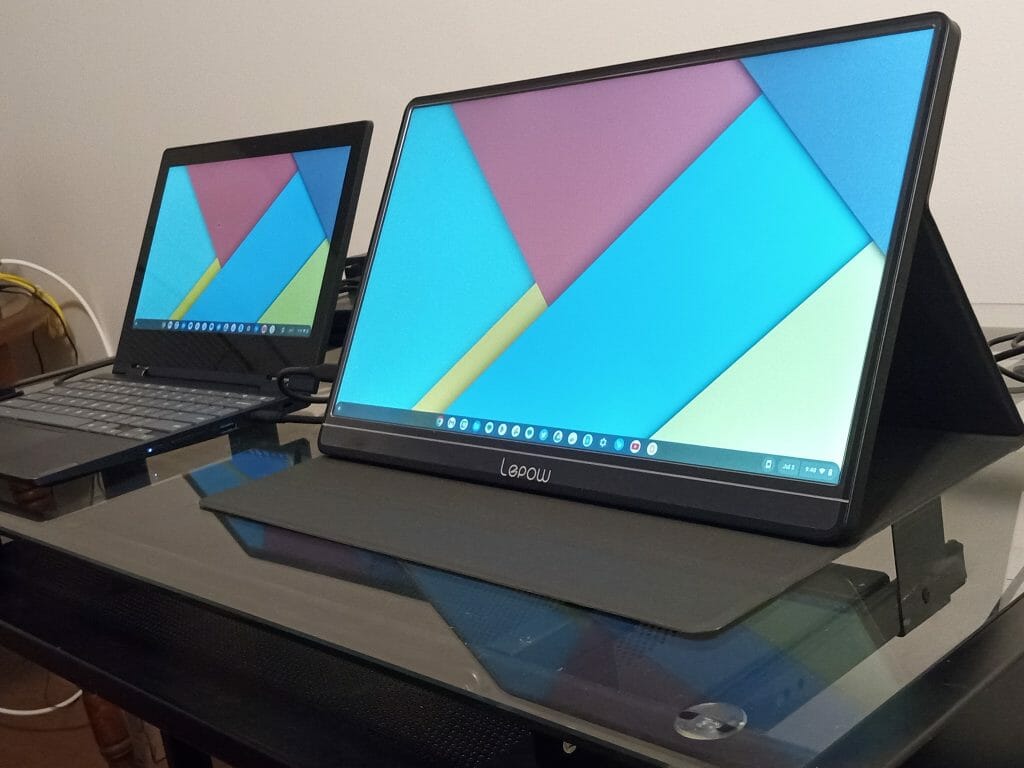 The display
Specs for the Lepow Z1 portable monitor:
Display size: 15.6 in.
Dimensions: 0.33 x 14.57 x 8.66 in.
Weight: 1.7lbs.
Aspect ratio: 16:9
Max image brightness: 300 Candela
Color gamut: 45%
Visual angle: 85%
60Hz refresh rate
Resolution: 1080p Full HD
Display type: IPS (with Eye Protection)
HDR support
Dual built-in stereo speakers
The Z1 is compatible with "laptop, smartphone, PC, PS3, PS4, XBOX ONE, or Nintendo Switch etc" as per the Lepow2US Amazon product page for the Z1. Note that some devices will require the Z1 to be connected independently to a power source via the USB-C to USB-A cable and wall charger, while others simply require the monitor to be connected to the device of choice. (My Lenovo Flex 3 Chromebook was able to connect with just the Type-C to Type-C.) Naturally, going with this latter option you'll see a considerable dip in battery life if using the monitor with a phone, tablet or laptop, so that will be something to keep in mind.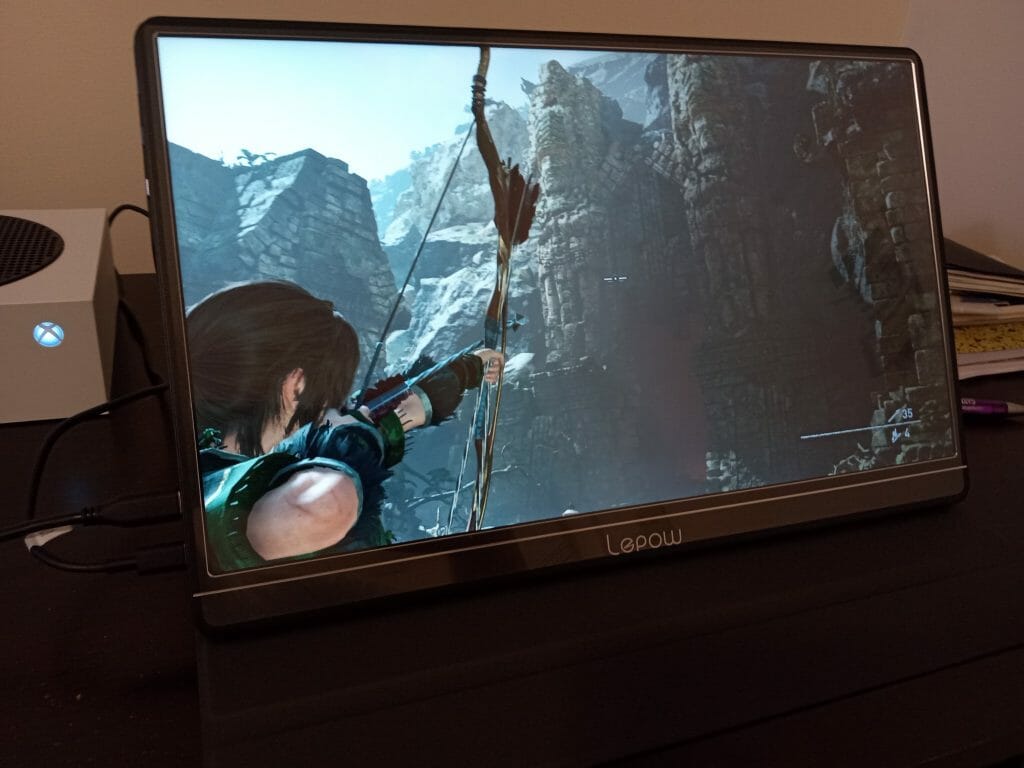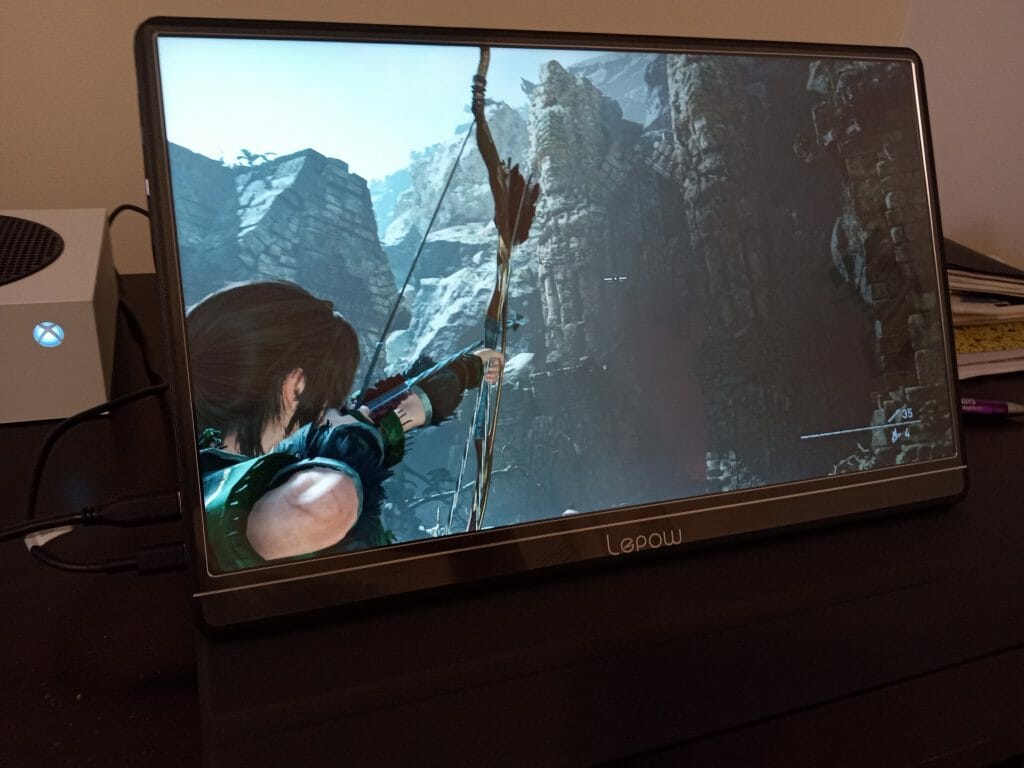 The viewing experience with the Z1 is excellent, especially for such an affordable monitor. Image quality is outstanding with sharp detail and very respectable color range and black levels. Gaming on the Z1 is also good, and I didn't experience any noticeable lag playing on my Xbox Series S with the Z1. Overall performance was solid when using the monitor, including multitasking with several applications open across both my laptop and the monitor, and I didn't experience any chugging while using it.
On the audio side, the monitor's speakers do leave a little to be desired. At max levels on both the monitor and the device, the Z1 is serviceable in a quiet environment. However users will generally be much better served using headphones if playing audio on the monitor—especially in a noisy room.
The verdict
DISCLAIMER: A sample unit was provided for an honest review.
If you're in the market for a portable monitor for either work or entertainment, you can't go too wrong with the Lepow Z1.
Cons
Pros
Great picture quality
True plug and play experience…for some devices.
All-around quality monitor for a reasonable price point.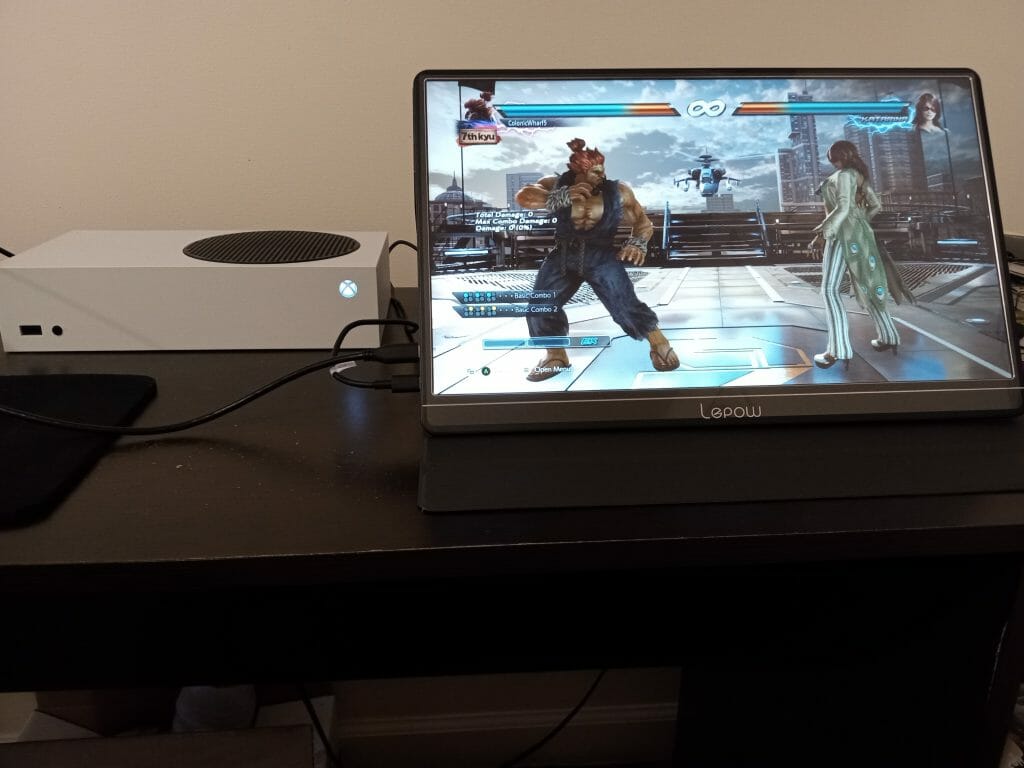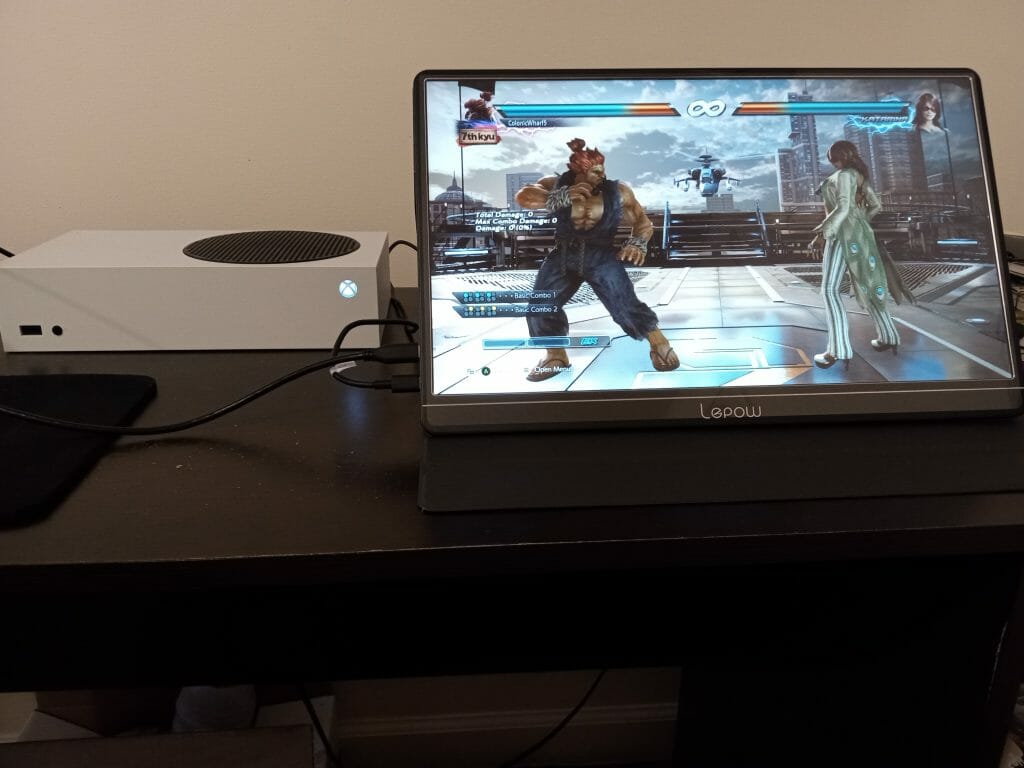 The Lepow Z1 is definitely a safe and solid bet if you're looking for: A) a portable monitor for B) an affordable price that C) doesn't make a bunch of sacrifices in quality and viewing experience.
Easy to use, easy on the wallet, and easy on the eyes with a nice display, the Z1 is a clear winner. You can find it on Amazon right now at $159.99 USD.