Last year, I reviewed the Surface Laptop 3 for Business and called it "the ultimate laptop I've always wanted." For the $1,300 price, it definitely was a good laptop for me. That's thanks to its spacious 15-inch screen, the 3:2 aspect ratio display, and the Intel Core i5 Ice Lake processor inside. But recently, with the release of Microsoft Flight Simulator 2020, I was itching for a new laptop with more power.
My old XPS 15 with a GTX 960M inside just wasn't cutting it and, my Surface Laptop 3 could not play the simulator at all. Looking at all the options available, including a Surface Book 3, I decided to sell my Surface Laptop 3 to my colleague, and settled for buying the HP Envy 15 ep0098nr, instead.
For the sale price of $1,600 ($1,700 normally,) this laptop offers a lot of value. From its CPU, RTX 2060 Max-Q graphics card, AMOLED display, and overall performance, it's one big beast. In the long run, I even think it even has everything that should come in the next Surface Laptop or Surface Book.
The specs, the price, and the options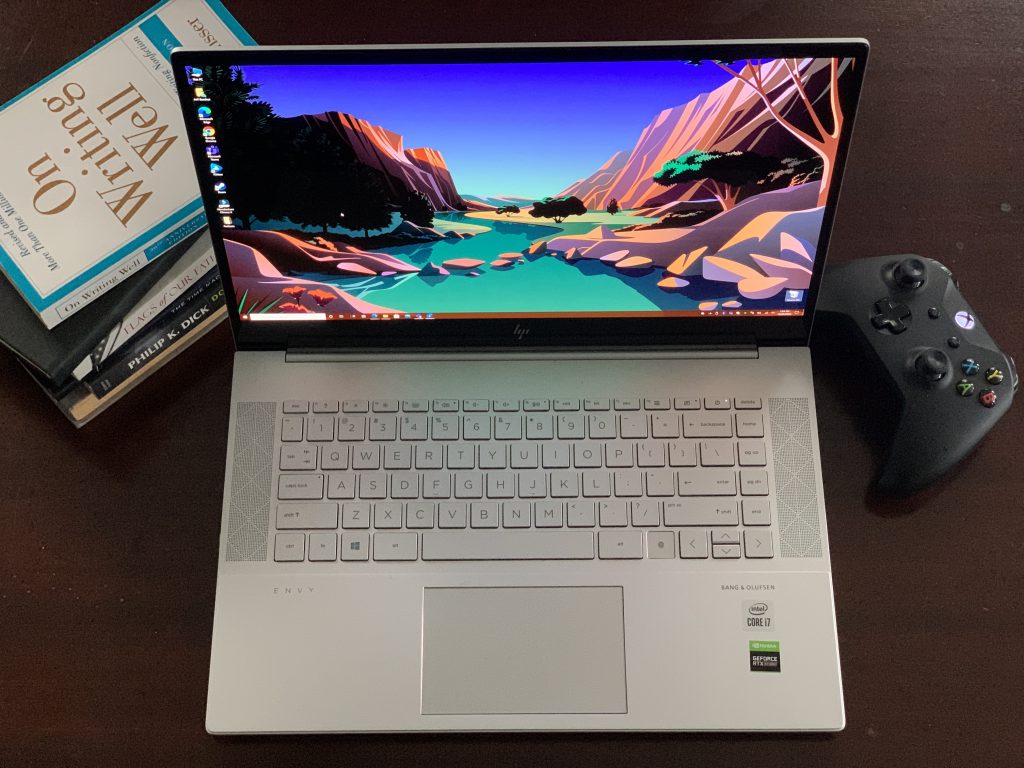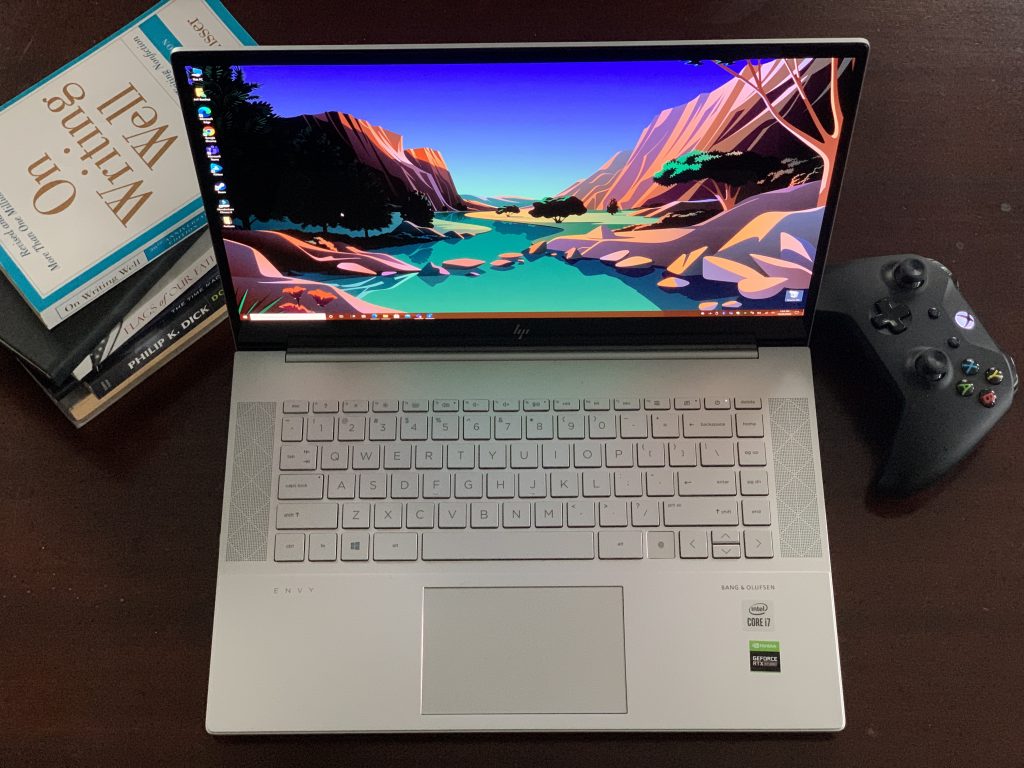 To begin my review, I'll start first with the specs and a bit of a tangent. But, please, do stay with me. As a Surface fan, I think the HP Envy 15 departs from anything Microsoft has to offer from the Surface lineup. After using it as my main machine, I do hope Microsoft could make some changes for its next-generation Surface Book devices, or the Surface Laptop 4.
My top-range Envy 15 model from HP (there's another model with more storage and RAM on sale at Costco) comes configured with the 10th Generation Intel Core i7-10750H processor, clocked at 2.60 GHz. It should be noted that this is a 6-core processor that can turbo-boost to 5 GHz when needed.
The Envy 15 also comes configured with 16GB of RAM, a 512GB SSD with 32GB of Intel Optane storage boost. Both RAM and storage are upgradeable by removing the screws at the bottom of the laptop and prying the casing off. There's also the star of the laptop, the Nvidia GeForce RTX 2060 Max-Q graphics card with 6GB of VRAM. The display, meanwhile, comes in at 15.6 inches, 4K Resolution. It's also an AMOLED panel, as well. Full specs are listed below.
Type
Specs
Processor
Intel Core i7-10750H (6-cores, 1.6G GHz, 5GHz Turbo Boost)
Graphics
Integrated Intel UHD Graphics
Nvidia GeForce RTX 2060 Max-Q with 6GB GDDR6 VRAM
Display
15.6 inch 4K OLED, multi-touch, 400 nits of brightness
RAM
16GB DDR4-2933 SDRAM (User upgradable)
Storage
512GB Intel SSD + 32GB Intel Optane Memory
(User upgradable, second SSD slot available)
Connectivity
Intel WiFI 6, Bluetooth 5 Combo
(Soldered to motherboard, non-upgradable)
Ports
2 Thunderbolt 3 with SuperSpeed USB Type-C
1 SuperSpeed USB Type-A
1 SuperSpeed USB Type-A
1 HDMI 2.0
1 headphone jack/microphone combo
1 AC smart pin
1 microSD Card reader
Camera
HP Wide Vision HD Camera with a kill switch on keyboard
Weight and Dimensions
14.09 x 9.32 x 0.73 in
4.74 lb
Speakers
Audio by Bang & Olufsen; Dual speakers
Battery
6-cell, 83 Wh Li-ion polymer
Looking at the Surface Lineup, this is where there's a lot of value for the price in the HP. Microsoft's own 15-inch Surface Laptop doesn't come with a dedicated graphics card inside. Keeping that difference in mind, configuring a 15-inch Surface Laptop 3 with Ryzen 7, 16GB RAM, and a 512GB SSD will push the price to well over $2,099. The 15-inch Surface Laptop 3 for Business, meanwhile, comes in at $2,200 for a model with 16GB of RAM, 512GB SSD, and the Intel Core i7 processor. Again, all these models come without a dedicated graphics card.
With just the Surface Book 3, meanwhile, the difference is quite astounding. This is one of the closest Surface devices to the Envy 15, in terms of specs. It is true that the Surface Book 3 has the benefits of a detachable screen and tablet or inking (the HP Envy 15 doesn't support pens) but when it comes to raw power, this HP is hard to beat for this price.
For $2,300, Microsoft's Surface Book 3 comes configured with an Intel Core i7-1065G7 processor. This is still a 4-core processor, to be clear. It also has 16GB of RAM and only 256GB of Storage. The GPU, meanwhile, maxes out at the Nvidia GeForce GTX 1660 Ti Max-Q with 6GB VRAM.
Now for the TL;DR version. For $1,700 (or $1,600, as I paid, when on sale,) the Envy 15 is an absolute steal. It comes with a better graphics card, a better 6-core processor, and a better AMOLED panel, too. Not to mention, you can upgrade the RAM and the storage on the Envy, which isn't an easy task on a Surface.
Though I don't own one, reviews have shown that the Surface Book 3 is its own monster, and is great for video editing and even gaming, However, the $600 difference between Surface and HP can make a huge difference when looking for a device with raw power.
The Surface comes at a premium, but Microsoft really could make some gains by including a graphics card in the next Surface Laptop, or buffing up the Surface Book 4 with a heftier GPU, even if it means changing up the design. This review will show lessons to learn for Microsoft and potential Surface buyers. There are indeed better laptops out there for the price you pay for a Surface.
The design, keyboard, and trackpad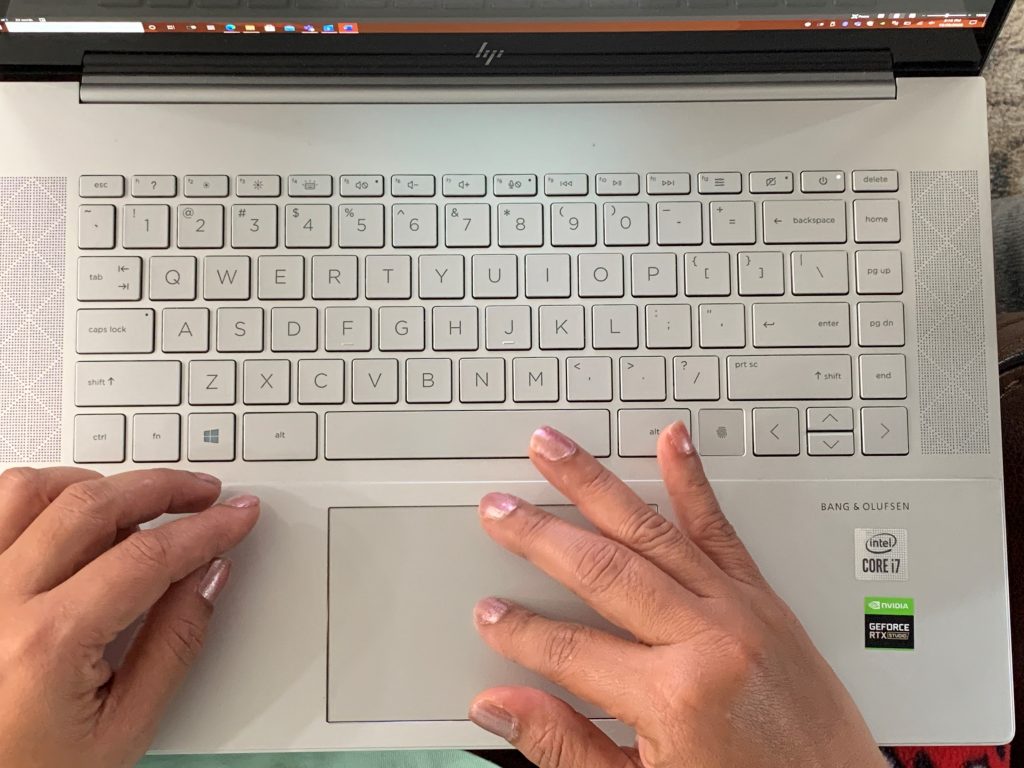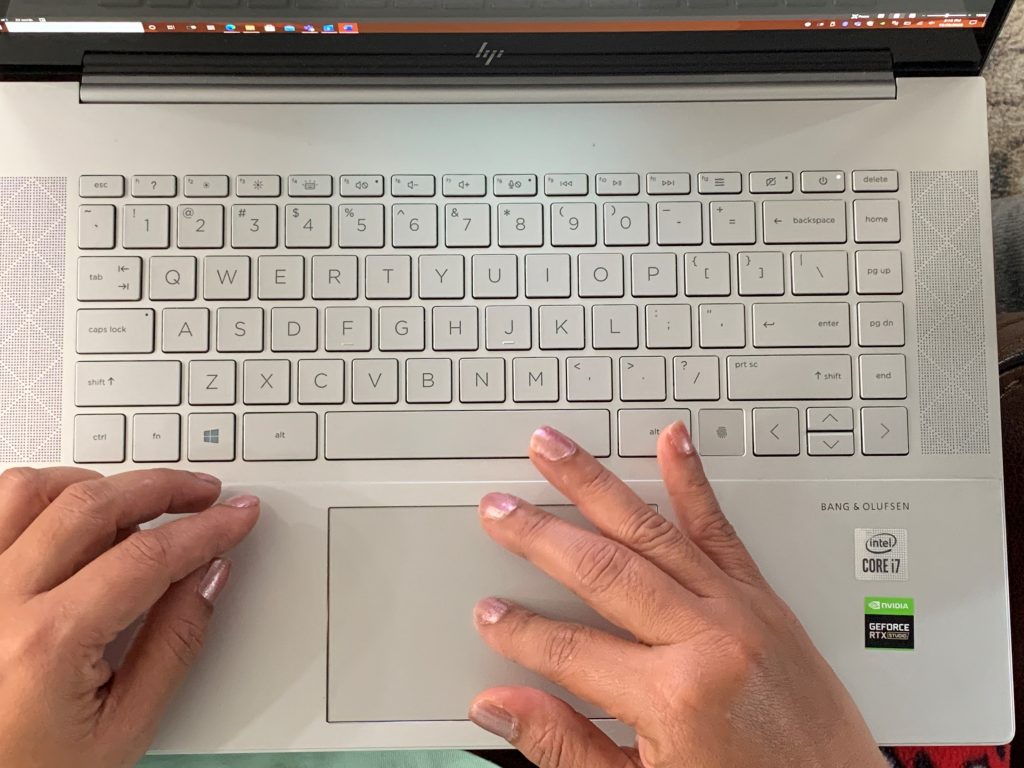 Speaking of design, Microsoft's Surface lineup has always been associated with premium look and feel, and HP's Envy 15 is no different. Microsoft opts for an aluminum enclosure on its Surface Laptop devices, and magnesium on the Surface Book and Pro lineup. HP looks to have learned from this and applies that to the Envy 15. Tl;DR, this feels like a Surface device.
All around, the Envy 15 sports a minimalist look. It features an aluminum silver-colored chassis which looks just like a MacBook, or a Surface Laptop from afar. For this high-end price, there are no cheap materials. The Envy is built like a tank, including the keyboard deck, as well as the display itself.
But I say "built like a tank" because the Envy 15 is a heavy laptop. At nearly 4.7 pounds, and with a dedicated GPU inside, it's heavier and a lot thicker than a Surface Laptop 3, which is what worries me if Microsoft ever decides to add a dedicated graphics card to the Surface Laptop lineup. It's also heavier than a Surface Book 3, too, which comes in at 4.2 pounds.
Still, the Envy 15 still plenty portable when you compare it to other gaming laptops with RTX graphics like the ASUS ROG Zephyrus S GX701GX. It is more like the Razer Blade 15 and has a compact look when sitting on the desk. Silver look and all, it is so much more of a professional look and slimmer profile than most gaming laptops. And, the lid is easy to open with just one hand, too.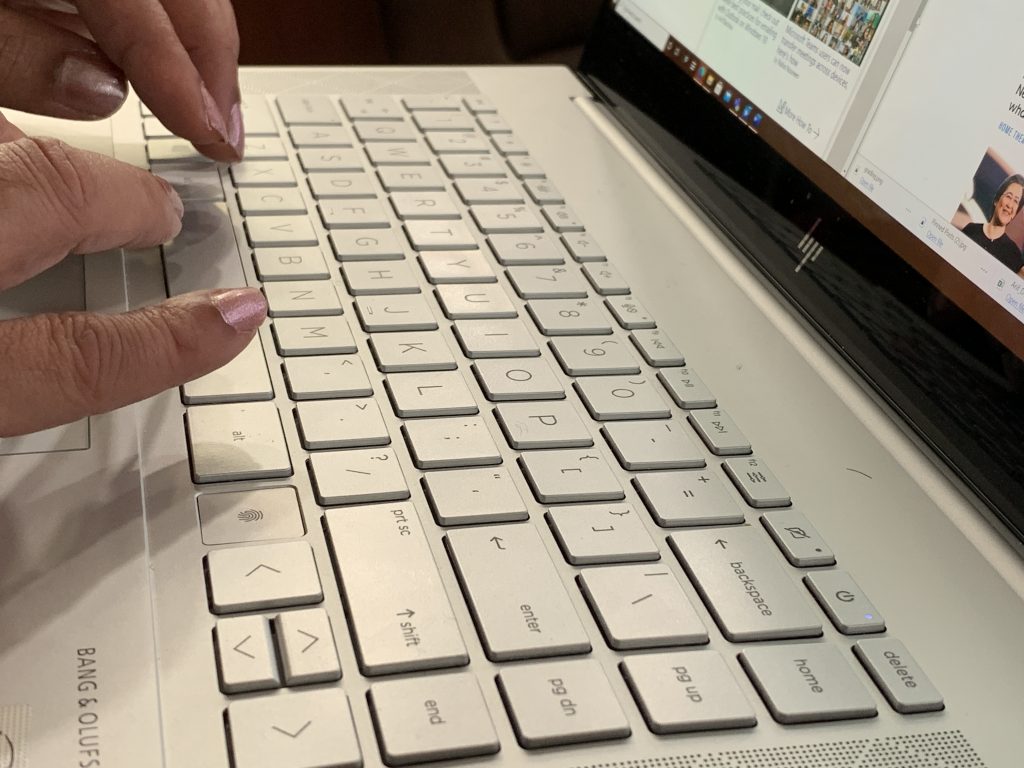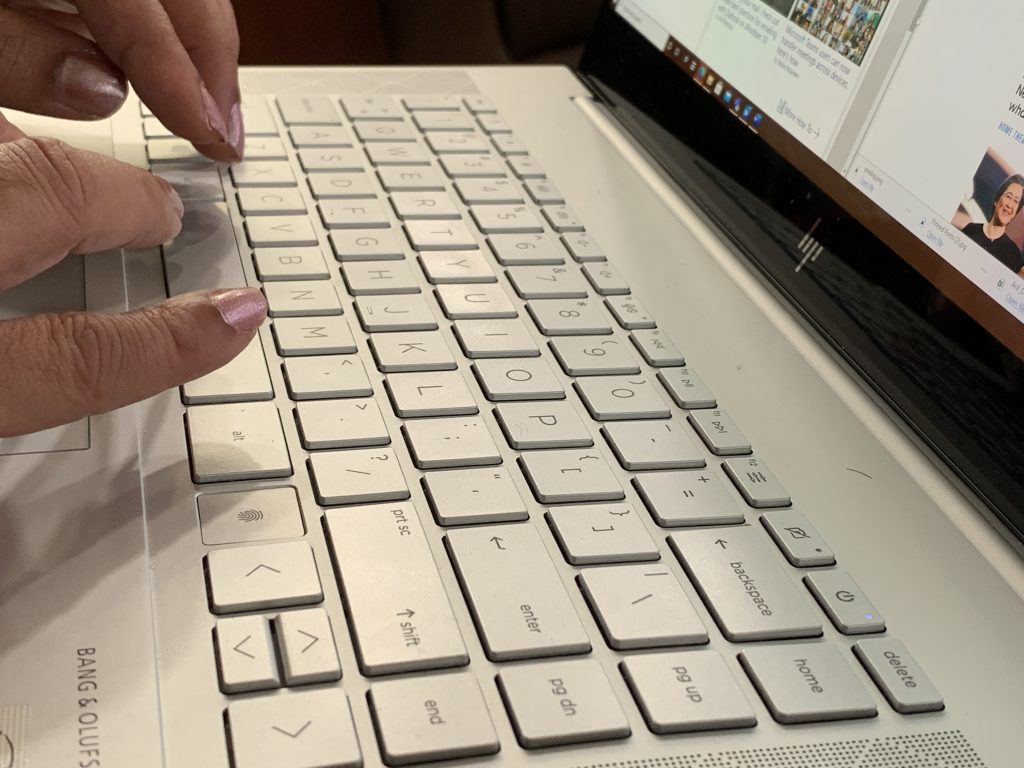 The keyboard on the Envy 15 meanwhile, is one of my all-time favorites on a laptop. While I appreciated the keyboard on the Surface Laptop 3 (finding it was as comfortable as the Surface Type Cover) HP manages to take things up a notch with the Envy 15. The keyboard is in a chicklet-style layout, and tapping on the keycaps gives a nice soft-feeling, a little softer than what you get on a Surface. I was able to get to 75 words per minute on Bing's typing test.
Unlike Surface, the keycaps are silver on gray, though. This means that it might be hard for some to see, especially when the two levels of backlighting are turned on at night. But to rescue itself, HP integrates a webcam kill switch and a microphone kill switch on the keyboard. This disables both camera (it puts a physical shutter in front of it) and microphone in the device manager, a nice thing to have when we're spending most of our time in meetings these days.
Moving to the Trackpad, now. It is just fine. With Surface devices, the Trackpads always feel like they're solid and integrated into the keyboard deck. The Envy 15's trackpad, while does feature Microsoft precision drivers, fee,s a bit light and "cheap." It makes a hollow clicking noise, which I hate. Most times I did try to use a Bluetooth mouse with the Envy.
Oh, and let me not forget! There's a fingerprint reader on the keyboard, too, since the Envy 15 lacks a Windows Hello webcam. I liked having this for quick and easy logins, just like Windows Hello on my old Surface. Just tap the fingerprint reader and login in a hurry. No passwords are necessary.
The Ports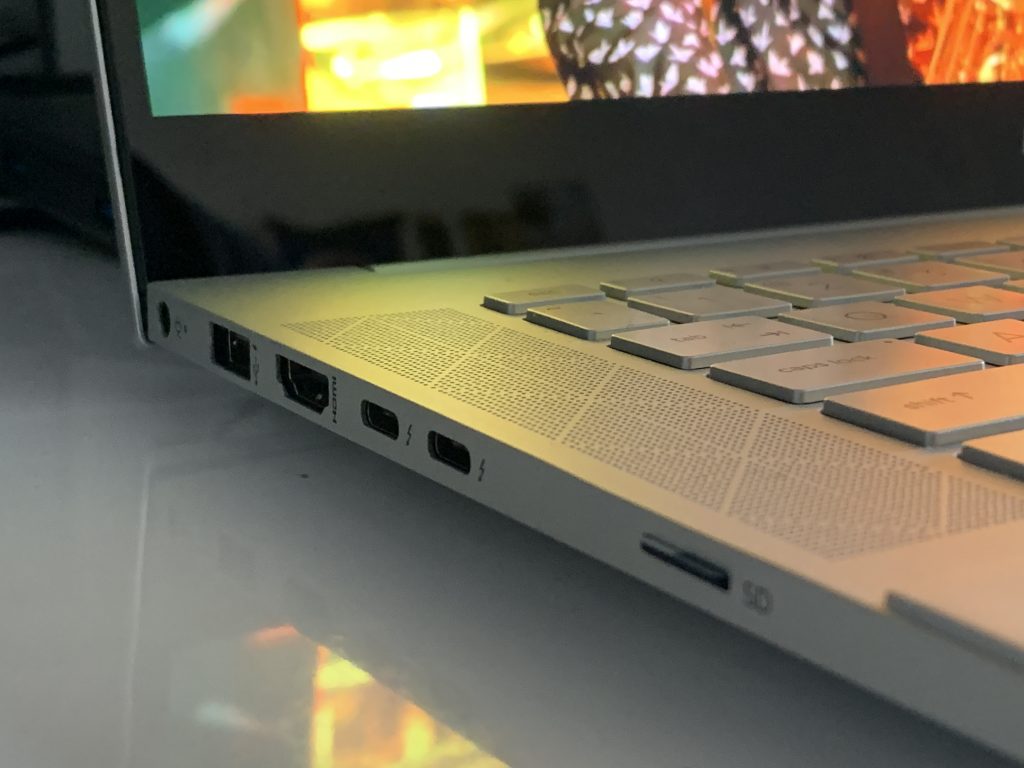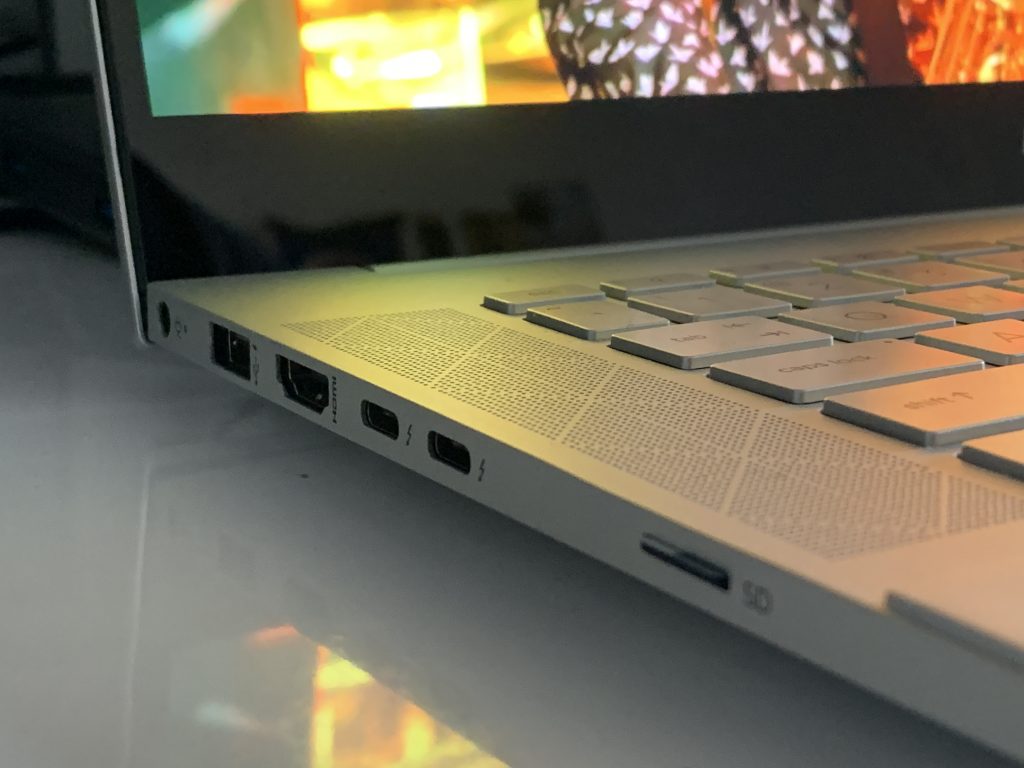 Looking at the ports onboard the Envy 15, there is a lot to go around. You won't ever need a dongle if you buy yourself this laptop. It comes with 2 Thunderbolt 3 USB-C ports, an HDMI port, and 2-USB-A ports, too. Of course, there's also a headphone jack as well. Oh, and there's even a microSD card port for expansion, too.
This is where the Envy 15 doesn't feel like it has wasted space. Unlike what you get on a Surface Laptop (USB-C and USB-A and no expandable storage) there's a port for everything you need. It comes closer to what Microsoft has on the Surface Book 3 (2 USB-A, 1 USB-C,  2 Surface Connect, and full-size SD card reader.) For content creators, which both Surface Book 3 and the Envy 15 target, that's a nice mix of ports, though some folks might have wanted a full-size SD card reader instead of micro SD on the Envy.
There is still one flaw, though. While all modern Surface devices with USB-C can be charged through the port, the Envy 15 can not. It only will charge up through its 200-watt proprietary pin charger. This makes a lot of sense because of the dedicated power-hungry RTX graphics card, but it is a bummer for this price. It would have been great to be able to charge the laptop up on the go.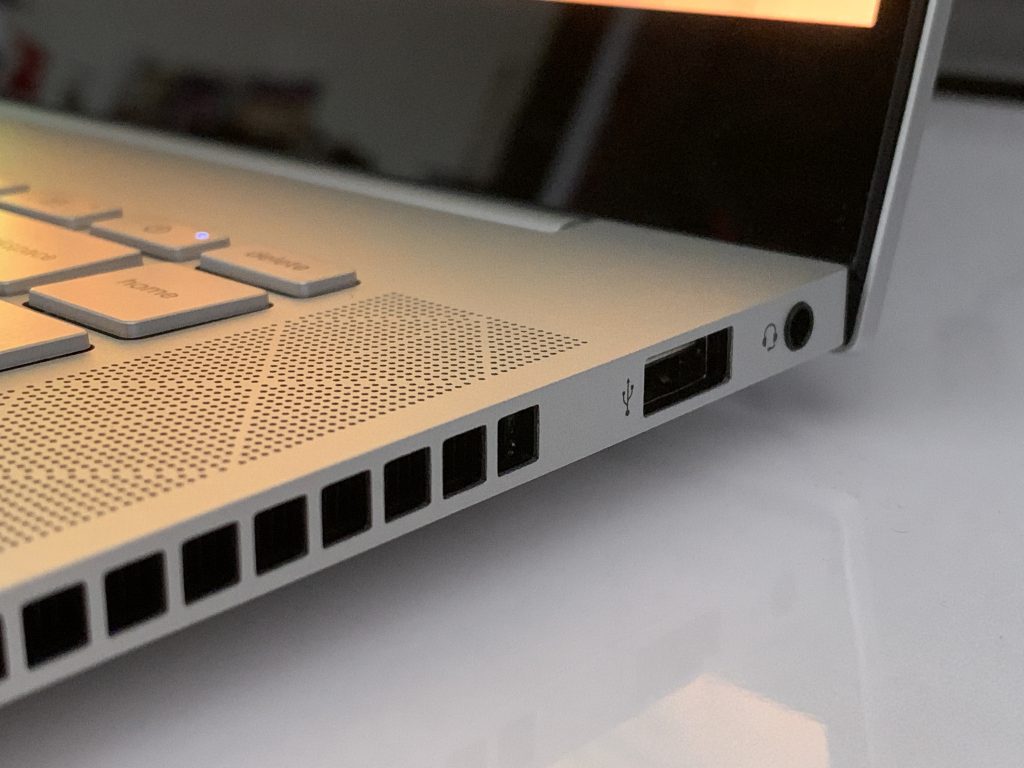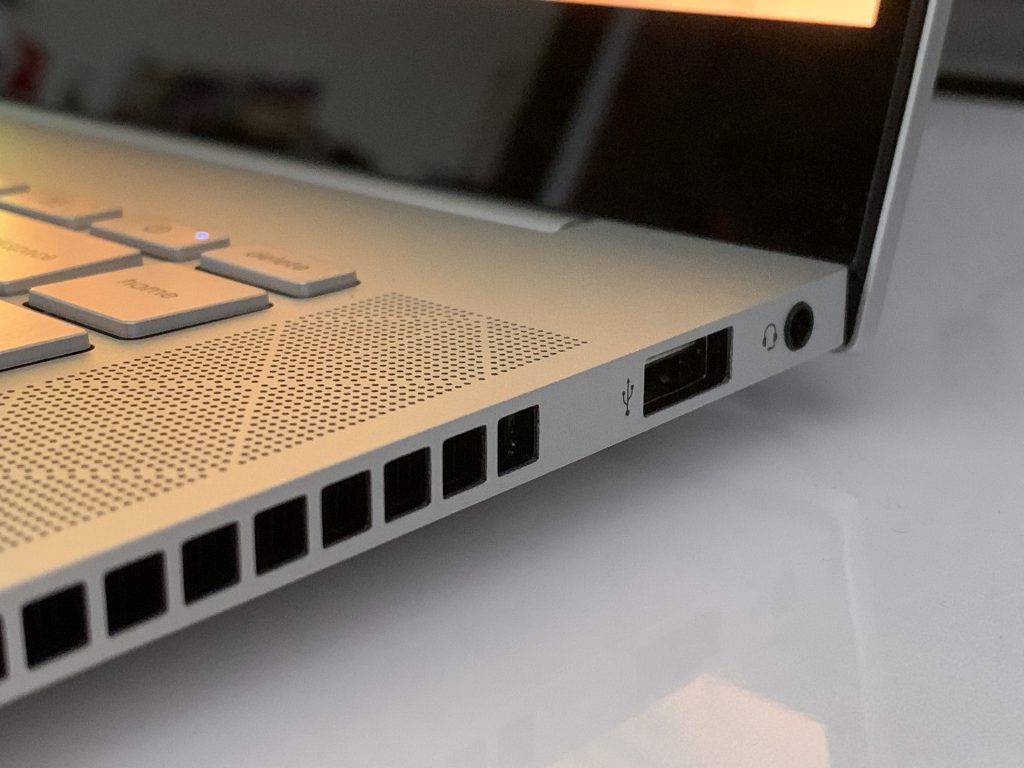 Related to ports are the speakers, webcam, and connectivity. In these areas, the HP feels a bit different from a Surface. I loved the speakers on my Surface Laptop 3, but with the HP, speakers are buried under the laptop chassis and are downward-firing. I often had to turn the sound up to high levels just to feel immersed.
The webcam is also just like what you get on a Surface as it is 720p. However, the HP Envy doesn't have a dual far-field microphone as you'd find on a Surface. It's noticeable when you're on web calls. I had to plug in an external microphone when I do my weekly Podcast for OnMSFT.
As for wireless, the Envy sports support for WiFi 6 and Bluetooth 5. No issues there, as this is routine for most laptops in 2020.
The performance and gaming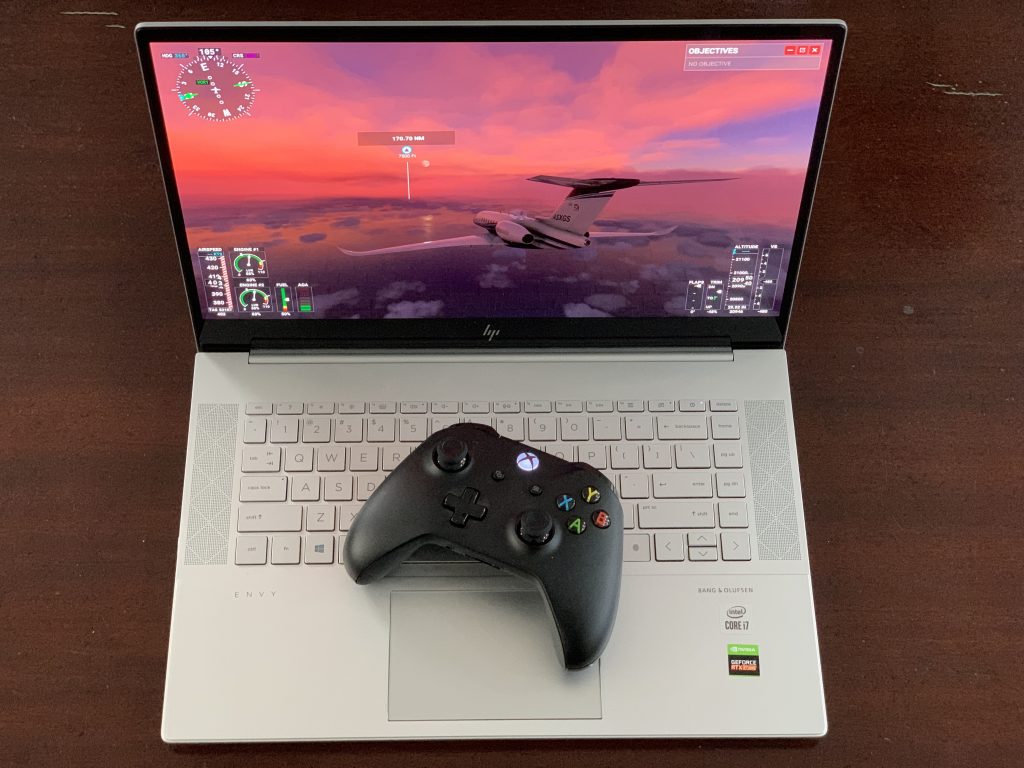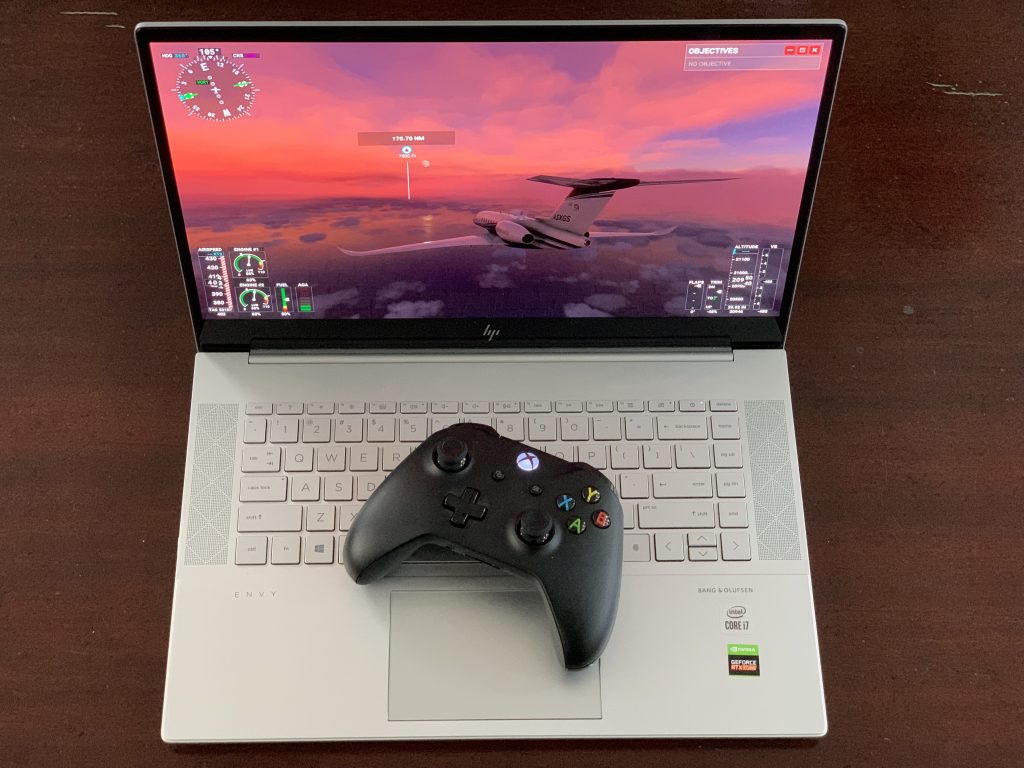 One of the reasons I purchased my HP Envy 15 was for gaming and enjoying Microsoft Flight Simulator 2020. In this area, the Envy does not disappoint. I may be repeating myself, but it's one heck of a machine, with specs that can handle almost any game.
But to be clear, though, HP doesn't advertise this as a gaming laptop. Instead, it's meant as a studio laptop, for coding, designing games, and videos. This is evident when you boot up the laptop and open the Nvidia GeForce Experience. There are no game-ready driver updates for download, as you'd see on most gaming laptops.
Like most of my reviews, I don't want to dive too deep into technical testing and aspects. Generally speaking, I will just mention how I used the HP Envy 15. For me, that's casual computing and work, as well as gaming.
For work and casual computing, the Envy 15 doesn't disappoint. Generally, I have a workflow in Edge of 10-15 tabs. Sometimes its media-heavy content, and other times, it's webpages with lots of images. Here, the Envy blasts through everything. That's evident with its Basemark web score of 765 as well as the obvious advantages of having a 6-core Intel Core i7 processor inside. There's no need for Geekbench, here.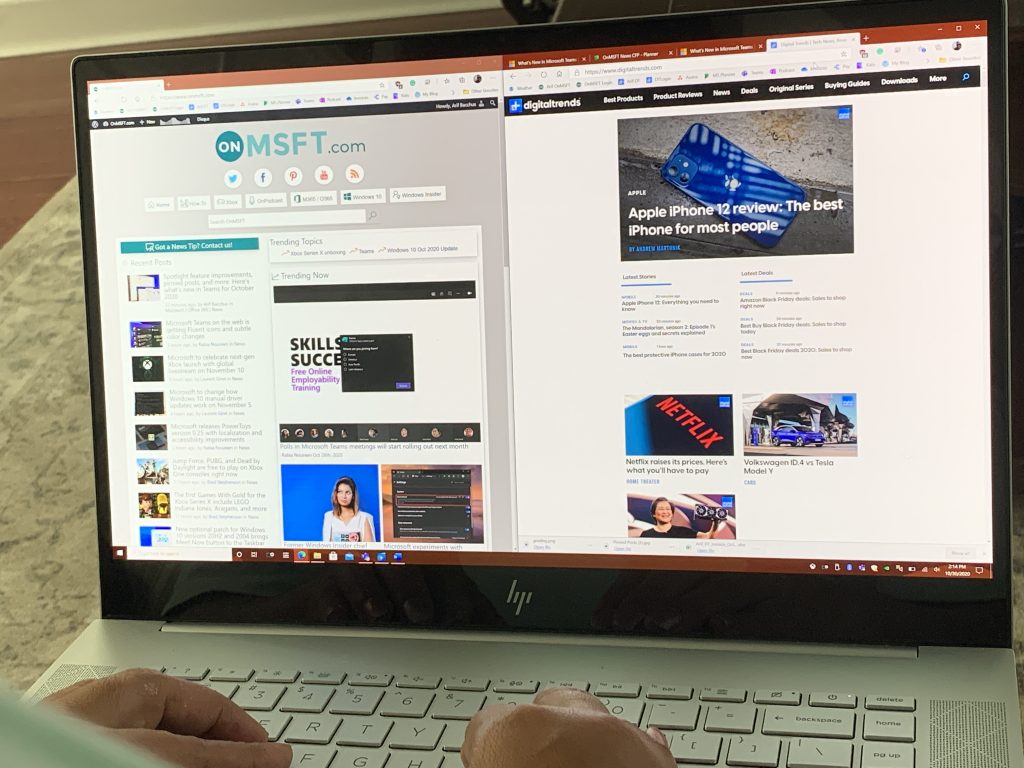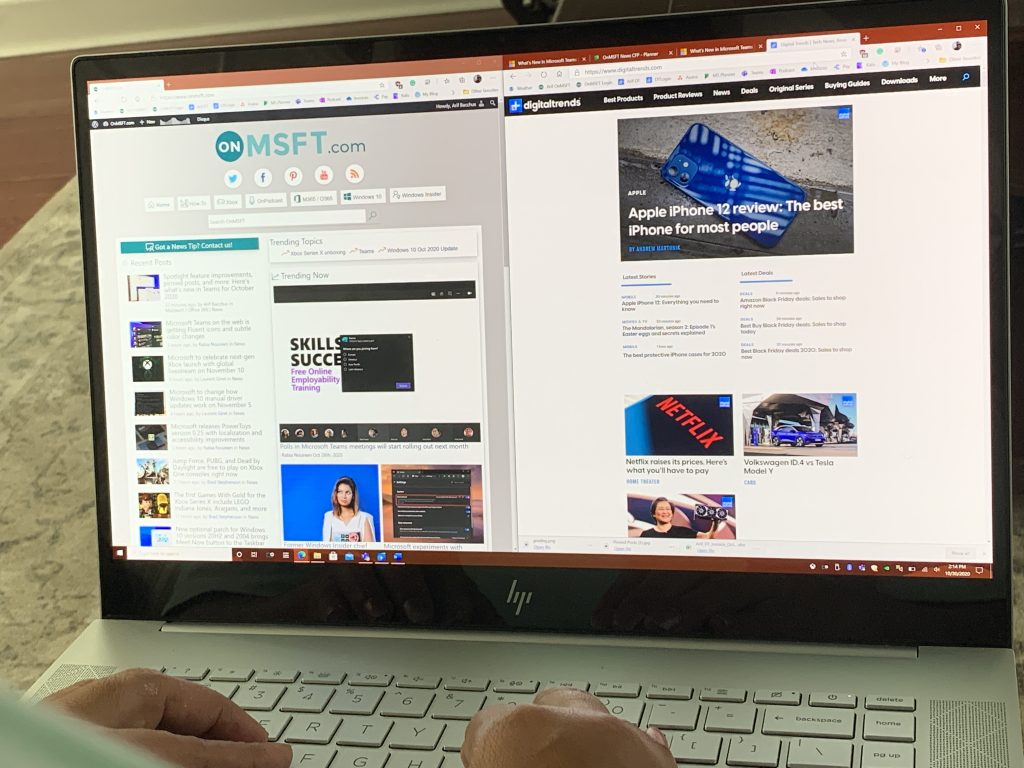 For gaming, the Envy 15 tackles every game I threw at it. In Microsoft Flight Simulator, I did not get any lag when playing on "High-End" settings at the native 4K resolution. The lands below my airplane loaded just fine, and it looked great when flying through New York City and taking in all of my home town's details from the skies above. I thoroughly enjoyed cross-country flights, flying over Pakistan, Disney, and even Downtown Los Angeles, not to mention the realistic feeling of flying through a hurricane.
Again, the HP Envy 15 isn't designed to be a gaming laptop, but with RTX graphics inside, there's no reason why it can't be one. It was able to play some games on Steam at excellent frame rates. I downloaded Metro: Exodus on Steam, and it hit about 40 frames per second on ultra settings with ray-tracing enabled, and 38 without it enabled. It's amazing to see that game push out such high frames.
Really enjoying Microsoft Flight Simulator. This is oddly relaxing. Glad I finally have a PC that can handle it, and so much more! I can see Citi Field and Flushing Meadows Corona Park from up here, too! pic.twitter.com/OqFoSjUl6T

— Arif Bacchus (@abacjourn) October 17, 2020
Finally, for video-editing, the Envy 15 doesn't disappoint, either. When I encoded a 38 minute long 1080p 30 frames per second video (the weekly OnMSFT Podcast) the HP Envy took around 2 minutes to push it out to completion. My MacBook Pro typically takes about 30 minutes to do this same task.
Encoding the latest episode of the OnPodcast for tmrw. Wow my HP Envy 15 will blow through it and finish it in 2 minutes. Insane. My MacBook Pro 13 inch usually takes 30 mins, lol. pic.twitter.com/txVdCYOERP

— Arif Bacchus (@abacjourn) November 1, 2020
I do also want to mention the cooling, here, as well. HP is using "vapor cooling" technology on the Envy 15. This is usually reserved for higher-end gaming laptops, and I think it works well with this Envy, too. The Envy never felt too hot to the touch, especially when I was gaming and playing Microsoft Flight Simulator.
HP's own Performance Control app will also give full control of the systems' fans to help cool down the laptop when gaming. The fans might come on full-speed when plugged in and gaming, but it does it for a purpose — keeping the laptop cool. Air will pass through the sides and the vents on the rear, as well as the vents on the top of the keyboard, too, ensuring the laptop never turns into a stovetop.
The display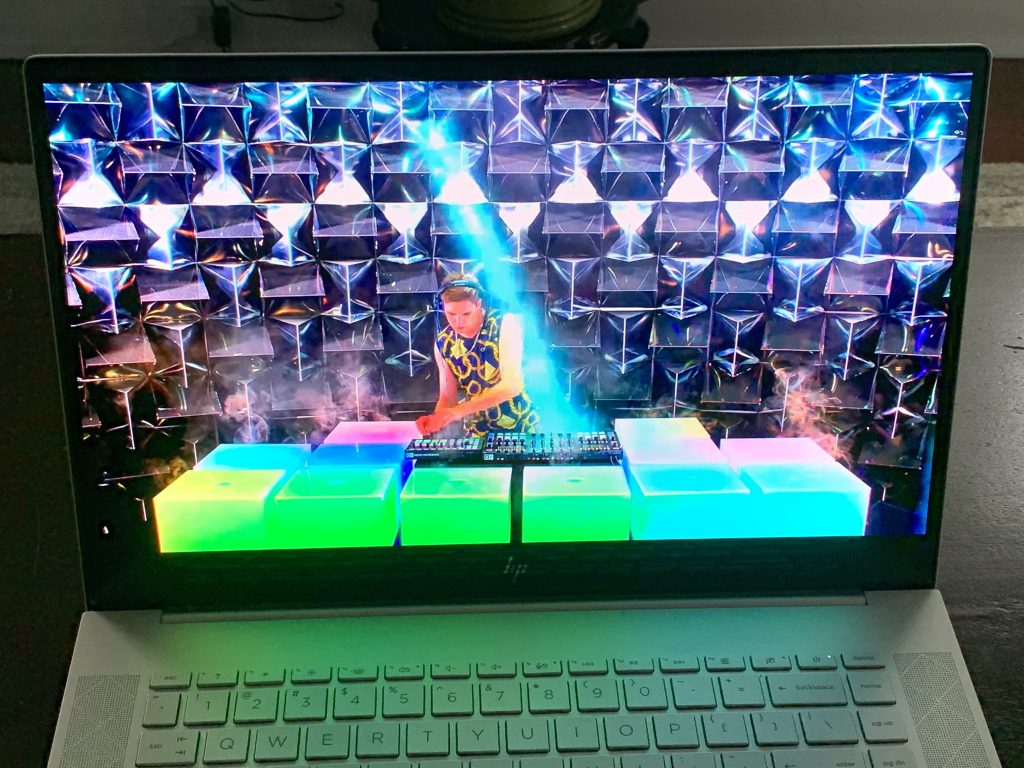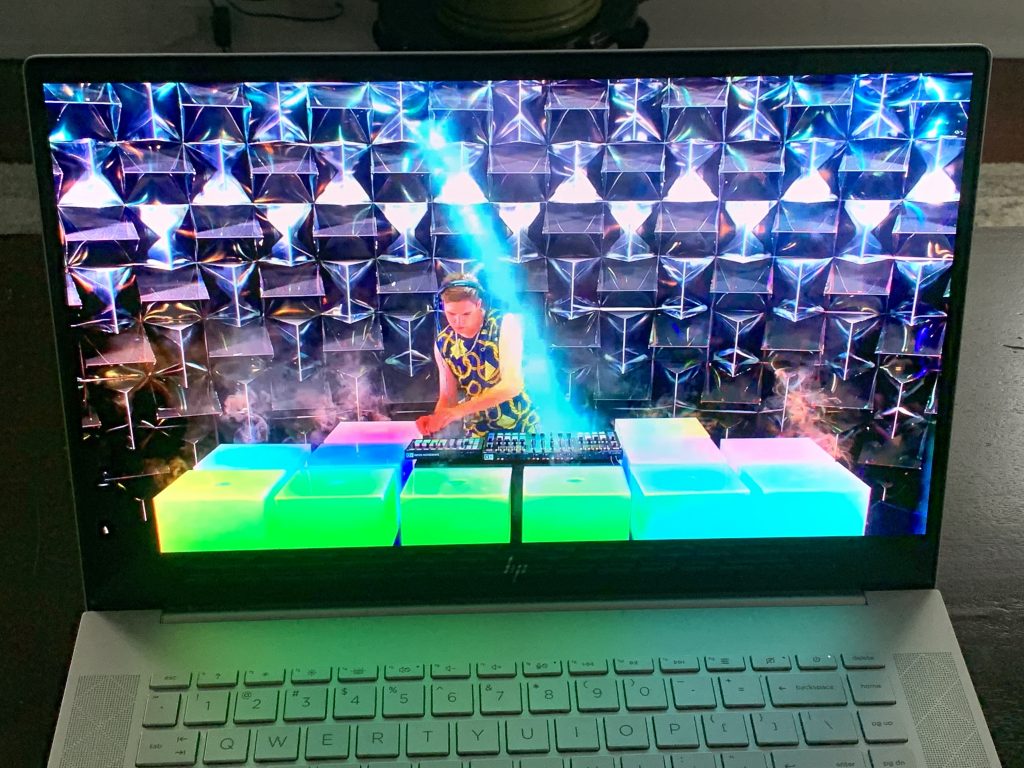 These days on a laptop, it's all about the bezels and image quality. While Surface Book 3 and Surface Laptop 3 do have thicker bezels than laptops like the XPS 15, HP's Envy 15 is on a similar footing. The bezels along the side are slim, but there's an ugly chin at the bottom of the display. However, the 4K AMOLED Panel (which supports HDR) makes up for this in every single way.
Though I praised the PixelSense display on the Surface Laptop 3 when I reviewed it, the Envy 15 kicks things up a notch. Thanks to the AMOLED panel, it pushes out some very accurate colors and deep blacks. On the first day I unboxed the laptop, I watched a sample video to test the 4K HDR quality, and I was amazed. The yellow and golds in the saxophone in the video were super vibrant and lively. Not to mention, the accurate brightness of the colors on the DJ's stage. I felt like I was in the scene with these musicians.
I've yet to see a laptop with this type of color accuracy and vibrancy. Microsoft's PixelSense displays are great for inking, but 4K OLED is even better, especially for creators. HP says it can hit 100% of the DCI-PC color gamut, and total brightness of 400 nits. Just be aware, there's no screen-technology for gamers, here. You won't find Nvidia's G-Sync on board and the screen is locked to 60Hz.
The display does have some faults, though. One of which is battery life, as we'll discuss next. The other is its aspect ratio. Coming from using a Surface Laptop 3, I really do miss the 3:2 aspect ratio. On this HP, with a 16:9 aspect ratio, it feels like I am losing a lot of vertical space. If the bottom chin was cut out, this problem probably would have been solved.
The battery life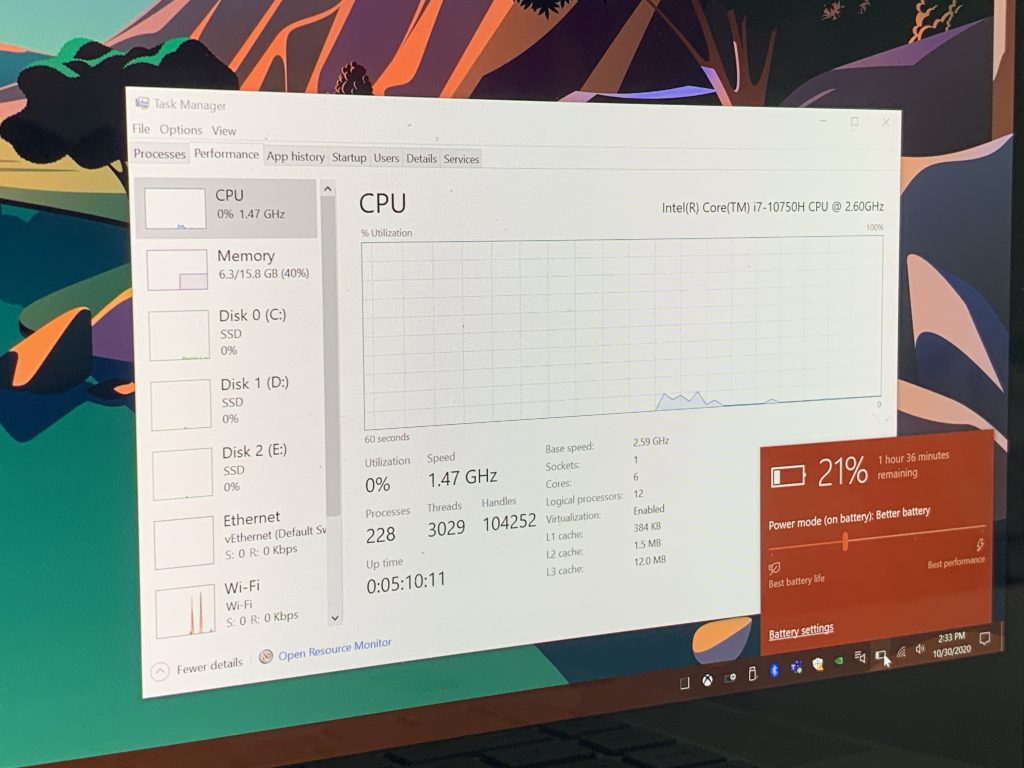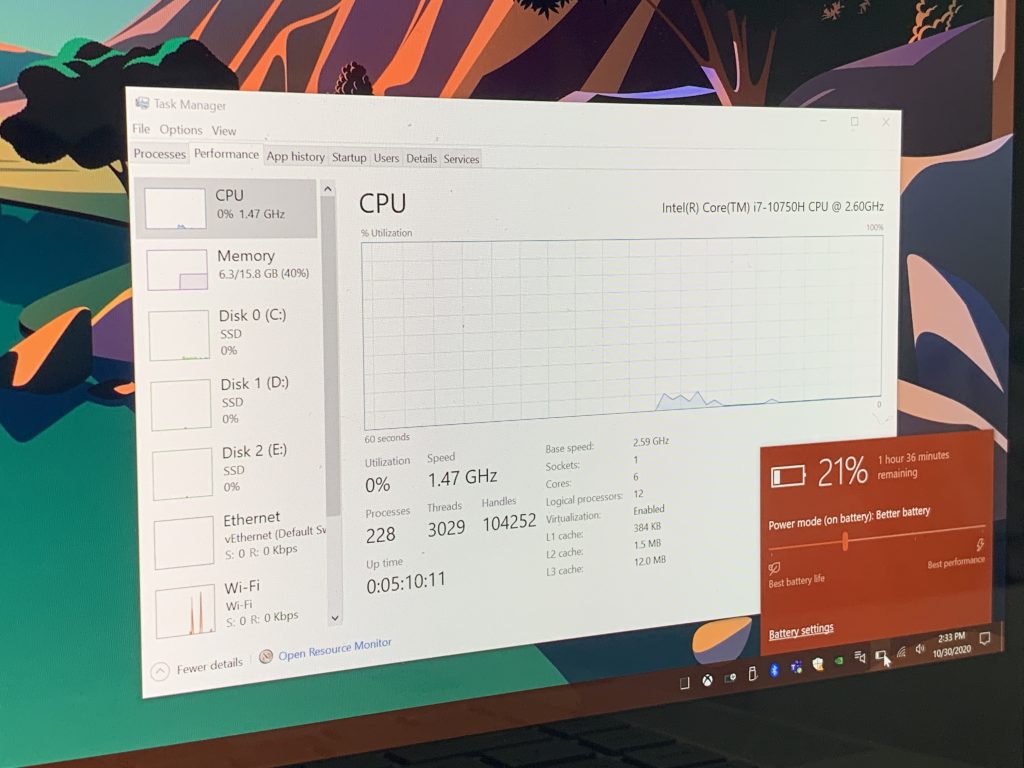 To end this review, there's the all-important battery life segment. Here's where there's a mixed bag. AMOLED and 4K displays are known to consume a lot of power. And, with this HP Envy 15 having a power-hungry RTX graphics card inside, the combination doesn't quite equate to good battery life.
Keeping the display brightness down to around 20 percent, and setting Windows to "better battery" I received about 5-6 hours of screen-time for my general day-to-day productivity. When gaming on the battery (which I would not recommend because the HP isn't able to use the full power of the RTX GPU) I got half that, with the performance settings set to "best performance." Considering this is more of a workstation and desktop replacement, rather than an ultrabook. This is still good battery life considering the specs, though.
The end: Better than a Surface
If you're looking for a powerful laptop that's under $2,000, but also has enough power for gaming, video editing, and even managing virtual machines, then this HP Envy 15 is you. Compared to Microsoft's top-end Surface devices, there's a lot of value here for the price.
For sure, you do lose some things from Surface with the HP. That includes a 3:2 aspect ratio, pen support, and the tablet form factor, along with battery life. However, in terms of raw power, the HP Envy 15 is unmatched for it's $1,700 (and when on sale $1,600) price. You'll get better RTX graphics, a fantastic display, and the versatility of a six-core Intel processor.
It could be lessons learned for Microsoft, too. The company's own Surface Laptop 3 lacks a dedicated GPU, and when compared to the Envy 15, the Surface Book 3 sports a lesser-powered GTX graphics. Here's to hoping the next Surface packs more power.