From FQQ comes this portable 14" monitor extender, model S14. Although this product is primarily designed to serve as a laptop monitor extender, it also works with a wide range of devices including Windows, Mac, Linux and Android devices. It also is compatible with Xbox and Nintendo Switch game consoles.
Note that according to the product page on Amazon, this FQQ monitor extender is not compatible with MacBook M1&M2, Microsoft Surface Series (ARM chip), or Chromebook (ARM chip).
The package contents include:
The monitor
A carry case
Cleaning cloth
A USB-C to USB-C cable for video & power
mini-HDMI to HDMI for video only
USB-C to USB-A cable for power only
A power adapter
A screen protector
6X protective caps
A hook and loop cord fastener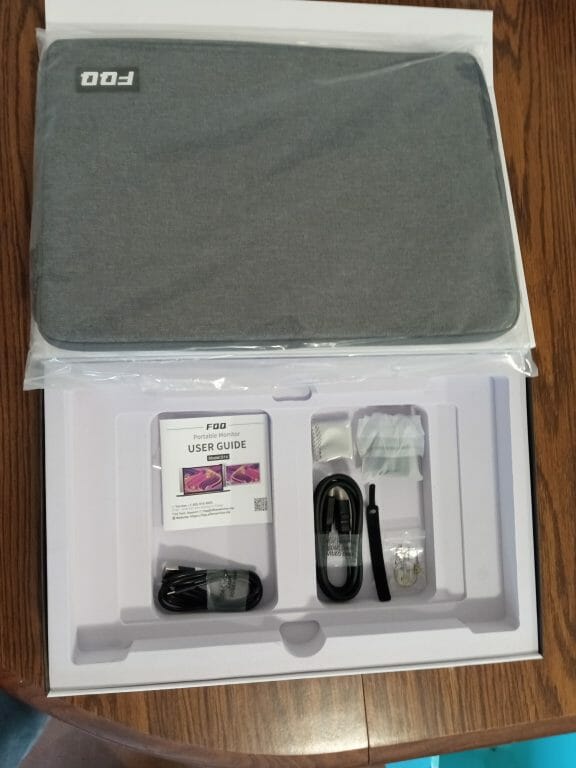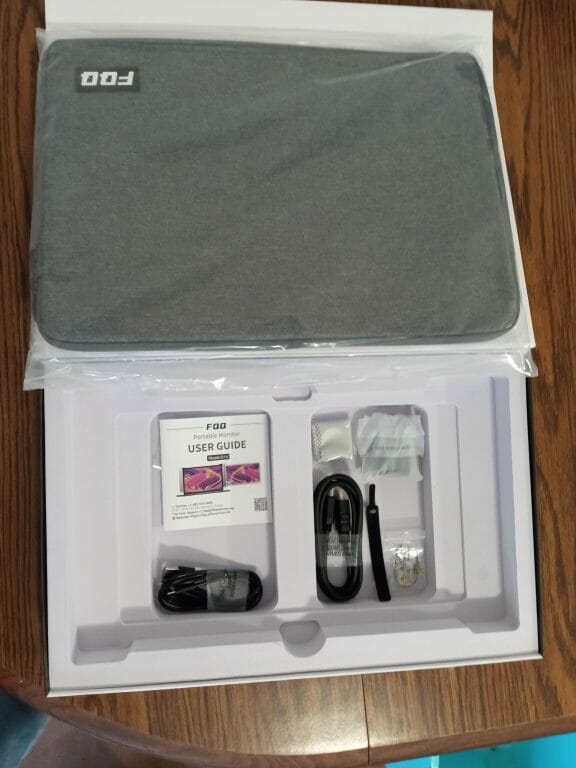 Setting up the monitor as a laptop screen extender is fairly simple. Just gently unfold the monitor, attach the plastic caps to the two pins at the bottom of the monitor's base and slide it onto the laptop, using the brackets at the top to secure the laptop screen. Drop the embedded kickstand and you're good to go.
Getting the S14 ready for primetime is as easy as plugging it into the device of choice. The S14 automatically picks up the signal in just a few moments, and you'll be pleased to know that no drivers are needed—this is a true plug and play monitor.
Below I have the S14 connected to an 11.6″ Lenovo Flex 3 Chromebook. (Note that this 14″ monitor extender is really intended for bigger laptops as seen in the dimensions list below, so I had to make some improvisations here).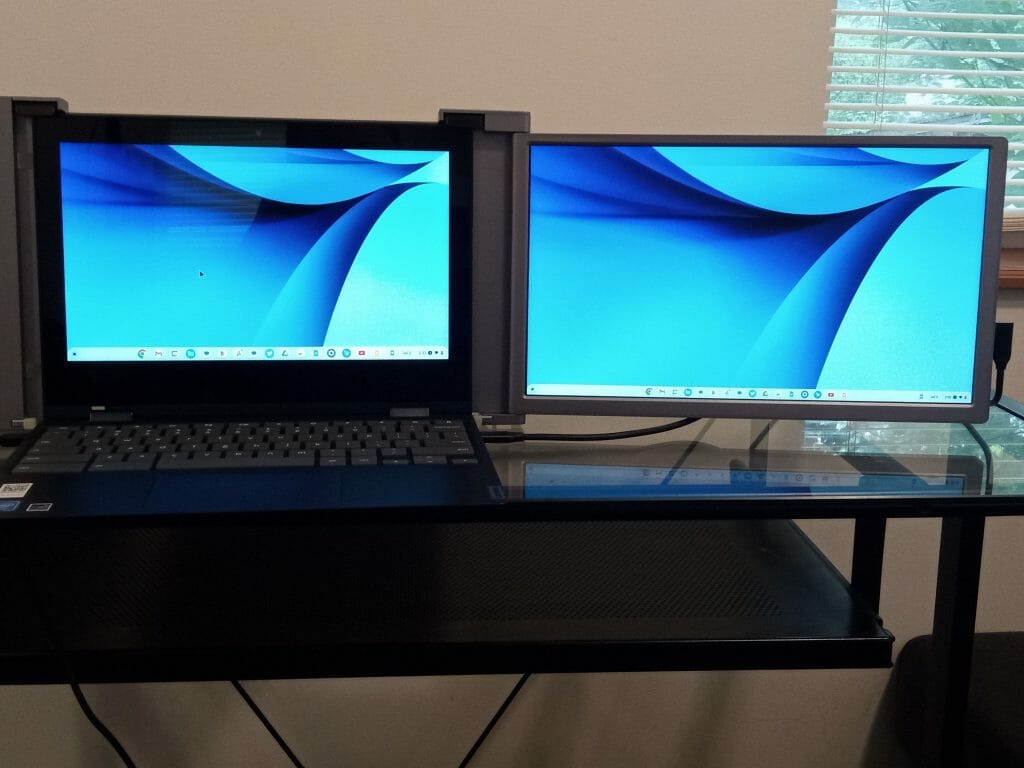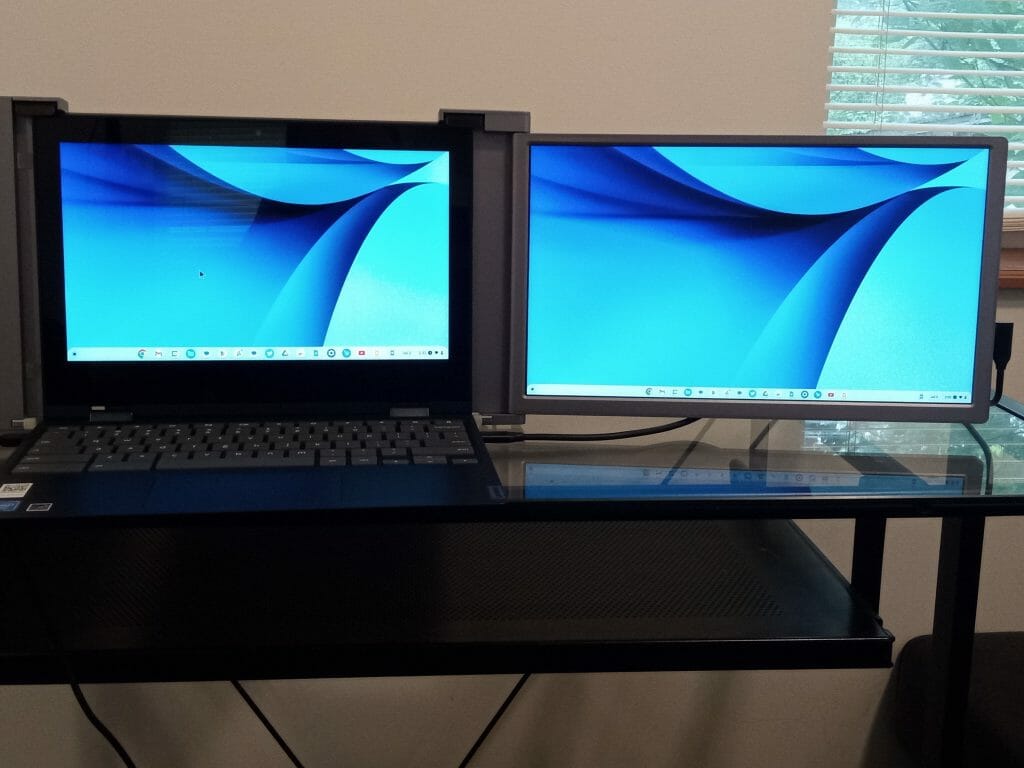 It's also one that doesn't compromise much in the way of portability. Weighing in at 1.65 lbs, the S14 is very thin and very lightweight. Build quality is rock-solid however for both the display itself and the attachment panel, including the kickstand. While the monitor is foldable it is also extendable, so it should fit 14"-17" laptops with the following dimensions:
Length: 12.1-16.8 inches
Height: ≥ 8.6 inches
Thickness: ≤ 0.32 inches
The monitor includes two USB Type-C ports and a mini-HDMI port. Plus/Minus buttons allow for menu screen navigation and adjusting the screen brightness. And the menu button opens the OSD (On-Screen Display) menu. Here you can access a wealth of display settings such as color temp, contrast, black level, and so on. You can also select one of several presets like Standard, Game and Movie modes, etc. in addition to other settings.
The display
In a word, the FQQ S14's FHD (1920p x 1080p) IPS display provides a fantastic viewing experience. The screen features a 16:9 aspect ratio, 60Hz refresh rate, half-inch bezels, anti-glare and a 178° viewing angle, as well as a 72% color gamut value.
What does all this mean? It means a display that is crisp and crystal clear, with vibrant color and detail that is sharp and vivid.
Performance was generally solid using the S14, and multitasking was mostly a breeze with say, YouTube, multiple Chrome tabs, the Twitter desktop app, and a Google doc all open on my Chromebook. However, with certain resource heavy apps and web pages, performance took a slight hit—though how much of that was really attributable to the S14 is uncertain.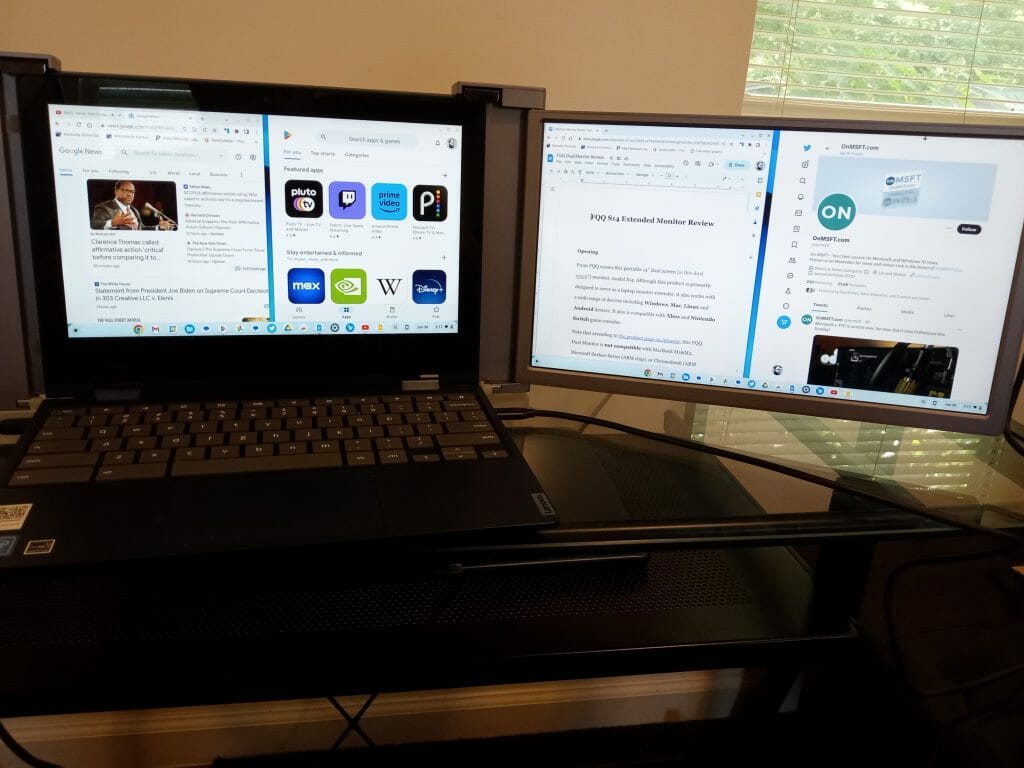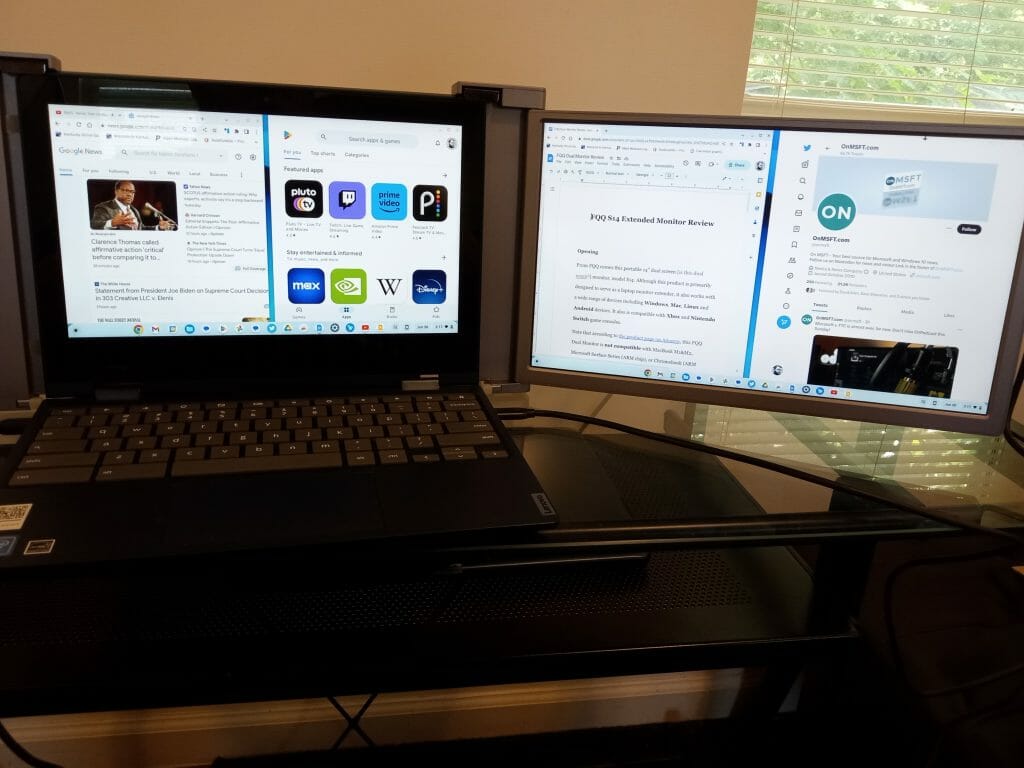 The verdict
DISCLAIMER: A sample unit was provided for an honest review.
All in all, the FQQ S14 monitor extender is an easy recommendation for anyone looking for a portable monitor extender solution—particularly one that takes the pain out of multitasking on a laptop. Whether the extra screen space is needed for the office laptop or for travel, this monitor pretty much checks all the boxes: true portability, sturdy build and a great display whether it's for writing up a doc, watching YouTube or getting in some gaming.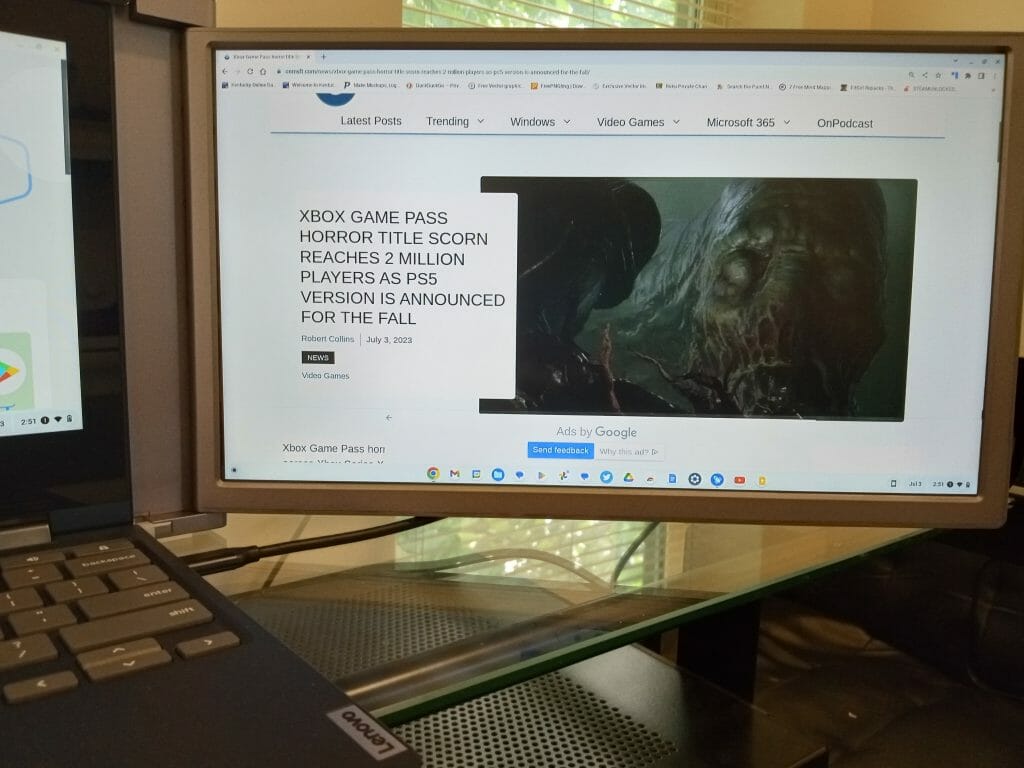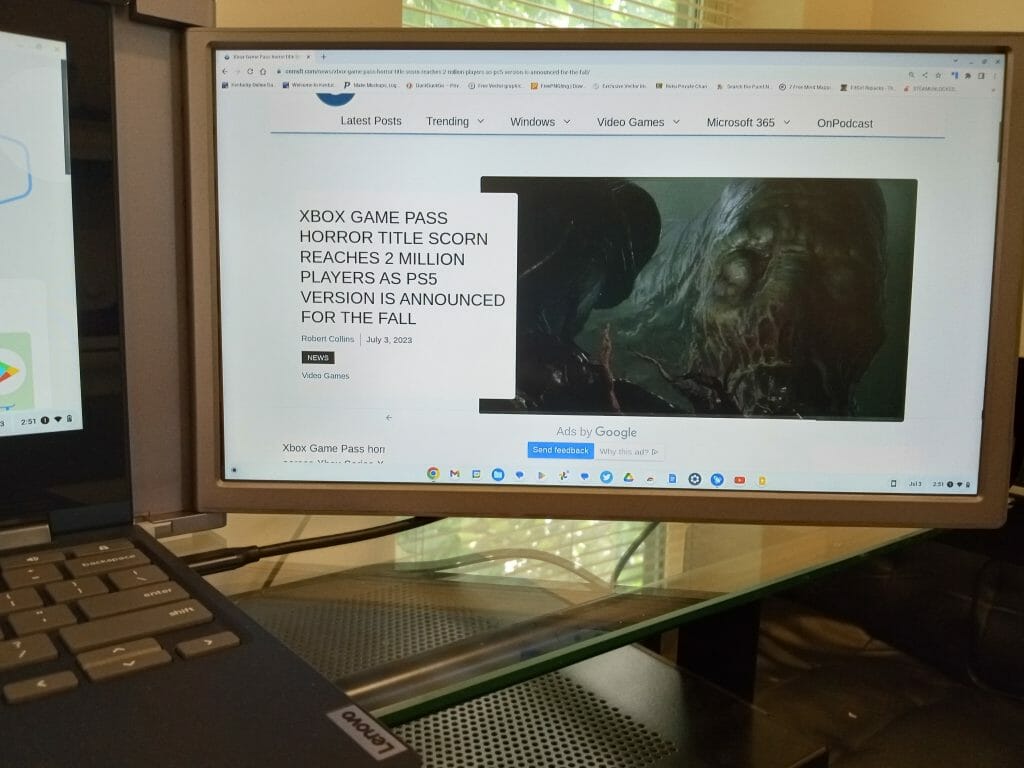 If there is one point of feedback I might give, it's that it would be great if the monitor had a way to slide back into the attachment panel when not in use. As it is, the portable monitor must be removed and folded closed to be put away. Which is an easy-enough process, but if FQQ finds a way to remedy this in a future model that allows the screen to slide inward (either between the base panel and the back of the laptop lid, or alternatively behind the panel), then this would be pretty close to perfect.
The FQQ S14 portable extended monitor is available on Amazon, and retails for $299.99 USD.