As a former college student, there are a couple of things that come to my mind when someone tells me they are shopping for a new laptop for the back-to-school season. I always mention five core themes.
First, you'll need a laptop that will get you long battery life. You'll also need a large and expansive screen for those times when you're not near a monitor. Then, you'll also have to enjoy touch and pen capability for note-taking. Finally, there's the need for system performance for multitasking and even light gaming. That's all on top of the usual "premium" Macbook-like feel that you expect when dropping close to $1,000 on a laptop.
Just so happens that back-to-school season is approaching, and Dell sent me over a system that checks all of those boxes. It's the Inspiron 16 2-in-1 7620, which is available at Dell.com today for $1,225 as I reviewed.
Specs & Price
The unit I am reviewing today is powered by Windows 11 Home. It comes configured with an Intel Core i7-1260P series processor, 16GB of DDR4 3200 MHz RAM, and a 512GB M.1 PCIe NVMe SSD. You're free to upgrade the RAM, or SSD if you want by opening the back of the unit, even the Wi-FI module can be swapped out. This is a huge plus, as competing systems from HP and LG don't let you do this.
I do want to mention, though, that my model hasn't been upgraded to a dedicated GPU, but the Nvidia Geforce MX550 can be added at checkout if needed for an additional cost. My unit also hasn't been upgraded to the OLED UHD+ screen. Instead, it has a standard 1920 x 1200 resolution FHD+ 16-inch screen. All display options are tuned to the 16:10 aspect ratio.
Measurements come in at 14.05 x 9.91 x 0.72 inches, and the weight is 5 pounds. Again, the display upgrade to 4K OLED would be a huge price bump of $500 extra.
As far as the ports go, the mix includes 2 USB 3.2 Gen 1 Type-A ports, 2 USB-C Thunderbolt 4 ports, a headset jack, a full-size SD card reader, and an HDMI 1.4 port. Webcam is 1080p, without Windows Hello. Dell also included the optional Dell Active Pen- PN5122W for me as part of my review. The pen retails for $50 and is usually on sale for $37.
This Dell Inspiron 16 2-in-1 is not to be confused with the more powerful Inspiron Plus laptops that just launched. Those are much more expensive and feature Intel H-class processors, as well as RTX 3060 graphics.
Design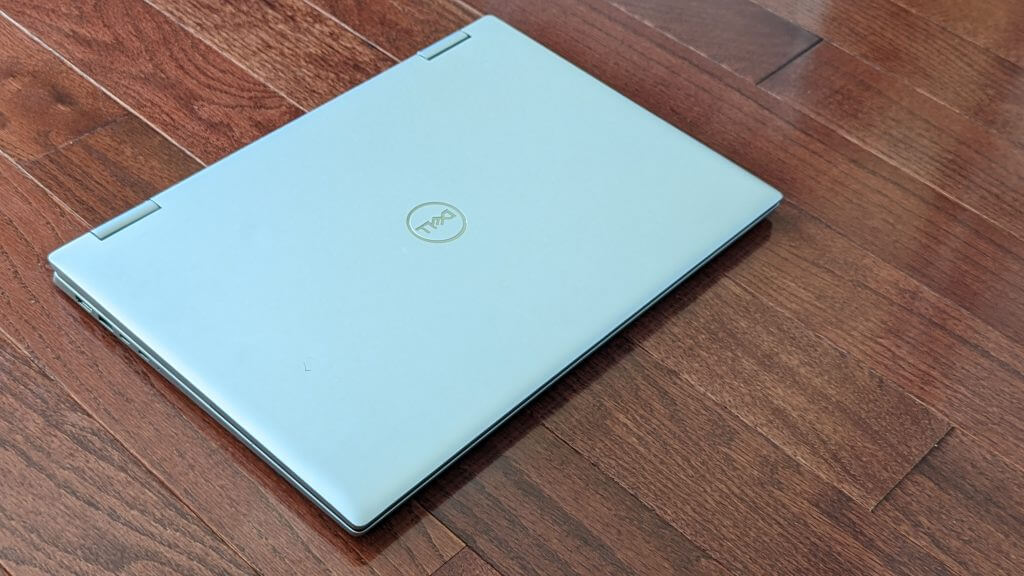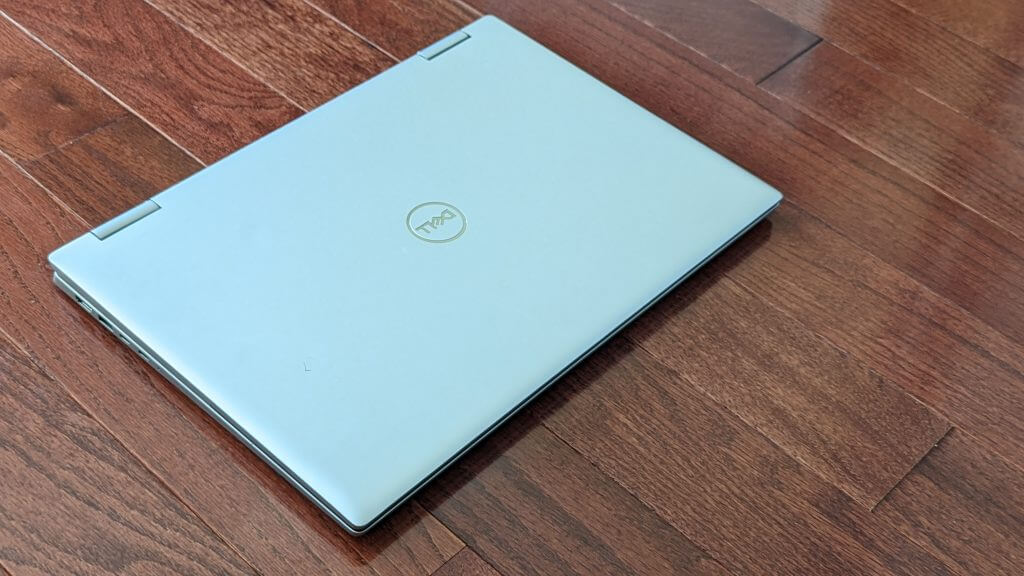 The Dell Inspiron 16 2-in-1 is built tough. The device's exterior chassis is made out of aluminum and colored in your typical Dell "Platinum Silver" option. A "Dark Green" option is also available, but only on models with Nvidia MX graphics. This silver resembles what you'll see on an HP Spectre x360 16, or LG Gram 16 2-in-1. Also, in terms of weight, all of those systems are about in the same size and weight class. There aren't a lot of 16-inch 2-in-1s, but the main competitors are the LG Gram 16 2-in-1 and the HP SPecire x360 16.
What's interesting though, is that Dell has managed to make its system a lot more rigid and has also tweaked the design between generations. Looking at photos of last year's 7610 2-in-1, this year's model looks a lot more like an older MacBook Pro would, with flatter edges, and sharper, somewhat rounded corners.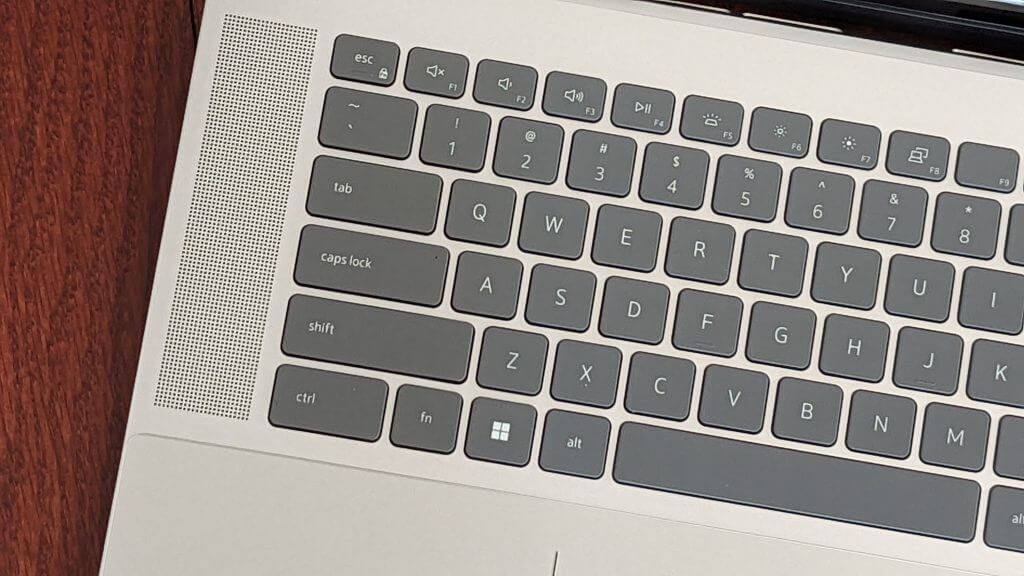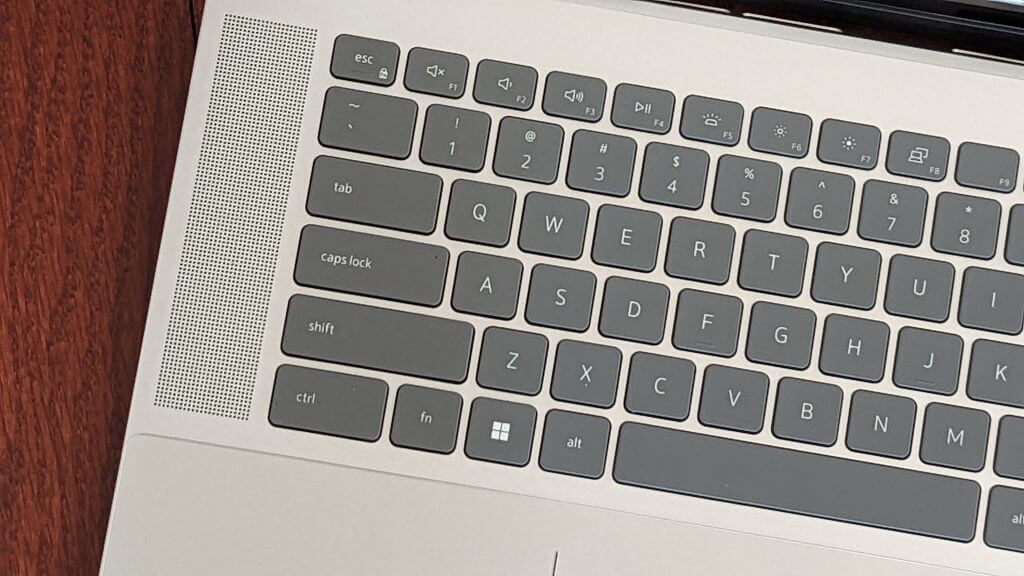 Elsewhere, when I pressed down on the keyboard deck, as well as flexed the lid, the Inspiron didn't budge. This is a system that's built strong. Even the hinges are quite strong, holding the 2-in-1 up at all angles without issues.
In addition to moving this device in between the tent, tablet, and stage modes, the hinge can lift the keyboard up at an angle when the 2-in-1 is in laptop mode, so you can type at a more comfortable angle.
Another cool design feature on this Inspiron? Dell has thought about moments where your palms might get sweaty or dirty. The palm rests have a smooth mylar layer, which can help prevent smudges and fingerprint build-up. This is important for a laptop that students might end up using that will go through wear and tear over the years.
Ports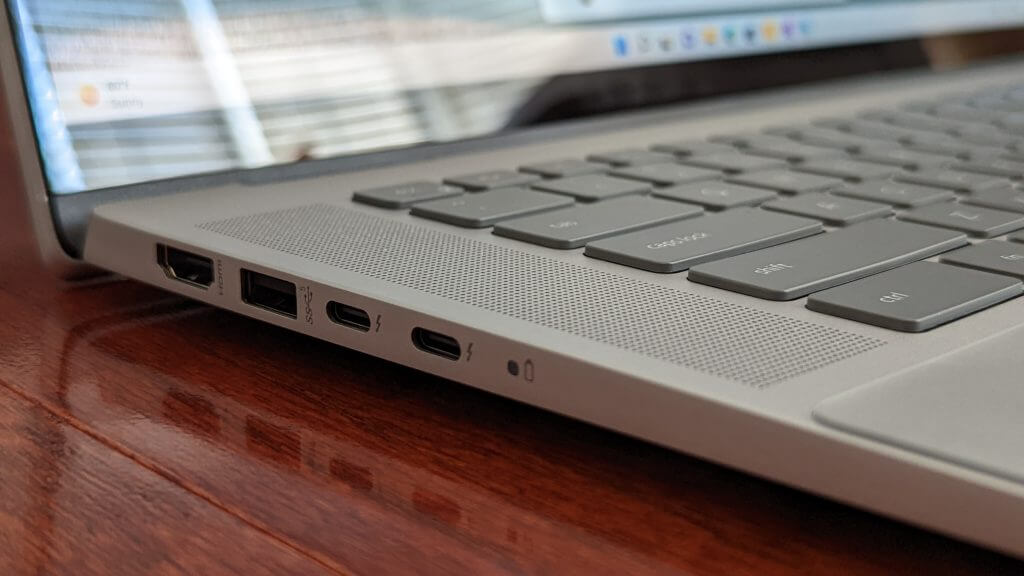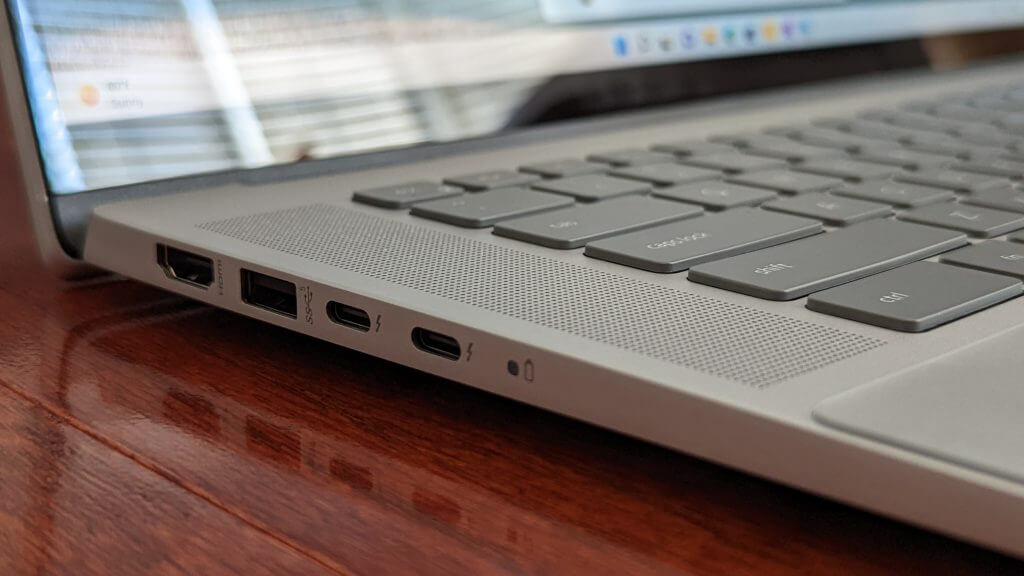 The last thing a student wants with a laptop is to have to use dongles and carry around a USB-C hub. That's something that is not of worry on this 2-in-1. Dell gives you a great mix of ports. As I mentioned at the top, there's a lot on this machine.
On the left side, you get an HDMI 1.4 port, a USB-A 3.2 Gen 1 port, and 2 USB-C Thunderbolt 4 ports. Do note, though, that as HDMI 1.4, you can't get 60 FPS 4K videos, which I don't think students might need anyway. You do, though, get external GPU support, as Thunderbolt 4 is included. On the right, there's the SD Card reader, a USB-A 3.2 Gen 1 port, and a headphone jack. The SD Card reader is limited to 30 Mb/s speeds max transfer rates.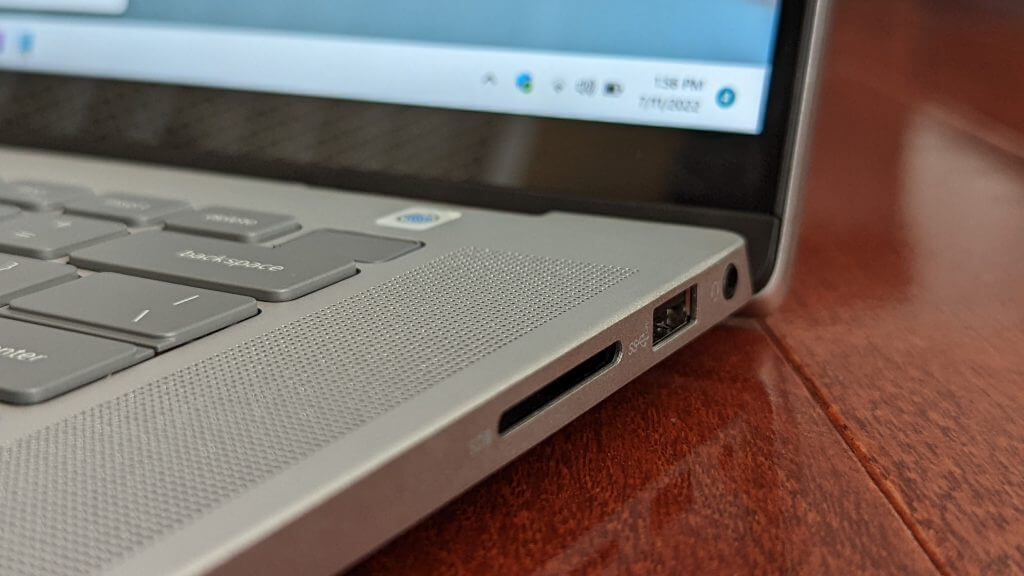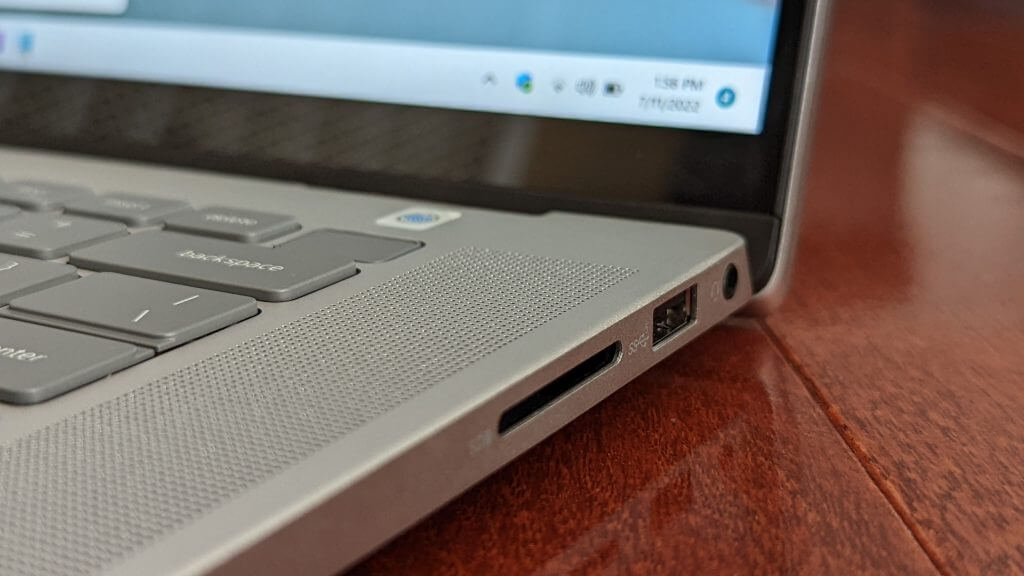 I sometimes mention security in the ports section, and in this case, there's a fingerprint reader on the power button on this machine. If you buy the model with the OLED display, you'll also get Windows Hello. For this price, though, I do wish that it was standard.
Keyboard & Trackpad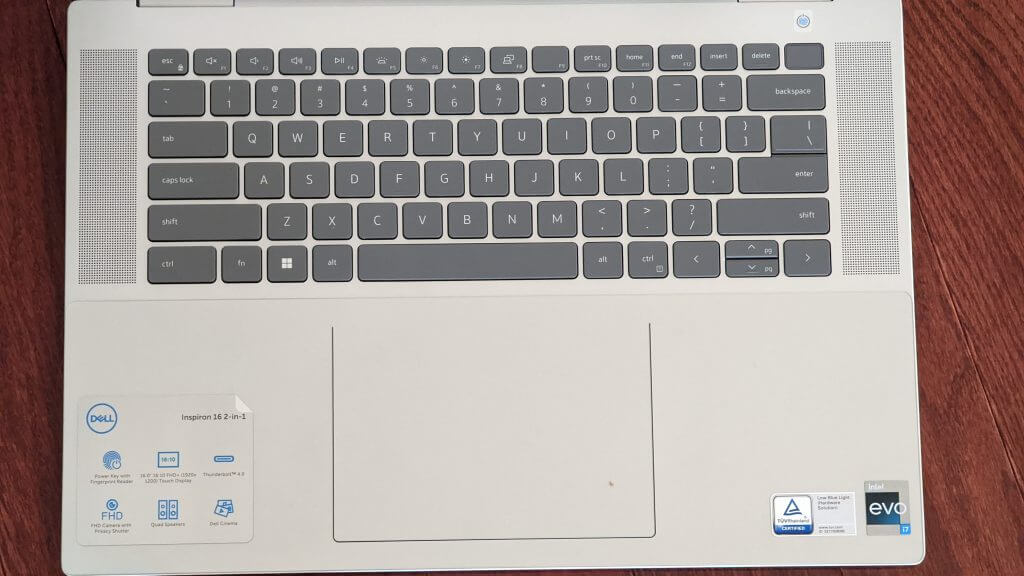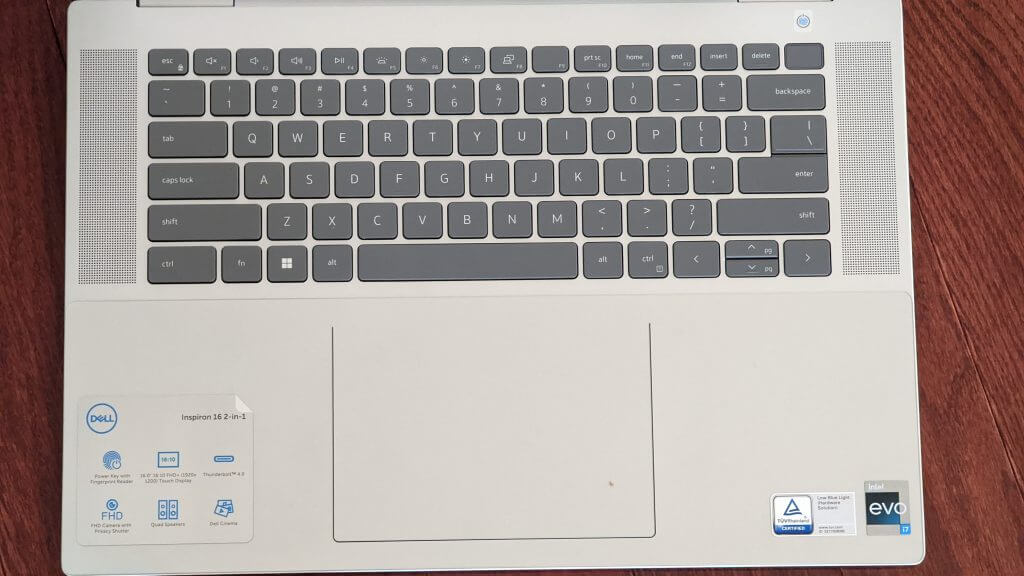 Students will spend a lot of time on the keyboard and trackpad on this Inspiron, and the good news is that both are awesome to use for day-to-day tasks.
The trackpad on the Dell Inspiron 16 2-in-1 7620 is one of the largest I've seen on a laptop. While it is not haptic like on the new XPS 13 Plus models, it is smooth to use and scroll and gives some great "loud" feedback. For dimensions, it measures around 5.2 x 3.5 inches. There is no "top" part to the touchpad either, as it blends right in with the mylar palm rests. Such a cool look!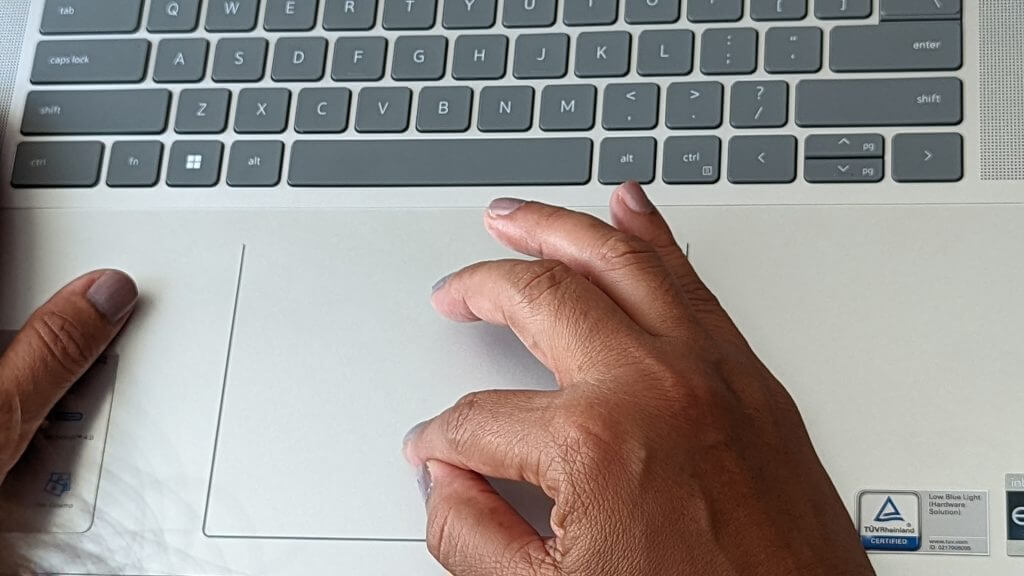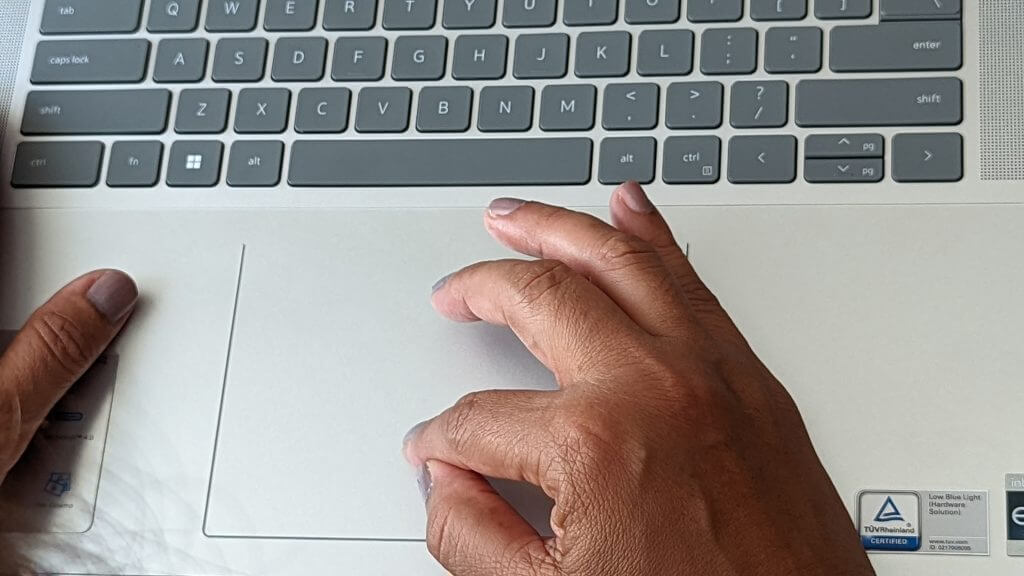 The touchpad leaves a lot of room for multitouch gestures, navigating Windows, and dragging and dropping. It also seems to pick up fewer fingerprints than my other laptops, mainly due to the mylar layer on top, that's used in the palm rest. Again, this is great for students.
As far as the keyboard, it reminds me of a lot of other Inspiron laptops. The black chicklet-style keycaps have a soft feeling and aren't quite as clicky as the keys on a MacBook Pro or Surface Laptop would be. Still, that soft feeling helps with speed typing. I got to 84 words per minute in a typing test. The keyboard is also backlit on two levels so you can type at night. Dell even claims it is spill-resistant, though this isn't something I tested.
Display & audio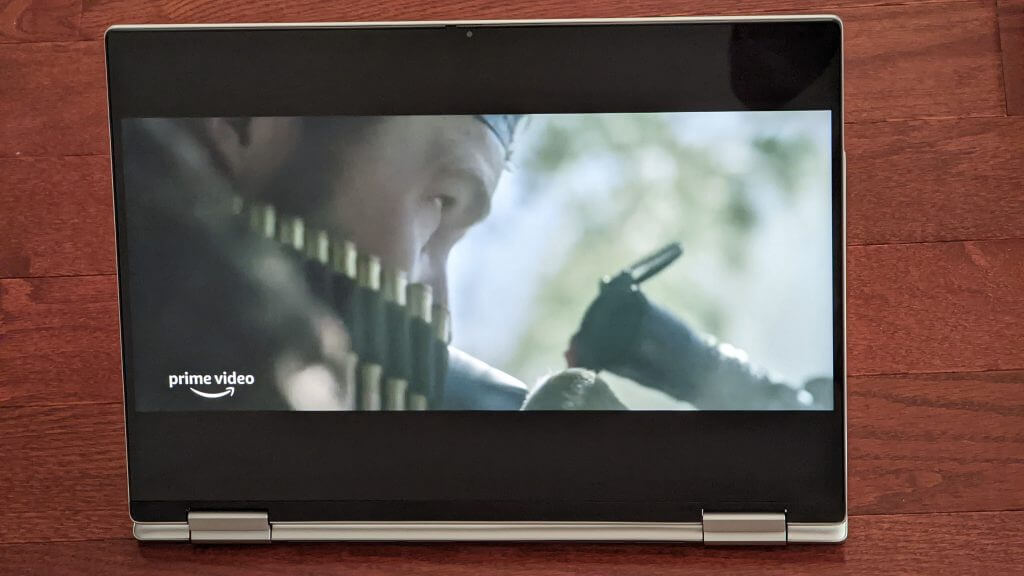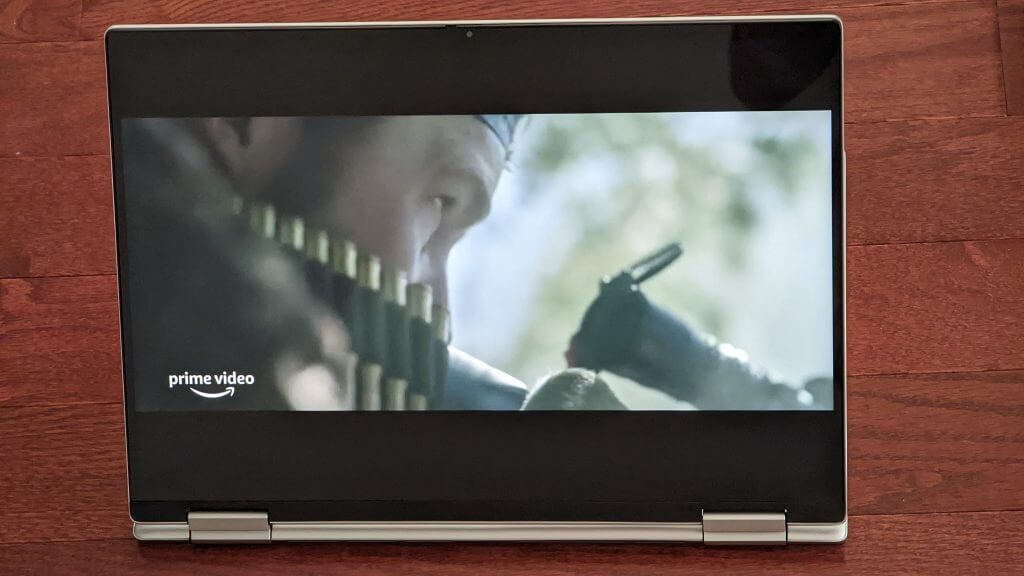 Dell's XPS lineup pioneered the "Infinity Edge" display, where bezels are super slim. The display on this Dell Inspiron 16 2-in-1 7620 is clearly inspired by that, though toned down a bit. This is yet another win for students looking for a new laptop.
The bezels on the side of the display are slim, but along the top, a bit thick for the webcam. The same also applies to the bottom, where you'll find a small black "chin." This helps you hold the 2-in-1 as a tablet when folded so you don't accidentally touch the screen.
In terms of quality, though, the 16:10 aspect ratio on this year's Dell Inspiron 16 2-in-1 7620 is a huge boost for productivity. Along with the massive 16-inch panel you get, this means I'm able to stack two near full-size Microsoft Edge windows side by side and multitask to get more done.
16:10 allows for more vertical room on the screen. Black text looks super sharp, and white colors are very bright and vibrant. The glass glossy panel also helps reduce glare a bit, especially when under bright lights. I noticed on backlight bleed.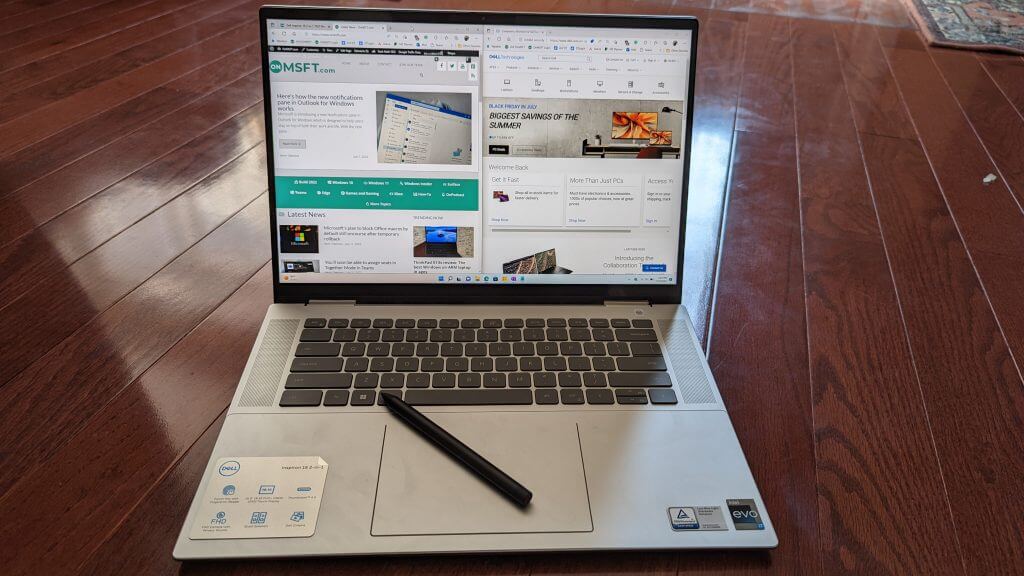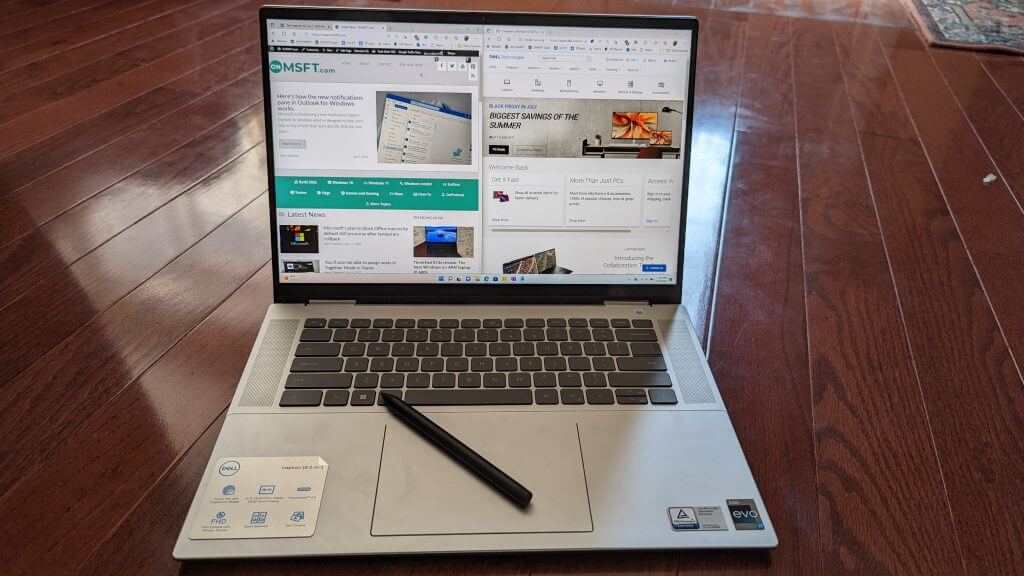 In terms of color accuracy, my colorimeter tells me that this display hits 95% of the sRGB spectrum. Brightness also hits 320 nits max. To try out that color accuracy outside of benchmarks, I watched episodes of Amazon's The Terminal List. In this dark show, I accurately made out the details on Reec's face after he came out of a fresh gunfight in San Francisco. Scars, his blood, and even black gunpowder were all visible and life-like That leads me to say that this display will be great for multimedia and that the 4K OLED option will only be better.
Dell says that the display uses DC dimming technology. This helps reduce flicker. The display even supports ComfortView Plus, to help reduce blue light emissions, without giving up on color.
As far as audio goes, there are quad speakers on board, with Waves MaxxAudio. A lot of the audio comes from the sides of the keyboard deck, which makes movies and YouTube watching immersive. All of the 4 speakers are 2 watts, so the sounds you hear will be really great. I felt that this applies to music, as well as audio calls.
Inking with Dell Active Pen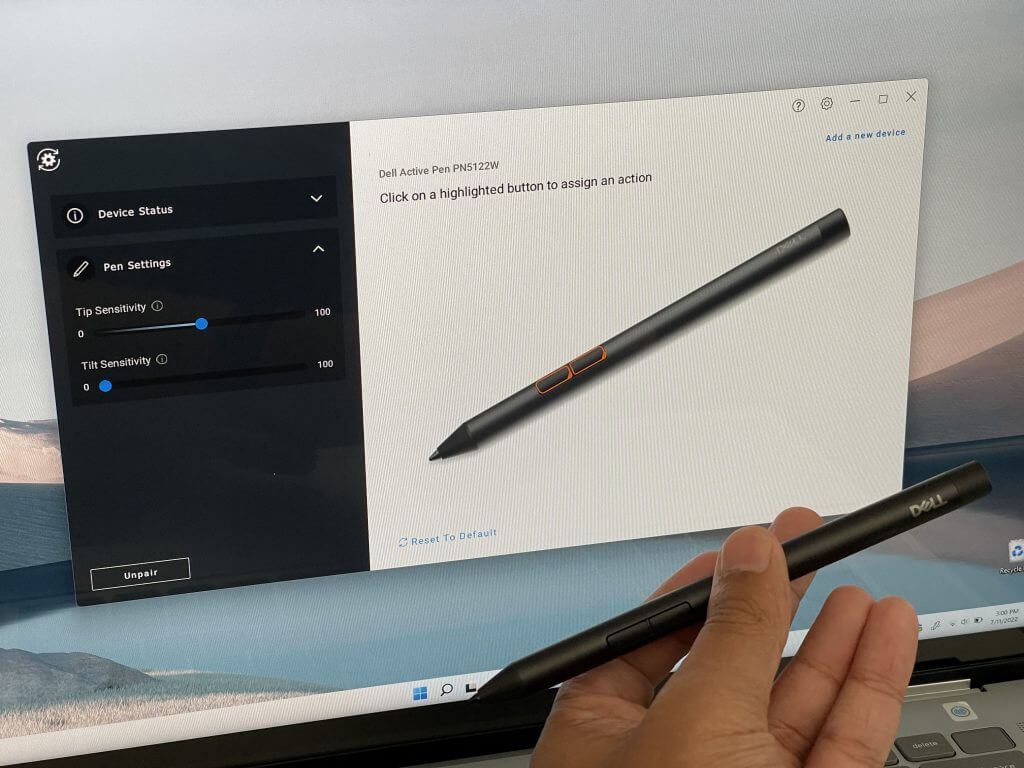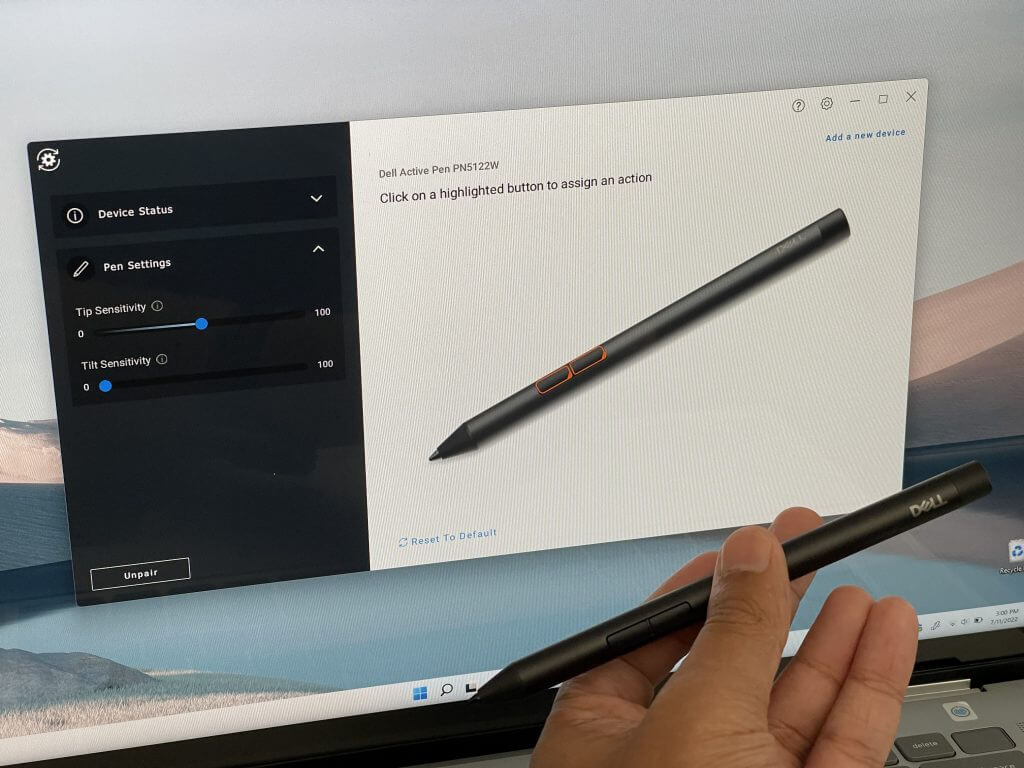 Dell provided me with the optional Dell Active Pen PN5122W as part of my review. Unlike the Surface Slim Pen 2, this pen doesn't require pairing to work. You can just place the included AAAA batteries in, and get going.
Like many other styli, it supports 4,096 levels of pressure. It also has a cone-shaped nib, which can offer a more comfortable writing experience. Through the Dell Peripheral Manager (not pre-installed) you can tweak the tip sensitivity, and adjust the tilt sensitivity. You can change the functions of the buttons and map them to different actions. Pairing with Peripheral Manager to do all this is easy, and all you do is open the app, tap the pen on the screen, and you're good to go. No need for Bluetooth!
I used the pen to ink in OneNote, as well as FreshPaint for basic drawing when holding the Inspiron in tablet and studio modes. I'm not an artist, but I did feel as though the pen is plenty accurate, always reflecting my strokes. It's a very light-feeling pen, too, which means my hands didn't feel "tired" after prolonged note-taking sessions during meetings.
The only downside to this new pen is that there's no way to mount it to the Inspiron. The Dell Premium Active Pen (PN579X) sold with the XPS 13 had a magnetic side that let it attach to a tablet. Even Lenovo includes a USB-A holster for their stylus, and I wish Dell would have done the same.
Webcam & microphone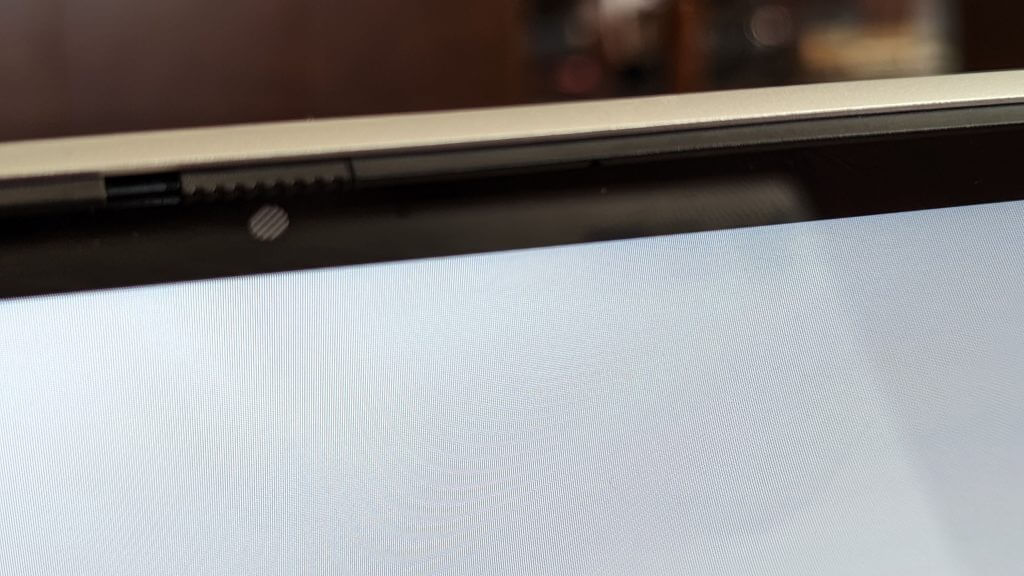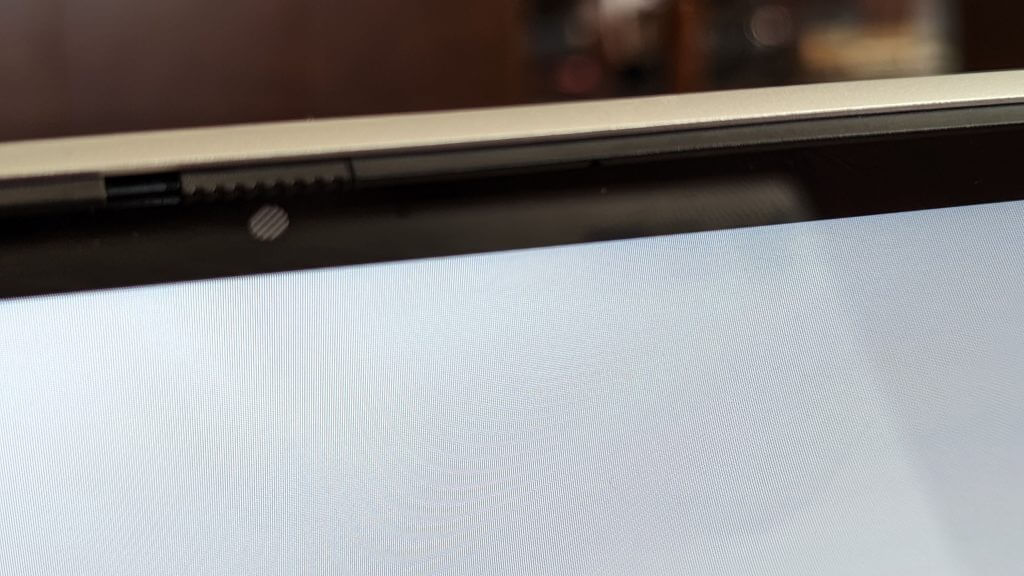 Students will likely be spending more time on Zoom and Teams calls which is why the Inspiron 16 2-in-1 is perfect for them. At the top of the display is a 1080p FHD webcam, which is the new normal on Windows laptops.
The webcam sports support for a high resolution wide dynamic range. This helps improve backlighting, on top of temporal noise reduction that can decrease pixelation in low light. Dual microphones also are onboard this device, and the system used AI to reduce background noises.
I usually use an external 4K webcam when I am in meetings, but this Inspiron's webcam did the trick for me. My colleagues said I still looked great during my calls. Oh, and there even is a manual shutter on the webcam, that you can pull to hide your webcam feed. I used it a lot when I wanted to be heard, but not seen on calls.
Performance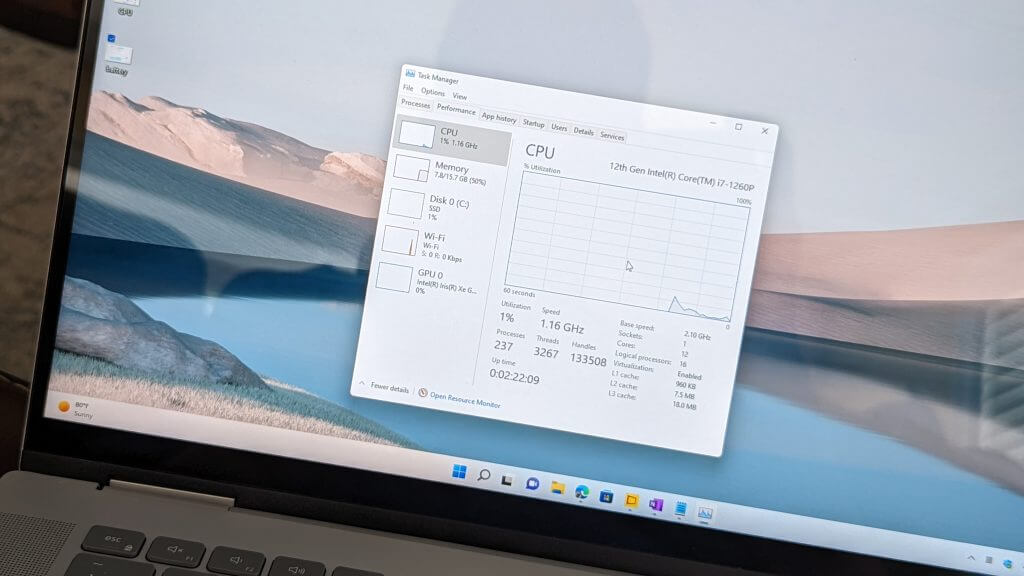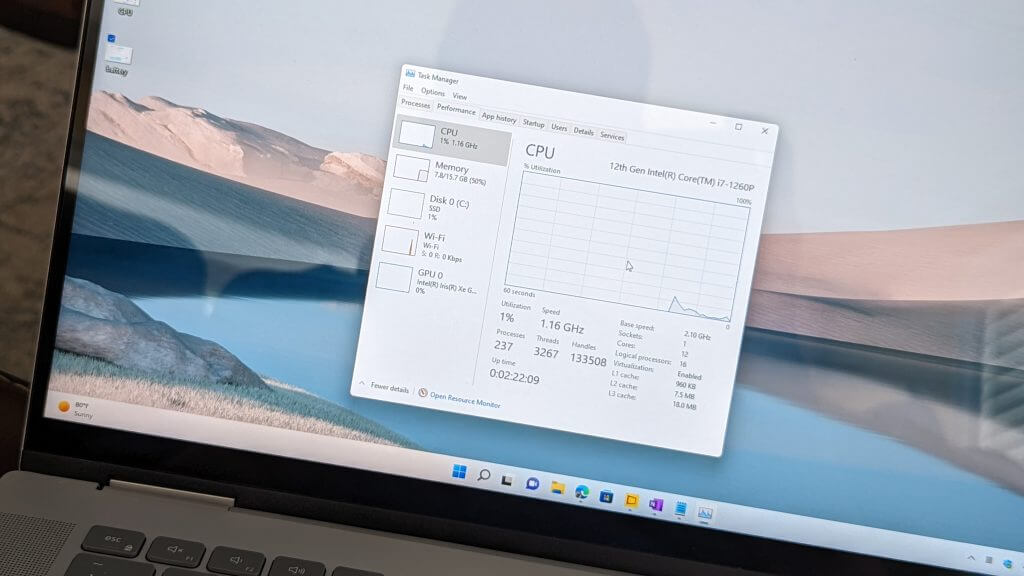 Now, I get to the critical performance section. Intel's P-series chips that are in this device are designed to run at low power (28 watts) but offer similar balanced performance when compared to 45-watt H-series chips. They're found in thin and light laptops, as well as work laptops, and are mid-range in the 12th generation mobile lineup. Basically, think of it like this. U-series are at the very bottom for tablets and ultrabooks, P-series in middle for work laptops, and H-series up top for gaming machines.
Equipped with the Intel Core i7-1260p, with a total of 12 cores (4 performance and 8 efficient), that means this Dell Inspiron 16 2-in-1 7620 strikes the perfect balance of performance.
Here are the tests that I usually run to prove it. In Cinebench R23, the machine scored 10,752 on Multi-Core, and 1,668 on Single-Core. On Geekbench 5, the machine got to a 7,607 Multi-Core score, and a 1,683 Single-Core score.
In gaming at 1080p, GTA V played at 59FPS on low settings, around 70 frames on medium, and 15 frames on high. Do note that the system doesn't get too hot during the use and running of these tests. Only the edges near the back pick up heat.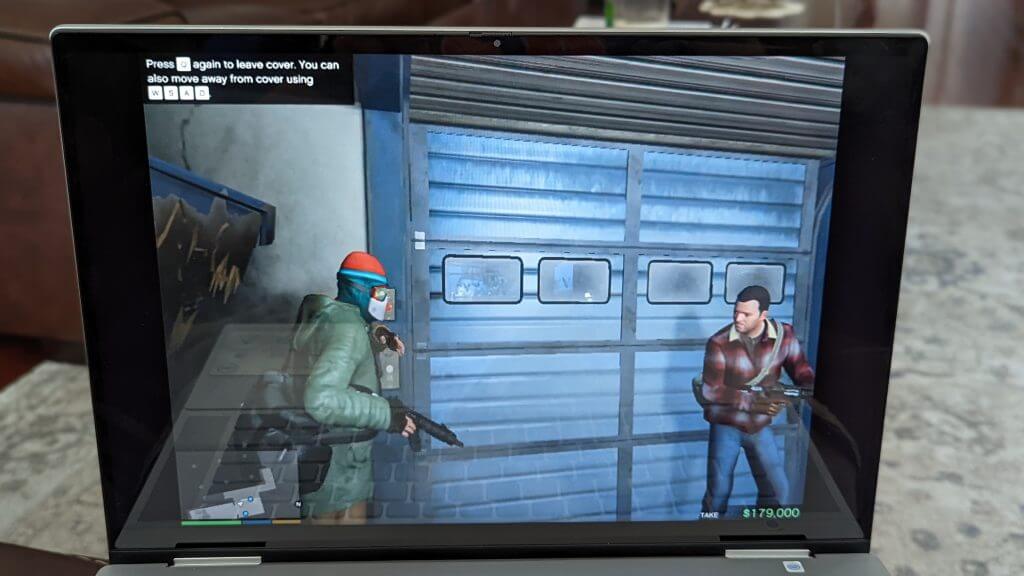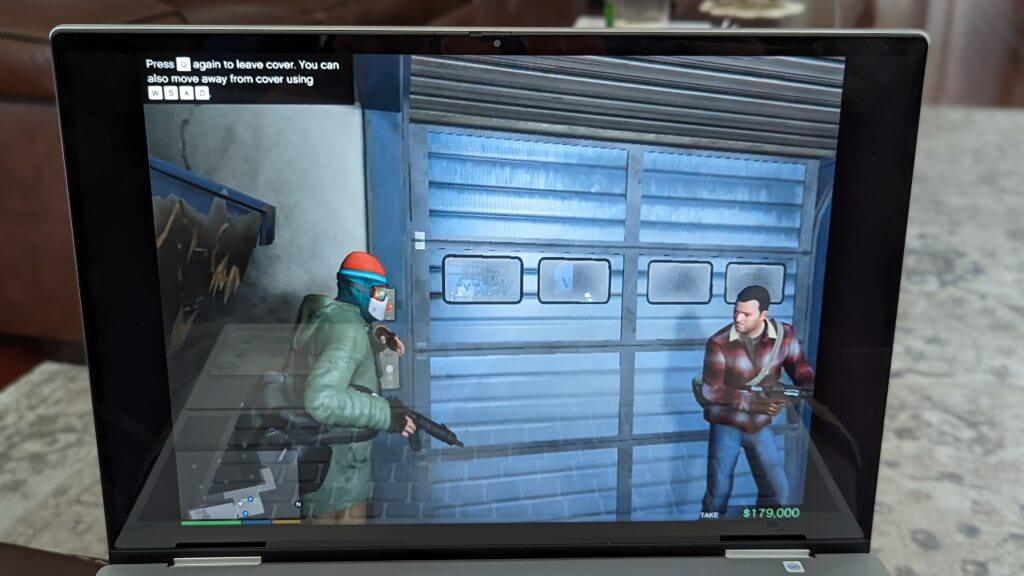 We don't keep benchmarks like other publications for you to compare that to. Instead, we talk about real-life tasks. But, if a comparison is what you want, I think that this system easily comes close in performance to Lenovo's Yoga 9i, which my colleague Kareem Anderson reviewed. That system has the same CPU. It is just that the Dell has a bigger, and better, design and overall package.
For office and school work like browsing Edge and using Office, this machine speeds through it without issues. For video editing, the Inspiron gets by, but very slowly, with an hour podcast taking roughly 20 minutes to encode. That's not a surprise, though, as this is a P-series chip where raw CPU power and cooling for maximum efficiency don't really come first. It's still a big change from the 11th gen, however, where these tasks might be slower.
You obviously won't be doing gaming or video editing on this machine, but you can get by if you're patient enough and lower the settings. Or, get even better results if you opt for a model with dedicated Nvidia graphics.
Battery Life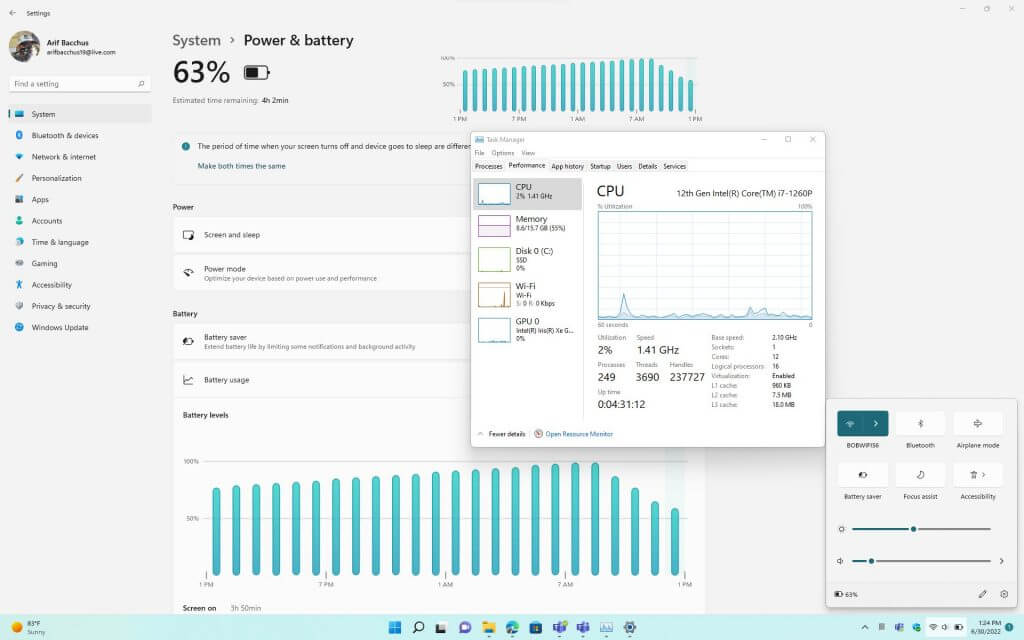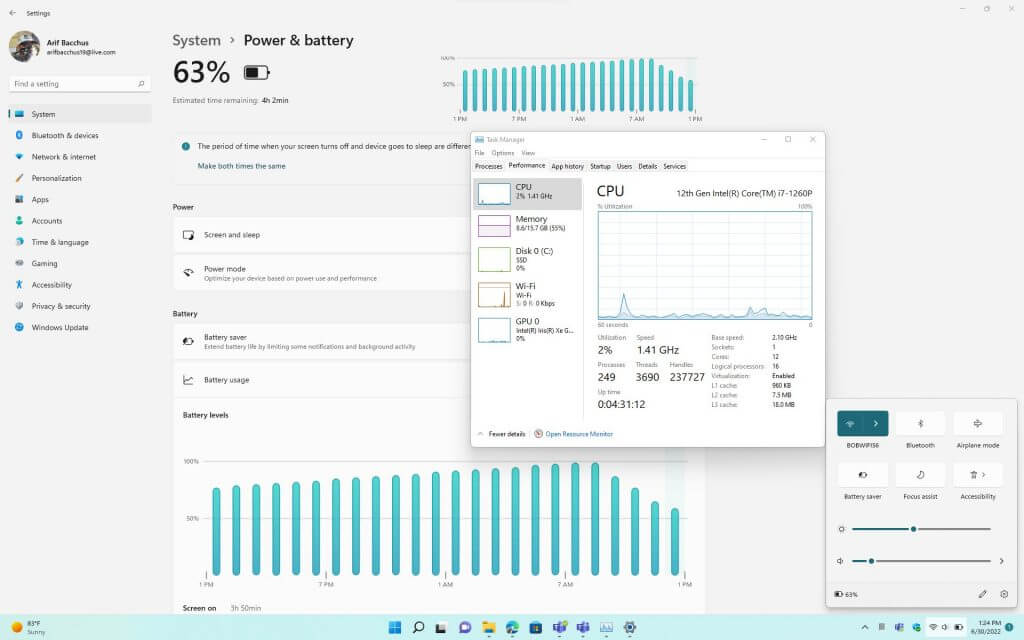 Battery Life is the strong suit of laptops with Intel's P-series chips so this Dell will exceed your expectations. For our daily tests, involving web browsing and Teams we got around 10.5 hours, with the screen at 25% brightness on the machine. Media playback loop with the system at idle, the Wi-Fi off, and the screen at 20% brightness, meanwhile, netted us a 17-hour result. I easily see this laptop lasting all day, and even if it doesn't, you can charge up using a USB-C power bank. Dell isn't using a generic barreled charger on this machine.
A laptop to be the student's best friend
If you're considering the Dell Inspiron 16 2-in-1 7620, then buy it. This laptop offers everything you might need, regardless if you're a student or not. All-day battery life, support for the optional Dell Active Pen, and Intel-P series chips make this hard to pass.