These days, there's no shortage of wireless earbuds. You can find them on the cheap from everywhere, and you even can find more premium earbuds from Microsoft as well as Apple and Google.
But what if you're looking for a balance, but without spending too much? That's where Aukey steps in with their latest product, the Aukey EP-T32 True Wireless Earbuds. We were provided a pair for review, and here's a look at why they're a good pair of budget earbuds for under $50 (on sale at Amazon, with coupon.)
The charging case and battery life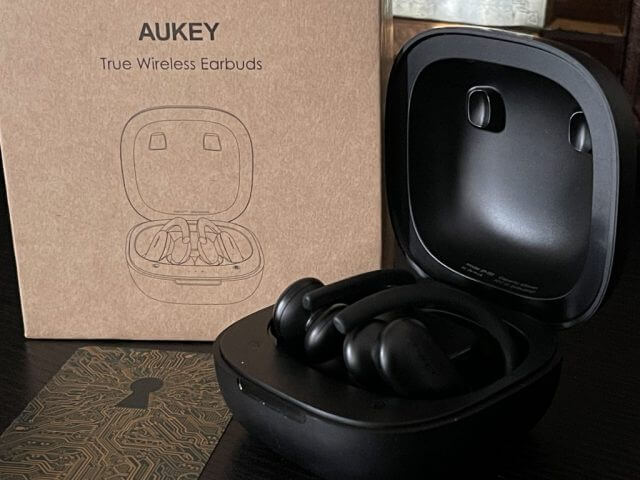 Much like when I reviewed Surface Earbuds, I'll start first by mentioning the charging case included with these buds. Though Aukey markets this specific earbud for sports, the wireless charging case is a bit on the big side. It doesn't really fit in my jeans, and I needed to slide it into my jacket pocket when using the earbuds on my daily walks. I can see this being troublesome if you're a jogger or someone who doesn't have space to carry the case around, but it's not all a loss.
You can technically charge and pair up the headphones, and then leave the case at home, if you want. Each time the headphone is in the case, and the lid is opened, it will enter a pairing mode. When it is taken out, it will connect to what device you've paired it with. You can then turn off the earbuds by holding them down on the side for 5 seconds. It is a very seamless pairing process, but the earbuds only pair with one device at a time. You'll need to turn off Bluetooth on one device if you want to switch it to another.
Anyway, Aukey markets that, with the case, the headphones can last for 35 hours, with 7 hours of playtime for each charge. This is where the big case size comes into play. It houses a battery that can charge up the wireless earbuds around five times. In fact, I charged my earbuds the day I received them (a Wednesday,) and it lasted me through to the weekend on four charges (through Sunday.) During my time I switched between my phone and my PC, for music as well as video editing, and used the earbuds throughout for roughly five hours each day.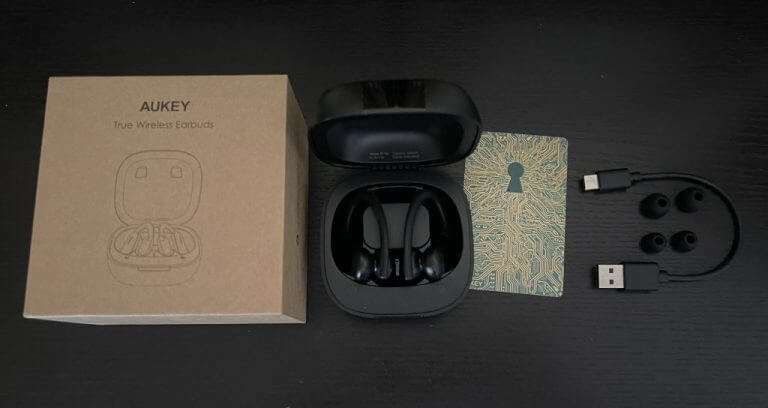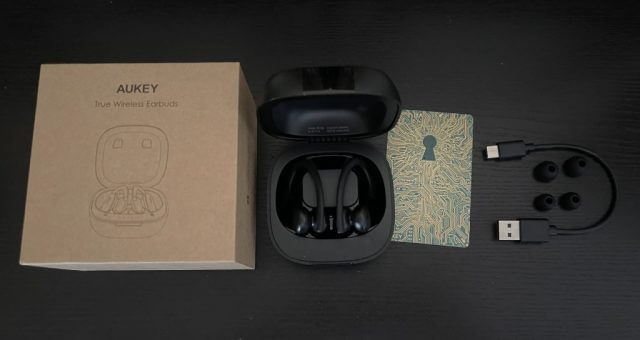 It should be noted that charging happens via USB-C, (supporting fast charge) but if you have a wireless charger, you also can put the case on it to charge it up. This is a great feature, usually reserved for premium earbuds. In fact, Microsoft's own Surface Earbuds lack this.
The extended battery life is also great, too, as you can use these without worrying about having to charge. For comparison, Microsoft's Surface Earbuds charging case can hold up to 24 hours of battery life with a single charge — or 8 hours of a single charge on the earbuds. Aukey's has the edge here, for sure.
The fit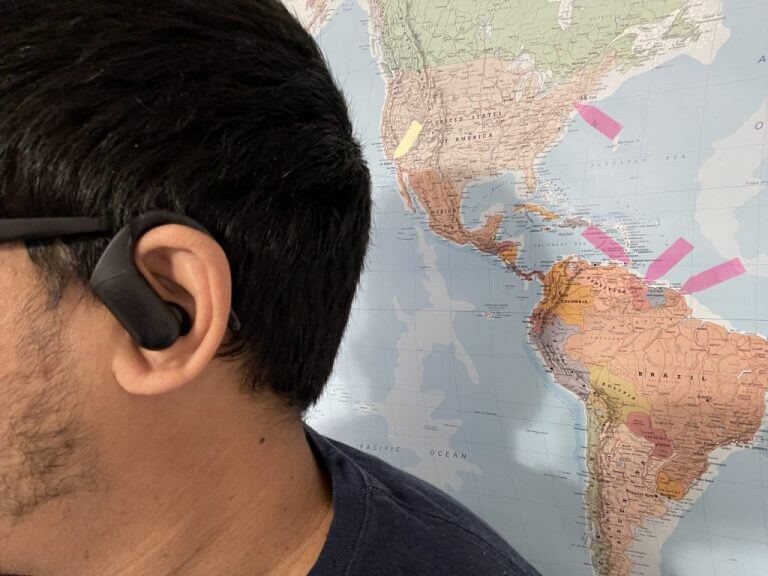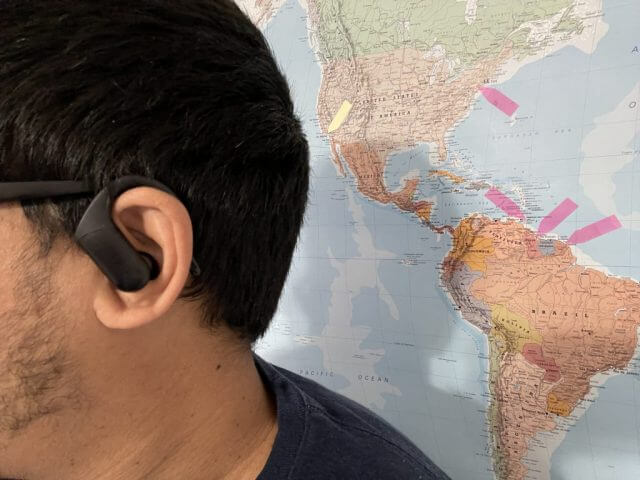 Now, for the most important part, the fit of the earbuds. Thanks to a "hook" and the curved design, the earbuds manage to grab onto the outside part of your ears when you put them on. This is important, as these are marketed as "sports" buds.
Overall, it's a pretty comfy and subtle fit. There's no need to "twist" or turn the earbuds in either. They just fits perfectly into my ears. No need for strange "turning" motions to get it to fit and stay stable in my ears like I had to do with Surface Earbuds or even my AirPods. I even went for a jog with the earbuds, and they didn't slide off my ears as I moved, they stayed firm and secure.
I'll also mention the IPX8 Waterproofing. Aukey tells me these Wireless headphones feature a fully sealed waterproof shell. It's rated against sweat and rain. I walked in a slight drizzle with the earbuds, and they remained fully functioning. Of course, I would not suggest soaking your earbuds in water.
Like other earbud makers, Aukey includes three tips in the box — small, medium, and large, You can pull the tips in and out, to fit your ear size. I used the smallest one, as it creates a good seal for when you listen to music. A tighter seal will keep outside noise out.
The music, and the call quality
But what about music and call quality? On this end, the Aukey EP-T32 True Wireless Earbuds are great. While these aren't meant to take on Apple's AirPods with sound-canceling features or spatial audio support, the sound quality is definitely there for the price. It sounds about 20% lower than what I get with my Apple Airpods, but it does work well for the price you're paying.
As you can see in the clip above, I wore these earbuds for our Podcast, and it felt just as if I had on a pair of over-the-ear headphones. The sound quality is clear and concise and I heard Kareem's voice very clearly with the buds on. For long-range Teams or Zoom calls, these earbuds will definitely work well for comfort as well as audio quality.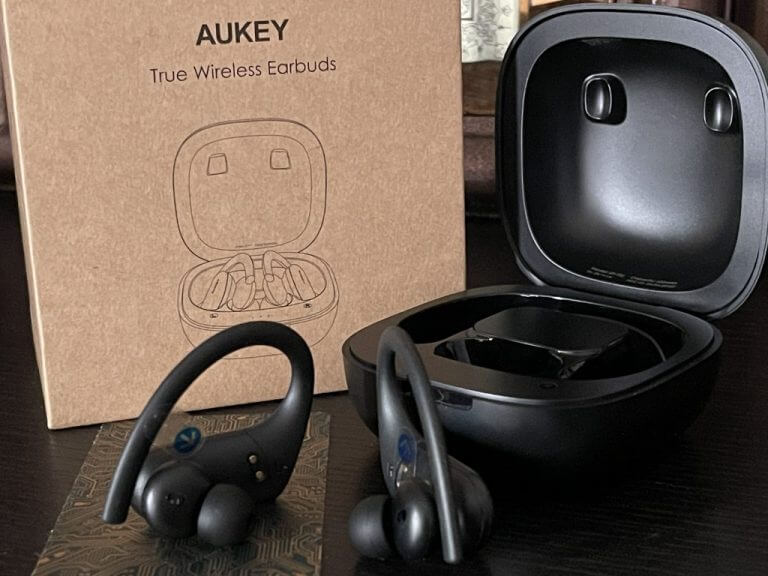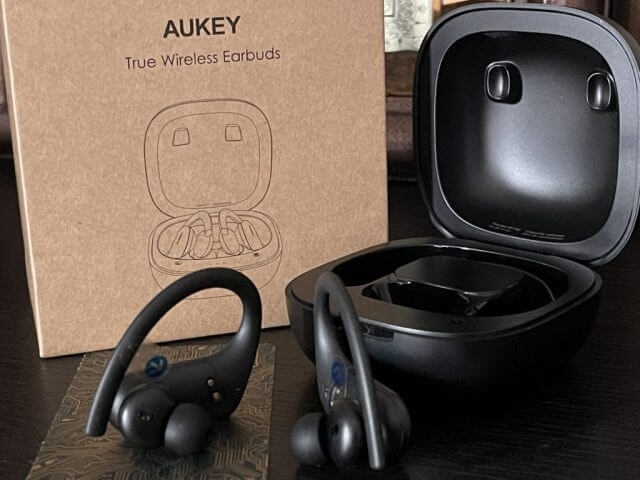 For music, there are no "tin" sounds as you'd get in cheaper headphones. These sound good for the price. The bass isn't the greatest but music with lots of rhythm like Rihanna's We Found Love were very lively. Aukey says "powerful 12mm / 0.36" speaker drivers deliver high-fidelity audio with deeper bass response." Aukey also has the Qualcomm 3020 Bluetooth 5 chip, with integrated support for aptX and AAC codecs on board.
As for voice calls, the microphones on board are great. I gave my friend in Albany a call on my iPhone when wearing these earbuds. She told me I sounded "decent" compared to when I was using my iPhone's mics. Aukey mentions the use of CVC 8.0 noise-reduction microphones onboard these buds, which could be the reason for that.
The touch controls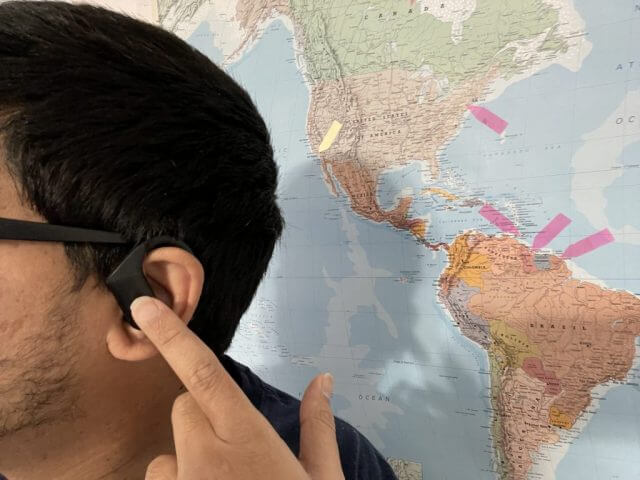 Finally, I'll touch on the touch controls. Microsoft's Surface Earbuds have a touch control surface which lets you control your music. Aukey does something similar with these earbuds.
You can tap on the outer surface of either earbud to play or pause music, and then triple-tap either earbud to summon your voice assistant. A double-tap on the left earbud, meanwhile, takes you back to your previous track, and can also answer or end a call. Going to the next-track will require a double-tap on the right earbud, too.
Like Apple's Earpods, the Aukey earbuds also support single Earbud use. If you take one off when music is playing it will pause. You also can use each earbud as a standalone headset. It would have been great to see volume control on these Aukeys, but I could see that it might have pushed the price up a bit.
Summary
Priced at around $50, and even less when on sale, the Aukey EP-T32 True Wireless Earbuds provide a good balance. The battery life makes these earbuds reliable, and the fit make it a great companion for fitness, or long-haul Teams, or Zoom calls. There could be slight improvements in sound quality, but for $50, the Aukey EP-T32 True Wireless Earbuds don't disappoint.