While Zoom has become a verb in this new era of rampant video conferencing, it seems with its latest round of feature updates that the platform is officially tossing its hat into the ring for serious enterprise alternatives.
Announced via its blog today, Zoom unveiled a slew of new features that are available now and some, that will be available in the near future that should put it on par with the likes of Microsoft Teams, Slack, and Google Hangouts.
As Zoom has whimsically called it, Zoomtopia 2020 is the branding for a full platform introduction of new features that include Immersive scenes, new reactions & animations, video waiting rooms, recording highlights, and high-fidelity audio.
Drilling down into just some of the new features, the addition of Immersive scenes is reminiscent of Microsoft Team's recent partnership with the NBA, as it mimics what used to be in-person-like settings. Perhaps, more applicable and useful than being an audience at a stadium will Zoom's replica classroom setting for the millions of families now homeschooling.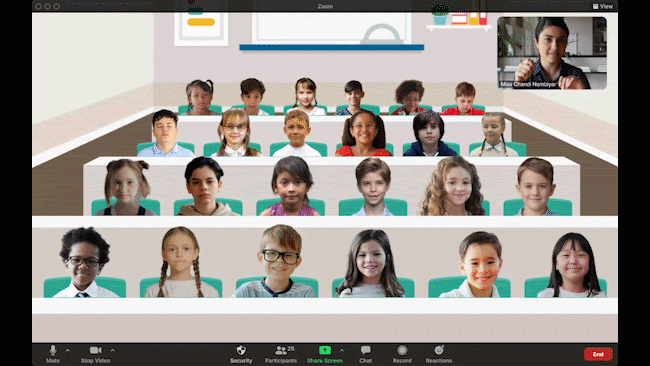 Zoom's new customized lobbies also add a bit more professionalism as well as adding lower thirds to more clearly identify who is speaking at times.
Other high-level features coming to Zoom also include a new Nomadic E911 for Zoom Phones which will automatically initiate protocols to alert internal safety team members and E911 dispatchers simultaneously.
The designated internal safety team member also gets an alert on Zoom Chat. A safety team member can listen in and then connect to the call to offer assistance to the person who needs help, or to provide additional instruction to the emergency responders. To assist the emergency responders further, the safety team can trigger Zoom Rooms Digital Signage to help locate the person needing help.
In addition, Zoom Phone will also get SMS integration by allowing members in a call queue to transfer text responses between team members. This new feature should reduce redundancy for members who communicate across several messaging apps. Unfortunately, Zoom Phone SMS is only in beta right now but should start rolling out more widely in early 2021.
AI is also coming to Zoom to help with spam detection. Admins will be able to set a threshold for AI-based spam detection to reduce the number of spam calls winding up in voicemail boxes.
Beyond all of the consumer-facing updates, Zoom is also working to implement Zapps, the company's new third-party app development platform as well as OnZoom which is aimed at attracting content creators.
According to a report from ZDNet, "Zapps is about bringing apps into the Zoom experience with a click." In a similar platform expansion model, OnZoom looks to be the company's attempt to create a dashboard for event creators who host events on the platform. With OnZoom, creators can track items such as ticket sales, gross income, cancellations, event minutes, and total tickets sold among other things.
The two initiatives highlight's Zoom's broader ambitions for the platform that look beyond being a go-to resource during a pandemic but to become a pillar platform for future communications of all types. It'll be interesting to see how Microsoft evolves Teams to keep parity and mindshare with Zoom going forward.