Yes Bank has announced its partnership with Microsoft to strengthen its first of its kind, AI-enabled chatbot, YES ROBOT. The chatbot combines natural language processing (NLP) and AI to offer an almost human-like experience for customers while addressing their banking needs. Founded in 2004, Yes Bank is India's fourth-largest private sector bank.
The chatbot is capable of understanding and resolving the evolving banking needs of customers without the need for human intervention. It helps users to perform financial and non-financial banking transactions by employing conversational AI, thereby relieving customers from the hassle of navigating through multiple web pages.
Ritesh Pai, Chief Digital Officer, Yes Bank believes that chatbots would be game-changers in the industry, providing major competitive advantage to banks. "The aim is to make the whole service experience more personalized and instant so that the chatbot can evolve and operate as a full-fledged banking assistant in future," he adds.
YES ROBOT has been build by the bank's in-house technology team using Microsoft Azure Cognitive Services. Going forward, Yes Bank plans to integrate the bot with services such as contextual and real-time transfer of chat from bot to the live agent as well as integration with different platforms and applications such as WhatsApp, Alexa, Google Assistant, and Siri.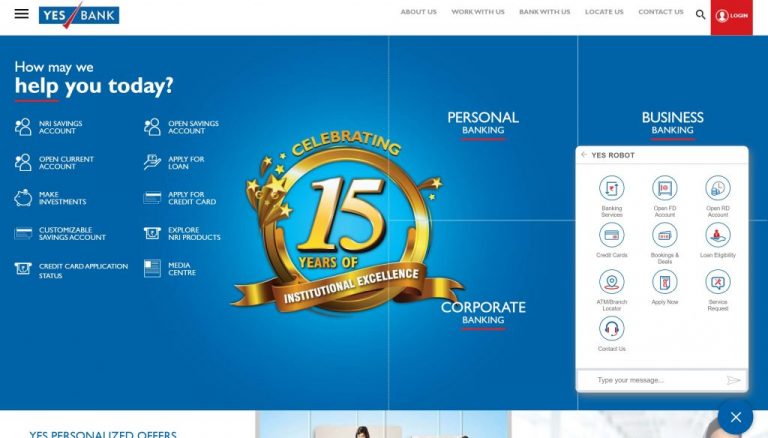 A customer can apply for over 65 banking products, check his/her eligibility for a loan, and then get serviced by a Relationship Manager after all the basic checks are done by the bot. It can also provide an indicative loan amount using Machine Learning and advanced credit scoring algorithms. One of the most pivotal features of this chatbot is the option to book fixed deposits and recurring deposits by simply conversing with it.
The chatbot can identify the intent of the user with over 90% accuracy, even with human errors, and over 8.3 million customer interactions have already been reported since its launch in December 2018.