It's no secret that Microsoft has pretty much abandoned the Xbox One's Kinect sensor. Native support for it wasn't added to the newer Xbox One S and Xbox One X consoles and the adapter which was needed to make it work on either of them has now ceased production. While this is terrible news for the many Xbox One owners who enjoy using their Kinect (or even bought an Xbox One because of it), discontinuation of hardware is something that often happens with technology so this isn't too controversial in and of itself. What is an issue though is Microsoft continuing to falsely advertise the Xbox One X as being fully compatible with the Kinect.
When the Xbox One X was officially unveiled during 2017's E3, Microsoft made a point to mention that it would work with all current Xbox One accessories, which includes the Kinect. Take a look in the video below.
Along with the E3 presentation, Microsoft also released some marketing material which confirmed that their upcoming console would indeed support all Xbox One-branded accessories. Not only that, the material even stated that no adaptors would be necessary.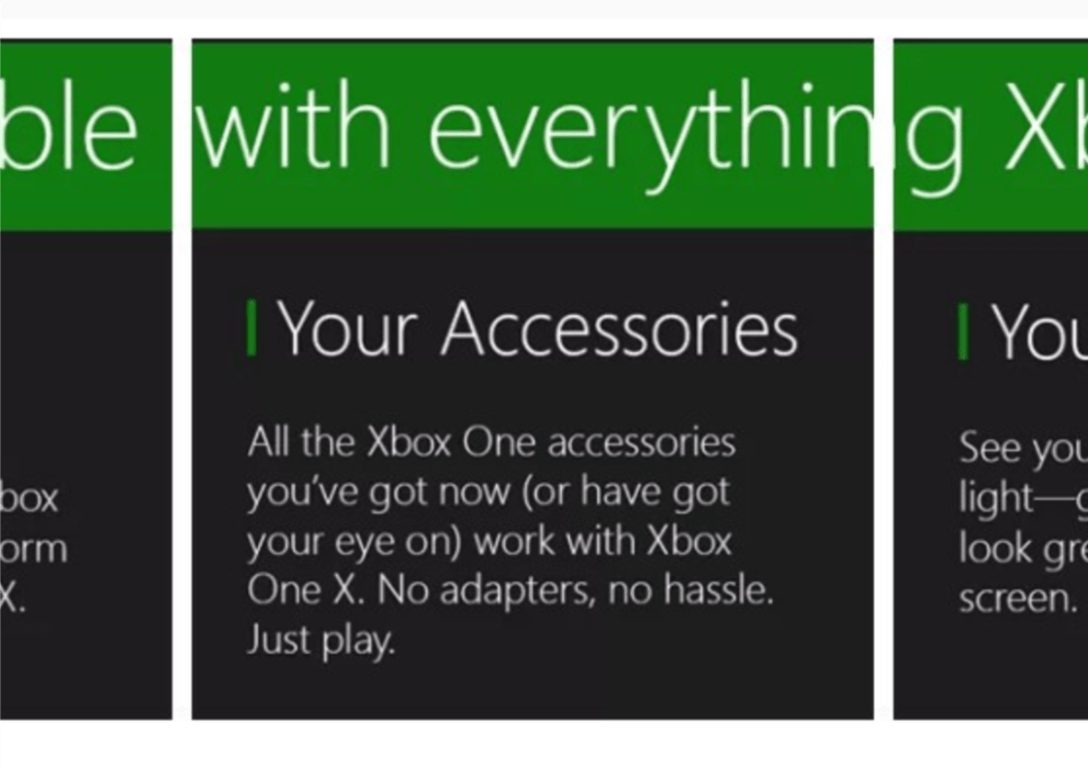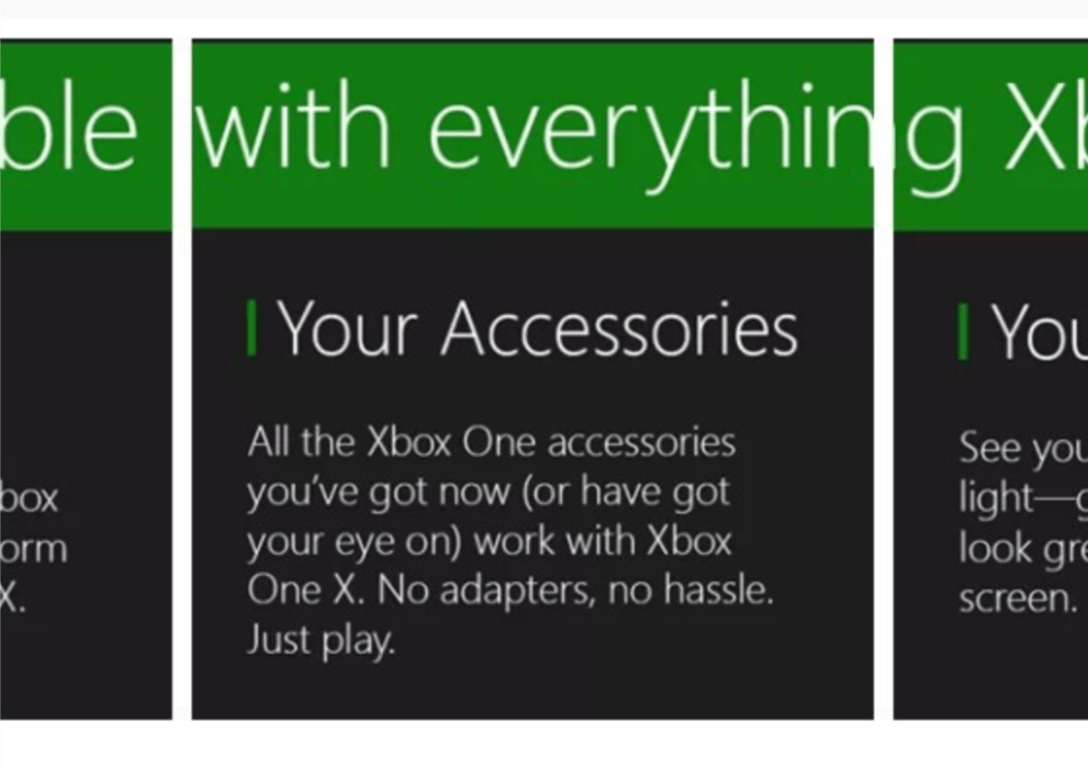 Now, sure, plans change and products evolve between their announcements and launch so this can be forgiven but the problem is that all of the current promotional material for the Xbox One X continues to state that it will work with all Xbox One accessories and no effort is being made to correct the messaging already put out. Take a look at this section from the official Xbox One X website.


Admittedly that graphic doesn't feature the Kinect but most consumers will simply read that and assume it does. Very few will read the linked-to fine print at the bottom of the page specifying that a Kinect Adapter is needed for the Kinect to work with an Xbox One X. Since that product is no longer being made though, that should absolutely be mentioned on the site.
The worst offender is the official Xbox One X product listing on Amazon which not only proudly proclaims that the new console supports all Xbox One accessories but even includes a detailed chart that breaks down all of what the Xbox One X and Xbox One S can do. Both are said to support all accessories.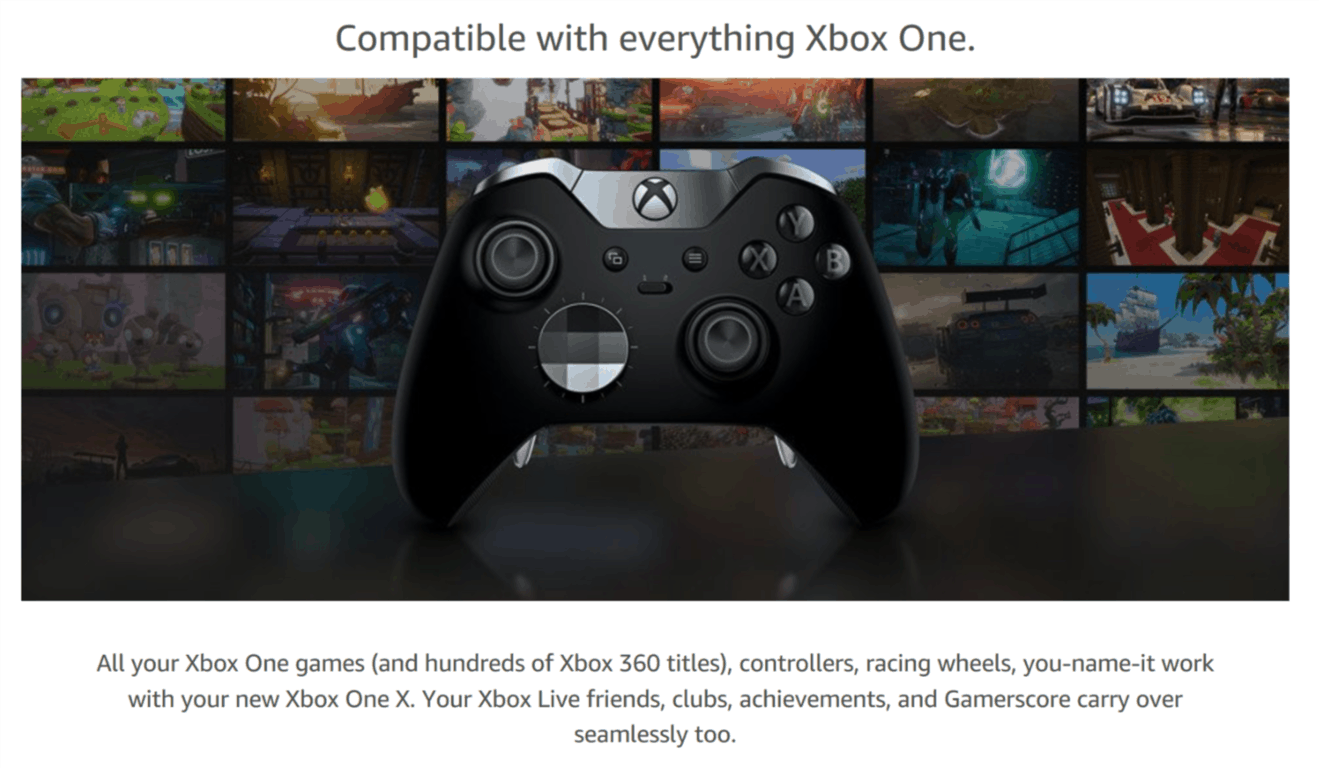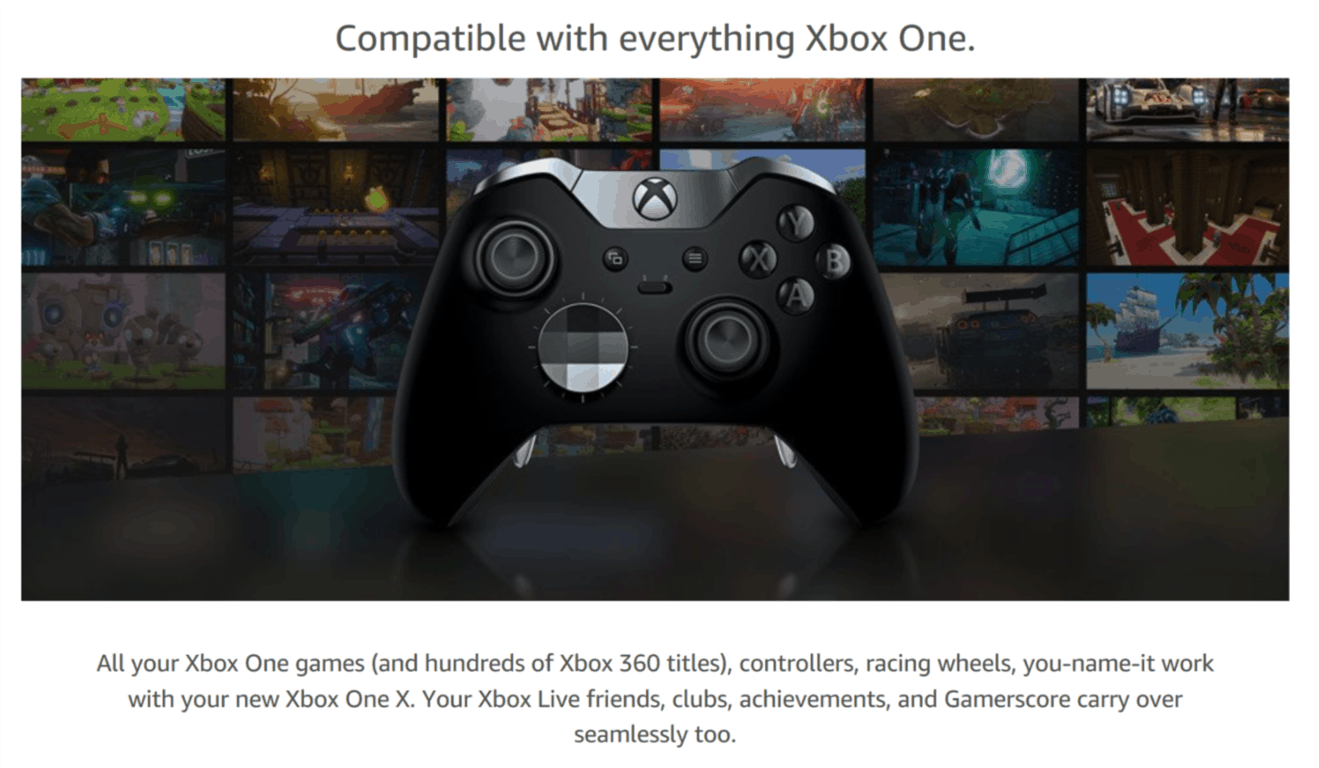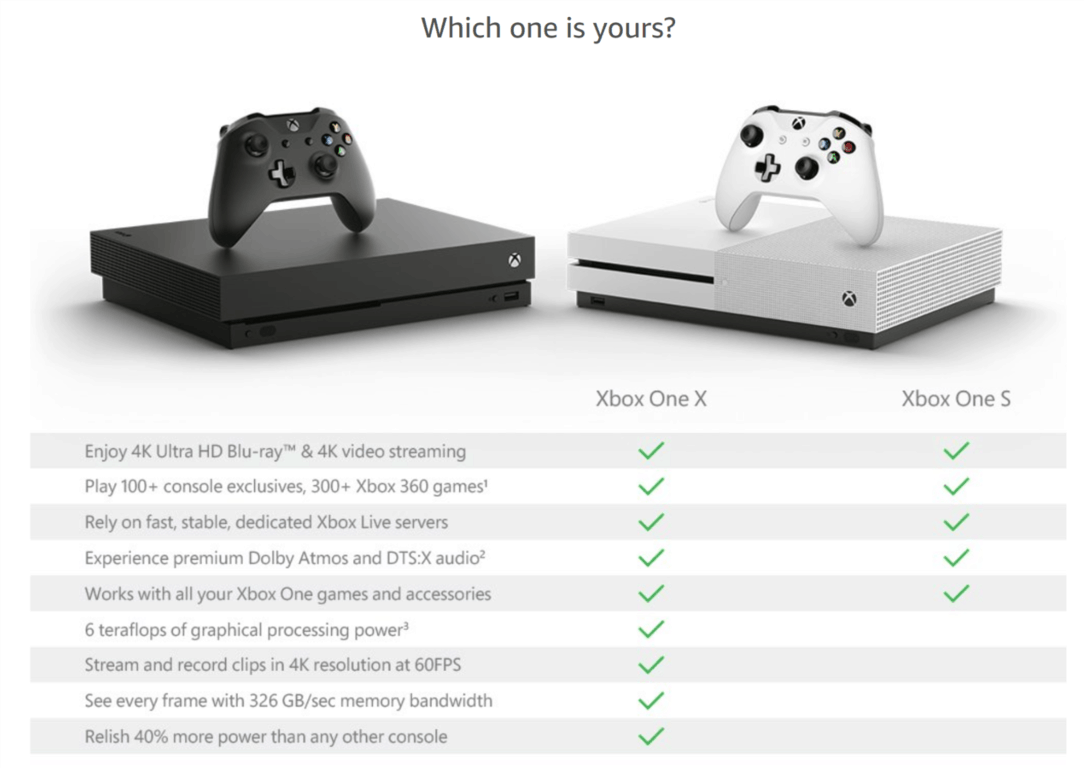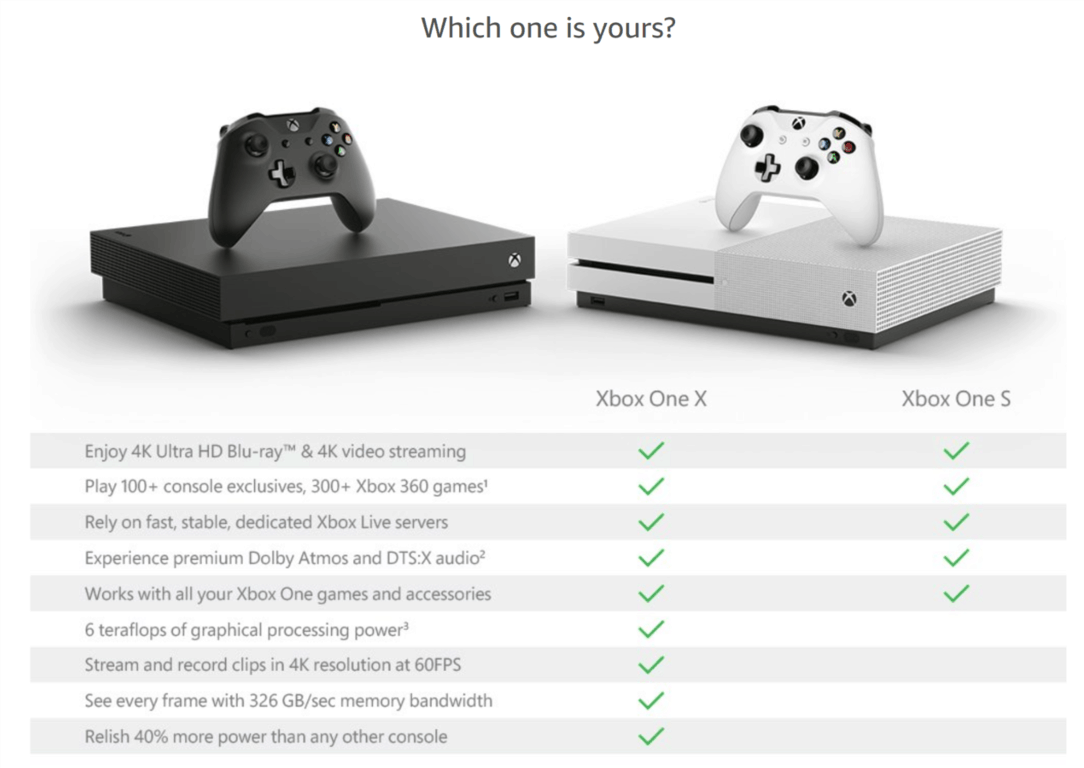 This ambiguous communication is confusing new and existing Xbox One owners. I've personally had to explain the Kinect situation to several people in person over the holidays who were planning on getting an Xbox One console for their family for Christmas. All pretty much assumed that the Kinect would work with the Xbox One S or X as that's what the marketing has been telling them. There are many more confused consumers online.
"I'm sorry but this really is a slap in the face I'm pretty sure its also false advertising since it was claimed the X supported all your Xbox One accessories which clearly isn't the case. Really soured my whole experience to the point where I'm really considering returning my Scorpio Edition," says one entry on Microsoft's UserVoice website. "I bought your hype and fell in love with Kinect, then you killed it," says another. "Please give us access to our Kinect again! You may want to pretend like it doesn't exist, but it is something me and my kids used often before my Original Xbox One failed earlier this year."
Predictably, social media users are voicing their frustration and sense of betrayal too.
@XboxSupport I bought the Xbox One on day one in 2013… I love the Kinect have grown attached to it. I just upgraded to a Xbox One X but can't buy the adapter anywhere or if I could they're selling for 4 times the original price. What is Microsoft doing to remedy this situation?

— Devin Demby (@ddemby5) December 26, 2017
@Xbox paid a fortune for xbox one x and bought what i was told was compatible kinect for my children. Now i can only find an adaptor for £100 + bad times . Greedy microsoft

— Mand I (@homanad) January 1, 2018
@Microsoft @MicrosoftStore just upgraded to a xbox one x from a xbox 360 and also bought an kinect and a bunch of games for it not knowing it needed an adapter..my question is where can I get an adapter without having to pay $400 on ebay or amazon?

— Paulo Almeida (@palmeidanwk) December 31, 2017
@XboxSupport i bought a xbox one day one edition with his kinect, actually i have bought xbox one x scorpio. You said that all accesories are compatible, but i cant use Kinect with my new xbox. I must buy an adapter to use this but there isnt stock in your store. You lied to us.

— PlayMikeler (@yurik_g) November 20, 2017
Just adding my voice; disappointed in @Xbox discontinuing Kinect adapter leaving #XboxOneX owners in the woods despite @XboxP3 assuring us all our games and accessories would work. Day one owner and am tired by the lack of unified platform vision. DIY-ed my own adapter instead.

— Timothy Boan (@timothy_boan) January 3, 2018
There's really no way to heal the burn many Xbox One and Kinect early adopters are feeling after the Kinect abandonment (myself included) but a lot of the confusion with recent console purchases could easily be solved if Microsoft chose to clearly state on Xbox One X and S product listings and packaging that they aren't compatible with the Kinect. Especially now that there's little chance of a new buyer getting their hands on a Kinect Adapter.
I started this article by saying that it's no secret that Microsoft has killed support for the Kinect but it really does seem like it is. On one hand, it's understandable, as choosing to promote the cancellation of something so heavily associated with the Xbox brand to the casual consumer could create doubt in the marketplace. On the other though, it does look like Microsoft is deliberately misrepresenting their latest consoles to make more sales. It could only be a matter of time before some angry consumers take out their Kinectless rage on Microsoft in the courts. After all, this wouldn't be the first time (or second) that gamers have sued a company that let them down.
Where do you stand on this issue? Do you think Microsoft should do a better job at communicating with consumers? Let us know in the comments below.