Microsoft's ever-popular Xbox Elite Wireless Controller remains elusive, with the Microsoft Store showing it as out of stock and most retailers following suit. Sources say that the highly-rated Xbox One controller will remain hard to find through March, and so we like to keep our eyes peeled for any retailer tricky enough to score some inventory. For the second time in a week or so, GameStop is just such a purveyor of Xbox goodness.
Available for the standard price of $149.99, GameStop promises to ship your shiny new Xbox Elite Wireless Controller within 24 hours: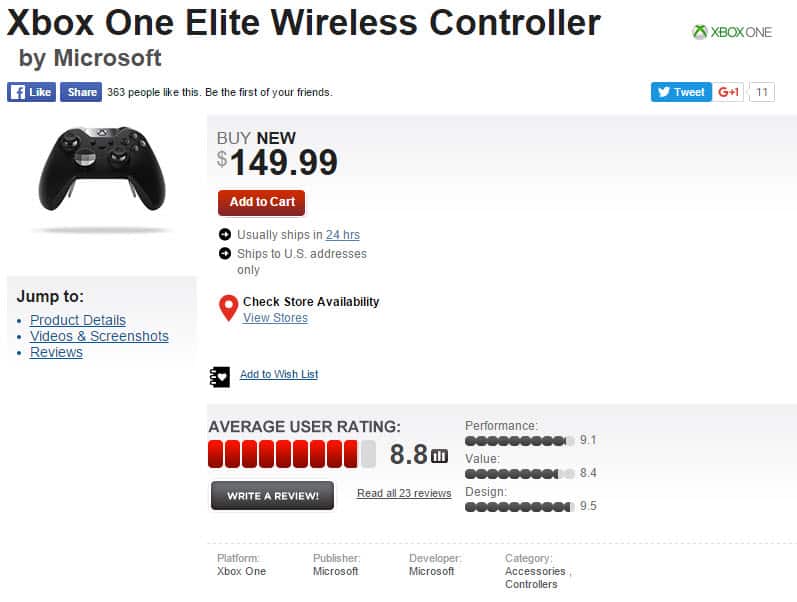 The controller is popular for a number of good reasons. As we reported back in June 2015:
The main appeal for hardcore gamers though is the hair trigger locks which restrict the movement of the triggers, the variety of thumb sticks and D-pads that can now be swapped out to match the user's play style and the four completely new slots on the rear for interchangeable paddles whose functions can be completely customized in a new app that's due to launch on Xbox One and Windows 10.

This app will give gamers the option to adjust the triggers' min/max values, thumb stick sensitivities and completely change the button assignments. Up to 14 inputs can be assigned to the ABXY buttons, paddles, D-pad, triggers, and thumb stick clicks and an unlimited number of controller profiles can be saved to the app and automatically backed up in the cloud while two can be stored locally on the controller itself. The two local profiles can be manually changed on the fly via a new profile switch on the controller.
Sounds good, eh? If so, then head on over to GameStop before this shipment of runs out.