Welcome to our weekly Xbox news recap series, where we go over the top stories of the past week in the world of Xbox. Let's get started.
Spotify finally launches for Xbox One
It's been a long time coming, but Spotify is finally on Xbox One. Available on PS4 for quite a long time now, Xbox users have been chomping at the bit to get one of the premiere music players to be accessible through their consoles. The UI and functionality of Xbox's Spotify app is pretty much identical to that of the PS4 one – it's not exactly rocket science. Feel free to use the app if you're feeling like you need some music in the background of your gaming experience.
Fluent Design available for Insiders
Fluent Design, the new design language that's being introduced with the Fall Creators Update, has finally arrived for Xbox Insiders who want to check it out. It comes with a crisp, customizable new Home experience, and some generally awesome UI changes. For those who aren't a member of the Insider program, or who just want to wait until the changes go live later this Fall, you can check out Major Nelson's comprehensive video on the changes.
The Xbox Insider program made simpler
Many will agree that the Xbox Preview system's move to the more familiar Xbox Insider system was a good idea. That said, its four rings were still a little bit confusing, especially with much of the experience being invite-only. The meritocracy-based system has been changed a bit, with preview rings 3 and 4 being renamed to Delta and Omega, respectively, and the requirements have changed a bit. Overall, the changes make the program quite a bit simpler for people who don't necessarily have the time to report bugs all the time.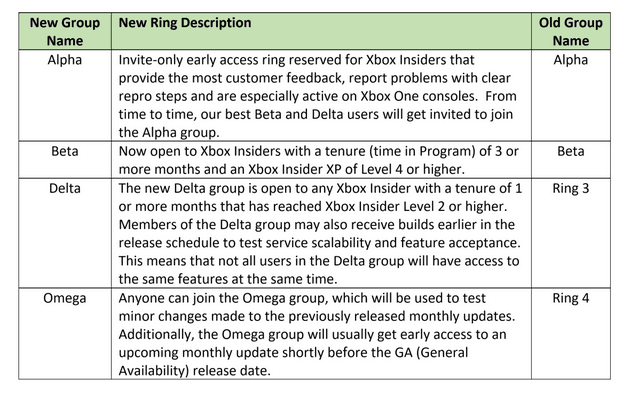 Microsoft may start outgrowing Gamerscore
Gamerscore has been a staple of Xbox pretty much since the inception of the platform. It's been a fun meta-goal for people who love to play and replay games, and gave us a satisfyingly huge number if we continued playing different ones. That being said, Microsoft believes that they can do more to rewards gamers who play in a way that doesn't necessarily fit with the Gamerscore system. The Xbox team may be looking at something that rewards your "gaming history" regardless of how many games you play – for instance, rewarding an extremely skilled Halo 5 player that doesn't play much else.
Option to move multiple games between hard drives coming
Here's a change that won't affect everyone, but those who are rocking an external hard drive will get a kick out of. You can now transfer multiple games at once between your storage options, with the newest update coming to Insiders. The news came with a bit of photo evidence from an Xbox fan on Twitter, making cause for celebration for the community. While there are still limitations – like the inability to download things while you switch between drives – this is a nice step forward.
https://twitter.com/IdleSloth1984/status/894764015137763330
Thanks for joining us. To keep up to date with all the latest Xbox news, keep a close eye on our Xbox One tag.