The Windows 10 Fall Creators Update is setting up for even more gaming improvements across PC and Xbox One. Today, Alpha Ring users on console are being greeted with a new update including the long requested customizable Home feature. Additionally, overall updates to Home, Guide, and Community are available today as well.
For Xbox gamers, the Home is the front of their gaming experience. Microsoft is improving it by not only adding its smoother Fluent Design for performance and making it easier on the eyes, but adding a customizable experince. Selecting a game or friend with the menu button now has an 'Add to Home' option. This will fill in content related chunks on the players home page such as an activity feed from your favorite game's developers, friends playing that game, or achievements to get. According to Xbox Wire, more content block types will be added later.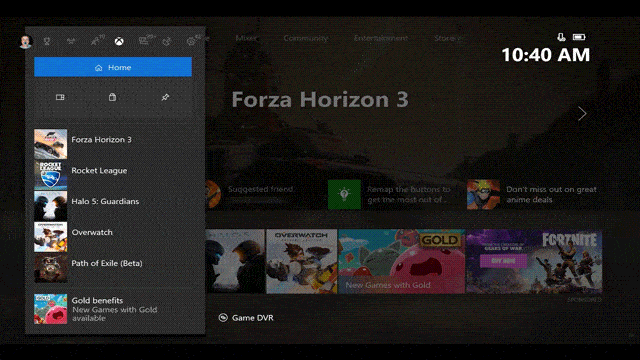 Home, Social, and My Games and Apps are also being consolidated into one experience. Furthermore, it will be faster to switch between content with a new Guide layout. Gamers can use the left thumbstick, d-pad, or bumpers to move between Sign-in, Achievements, multiplayer, People, Home, recent activity and the new action center. Speaking of the community tab, a new Activity Feed layout gives an easier view of what's been going on with Friends and Clubs, along with some improvements across Game Hubs, Profiles, and Clubs over all.
On Windows 10, gaming continues to be a focus of content for the Fall Creators Update. The Game Bar accessible by using the Win+G shortcut is getting an update. It will now be available on a per-game basis, adding a switch onto the bar itself. Microsoft's streaming integration with Mixer will also have better audio settings to share game-only or system sounds. A link to Xbox Live Network Troubleshooting has been added to the settings menu.
This update is rolling out to Xbox Insiders in the Alpha Ring starting today with more in the next few months as we move closer to the Fall Creators Update. Let us know what you think of the changes!