Xbox Game Pass horror game Scorn has been played by more than two million gamers across Xbox Series X|S consoles and Windows PC. The announcement was made on the game's official Twitter account, with the message "Our frozen hearts extend gratitude from the depths of despair."
Over 2 Million souls have succumbed to Scorn's allure.

Our frozen hearts extend gratitude from the depths of despair ???? pic.twitter.com/2ZfWAqceBp

— Scorn (@scorn_game) June 30, 2023
This comes right after the game was announced as headed to the PlayStation 5 sometime this fall after a year of Xbox exclusivity. See the PS5 reveal trailer below.
Scorn made a serious impression on the gaming industry last year with a truly unique (and truly terrifying) visual style. The game also has a unique play style, with first-person exploration and puzzle-solving. From the official description on the game's Xbox Store page:
Scorn is an atmospheric first-person horror adventure game set in a nightmarish universe of odd forms and somber tapestry.

It is designed around the idea of "being thrown into the world". Isolated and lost inside this dream-like world, you will explore different interconnected regions in a non-linear fashion. The unsettling environment is a character itself.

Every location contains its own theme (story), puzzles and characters that are integral in creating a cohesive world. Throughout the game you will open up new areas, acquire different skill sets, weapons, various items and try to comprehend the sights presented to you."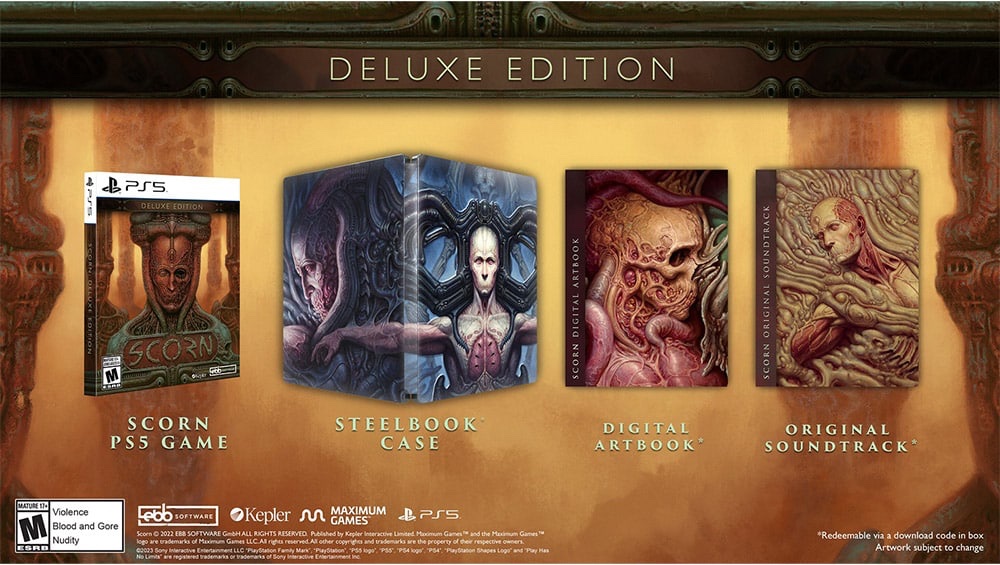 A deluxe edition of Scorn is also coming for both Xbox Series X|S and PlayStation 5; it will feature a steelbook case, a digital artbook and the game's OST.
Featured image via Xbox.com.