Microsoft's latest acquisition SwiftKey introduced a new keyboard today called ShakeSpeak as part of their SwiftKey Greenhouse program for testing new and experimental ideas. This newest keyboard is meant to honor the 400th anniversary of William Shakespeare's death by enabling you to text like the Bard himself.
The ShakeSpeak keyboard for Android works like SwiftKey's other keyboards, using machine learning to predict what you are going to type next. However, in the case of ShakeSpeak, SwiftKey generates its predictions from the complete works of Shakespeare. The result is ShakeSpeak suggests words or phrases from an Elizabethan era lexicon. And similar to the normal SwiftKey app, ShakeSpeak will learn from you as you type, making future suggestions based off of which words and phrases you use the most.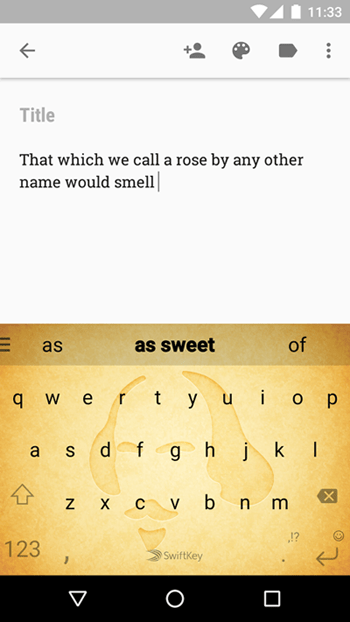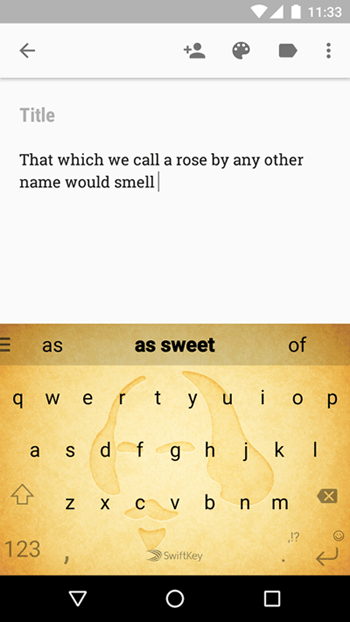 To create ShakeSpeak, SwiftKey's language experts analyzed the entire Shakespeare canon. And in their announcement of ShakeSpeak they listed a few key findings from their research to help you write like the Bard even without the app. SwiftKey's researchers found:
Get 'thou, thee, and thy-ing'. It's true – the 'thou, thee, thy' cultural stereotype is there for a reason, with these three among the top words he used the most compared to the average modern English speaker*.
Start your sentence with 'Ha!' Or an 'O!' Or a 'What ho!' for an authentic Shakespearean feel.
Be polite. 'Sir', 'Madam' and even 'Ay my good lord' are peppered throughout Shakespeare's plays and all appear among the top words he used more than the average speaker.
Prepare to be surprised. Of Shakespeare's top 10 full sentences (defined as those words ending with a punctuation), five are exclamations – 'Ha!', 'What!', 'How now!', 'Away!' and 'Hark!'
ShakeSpeak also decorates your keyboard with an old faded parchment look and a watermark of Shakespeare's portrait. However, while SwiftKey is available on both iOS and Android, ShakeSpeak is Android only. You can download ShakeSpeak from the Google Play Store link below.
Once you download ShakeSpeak, SwiftKey is also asking users to join in celebrating the Bard by tweeting whatever you scribe with ShakeSpeak to @SwiftKey with the hashtag #ShakeSpeak.
Similar to the puprose of other Microsoft Research projects like how-old.net or TwinsorNot.net, this app showcases how advance and effective machine learning can be in a fun and engaging way. So download the app and get to scribing like you are from 16th Century England in no time.