The PC market showed new sign of growth in Q2 2018, and this is apparently all thanks to increased demand in both the business and education markets. According to Futuresource's new quarterly report, PC shipments in the EDU market showed a 4.6% YoY growth in 2Q18, and this benefited both Chromebooks and Windows PCs.
If the US market remains the largest K-12 Education market worldwide by a large margin, you may be aware that it has been a Chromebook territory for some time now. In the first half of 2018, Chromebooks accounted for 58% of mobile PC shipments in the country, compared to 20.4% for Windows devices. However, Futuresource noted that Windows PCs have been recently gaining share in the sub $300 market segment:
Microsoft, especially, has been working hard to close the price gap between Windows and Chromebook by promoting partner devices on the Windows platform, priced as low as $189. Globally, Windows share in sub $300 category grew by 11% year-on-year in Q2 2018, with shipments of Windows devices in the category growing 75%.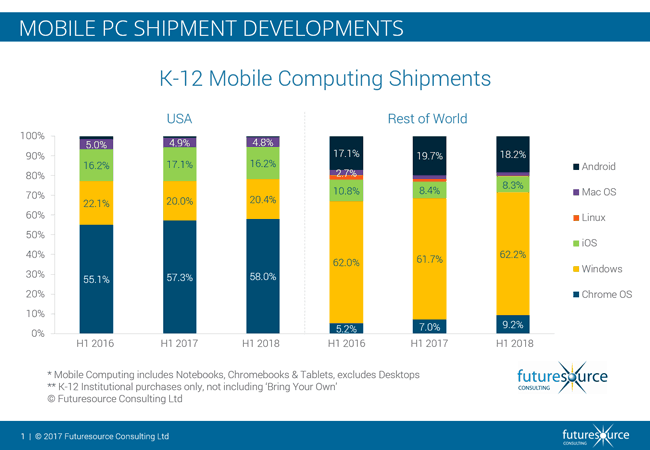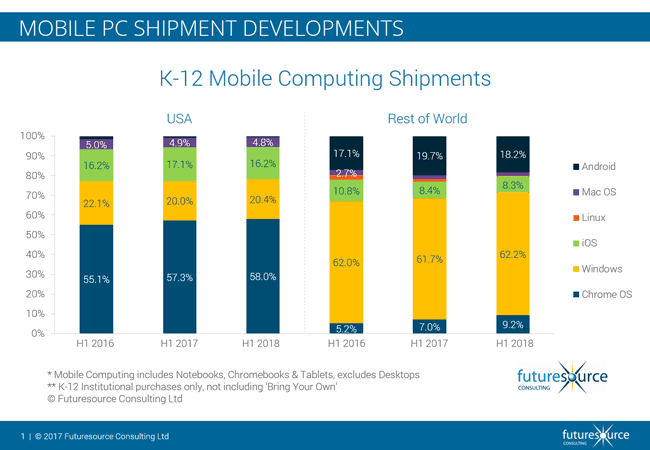 It's a much different story outside of the US, with Windows PCs accounting for 62.2% of all mobile PC shipments in the first half of 2018 (+0.5% points YoY). Despite Chrome OS having a tiny 9.2% share in the rest of the world during the same period, Futuresource said that Chromebooks have been consistently gaining share in Europe and Latin America:
Whilst 89% of Chromebook global sales remain in the US, Chromebook international sales are steadily increasing in certain territories. In Northern Europe particularly, Chromebooks have been consistently gaining share. Shipments of Chromebooks servicing schools in the European market grew more than 50% year-on-year during Q2 2018. In addition, Chrome OS is gaining traction in the Latin American market, with Mexico and Brazil as early adopters
Microsoft is definitely taking the Chromebook threat seriously, which is why the company launched InTune for Education and the streamlined Windows 10 S last year. The Redmond giant has also been leveraging other assets such as Minecraft for Education, Microsoft Teams for Education and Learning Tools for OneNote, but Chromebooks remain very competitive as they're very affordable, easy to manage and support. And after Google recently brought support for Android apps on Chrome OS, Chromebooks are no longer cheap laptops focused on web apps and with limited offline capabilities.