After its reveal earlier today during Microsoft's Build 2016 conference, a few more details have come to light regarding the new Windows 10 feature, Windows Ink.
What is Windows Ink?
Windows Ink is basically a sort of alternative operating system that runs within Windows 10 that's designed for navigation with a compatible stylus or pen (such as the Surface Pen). While a pen can be used to navigate both the Desktop and Tablet modes of Windows 10, Windows Ink overlays larger workspaces on top of the Windows 10 Desktop area that are designed exclusively with a stylus in mind.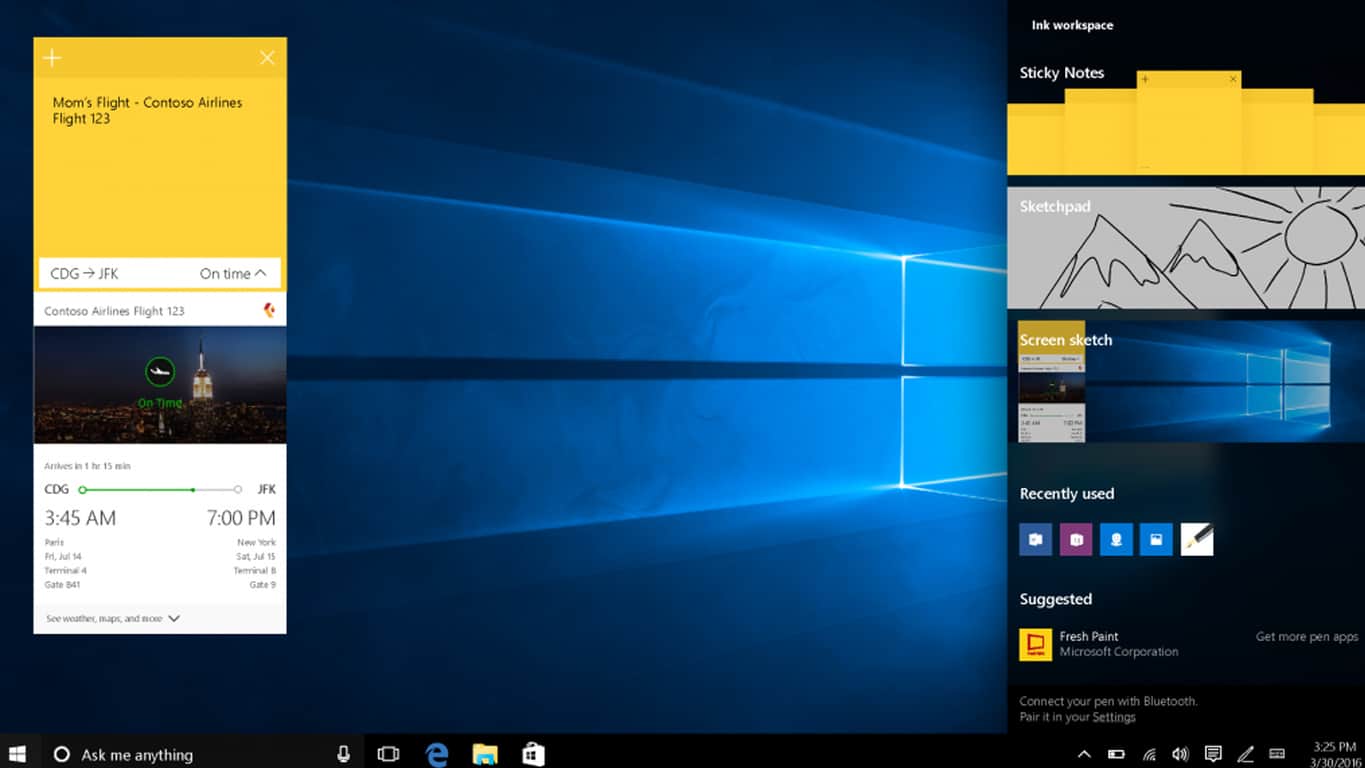 Is Windows Ink a Different Operating System?
Windows Ink is not a separate operating system from Windows 10. It's simply a new built-in alternative way to use the operating system like the separate Desktop and Tablet modes. From the images previewed, Windows Ink appears to be more along the lines of a newer, more functional Action Center or even the Desktop widgets which were used in older Windows operating systems.
What apps will work with Windows Ink?
Popular apps such as Maps, Photoshop, Microsoft Edge, and Office have been confirmed to work with Windows Ink's added features and more are expected to be announced soon. It's important to remember though that even if an app doesn't support Windows Ink, a Windows 10 compatible pen can still be used on the majority of touch-enabled Windows 10 devices like the Surface Pro and Surface Book in all apps or programs.
When will Windows Ink rollout?
Windows Ink is officially scheduled for public launch sometime in summer 2016 as part of a large Windows 10 update called, Windows 10 Anniversary Update.
How is Wacom involved with Windows Ink?
Microsoft has recently partnered with Wacom to create Windows Ink products for the Windows 10. Both companies have announced that they will be working together to produce a new pen specially designed for Windows Ink. It will be release sometime during the holiday season in 2016.
What would you like to see in Windows Ink? Share the hype with the community in the comments below.