Microsoft ceased regular support for Windows 7 a week ago but usage by large businesses remains "nearly universal," according to a study by security firm BitSight. After Windows 7's end-of-life on January 14, the BitSight Data Science Team looked at operating system adoption among 60,000 organisations.
The report confirms what many will have long suspected: most large enterprises have not yet entirely migrated to Windows 10. Almost 90% of organisations with over 10,000 employees are still using Windows 7 on at least one machine. The figure falls to 61% for companies with less than 1,000 employees.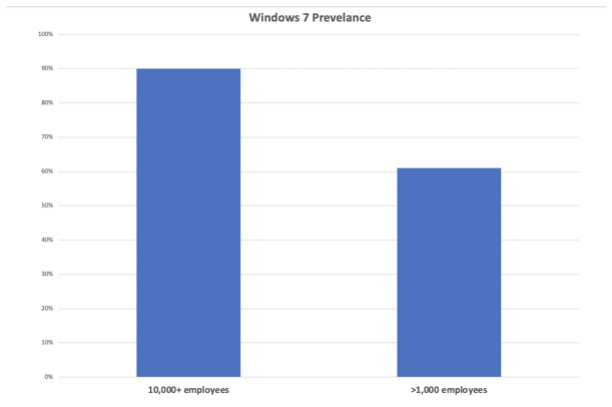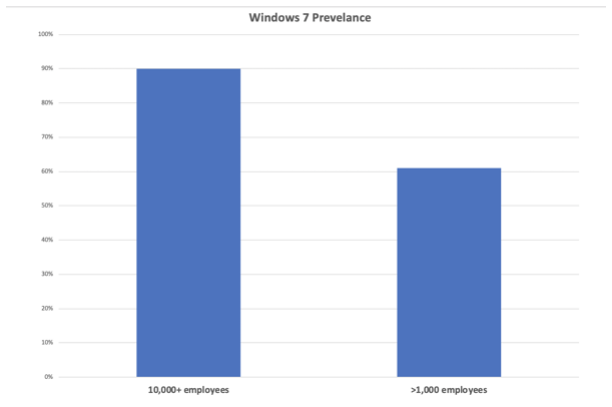 Larger enterprises tend to find it more difficult to move to new computing platforms. Their operating scale and reliance on legacy processes make overnight migrations impossible. The statistics indicate that the majority of the world's largest businesses have delayed migration away from Windows 7, although it's likely that individual reasons will vary significantly.
Some organisations may rely on Windows 7 from a technical perspective. Legacy apps and devices might be incompatible with newer operating systems, leaving businesses stranded on older platforms. For other companies, more fundamental issues such as poor planning or concerns over costs may be responsible for the delay.
BitSight studied Windows 7 usage in different industries and found it has the greatest dominance in the education and government sectors. 84% of organisations in the education industry have a machine running Windows 7; the figure is 82% for government bodies.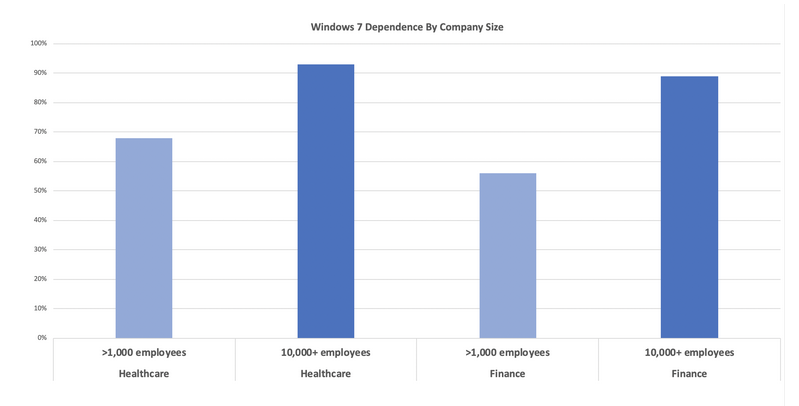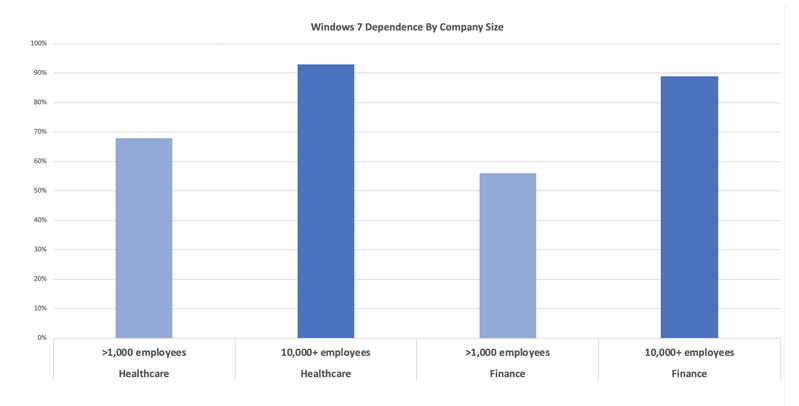 The report also looks at "dependence" on Windows 7, evaluating its usage relative to an organisation's total fleet size. BitSight found the finance and healthcare sectors are most reliant on the platform. 45% of healthcare organisations with more than 10,000 employees run Windows 7 on more than 25% of their total device count. The figure rises to 46% for businesses in the financial sector.
Although the report can be interpreted as evidence that Windows 7 will persist for a lot longer, it also indicates that organisations are aware of the need to migrate away. Although most enterprises still use Windows 7 in some capacity, the dependency figures reveal that few businesses are wholly reliant on it. It appears Windows 7 usage is becoming restricted to just business-critical workloads which have no direct migration pathway onto Windows 10.