Steam has just published its latest hardware survey for the month of February, which shows that Windows 10 usage is now down for two months in a row. After reaching a 50.35% OS share back in December, the new OS has fallen to 48.77% last month (down 0.9% points) while Windows 7 rose to 36.81 (+1.7% points) in the same period. Actually, the seven years-old OS was the only version of Windows that saw its usage grow in February.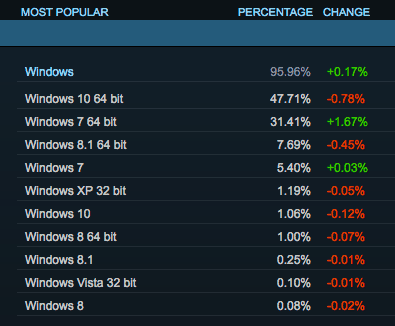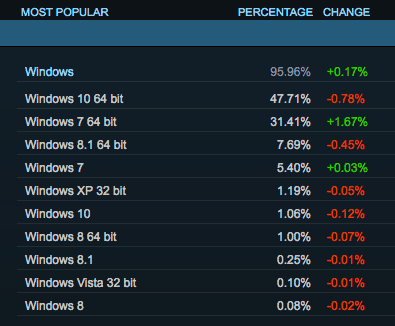 Windows 10 still remains the most popular OS on Steam by quite a large margin, but this trend is quite worrying for Microsoft. Yesterday, we also reported that Windows 10 global market share fell to 25.19% last month according to NetMarketShare, who saw Windows 7 rise to 48.41% in the same period.
Microsoft may still has some Windows 10 tricks up its sleeves to win back Steam gamers in the coming months, such as the Game Mode feature that will debut with the Creators Update in April. Windows Insiders can already test the setting which gives games priority access to system resources, and gamers should probably expect Microsoft to bang the Game Mode drum quite loudly in the coming months.