Microsoft is constantly trying new ways to encourage Windows 10 users to try out its revamped Microsoft Edge browser. Last week we reported that Microsoft is now promoting the Chromium-based browser on Outlook.com. In yet another move to persuade people to switch to Microsoft Edge, recently the software giant has started serving advertisement banners within the Windows 10 search bar.
As spotted by Windows Latest, Windows 10 users who click on the search box are currently seeing an advert for the new Microsoft Edge in the panel that pops up on their screen. Interestingly, the banner contains a more or less a similar message than the one you would have seen on Outlook.com. The search box advert says that the Chromium-based Edge has been "built to bring you the best of the web".
In addition, there is also a button that allows you to download the browser on your Windows 10 machine. In fact, once you install the browser on your PC, it would automatically replace the legacy Edge version to become your default web browser. However, thanks to the X button available next to the message, it's fortunately, an easy matter to close the advert banner.
Although we haven't seen the Edge recommendation here on our PC, Windows Latest shared a screenshot of the banner which looks like this: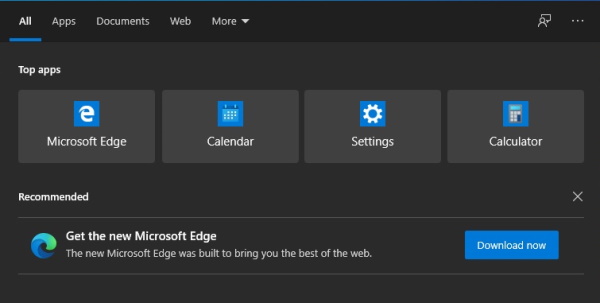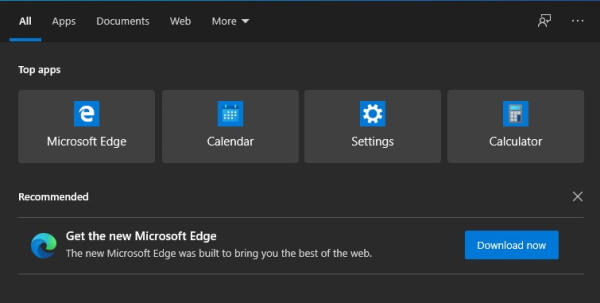 Notably, Windows 10 users who already have the new Microsoft Edge browser but aren't currently using it as a default browser are apparently seeing these prompts, too. As a quick reminder, NetMarketShare's March report brought some good news for the Microsoft Edge browser, as it became the second most popular web browser on desktop, so we'll probably see more ads for Edge in other parts of Windows 10 in the coming weeks.
Did you see the promotion banner on your Windows 10 device? Let us know in the comments section below.