Windows 10 Mobile news recap is a weekly feature that highlights the top stories from the previous week. You can keep up to date with all things Windows 10 Mobile by bookmarking our dedicated page.
If you've been following any of the news about the Windows Phone, you've probably heard about the Cityman and the Talkman. These are the codenames for two supposed Windows 10 Mobile flagships; the Lumia 950 XL and Lumia 950, respectively. Last week, we learned that both devices are rumored to support Qualcomm Quick Charge, a feature that can charge devices up to 70% faster. It remains to be seen if this feature makes its way to both devices. The Quick Charge feature is supported by the Snapdragon 808 and the Snapdragon 810 processors.
No new Windows 10 Mobile build was released last week. In a series of tweets, Windows Insider boss Gabriel Aul mentioned he has been using build 10537 and has a "good candidate but no guarantee" if or when we will see the build (perhaps next week). "Next build is looking good. Has mobile hotspot, and most 10512 issues fixed," Aul adds.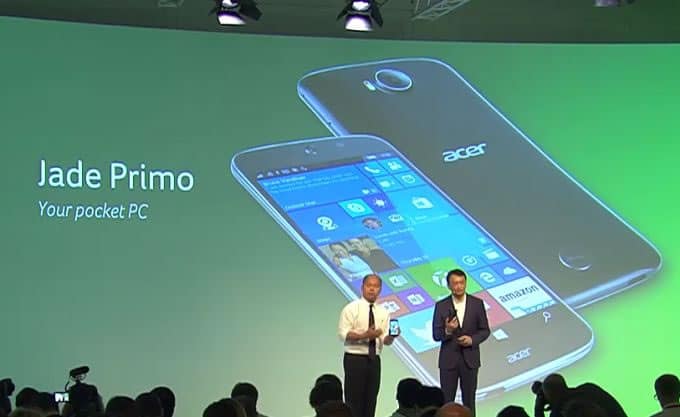 During the IFA event last week, Acer announced a Windows 10 Mobile device. Acer is calling it the "first pocket PC phone" and is the company's first Windows 10 Mobile flagship device, sporting a 5.5 inch S-AMOLED display, a Snapdragon 808 processor and a 21MP rear camera. The phone is called the Acer Jade Primo. Acer is positioning the Jade Primo as one of the first devices to include support for Continuum for Phones, which essentially turns your phone into a full desktop, allowing you to use a mouse and keyboard with universal apps scaled as if they were running on a normal desktop. No word on pricing or availability. Acer also unveiled the Liquid M320 and M330, two budget-friendly Windows 10 Mobile devices
An accessory to make Continuum work even easier is coming, with a code name of "Munchkin". According to a report, the Munchkin will carry 3x USB ports, one for HDMI, and one for a DisplayPort connection. The accessory won't be necessary to use Continuum, but will make it easier to quickly plug your phone into a dock, making use of a display monitor and other peripherals like printers, etc.
Windows Insiders who have a Microsoft Lumia phone with the Windows 10 Mobile Insider Preview installed should be happy to know that Microsoft's photo editing app, Lumia Creative Studio Beta, now supports Windows 10 Mobile. This update took place last week.
Stay tuned for yet another exciting week of Windows 10 news!