If you're a Windows Insider with a touch-screen device, you're in for a treat. Indeed, Microsoft has updated the Windows 10 Mail and Calendar App with new inking capabilities that'll let you write an entire email with a stylus (via The Verge.)
At the moment it looks as though this new feature is currently in A/B testing, as we're not seeing it on any of our devices just yet. Anyway, you can find the new inking capabilities by composing a new email and clicking on the new "draw" option on the ribbon. From here you can select different pen types, a highlighter, and an eraser. You also can press on the (+) icon to add another area to the email for more drawings and inkings.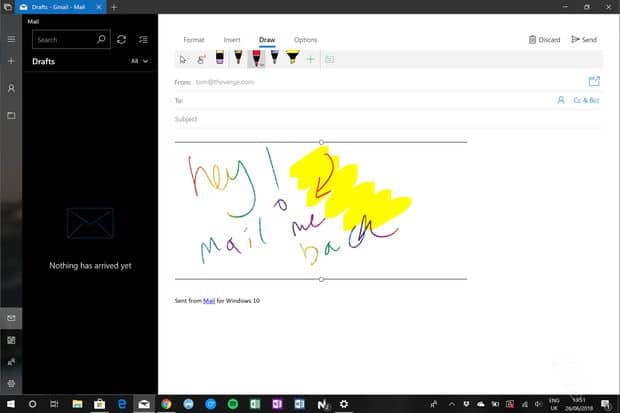 Any inked messages will be sent as a PNG file for the recipient to see. It's definitely nice that Microsoft is more inking features added to Windows 10 apps, and we're hoping this inking feature in the Mail app will roll out to everyone soon. Feel free to update via the link below and let us know in the comments if you're seeing this feature or not.