It's been a little more than a week since Microsoft released the last major update to Windows 10 (aka the Creators Update), but next month should bring much more interesting news to Windows enthusiasts. Indeed, Microsoft will kick off its annual Build developer conference on May 10, but the company will also hold a much-anticipated Education event on May 2 in NYC.
We'll be attending the event, but we already have a good idea of what it will be about: Microsoft is expected to introduce Windows 10 Cloud, a new Windows 10 SKU which will be tarteget at the education market. From what we've learned, the new OS is a locked down version of Windows 10 that can only run Windows Store apps, including Win32 apps that have been ported with Microsoft's Desktop App Converter. More importantly, Windows 10 Cloud will be able to be upgraded to Windows 10 Home or Windows 10 Pro, for users that want full access to Win32 apps and other power user features.
Overall, Windows 10 Cloud, is expected to be Microsoft's most serious response to Chromebooks, which are becoming increasingly popular in the US Education market.
It's not clear yet if Microsoft or its OEM partners will introduce new hardware running Windows 10 Cloud at the May 2 event, but today a new report from Windows Central gave us more details about the minimum recommended specs for the new OS. And according to the following internal document, Microsoft made it clear that Chromebooks are the real target: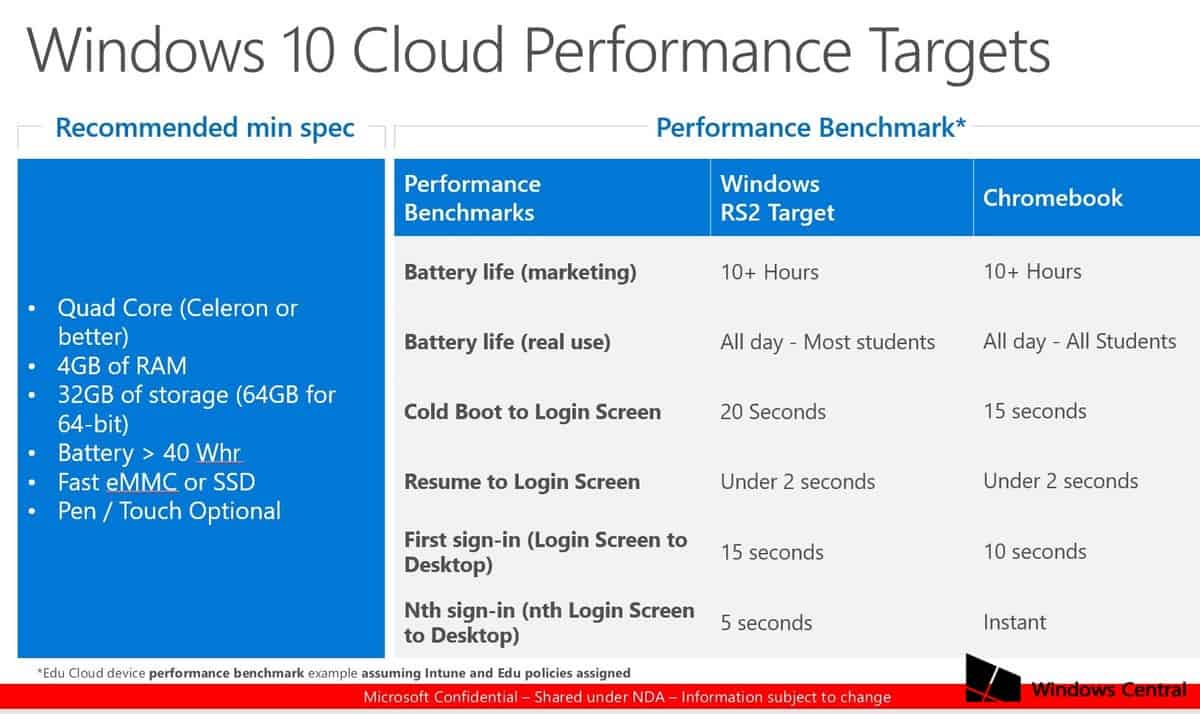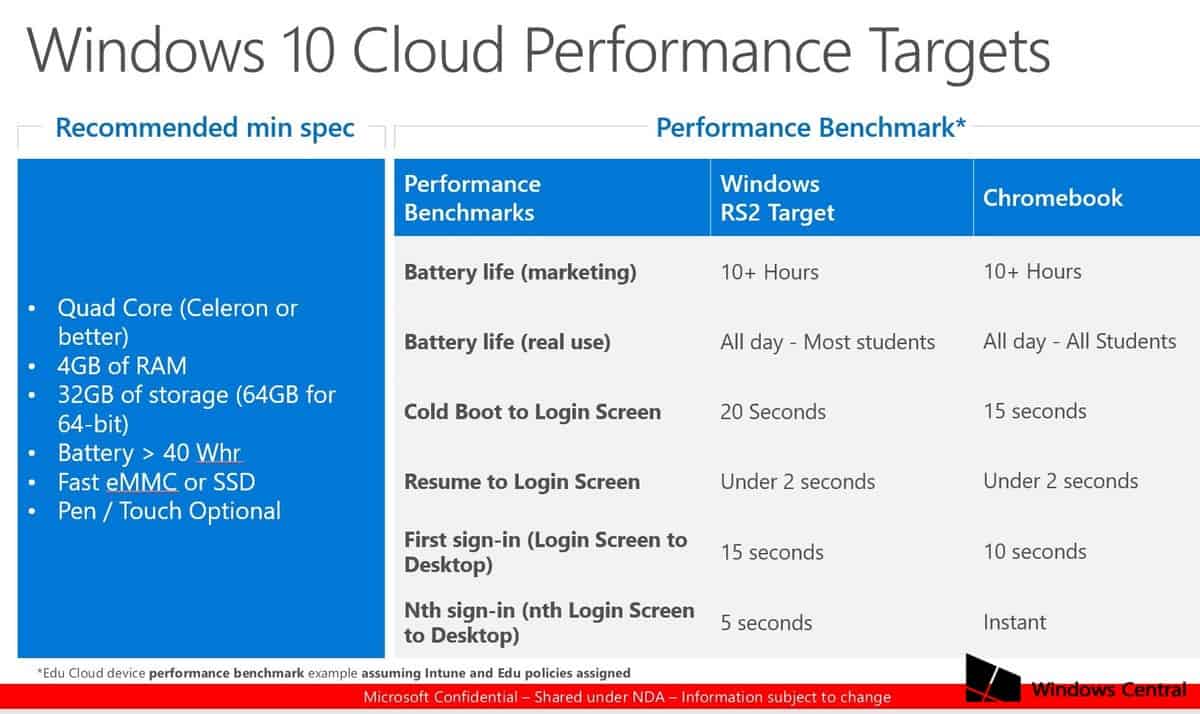 As you can see, the minimum recommend specs for Windows 10 Cloud are quite low: a quad core Celeron processor, 4GB or RAM and 32GB of storage (fast eMMC or SSD) should be enough to have a good experience. However, it's worth noting that according to Microsoft, Chromebooks will still have an edge in certain areas such as battery life and the time from cold boot to Login Screen.
Windows Central also reported that Windows 10 Cloud may actually be named "Windows 10 S" (maybe a nod to "School," who knows?) which certainly sounds less confusing. But now, the "Cloudbook" question still remains: does it make sense for Microsoft to release first-party hardware running Windows 10 Cloud, or will the company let its OEM partners bring the first new devices to the market? Windows 10 Cloud could make sense for a successor to the Surface 3, though Microsoft seems much more interested in high-end hardware like the Surface Studio these days.
We'll see what happens on May 2, but one thing is already clear: Microsoft is really serious about the education market, and the company wants Windows 10 devices to match the strengths of Chromebooks, which are cheap, secure and fast PCs. And Windows 10 Cloud may well be a success if Microsoft and its OEM partners market it better than the now deprecated Windows RT.