Last week, Microsoft's business inadvertently made headlines as Ford, a previous infotainment partner opted to Google's Cloud services over that of Azure or even AWS. Most of the headlines were drawn from conclusions of the former Microsoft and Ford Sync agreements from a few years ago.
However, Microsoft's business is once again in the headlines in a more direct correlation as it and the Volkswagen Group announce a partnership to build out an Automated Driving Platform.
Microsoft and the Volkswagen Group have been quietly cultivating the Volkswagen Automotive Cloud since 2018, but yesterday's announcement is new, in that, the VAC will now be officially powered by Microsoft's Azure Cloud services.
The partnership unveiled yesterday is meant to help Volkswagen accelerate the performance and scale of its Automated Driving Platform and presumably keep it up to pace with competitors such as Ford, Tesla and Toyota.
The Group's software company Car.Software Organisation will collaborate with Microsoft to build a cloud-based Automated Driving Platform (ADP) on Microsoft Azure and leverage its compute and data capabilities to deliver automated driving experiences even faster at global scale. With ADP running on Azure, Car.Software Organisation will increase the efficiency of the development of advanced driver assistance systems (ADAS) and AD functions for passenger cars across Volkswagen Group brands.
Aside from using generic marketing boilerplate talking points, Volkswagen is specifically looking to increase its ability to develop in-house software for its vehicles and connect car experiences. The company already implores an internal software arm called Car.Software Org and will leverage data captured and analyzed through Microsoft Azure compute and machine learning to better rapidly deploy new or updated software experiences, according to a press release.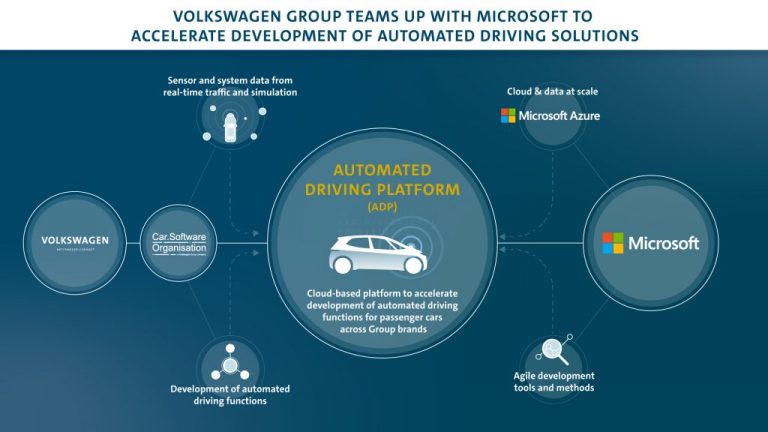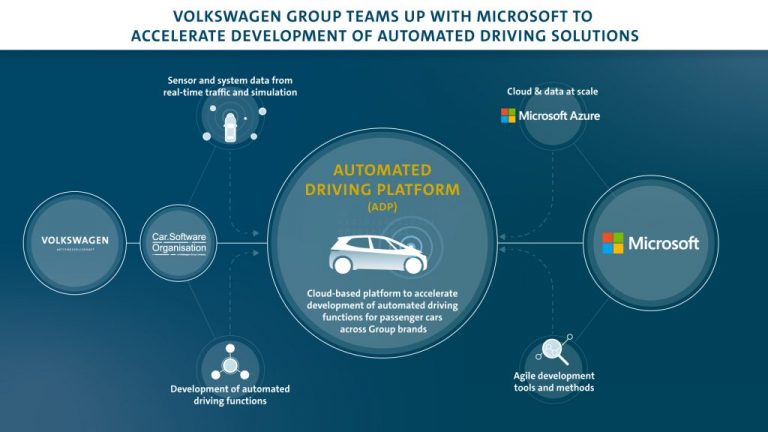 In addition, leveraging Microsoft's Azure, Volkswagen's Automotive Cloud (VW.AC) wants to streamline over-the-air features updates to drivers, independent of vehicle model or year.
Volkswagen's partnered timeline starts as early as 2021 for test fleets making use of Azure with a more concerted consumer-facing rollout in 2022