Partly due to the political climate in the world and the back and forth finger pointing of international powers, hacking has become a more commonplace verb at plenty of breakfast tables around the world.
While the current connotation is perceptually negative at the moment, there is a lot of good that can come from the understanding, use and participation in the hacking community.
Jess Huckins, a writer at Microsoft Research and freelance editor, takes us on a tour of her time during Microsoft's One Week, which includes employee activities such as Expos, Science Fairs, a Give Fest and Hackathon.
Huckins presumably participated in most if not all the events of the week, but her writings about the Hackathon were of particular interest and wound up as a post on Medium.
The Microsoft Hackathon varies from any similar event I've witnessed. A mashup of "hacking" and "marathon," the word "hackathon" typically conjures images of engineers coding at 3 A.M. while pounding black coffee. Here, though, employees and interns from across the company come together to create, innovate, and hack on ideas that light them up. In 2017, more than 18,000 people in 4,000 cities and 75 countries participated, making this the world's largest private hackathon.
In meeting with several organizers and employees, Huckins was quick to point out the difference between the misconceptions surrounding the idea of "Hackathons" versus the reality of Microsoft's approach.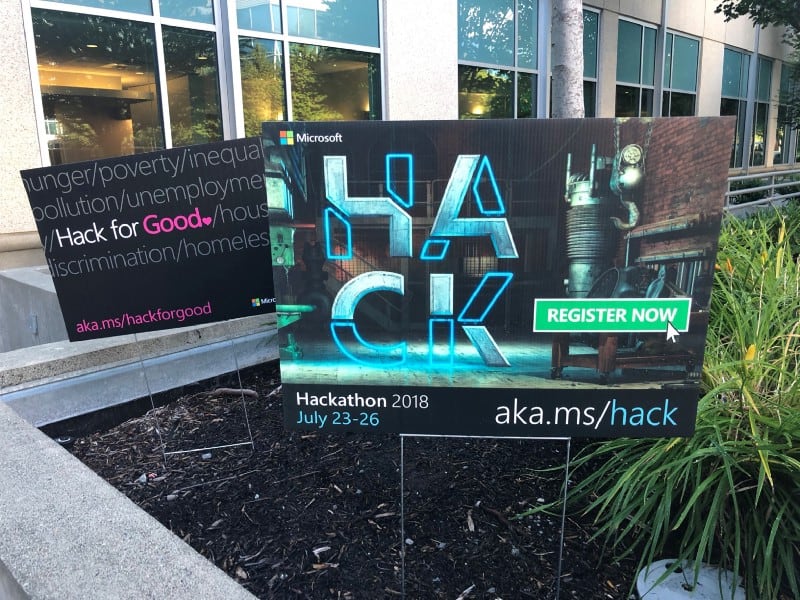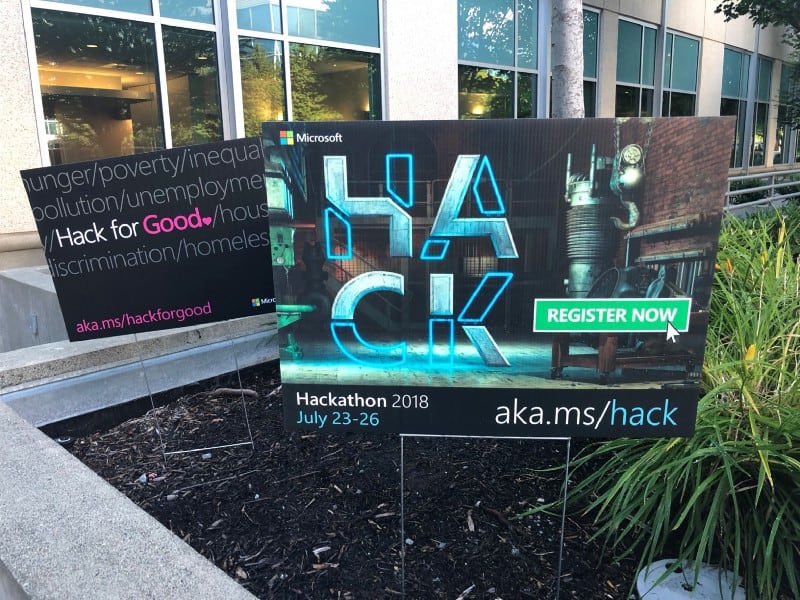 Instead of people sleeping under tables and making questionable dietary choices in the wee hours of the night, Microsoft clears its tents out every night around 7 P.M. The seemingly early curfew is mostly likely meant to give coders a chance to clear their minds and return the following day with fresh perspective and creative workarounds.
The other misconception Huckins highlights is the very nature of what's being hacked. Instead of computer screens filled to the brim with code attempting to shutdown, break into or crash security threats, most of the hacking done during Microsoft's Hackathon, was for good.
 Other projects were decidedly personal. Cormier McSwiggin, inspired by her previous work with nonprofits, said she joined her Hackathon team because it aligned with her politics. "We're trying to create a design that would benefit people living with ASD, and that also is a great opportunity for us to think of accessibility, UI, and UX from the very beginning rather than as an afterthought."

User researcher Keola Ching was inspired by his stepmother, who had ALS, to create a device that would improve a quadriplegic person's quality of life by giving them more control over their environment and reducing caregiver burden. "Three of us have very personal reasons to be part of this team," he said. "Two have lost family members to ALS, and one of the engineers has a father who has been quadriplegic for quite some time."
While there is a need and market for Black, White and Grey Hat Hackers the world over, it's nice to know that the term is broadening to call attention to the extensive knowledge of people have for taking current systems and improving them.