The Surface Pro 4 comes with its fair share of mobile benefits such as a lightweight tablet form factor, a detachable keyboard that doubles as a screen cover and full Windows 10 functionality on the go, but the device also comes with a steep price tag for some.
Fortunately, other PC OEMs have taken up the budget friendly mantle, and 2-in-1 fans can now look forward to the Eve V Windows 10 device. PC manufacturer Eve has taken to the crowdsourced method of not only drumming up interest in its Eve V 2-in-1 but funding development.
Unfortunately, crowdsourcing development funds tends to lead to uncertain schedules and the Eve V has suffered a couple of release setbacks.
However, according to a newly released spec sheet, the wait may be worth it for customers wanting more options than just the Microsoft Surface Pro 4.
The Eve V reportedly will release with a 12.3-inch display with a 3:2 aspect ratio packing 2735 x 1824 resolution. Adding to the impressive screen specs is a special anti-reflective coating for what Eve is calling a panel with great color reproduction.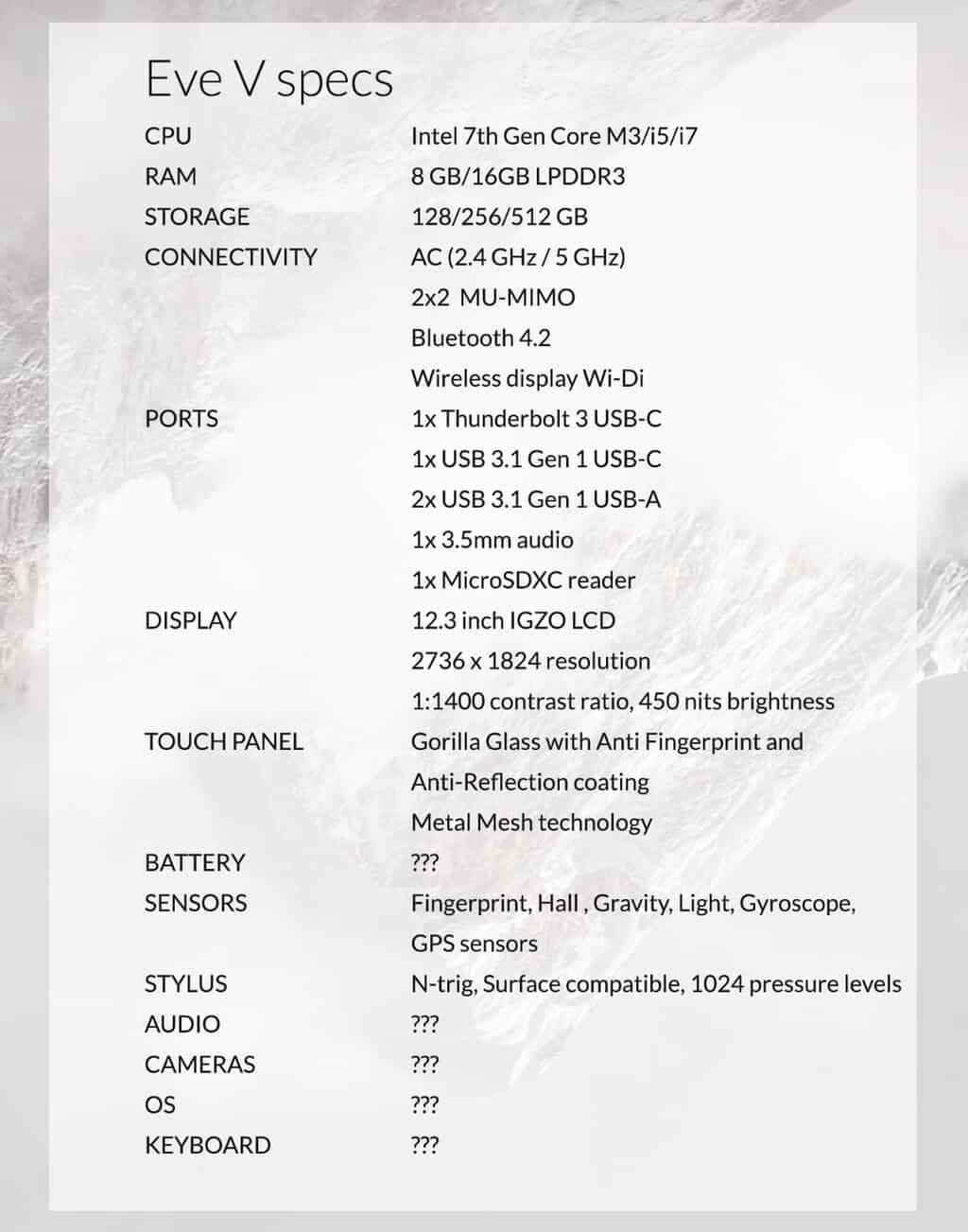 In addition to the great screen, the Eve V will also include a pen that Eve claims is on par with Surface Pen by obeying the N-TRIG protocol of the Surface Pen and work with the Eve 5 as well.
The Pen
We wanted to make sure Eve V supports the latest Windows 10 features (including, of course, the ink)

The V's pen will support windows INK and will be equipped with 1024 pressure levels. The pen will be sold separately (affordably too). It will have two buttons that can be configured in windows.

With Windows Ink being updated, more and more features for the pen will be coming along!

Because of the integrated solution the Touch Panel It will be also optimized for our Pen. According to our recent calculations, we could even surpass the Surface Pro 4 in our pen accuracy (that remains as our goal).

Our pen will obey the N-TRIG protocol, same as Surface 3, Pro 3 and Pro 4.

That also means a Surface Pen will work with the Eve V right out off the box, however, it may not be as optimized for Eve V in terms of precision, as ours.
As far as security goes, the Eve V will also pack a fingerprint sensor on the home button for better Windows Hello integration.
Lastly, the Eve V looks to come in two variants that include one with LTE antennas.
The Eve V is scheduled to hit Indiegogo later this November with coming weeks revealing, even more, details about this new 2-in-1