While talking SharePoint won't endear you to your flagship phone-toting or smart watch bearing friends, it might get you a seat at the table of professionals who appreciate enterprise communications.
Last month the Office team talked about all things SharPoint during its SharePoint Virtual Summit. During the summit, details about SharePoint communication sites, dynamic sites, mobile apps, and cross-platform development for the Mac. Adding to the recent cacophony of SharePoint noise, the Office team announced communication sites will be available for Office 365 First Release customers.
Create a beautiful communication site in seconds

Communication sites are perfect for internal cross-company campaigns, weekly and monthly reports or status updates, product launches, events and more. To help you jumpstart getting your message out fast, communication sites provide configurable templates for the sites and pages within. When you click Create site from the SharePoint home in Office 365, you have a choice of three initial site designs:

Topic—Select the Topic design when you have a lot of information to share, such as news, events and other content.
Showcase—Use the Showcase design to feature a product, team or event using photos or images.
Blank—Start with a blank site and make your design come to life quickly and easily.


Users also get more customization options with Communication Sites to continue refining and enhancing news. The ability to create full-width layouts and enhanced title regions with custom header images should make office communication a bit more fun and personal.
Communication Sites also brings comments to pages where each new article and page can be loaded with comments for references during meetings or collaboration sessions. Finally, share options in Communication Sites include email as users can now see thumbnails, title, descriptions and additional messages from senders.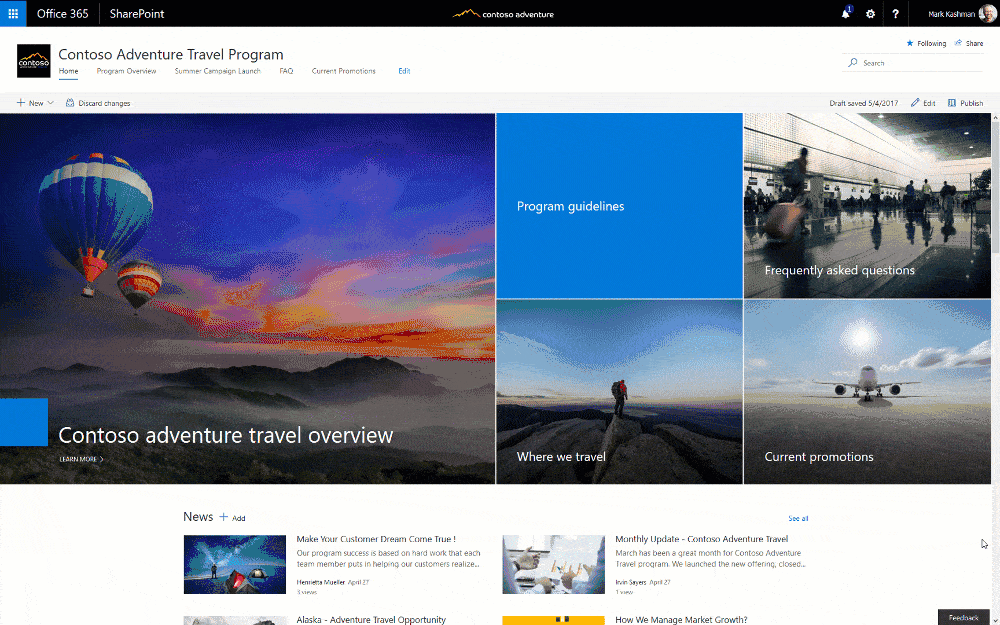 There are web improvements coming in today's update such as:
Power BI and Microsoft Stream—Bring in interactive reports using the Power BI web part, and embed single videos or full channels from Microsoft Stream—the single destination within Office 365 for your cross-company video management. Both Power BI and Microsoft Stream are now generally available.
GIF support—When you add an Image web part into a news article or page, you can now include animated GIFs in your layout.
New "See all" pages—When there is more content than can be shown within the first view the Highlighted content and Site activity web parts, you can click See all to go to a full-page experience to see all the content and activity.
Updated News web part—Showcase your news using multiple layouts to highlight what's important with greater flexibility. You can use the default Top story layout, view news as a list or side-by-side.
There is a lot more to cover regarding SharePoint and the Office team is sharing its calendar of information and feature releases. Dates and times can be found via @SharePoint Twitter handle or the Office blogs.