There is no question that the Xbox One is trailing behind the PS4 in the eighth generation video games consoles battle. With that being said, Microsoft is open to trying innovative new features to stay relevant in the gaming space. Back in November, Microsoft introduced a new backward compatibility feature on the Xbox One, and gamers can now enjoy a growing list of Xbox 360 games on their Xbox One. But it seems Microsoft is thinking about other ideas to make Xbox fans happy, as it seems the company has been carrying out a new customer survey that recently surfaced on the Xbox One subreddit.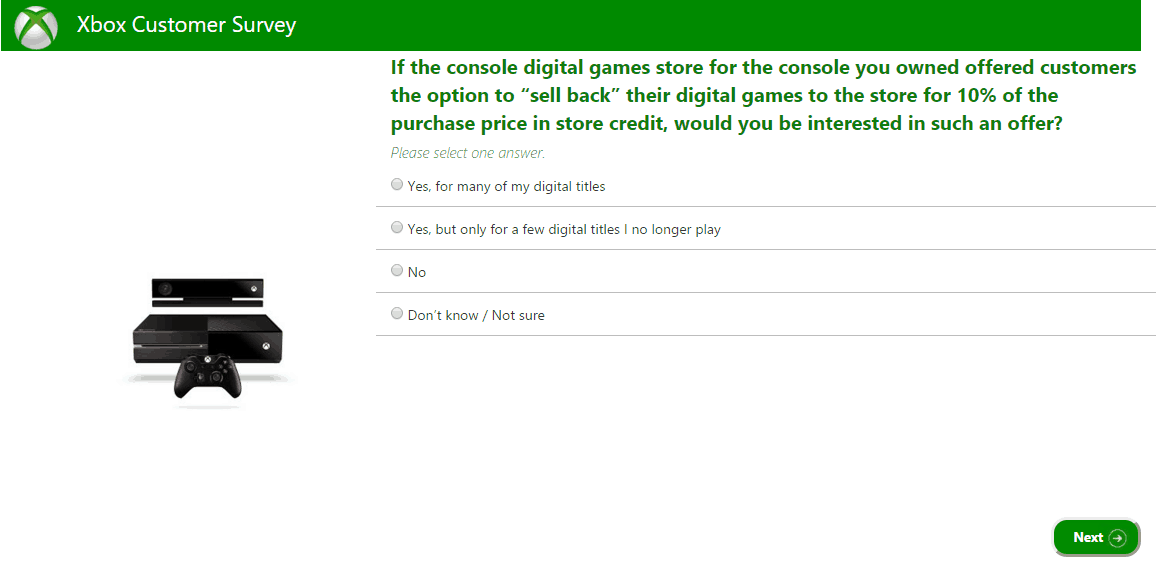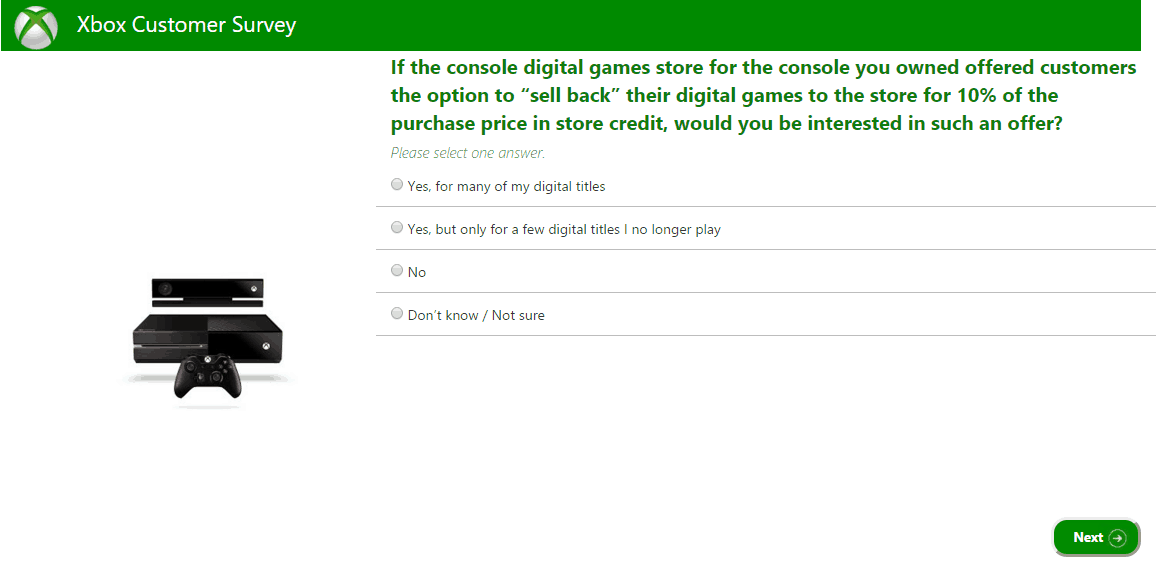 The survey is asking gamers the following question:
"If the console digital games store for the console you owned offered customers the option to "sell back" their digital games to the store for 10% of the purchase price in store credit, would you be interested in such an offer?"
Answer options included "Yes, for many of my digital titles";"Yes, but only for a few digital titles I no longer play";"No" and "Don't know / Not sure". If this feature ever sees the light of day, it seems that Microsoft would simply want you to revoke your digital license to the title and then give you 10% of the value in exchange. So, imagine if you bought a digital version of Halo 5: Guardians for $59.99, you would get $5.99 back that you could spend on a brand new game.
While 10 percent is a pretty small percentage (and you could probably get more money by selling a physical copy of the game), it's still better than nothing, right? Gamers who own many old games that they hardly ever play anymore may see some value in this opportunity.
However, a lot of questions remain unanswered: would gamers be able to get back 10 percent of the amount they paid or, would they get 10 percent of the game's current price? Also, what would happen with games you bought during discount periods, or via Microsoft's Deals with Gold? Last, would you also be able to sell back the free "Games with Gold" games you received through your paid Xbox Live Gold subscription?
Microsoft could very well open a new world of possibilities for Xbox gamers by introducing digital trade-ins, but we're not sure what that would mean for the bigger Windows 10 Store. Microsoft is currently bringing the Xbox One and Windows 10 closer, and we previously reported that the company plans to introduce Universal Windows 10 apps on the Xbox One this summer. So, we're not sure if it would make sense for Microsoft to only allow trade-ins for games on the Xbox Store, but to exclude the Windows Store content from it.
Anyway, remember for the meantime that this is just a survey and that we can't take this feature for granted until Microsoft makes the idea official. But as Microsoft is gearing up for the upcoming E3 gaming conference in June, stay tuned as we will share with you any surprise announcements from Microsoft. In the meantime, please tell us in the comments if you would welcome a digital trade-in system on the Xbox One.