While we had our first look at the Samsung Galaxy TabPro S 12-inch Windows 10 tablet during CES 2016 in January, Microsoft is finally announcing today that US launch of the hybrid tablet is coming soon as customers will be able to get it for $899.99 at Best Buy beginning Friday March 18, 2016 before the tablet's availability in all Microsoft stores in the U.S., Puerto Rico and Canada starting April 4th.
Microsoft's VP OEM Technical Sales Chris Cocks is proud to have Samsung on board of the Windows 10 bandwagon:
"The Galaxy TabPro S is the result of years of collaboration between Samsung, Intel and Microsoft. The end result is a beautiful, ultra thin, detachable 2-in-1 that is optimized for entertainment and offers productivity without compromise – the perfect device for both consumers and the enterprise.

One of the reasons that Samsung decided to bring the Galaxy brand to Windows is the benefits like security, productivity and manageability that only Windows can deliver. This is also a big part of why there are over 200M devices already running Windows 10 globally today.

The TabPro S is not just a PC, it's a powerful 2-in-1, a form-factor that Microsoft pioneered. The investments the Windows ecosystem is making in 2-in-1s is staggering."
The Samsung Galaxy TabPro S is indeed featuring quite impressive specs as it features a 12" Super AMOLED screen in a definitely thin and light body (6.3mm and 1.53 pounds, keyboard cover included). The included keyboard cover offers dual-angle viewing and connects via Pogo pins to avoid the necessity to pair or separately charge the keyboard.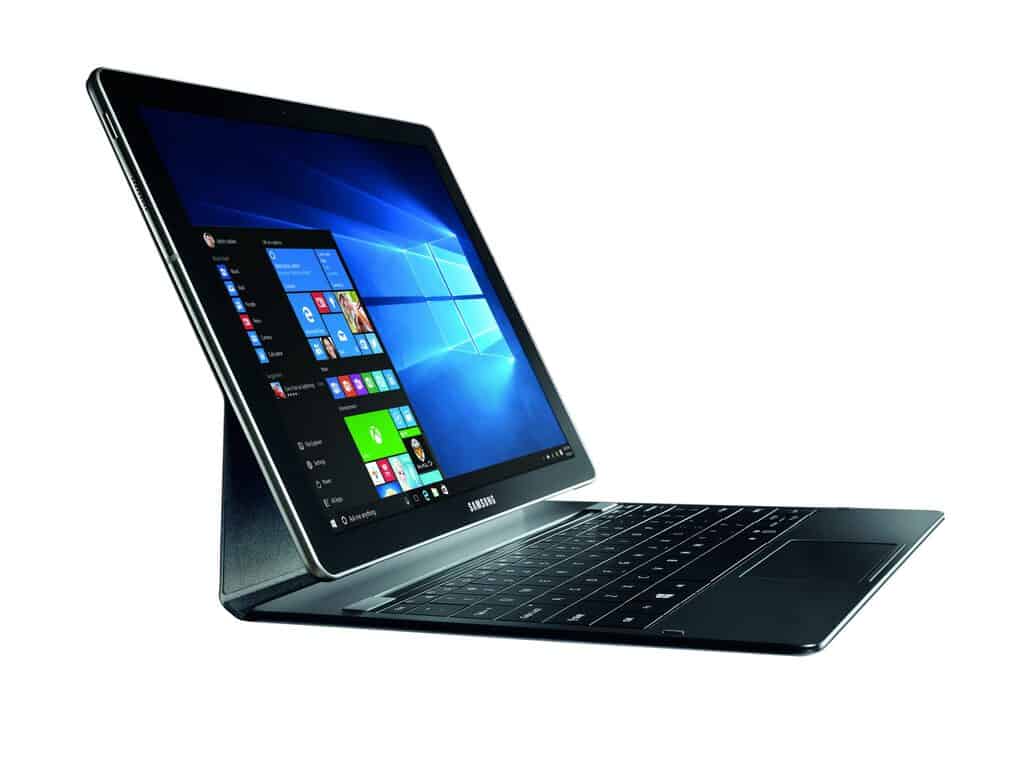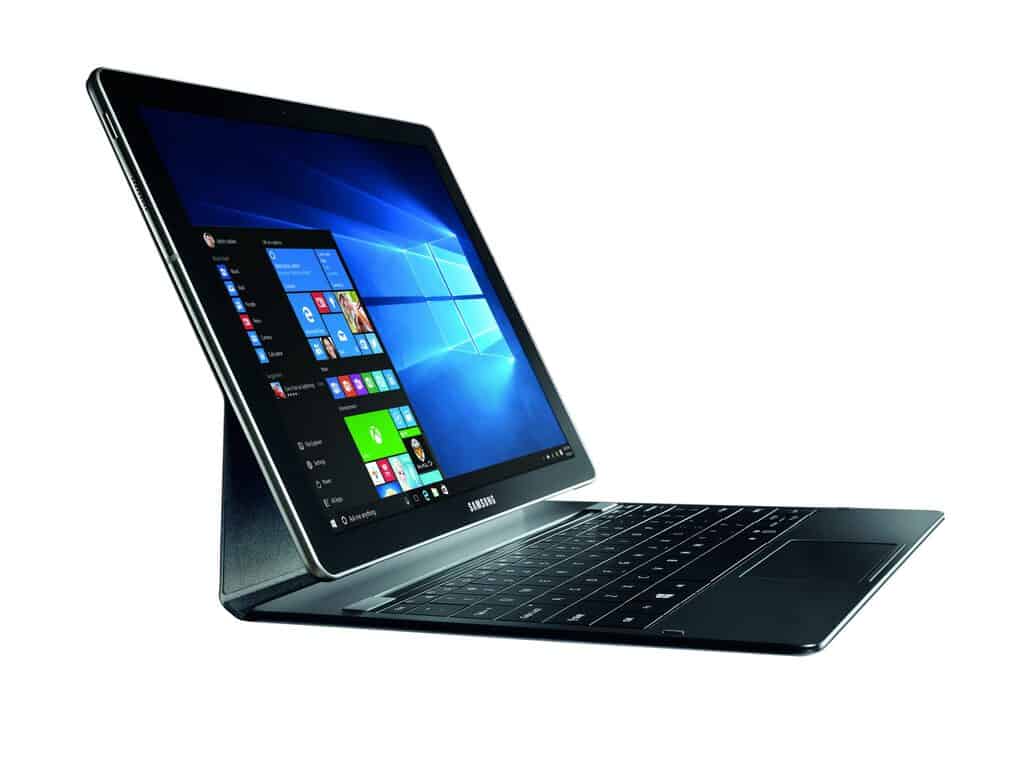 Please find the full detailed specs below:
Windows 10 Home, Windows 10 Pro
LTE Cat.6 connectivity option
6th Gen. Intel Core M processor (Dual Core 2.2GHz), fanless design
12" 2160×1440 Super AMOLED screen
5MP AF(Rear), 5MP (Front) cameras
Wi-Fi 802.11 a/b/g/n/ac MIMO, Wi-Fi Direct, NFC, Bluetooth 4.1
GPS, GLONASS
Accelerometer, Hall, Light
4GB(RAM)
128GB / 256GB SSD storage options
290.3×198.8×6.3mm, 693g (Wi-Fi), 696g (LTE)
5,200mAh (39.5W, 7.6V) with full charge in 2.5 hours, up to 10.5 hours of battery life
Customers who want to take advantage of the touchscreen capabilities of the tablet will also be able to buy a Bluetooth pen separately. The pen will support inking within the Edge browser and also pairing with the OneNote, Powerpoint and Outlook Windows 10 apps. Microsoft also explains that the tablet features enterprise grade security features as "enhanced Windows Defender and SmartScreen help keep devices safe from viruses, malware, and even phishing attacks from malicious websites".
Last, Microsoft also worked with Samsung to provide an even better Cortana experience on the TabPro S:
Together with Samsung we improved the Cortana speech accuracy from good to exceptional, with scores greater than 90% across all sound environments – from a busy house, to a coffee shop, or office space. I've been using the TabPro S for about a month, and I can personally attest to this. The microphone is amazing, and the optimization that our companies did together with the dual-array microphones to optimize for Cortana is extremely impressive. Even in a noisy place, people can hear me clearly.
Microsoft's VP Chris Cocks also didn't forget to mention the recent IDC report stating that "Windows should command over 50% of the detachable market over iOS and Android, and is slated to capture almost 75% by 2020". It's definitely a good thing to have a nice premium alternative to Microsoft Surface tablets, and we're wondering if the Samsung Galaxy TabPro S can become one of the most popular Windows 10 hybrids devices this year. Please tell us in the comments your opinion on Samsung's tablet.