After gathering feedback from beta testers over the past couple of months, Rare's pirate game Sea of Thieves will be released on March 20 on both Xbox One and Windows 10 PC. This will be Rare's first PC release, and because the game will be a Microsoft Store exclusive, the game studio has a lot of pressure on its hands to meet the expectations of hardcore PC gamers. Today, Rare expounded a bit on just what that PC experience will be like.
"We know that as PC gamers, having the ability to change the field of view, unlock or lock the frame-rate, rebind keys, change video settings, resolution, and graphics options, as well as offering extra functionality like full ultra-wide support and a dedicated FPS Counter, is all part of the expectation," explained Rare's PC Design Lead Ted Timmins. "It's with great pleasure then for us to announce that after all of the above, and more than a year of working with our partners at AMD, Intel and NVIDIA, it's time to smash a bottle of rum against our PC specifications so that you can see how your rig will fare."
First of all, you should know that Sea of Thieves on Windows 10 will ship with an auto-detect experience that will give PC gamers "the Rare-certified spec based on your hardware." The game studio detailed six different sets of specs, going from the "Cursed" 540p at 30FPS to the "Mythical" 4K at 60FPS.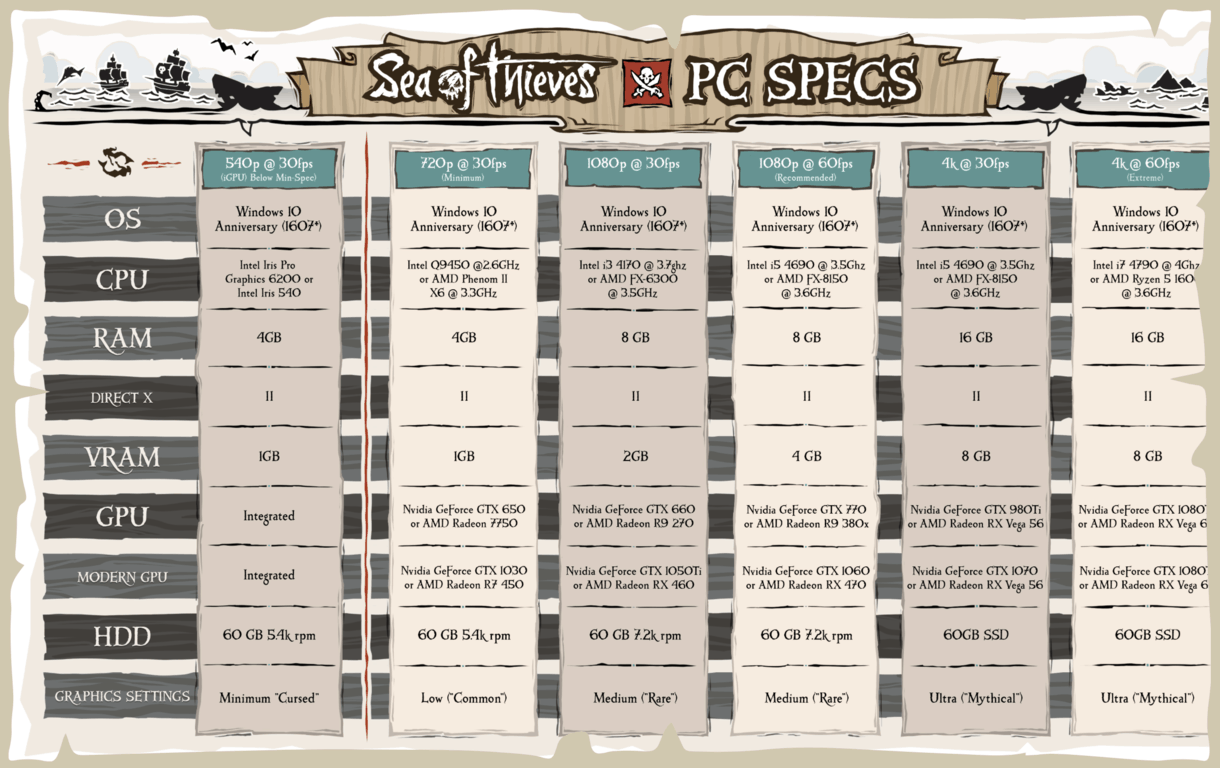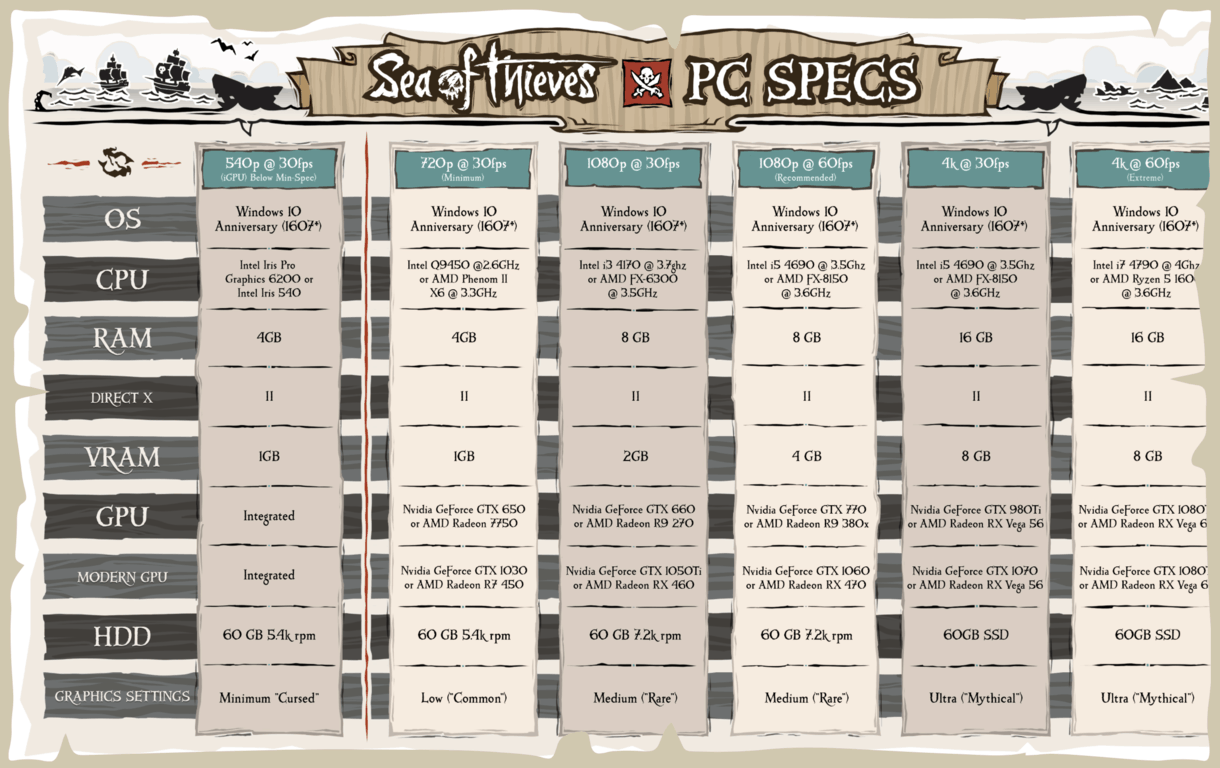 "The game is perfectly playable at 540p," explained Timmins, which means that PCs with Intel Integrated GPUs (Intel Iris Pro Graphics 6200 or Intel Iris 540) and 4G of RAM should have a pretty good experience. Sea of Thieves isn't the most photorealistic game to be released this year (except for the gorgeous water effects), but playing the game in 4K at 60 FPS will require a high-end Intel Core i7 or AMD Ryzen processor, 16GB of RAM and an Nvidia Geforce GTX 1080 or AMD Radeon RX Vega 64 GPU.
Sea of Thieves will also require the Windows 10 Anniversary Update or higher, and it will be a 60GB download. The game is already available to pre-order from the Microsoft Store, though we remind you that it will also be available for free with Xbox Games Pass on launch day. It remains to be seen if Sea of Thieves will be the smash it that Microsoft's Xbox division desperately needs, but at least the company will be making the Xbox Play Anywhere game more accessible than ever.