It appears that third party gaming accessory maker Turtle Beach has patented a new Xbox controller that will feature a touch screen. As reported by Game Rant, a patent image that have surfaced online show a schematic for what the image dubs as a "Stealth Controller," with a touchscreen interface at the top of the controller above the Xbox button.
As seen in the image, this touchscreen displays tabs for audio, loadouts, performance, social and a home screen. A notifications bell, battery status bar, and profile data can also be seen. Going off this schematic, the touch display could be used to save custom controller loadouts, track player performance in a game, and connect to social media. Reportedly the patent also mentions compatibility with mobile phones and other external devices via a dedicated app.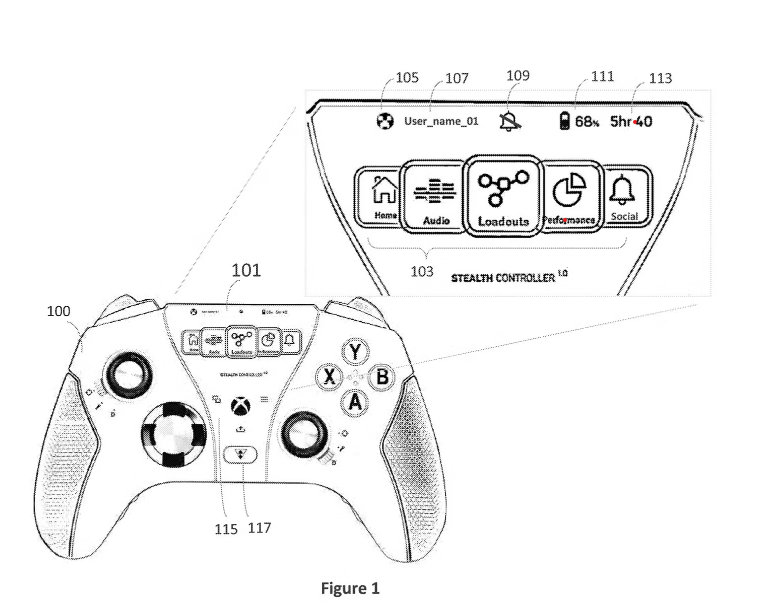 This isn't the first such Xbox controller to appear recently. Asus announced its in-development Rakiri Pro OLED Xbox controller earlier this year at the Consumer Electronics Show. A month prior, Microsoft filed a patent of its own for a controller with an LCD display.
With all these touch screen controllers in development, it wouldn't be too far-fetched to think that touch displays will become standard controller features in the near future.
Via Video Games Chronicle. 
Featured image via IGN.