Some people need ruggedized machines that can stand up to anything, and Panasonic has a history of producing that with the Touchbook line of hardcore PCs. Today, Panasonic has announced its newest offering, the detachable Touchbook 20 laptop.
The Touchbook 20's list of rugged chops is extensive:
MIL-STD-461F to deal with electromagnetic interference
MIL-STD-810G to handle drops, shocks, vibrations, explosive atmospheres, temperature extremes, humidity, rain, and sand
IP65 for excellent waterproofing and dusproofing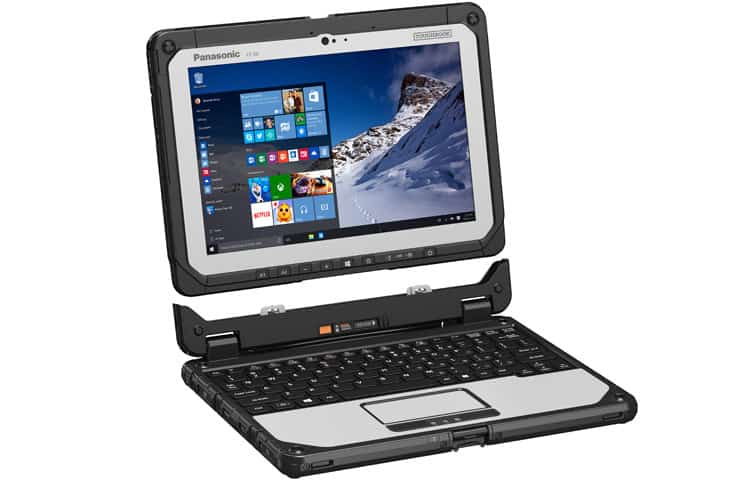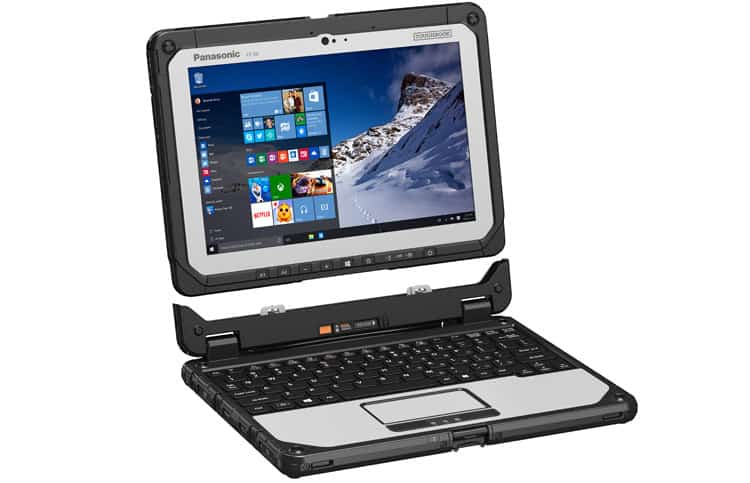 The machine achieves these standards by using a magnesium alloy case that incorporates locking port covers, a raised bezel, a completely fanless design, a built-in handle, and an SSD heater to keep its storage warm and cozy. All of this ruggedness applies to a full six usage modes:
Traditional laptop
Detachable self-reliant tablet
Flipped 180 degrees for presentation mode
Convertible mode
Carry mode via the handle
Vehicle mode for use when zooming along behind enemy lines
The Toughbook 20 doesn't sacrifice in the specifications department to achieve such a rugged design:
10.1″ sunlight-viewable 800 nit (!) IPS display with gloved multi-touch
Intel Core m5-6Y57 processor
8GB RAM, 128GB SSD (upgradeable to 256GB or 512GB)
Waterproof pen
Backlit keyboard at a full 16% larger than its predecessor, the Toughbook 19
Standard 2MP front camera and optional 8MB rear camera
Optional battery bridge for continuous operation when juice runs low
Optional serial port, magstripe reader, 1D/2D barcode reader, dedicated GPS, 4G LTE
The machine runs a svelte 3.9 lbs (for such a rugged beast), but the price isn't quite as light. The Touchbook 20 starts at close to $3,099, meaning that you'll be breaking the piggy bank (or the defense budget) to pick one up. If you need something rugged, though, you probably don't care as much about the price, and it looks like the Toughbook 20 should meet pretty much anybody's outdoor needs.