It seems that Windows Mixed Virtuality headsets are becoming a rarity on the Microsoft Store. Road to VR noticed that the Samsung HMD Odyssey+ is the model that's available for purchase as of today, with the other Asus Mixed Reality Headset being out of stock. The three other headsets on the Microsoft Store include the Oculus Rift S, the HTC Vive and the HTC Vive Pro.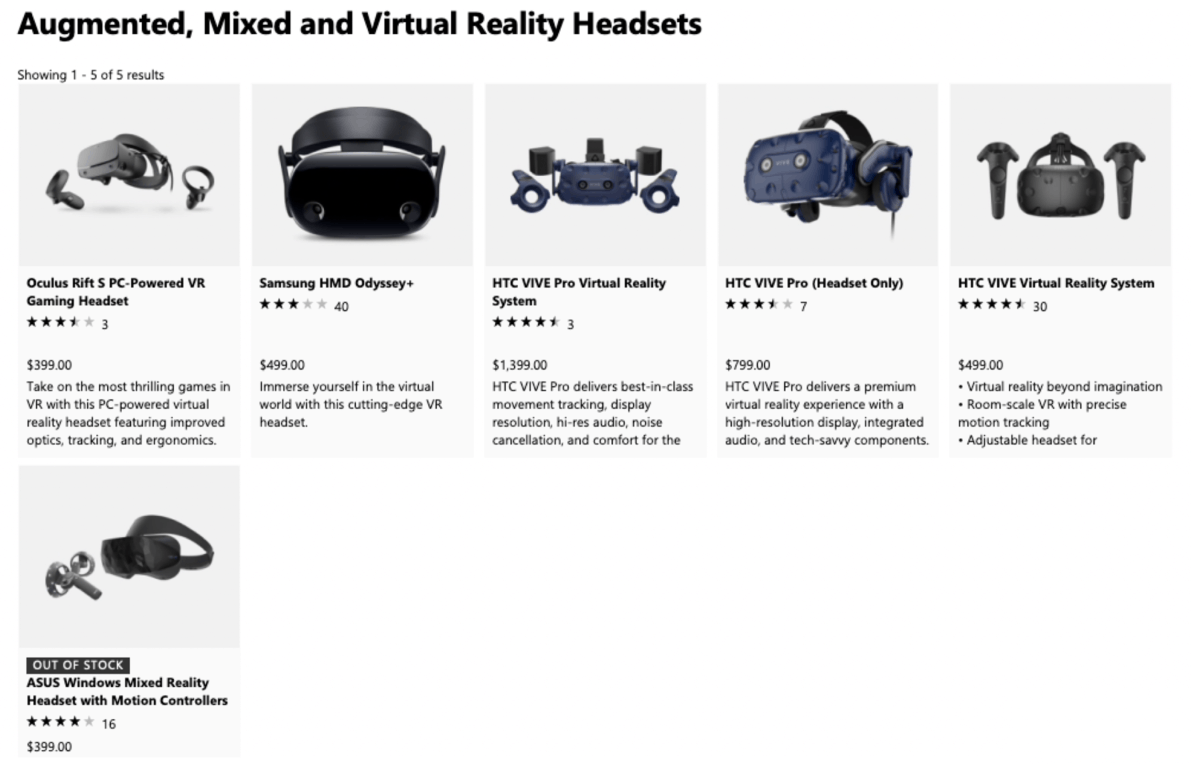 Taking a quick look at Amazon this morning, we're seeing that the online retailer currently has low stocks of Windows Mixed Reality headsets from Acer, HP, Lenovo, Dell, and Samsung, so it appears the Microsoft Store isn't an isolated case. Earlier this year, Microsoft dropped Windows Mixed Reality devices from its affiliate program, meaning that it would no longer be will no longer be encouraging further sales of the product though affiliates. Road to VR reached out to Microsoft to get a statement about the state of VR headsets on the Microsoft Store, but the company declined to comment.
Windows Mixed Reality was one of the big new features in the Windows 10 Fall Creators Update (or version 1709), but the first headsets from Microsoft's OEM partners didn't give much a challenge to market leaders Oculus and HTC. According to Steam's latest hardware survey, WMR headsets had a 10.99% usage share in June, far behind the Oculus Rift (46.03%) and the HTC Vive (40.81%).
In the Windows May 2019 Update, Microsoft brought support for legacy Win32 apps in Windows Mixed Reality, and that should certainly help to make the platform stand out in the VR market. However, the missing piece in the puzzle remains the lack of Xbox One support, but Microsoft previously said that it was waiting on better wireless technologies to finally bring VR to its Xbox consoles. The company had nothing to announce about Windows Mixed Reality support for Project Scarlett during E3 2019, and that may be a missed opportunity after Sony announced that its PSVR headset would be backward compatible on the PlayStation 5.