After being previewed back in September, Microsoft finally introduced its new Office 365 admin center yesterday with the promise to give Office 365 admins more effective and easier management of Office 365. While the new dashboard will roll out to Office 365 users over the next few weeks, Microsoft is also explaining today in a blog post that a new reporting portal is also rolling out today.
While the Office 365 team gathered customer feedback during the development process of this new reporting portal, it became clear to the team that Office 365 admins could make good use of additional insights about how the Office 365 services are being used. That's why the first version of the reporting portal includes a new activity dashboard featuring a highly improved user experience as well as a variety of reports providing insights on all services.
As you can see below, the cross-service portal uses graphs to give admins a key summary of the activity within each product (it's also possible to switch between 7, 30, 60 and 90 days reporting periods to identify trends).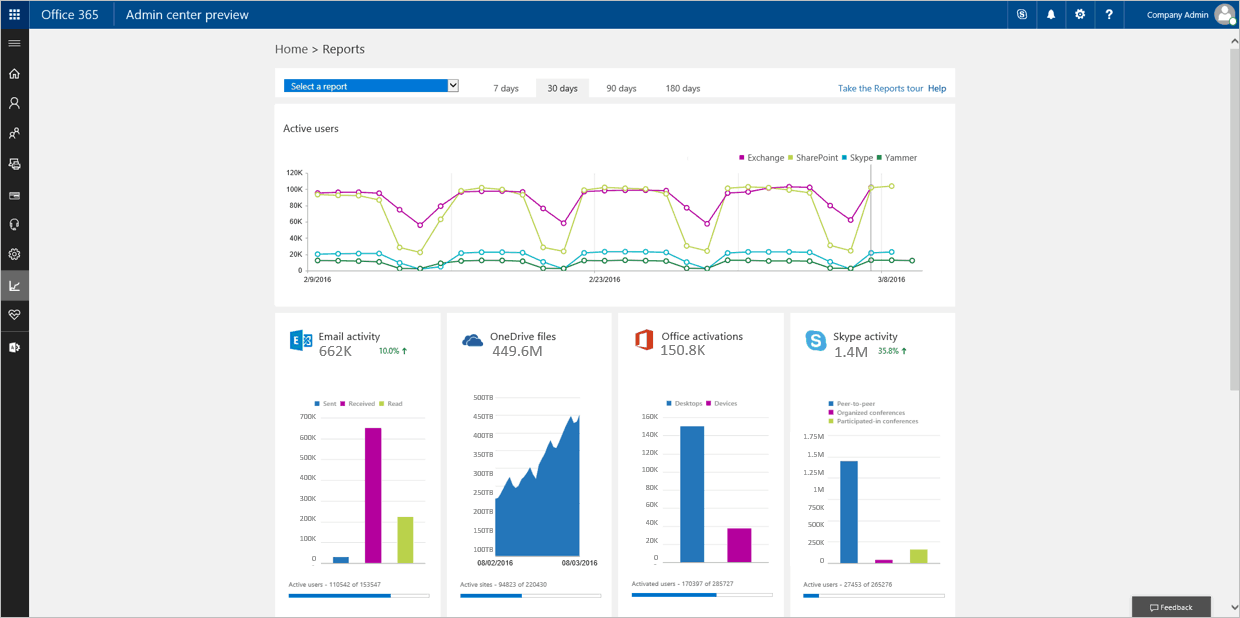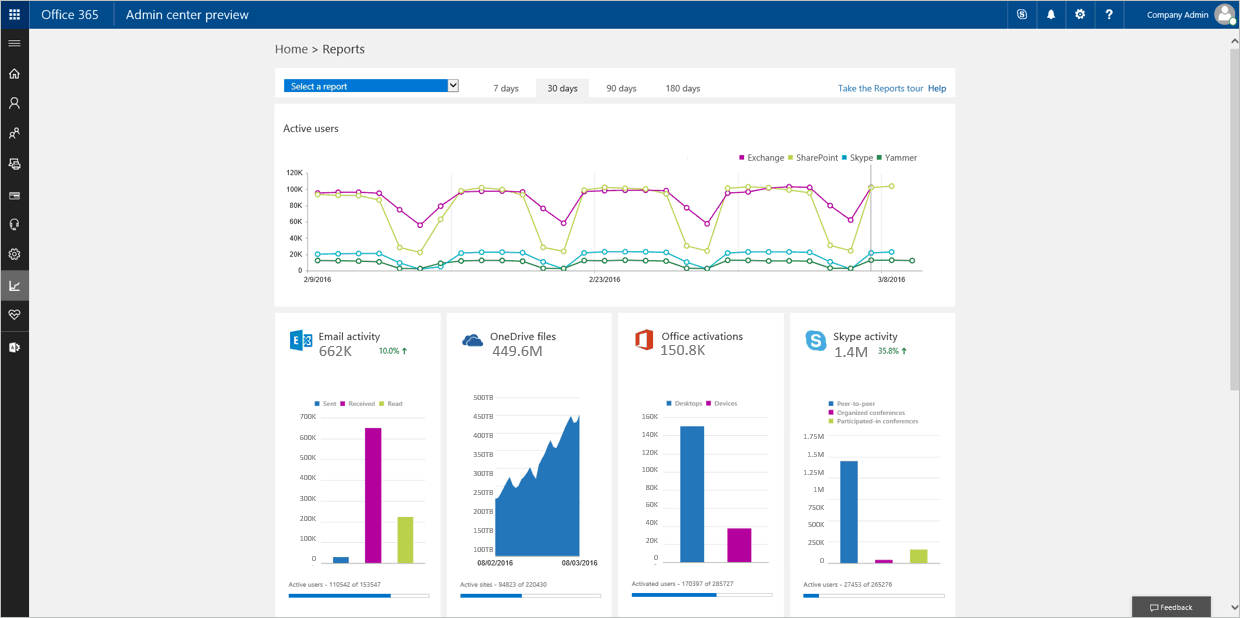 The new reporting portal can also provide detailed insights on individual services and tell administrators if users in an organizations are using them or not. That's a key insight to effectively plan training and improve a user's productivity, and the new portal will allow admins to quickly get data that they can also export in CSV format for further analysis.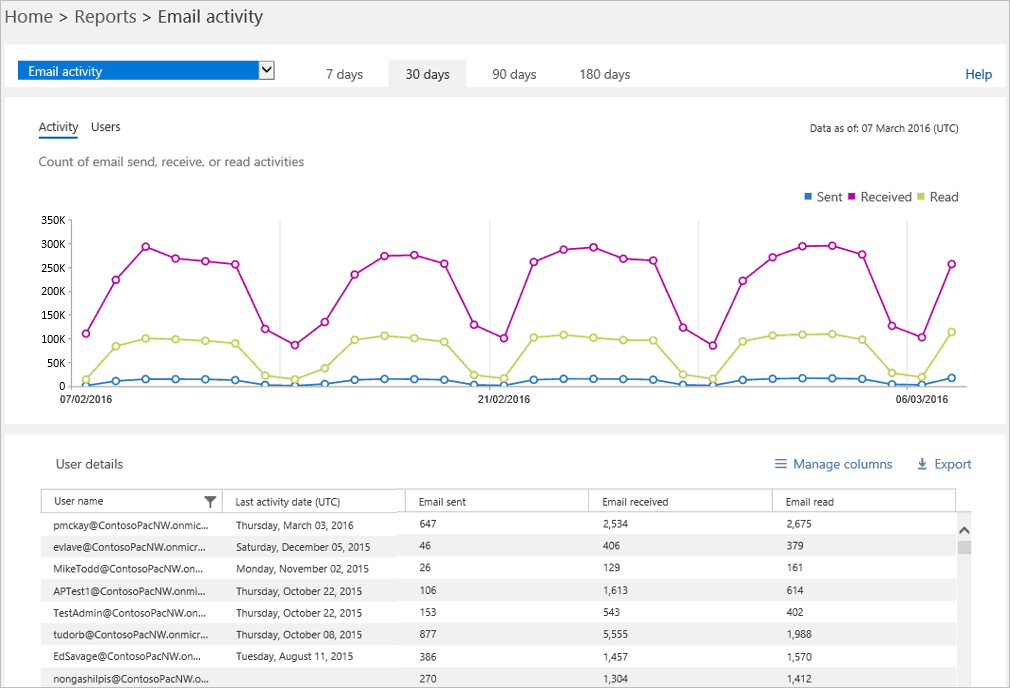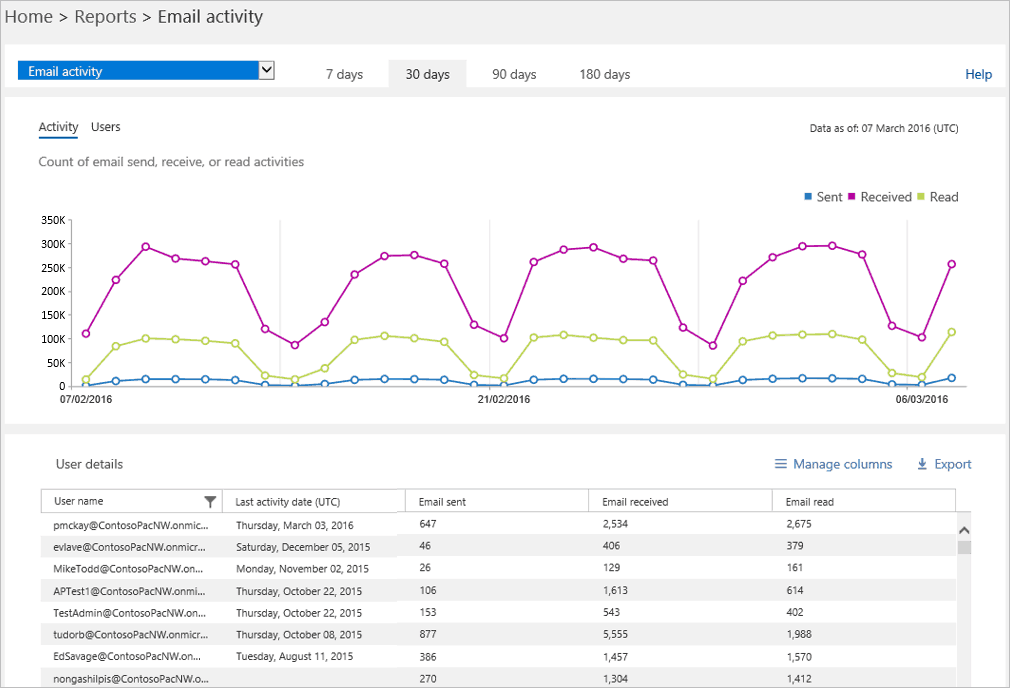 As the Office 365 Team is just getting started, this new reporting portal is currently only available to customers in the U.S, Australia and Canada, while the rollout for Europe, APAC and Latin America will start in April. Moreover, Office 365 admins can only get three types of reports right now (Active Office 365 users, Email activity, Office activations), but the Office Team shared a roadmap of the upcoming features:
This is just the beginning. In April, we'll make more reports available to U.S., Australian and Canadian organizations, providing insights on SharePoint and OneDrive site usage as well as on Yammer and Skype for Business activity—with organizations in Europe, APAC and Latin America following in May. More reports focusing on SharePoint and OneDrive for Business user activity and on user interaction with Office 365 (i.e. which browsers or operating systems do they use when they access the service) will be incrementally added.

We'll also provide you with a Power BI Content Pack, which will combine your organization's Office 365 usage data with your user's information to provide richer insights into how your users are using Office 365. The content pack will allow advanced analytics scenarios, such as pivoting email usage by attributes like departments or regions and will make it easy for you to share insights within your organization. The Power BI Content Pack will be rolled out in June.

In the fall, we will provide new public APIs that will enable you to programmatically access the usage data and integrate it into custom applications like a company reporting portal.
While this new reporting portal is rolling out to customers, Microsoft also shared that the reports in the old admin center will be available until an equivalent report has been added to the new report portal. Last, customers can help the Office Team to improve this new reporting portal by using the feedback widget on the site. If you're an Office 365 customer, please tell us in the comments what you think of this new reporting portal!