If you're someone that takes a lot of Uber rides and uses Outlook on Windows to file and print receipts, then we have a fair warning for you. Noted by Bleeping Computer, there is an ongoing issue with Outlook where the client on Windows might crash when you try to open emails with complex tables.
Microsoft actually has a support page for this, first published on July 29, and mentions that the issue started in the Current Channel version 2206 Build 15330.20196 and higher. The same issue also happens in current builds of Beta and Current Channel Preview. It even applies to Word, where similar table contents might cause Word to stop responding.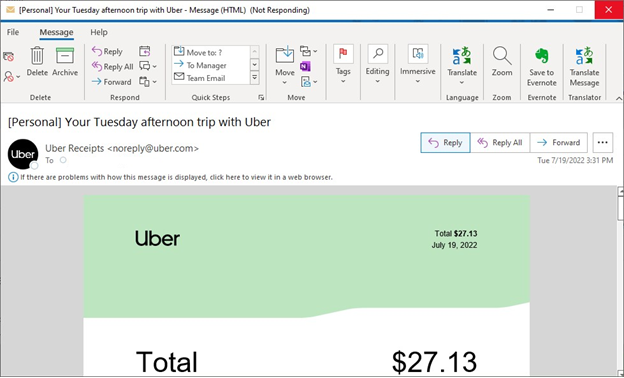 Officially, Microsoft is working on a fix that should come out on Patch Tuesday, timed for August 9, 2022. The fix is from the Word Team, and will be released to the Beta channel first. In the meantime, you can workaround any issues you have by reverting the Outlook build to a previous version. Here's how.
Open a Command Prompt in Administrator context

Type or paste the two commands into the Command Prompt window and press Enter after each.

cd %programfiles%\Common Files\Microsoft Shared\ClickToRun

officec2rclient.exe /update user updatetoversion=16.0.15225.20288
It has been a rough patch for Outlook as of recent. As you might recall, Outlook had issues where there were issues with search, and even Outlook.com going down. We'll be following this story closely and will have an update once Microsoft has a fix.