Just like Windows 8, Windows 10 is deeply integrated with OneDrive, Microsoft's cloud storage service that is tied to your Microsoft account. If you rely on OneDrive to store your documents, pictures, music collection, Microsoft is giving you a big incentive to sign in to you Windows 10 PC with your Microsoft account, and get easy access to all your OneDrive content right from the File Explorer.
For those unfamiliar, OneDrive is a freemium service: you get 5GB of storage for free with your Microsoft account, but you can pay a monthly subscription to get more storage. And as it turns out, it seems that Microsoft has recently started to promote OneDrive paid plans to Windows 10 users, a questionable move that could give Windows 10 detractors another opportunity to criticize the new OS.
According to a report from Extreme Tech, Windows 10 users may start to see new banners promoting OneDrive and Office 365 at the top of File Explorer (via Digital Trends). As you can see in the screenshot below, the company is inviting users to subscribe to Office 365 personal, a $6.99 monthly subscription that gives you 1TB of storage plus access to the Office apps. "Some users reported seeing this a few months ago, but the incidence has ticked upward in the last week or so," explained Extreme Tech.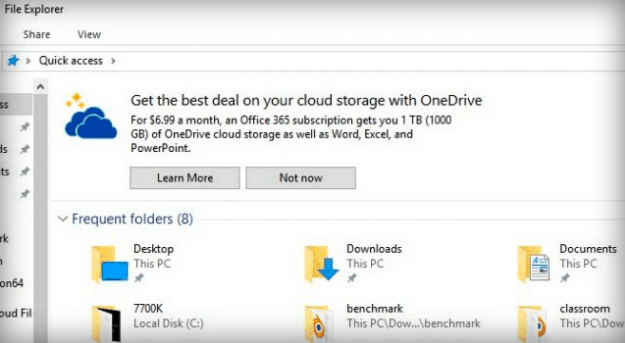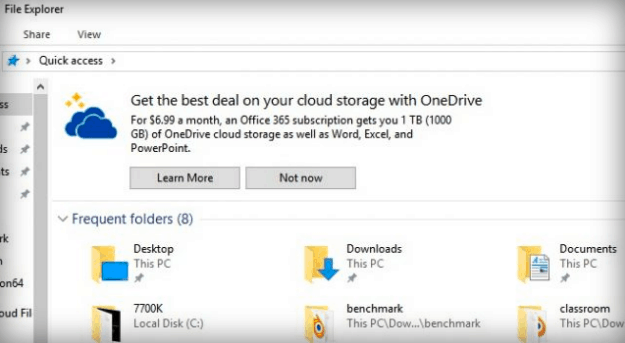 While users can dismiss the offer by clicking on "Not now," it's not clear if the banner could still reappear at a later time. However, it's possible to disable the banners entirely: to do it, you'll have to open File Explorer, click on the View menu, head over to View > Options and then turn off "Show sync provider notifications." Be aware though that doing this may prevent OneDrive from showing you some important notifications.
It's not the first time that we see Microsoft trying to promote its various services. By default, Windows 10 will show you app suggestions in the start menu, and what the company calls "contextual tips" in other areas (you can turn them off too). OneDrive is a fine service, but Microsoft may well be walking on a fine line once again.
We haven't seen these banner ads on our own PCs, so it's not clear if Microsoft is already pushing them hard on Windows 10 users. Let us know in the comments if you have already seen them, and please tell us if you think this is a step too far in promoting the company's services on Windows 10.