Over the past couple of years, Microsoft has been facing strong competition from Apple and Google in the education market. Last year, more than 50% of mobile PCs sold in the US EDU market were Chromebooks, something that caught many by surprise. The fact is, Chrome OS is no longer a handicap for Chromebooks, which are easy to manage for IT admins. Moreover, many Chromebooks now support the Google Play Store (including Microsoft's Office Android), making them as versatile as a Windows PC for most students.
Microsoft has been taking Chromebooks very seriously though, and the company has been working hard to make sure that Windows PCs remain an attractive option in the EDU sector. Citing Futuresource's latest quarterly report, Yusuf Mehdi, Corporate Vice President, Windows and Devices Group said that the rise of Chromebooks in the education market didn't prevent Windows PCs from seeing solid growth in the US as well as the rest of the world last year:
In K-12 schools in the US in the last year, Windows device share grew 4.3 percent on devices under $300 and 8.2 percent on devices over $300, as more and more schools are choosing Windows over competitive offerings. Globally, we also saw large sales increases in markets like India and Argentina, where hundreds of thousands of students will soon be unlocking limitless learning potential on new Windows devices.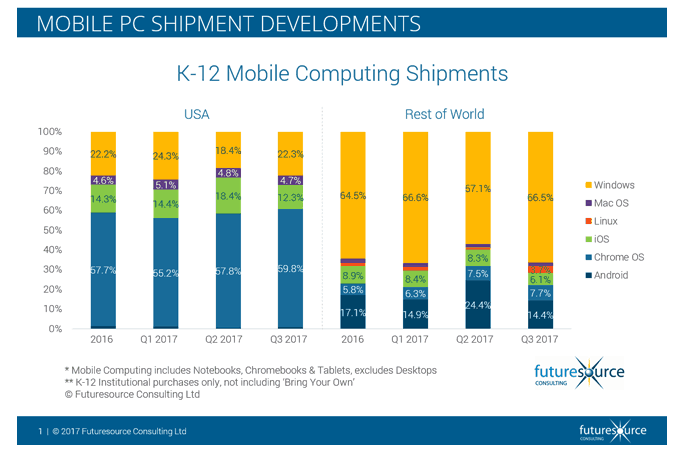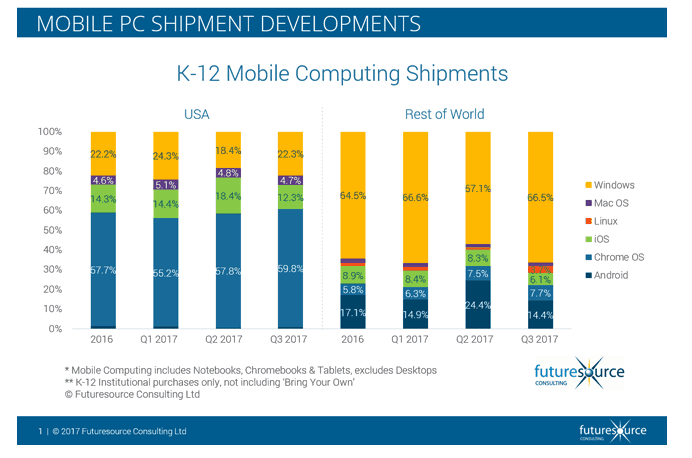 This year, we saw Microsoft and its partners launch affordable (sub $300) Windows laptops for the education market, which are easily manageable with InTune for Education. The Redmond giant also introduced Windows 10 S during an education-focused event in May, which was followed by the release of a new classroom experience in Microsoft Teams.
According to Mike Fisher, Associate Director at Futuresource Consulting, Microsoft is now pretty well-positioned to take advantage of the next PC replacement cycle in the EDU market. "Q3 2017 was the first time we saw and heard about a slight shifting of the competitive scenario in the US, with many OEMs and major channel players reporting faster growth (and expected growth) on Windows than Chrome based devices," he explained, wondering if Microsoft will really be able to accelerate this trend in 2018. "The majority of market demand is expected to be replacement demand; convincing existing Chrome users to completely change the existing ecosystem will likely not be easy due to the time and cost involved," he added.