Mojang is following through with more promises from Minecon. Turning onto the Windows 10 Beta Edition and Minecraft Pocket Edition (also powering the Gear VR version), the game got a new skin pack and update last night (via Windows Central).
The Campfire Tales skin pack is available for purchase in the Minecraft application. Of course, as per usual, two skins are available to play for free. The rest of the sixteen horror themed skins are available for a small price tag of $1.99. Mojang even stepped out of their shell and created some backgrounds to the eerie characters.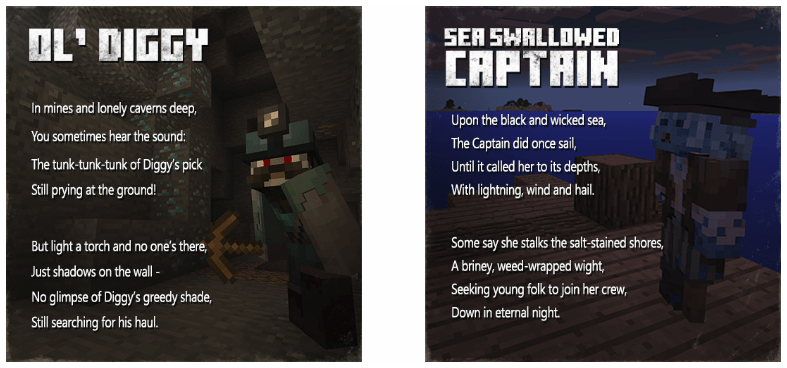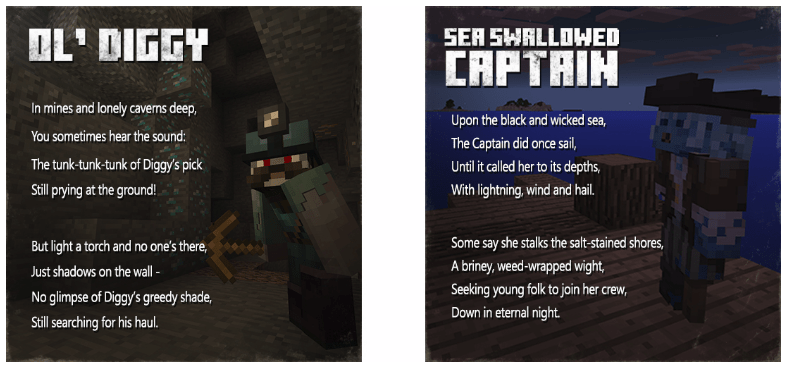 Here's a list of skins that will get in the pack:
Rancid Anne (FREE)
Ol' Diggy (FREE)
The Sham
Crisp
The Enderall
The Headless Haunter
Farlander
The Lapis Lady
Lumberin' Jack
The Risen Rose
The Sea-Swallowed Captain
The Blocksquatch
The Unshorn
Silksnatcher
Cropsy
The Well Wisher
While the update for version 0.15.10 doesn't have any other features for the game, it brought a slew of bug fixes and tweaks for players.
Fixed mirror texture issues.
Small fix to smart turning. (VR only)
Capes no longer clip through armor.
When getting the MINECON 2016 capes, you will now be prompted to make a "free" purchase from your device's store. If you are on Android & it prompts you for a payment, use the code MINECON2016 to get it for free.
Fixed crash when rendering leads in VR. (VR only)
Using the B button to quit the game (when using a controller) now works. (Win 10 only)
Fixed top of cursor flickering in VR. (VR only)
Mouse clicks no longer cause keyboard input to stop. (VR only)
Fixed issue where Minecraft would not shut down completely when launching another app in the Oculus store. (Win 10 Oculus only)
Added in bug fixes for VR that were previously in the 0.16 betas. Click here for 0.16 build 1 changelog and click here for 0.16 build 3 changelog!
It's worth noting that this isn't nearly as exciting as the Boss Update that we heard about at E3, it's certainly a welcome addition given the spooky holidays approaching. Watch out for the next big patch coming October 18th!