Microsoft revealed today its plan to unify its two separate OneNote apps for Windows into a single client in 2022. The OneNote UWP app that ships for Windows 10 will no longer come pre-installed on new Windows 11 PCs, and Microsoft will be working on integrating its features into the OneNote Win32 app that comes included with Office for Windows.
According to Microsoft, OneNote for Windows 10 users will start seeing invites to update to the new OneNote app in the second half of 2022. OneNote for Windows 10 will continue to be supported until 2025, but its best features are coming to the current OneNote Win32 app that will also get redesigned for Windows 11.
"Advances in Windows and Office will allow us to unify the two apps so that you'll have the simplicity of a single OneNote app on Windows while enjoying the interface and features you're already familiar with," the OneNote team explained. The company shared the following mockup of the redesigned OneNote app for Windows, and you can see that its Windows 11-inspired look will be consistent with the redesigned Office for Windows apps that Microsoft also started testing with Office Insiders.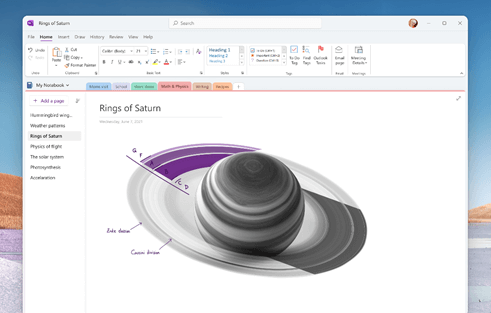 Microsoft didn't say when we can expect the OneNote Win32 app to get new capabilities and key existing features currently unique to OneNote for Windows 10, but the new client will likely be available first for Office Insiders. In the meantime, Windows users can continue to use either the OneNote Win32 app or OneNote for Windows 10 as usual, though Microsoft now recommends organizations planning to deploy OneNote to opt for the Win32 version, which will be the way forward for OneNote on Windows.