Microsoft has recently sent out a notice to IT Admins managing Microsoft 365 accounts that web links embedded in Outlook hosted emails will now open in the Microsoft Edge browser by default, and people are not happy.
Microsoft specific wording to Admins regarding the impending Outlook/Edge apocalypse reads, "Web links from Azure Active Directory (AAD) accounts and Microsoft (MSA) accounts in the Outlook for Windows app will open in Microsoft Edge in a single view showing the opened link side-by-side with the email it came from."
What Microsoft leaves off its notice to admins is that this new behavior ignores users preferred browser settings that are set at the operating system level.
While the Reddit community that's sharing Microsoft's latest strong-arm tactic is quick to point out the company's new policy harkens back to their previously shadowy anti-competitive behavior of past, it should be noted that the company is less than savory loophole to skirt obvious antitrust scrutiny this time around.
The new Outlook for Windows side-by-side policy doesn't actually affect the default browser settings put in place by users, but is instead a "feature" of the mail client as a stand-alone app, and Microsoft has issued a statement to IT admins justifying the move as a way to "increase productivity."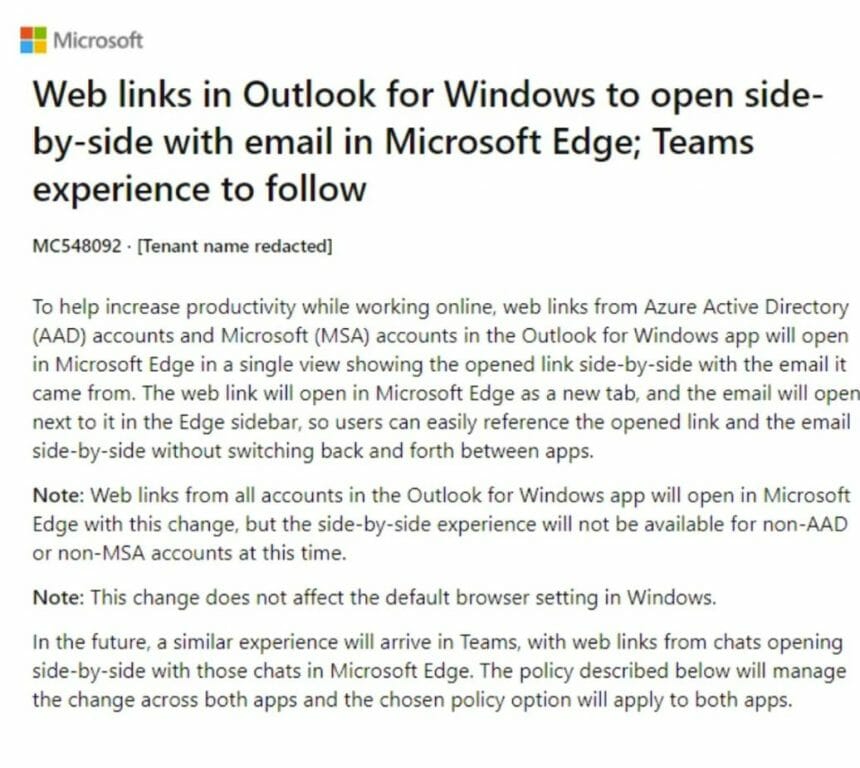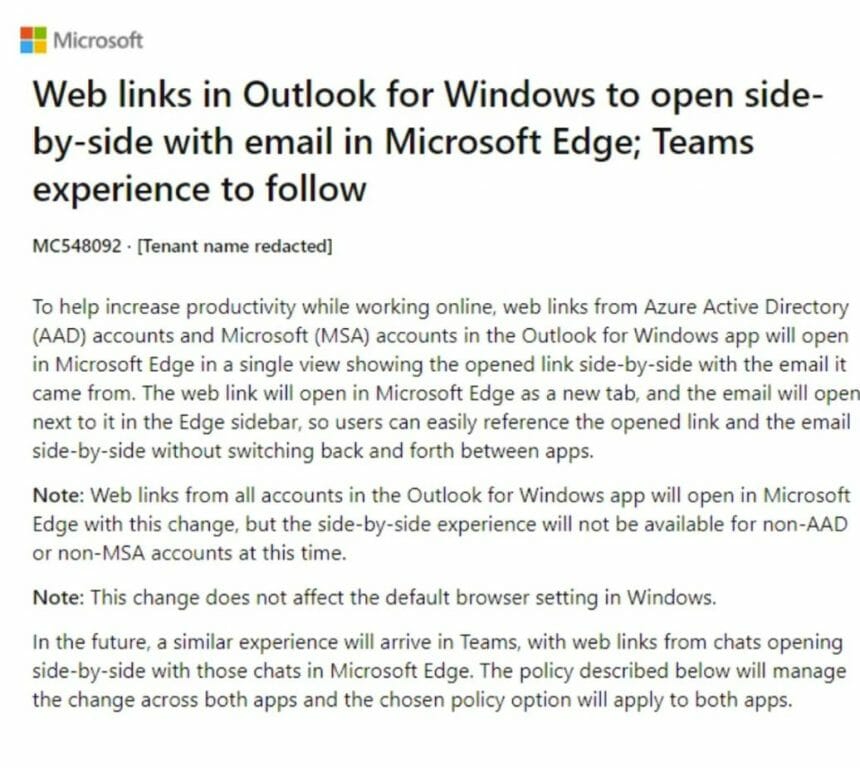 The Verge is reporting that IT admins who manage 365 Enterprsie accounts will have 30-days from the time of being first notified, to make preparations for the new policy change where Microsoft will support exceptions that include altering the policy, meanwhile Microsoft 365 for business users will need to manually reset policy changes per associated device.
Couple this recent policy change with the company preparing to do the same thing with Teams as well, and you have many Windows and Office users left with the bitter taste of Microsoft's seemingly unnecessary aggression in their mouths.
Previously, Microsoft declared it would "ensure user choices are respected" as it rolled out new approach to Settings deep link URL schemes app pinning in Windows 11, and while it's technically doing so, this new policy ultimately feels like yet another unforced error by the company in attempting to get users behind Edge usage.
On its face, the new policy change will once again confuse the average Windows user who's set their browser to alternative such as Chrome, Firefox or Opera but are presented with the Edge browser. The only saving grace to Microsoft's heavy-handed approach is that it will have the Outlook message in a side-by-side view so the user can maybe draw a line from Outlook link to this previously unused browser.
Never the less, IT admins are upset and Microsoft will yet again make their lives unnecessarily complicated following their attempt to backtrack from another Edge-related kerfuffle with default settings in Windows and if they lose the goodwill of this audience, they'll presumably have more than Edge adoption to worry about.