Feedback! Feedback! Feedback! An argument could be made that ever since Microsoft cut part of its software and code testing division, the company has outsourced those jobs and responsibilities to consumers at larger by "inviting" eager participants into Insider, Preview and Beta programs for its various software and services. While that's a strictly speculative assumption, the reality is that Microsoft has opened various programs, apps, and software up for feedback from its more educated and vocal minority groups of users to better assess how it should approach its entire consumer base.
In the latest "Made by You" article posted in the new Feedback Hub, the Windows team walks Insiders through the process of using the digital assistant Cortana, to gather even more feedback from users.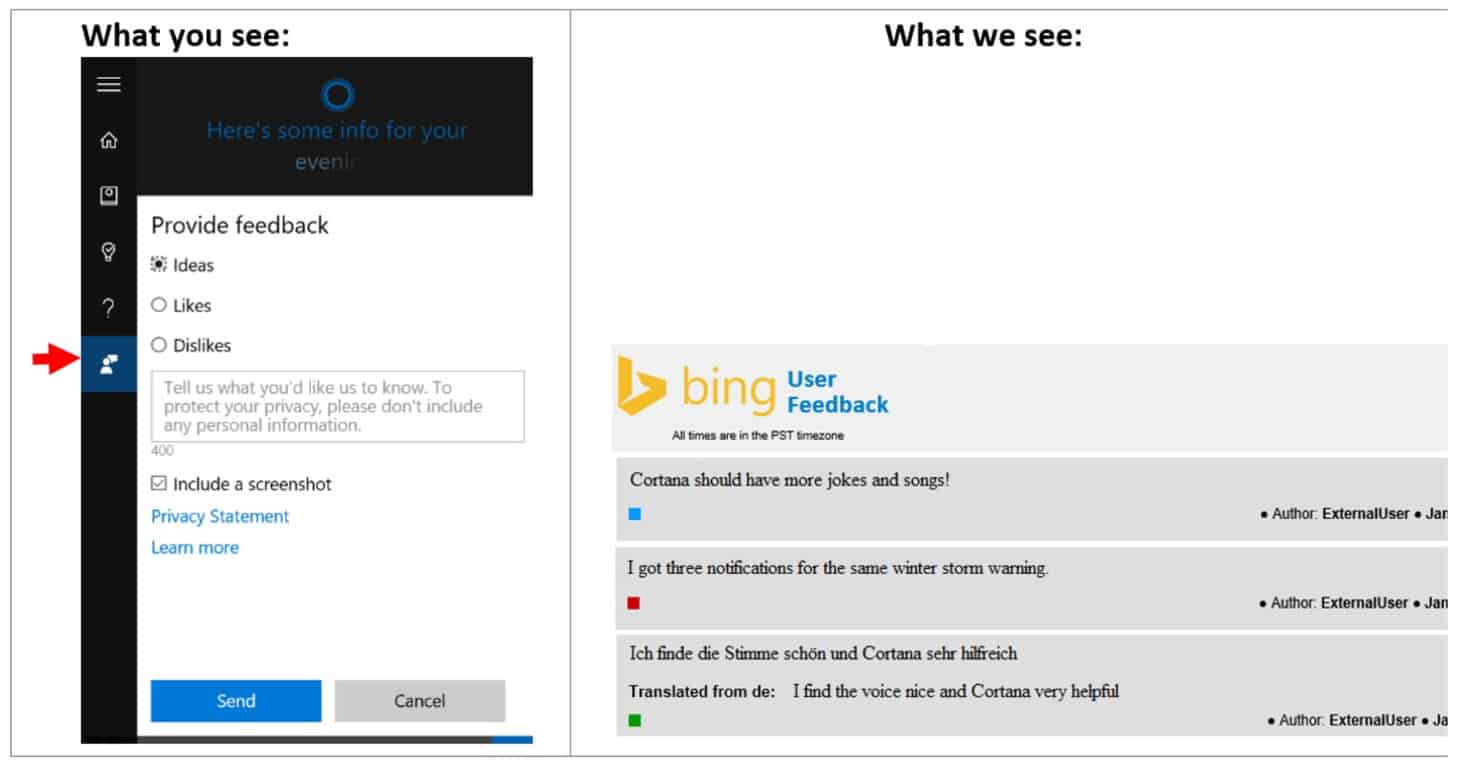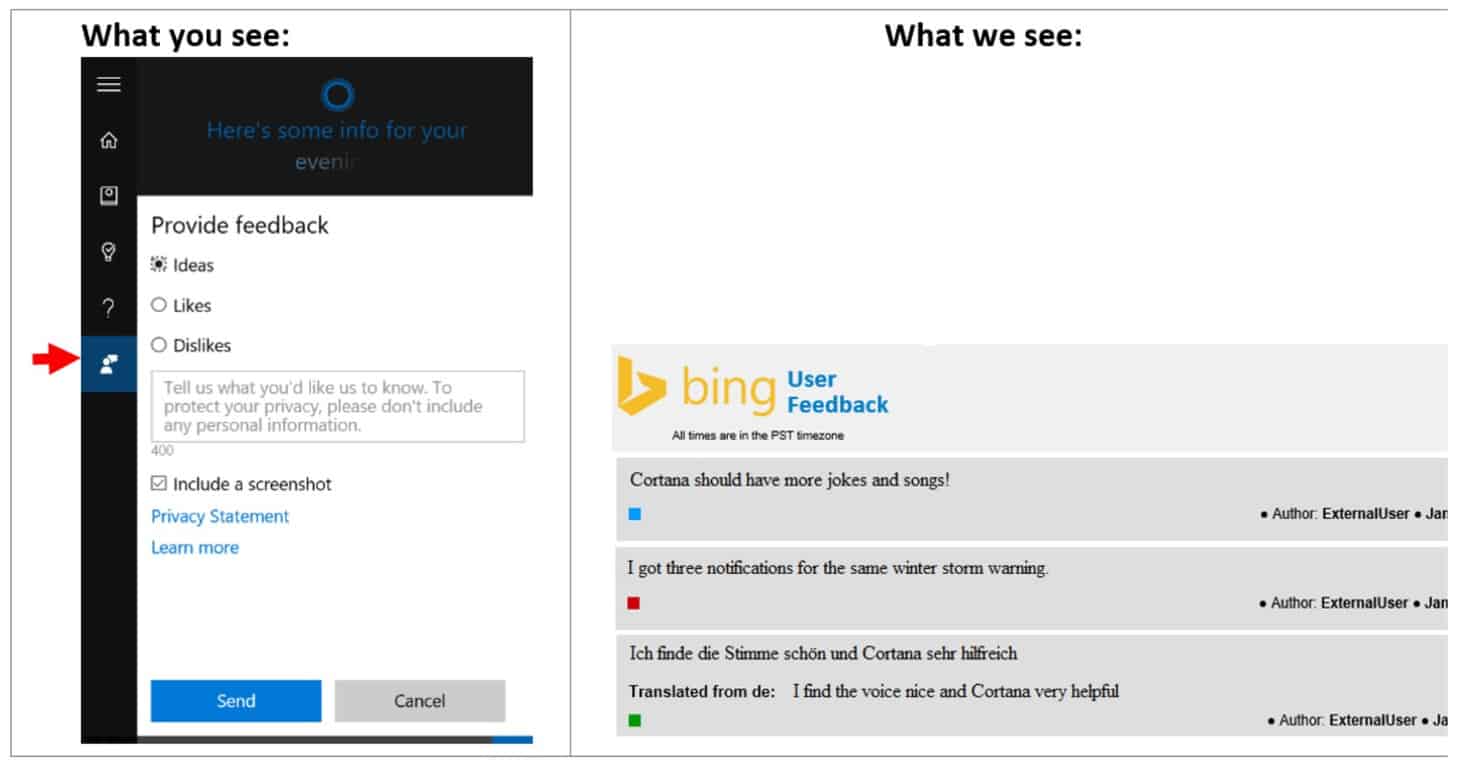 One of the key sources of feedback comes from within the Cortana experience. You can provide ideas, likes and dislikes to our team. Each is recorded by our systems, including a screenshot (if you allow), as well as a few key details such as the Windows language used.

All that feedback is correlated into our system to the tune of thousands of items every week for Cortana alone. User-reported issues and ideas are key to finding which problems to concentrate on fixing and what the new experiences you want most. Don't forget to add positive feedback too – we use this feedback to see which experiences we should invest in with even more features."
Similar to the pop-ups that accompany the various new and retooled experiences in Windows 10, the Windows team is also seeking user info and feedback directly from within the Cortana app. While some users might argue that their feedback gets lost in the ether of Windows 10 because they never hear back about a particular request or the time frame between feedback given and implementation are so wildly spaced apart, an example of Cortana sourced feedback come by way of recent Cortana customizations.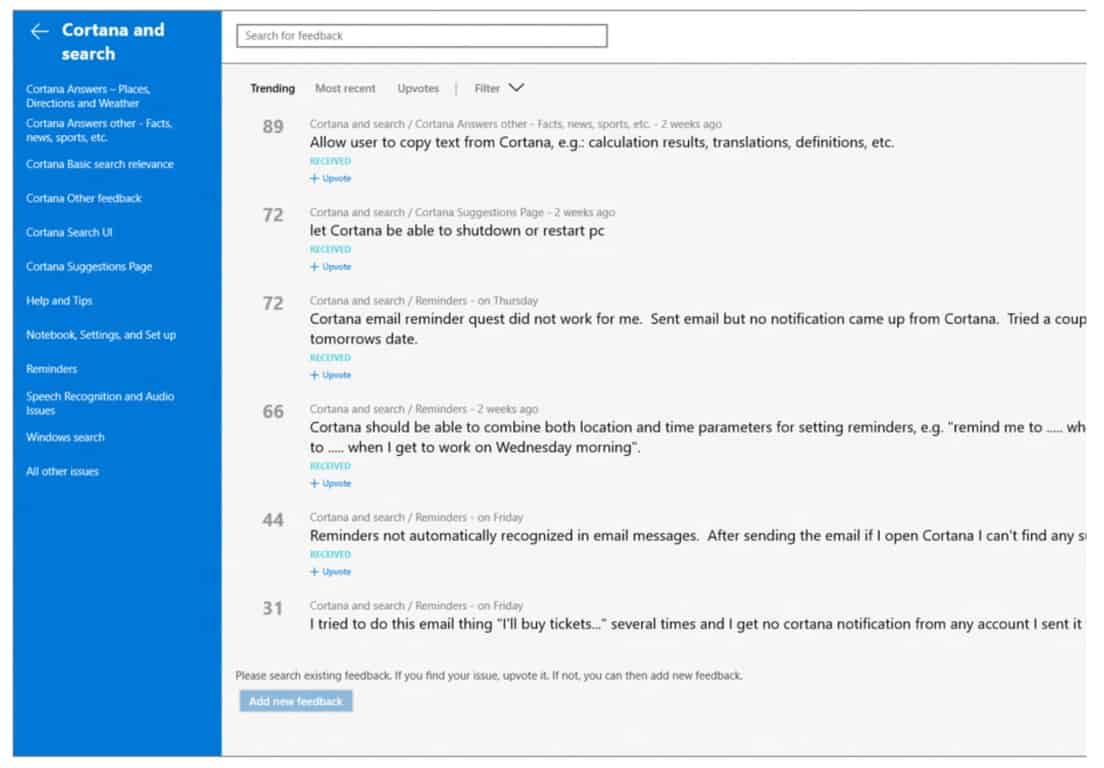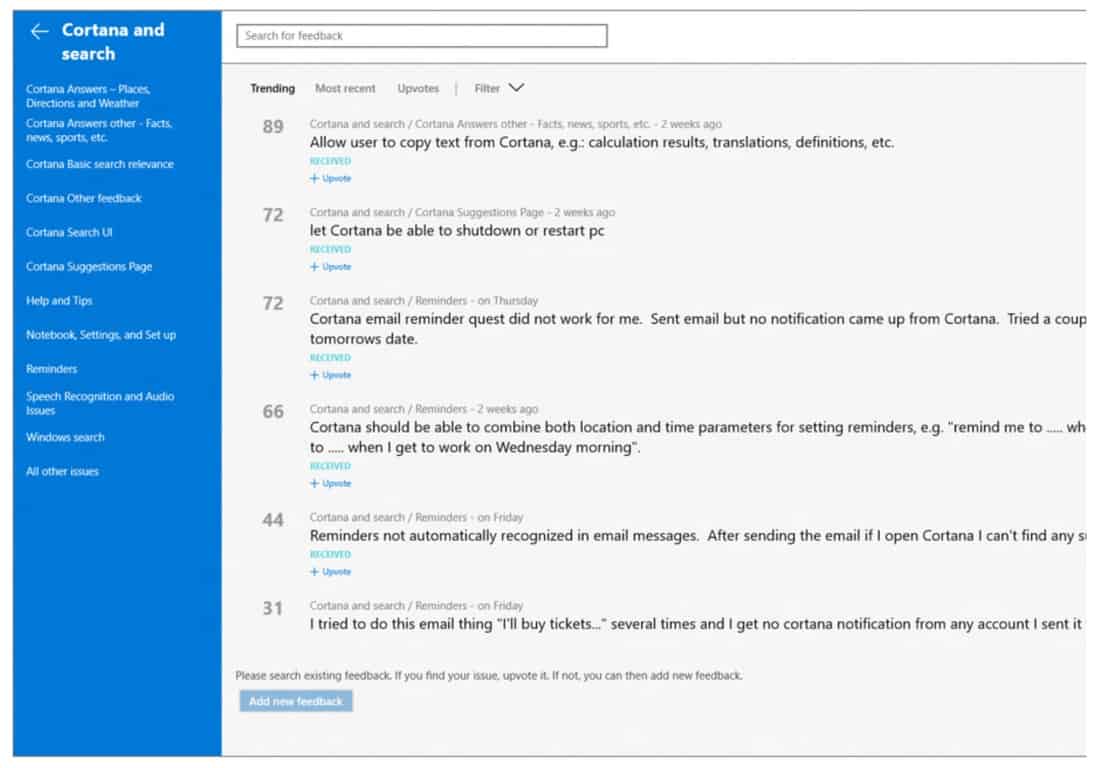 When we first shipped Cortana on the desktop, the final step of setting up Cortana required that users convert the local account they used to sign into their PC into a Microsoft account. Our Insiders reported that this was not quite ideal and that feedback helped us prioritize the fix. Now when you are setting up Cortana for the first time, you are given the ability to "Sign in to just this app instead", instead of switching your entire login to use your Microsoft Account. This brings Cortana in-line with the other Windows 10 apps that make use of your Microsoft Account, such as Groove and Store."
The feedback implementations didn't stop there, however.
Another of the first major pieces of feedback that we received via the Insider program was the taskbar enabled Search Box, while useful, was taking up too much space. The Cortana team was able to quickly respond to that feedback by adding additional sizing options to the search box accessible via the right-click menu."
The net result was a move from the seemingly large search box option to a more refined Cortana icon that sits flush with the other icons in the taskbar. The post continues at length about the new features found in Cortana as well as walking Insiders through a discoverability of Cortana-specific navigations.
At the end of the day, conspiracy theories withstanding, Microsoft's approach to user feedback is a welcomed change from most. Despite the time it takes to gather, digest, and act upon user feedback, the Windows, Azure, Xbox, Office, and other software and hardware division within the company seem to value and appreciate what their users have to say about products. Hopefully, the trend continues and as a result, Windows 10 and the other software as a service model, projects get the attention and consideration users have been clamoring for.