After we saw a leaked image of it earlier this week, Microsoft's new Xbox Controller designed for accessibility is now official. The company is calling the new device the Xbox Adaptative Controller, and it has been developed in partnership with several organizations including The AbleGamers Charity, The Cerebral Palsy Foundation, Craig Hospital, SpecialEffect, and Warfighter Engaged. All these organizations helped Microsoft create a fully customizable controller that will help make gaming more accessible for everyone.
The new controller has a rectangular shape and features two large buttons in the center that can be assigned to any function by using the Xbox Accessories app. On the back, there are 19 3.5 mm jacks for plugging external switches, buttons, mounts, joysticks and more, and Symbols are also embossed along the rear edge at the top of the controller to help gamers identify each port. There are also USB ports on either of the controller for the Left and RIght thumbstick inputs, a headphone jack on the left plus USB-C and DC power ports on the back.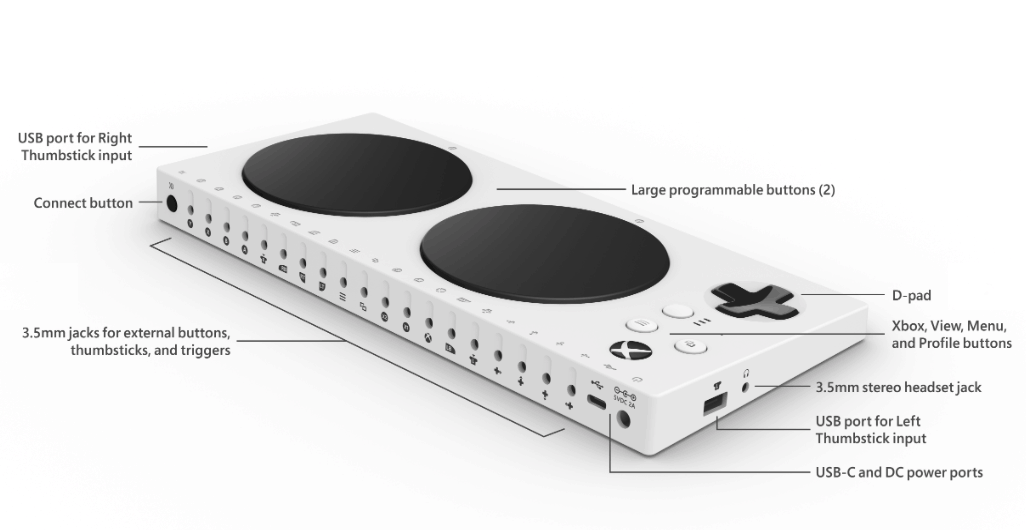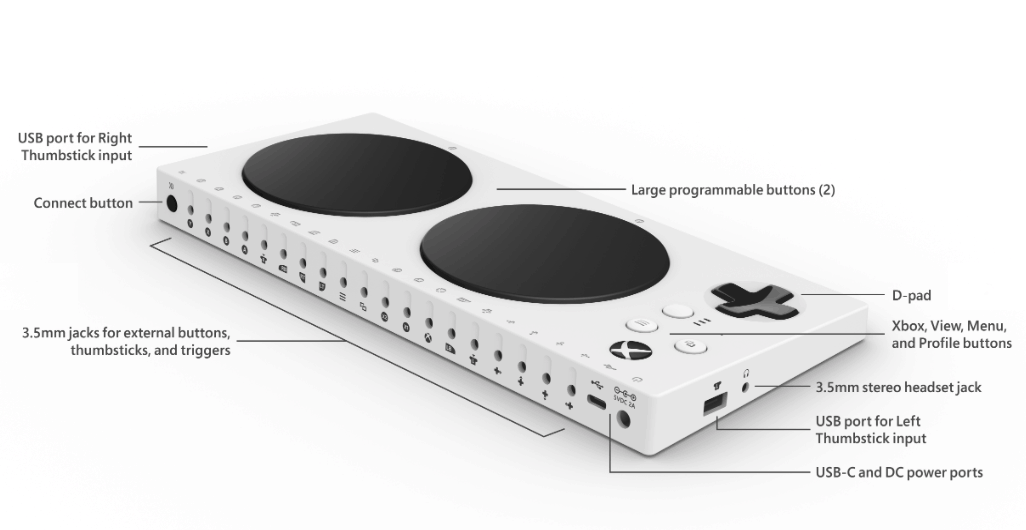 "To make the Xbox Adaptive Controller a viable solution for the widest possible range of gamers with limited mobility, we've worked closely with third-party manufacturers to support external inputs which can be plugged in to the new controller," explained Xbox head Phil Spencer. "These inputs include PDP's One-Handed Joystick for the Xbox Adaptive Controller, Logitech's Extreme 3D Pro Joystick, and Quadstick's Game Controller," he added.
The Redmond giant chose to announced its new Xbox Adaptive Controller on Global Accessibility Awareness Day, and the company deserves credit for trying to make video games more inclusive. Microsoft said today that the new controller will be priced at $99.99 USD and be available exclusively on the Microsoft Store, but it won't ship until later this year. Phil Spencer said today that the company will share more information about the new controller at E3 2018, which is just a couple of weeks away.