I've always been a big fan of Microsoft Rewards. Like many others who use the program, I run Bing searches every day across my phone and PC to eventually cash in my points for Microsoft products. That's why I was quite happy when Microsoft revamped Xbox Game Pass Quests last month. Just like other gamers paying for Game Pass, I had more reason to turn on my Xbox, play my favorite games, and get rewarded with Microsoft Rewards points for doing so.
But, starting this month in March, Microsoft made a major change to Xbox Game Pass Quests. Points values for common quests are now extremely undervalued compared to what they were originally, and that is making Xbox gamers, and myself included, really disappointed.
To understand how much the points have been degraded, we need to look at how Game Pass Quests began. In the last month, you would get heavily rewarded for your time completing the daily, weekly, and monthly quests.
Before, you would get rewarded with 30 points each day for two tasks: logging into the Xbox Game Pass app on Mobile and playing an Xbox Game Pass game on Xbox. You'd also be able to get up 50 points each for monthly tasks, and 100 points for completing them all. Other quests also rewarded you heavily for getting achievements in Game Pass games or downloading or playing a certain amount of Game Pass games. You'd even get a payout 1,000 points for completing all the tasks for the month, as well.
As pointed out by the folks on Reddit, with this method, gamers, were able to average 500 points a week with the right level of dedication. It was an easy way to play Xbox and get rewarded for doing so.
But now that Microsoft has changed the way that points are valued for Game Pass Quests, they might as well be pointless. Daily quests for logging into the Xbox Game Pass app on Mobile and playing an Xbox Game Pass game on Xbox are now just worth 10 points at the rate of 5 each. Weekly quests are now just 10 points each, and monthly quests are down to 10 each also. You'd also only get a 100 point payout for finishing all the quests.
Math aside, the Xbox Game Pass quests are now way less valuable, with roughly just 285 points payout for the monthly section alone. You'd now get more Microsoft Rewards points per day by just completing searches on Bing on PC and Mobile than you do for playing Xbox Game Pass in a single month. You can check the chart below to see why (courtesy of Reddit user Dzahc.)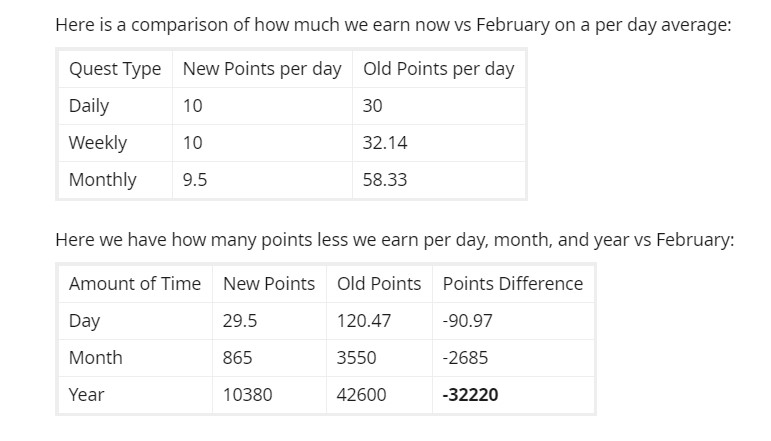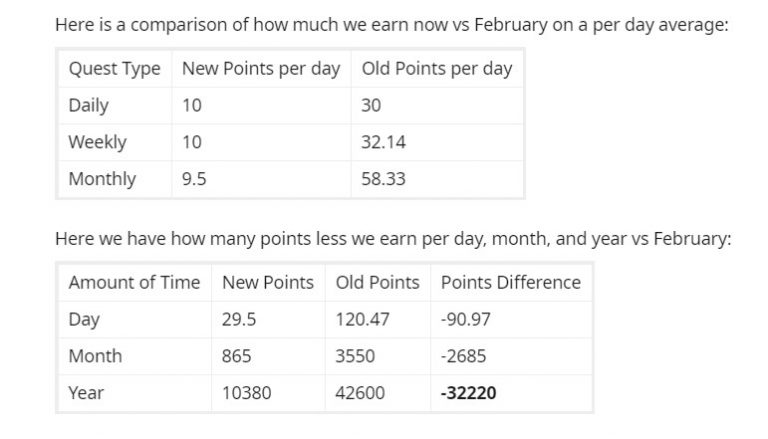 It is unknown why Microsoft made this change, but I think it might be a way of just experimenting with points values. Either way, much like myself, gamers are not happy about it. Considering the monthly price of Game Pass, some Redditors have said that they won't be renewing their subscription to the service anymore if the points stay this way. Other gamers, myself included, played their Xbox and downloaded games they'd care less about otherwise just to score these points.
Indeed, now that Xbox Game Pass points are undervalued, it doesn't even make sense to even buy into Game Pass to get the bonus Microsoft Rewards points. A subset of gamers simply won't bother checking out games just to get the points from quests. And, for those in countries like Australia where getting Rewards points is tough enough, this only makes it harder to enjoy the program.
We reached out to Microsoft for comment about this change, and a Microsoft Spokesperson tells us the following:
"We're always listening to fan feedback, and we appreciate those who took the time to reach out about changes to Xbox Game Pass Quests points. Based on that feedback, we're rolling out adjusted point values that should be reflected on dashboards today."
We will be keeping a close eye on the points values on the Xbox Game Pass Quests, and will keep you updated if values happen to change. Stay Tuned to OnMSFT for more.