Microsoft seemingly laid all of its Windows 11 cards on the table as it walked users through all the features to come to the operating system, except for the long-awaited File Explorer upgrade the company has hinted at for some time.
Despite being in almost every screenshot during Microsoft's 45-minute long unveiling of Windows 11, the company suspiciously avoided the File Explorer icon in the new Taskbar.
Not only Microsoft manage to run full workload scenarios involving Office 365 and Teams without once referencing the File Explorer, but the company also danced around the app during countless demos of other apps that sat near or even directly next to it.
While a new File Explorer has been a fever dream of many Windows users for decades now, it was Microsoft itself that introduced the notion that an update was destined for the aging organizing software. Just recently, Microsoft adjusted the padding to visual elements in the File Explorer to enable slightly improved touch interactions with the app, but, thanks to a quick screenshot caught by many during today's "What's Next for Windows" event, there seems more visuals changes are destined for the app.
Microsoft teases new File Explorer for Windows 11 https://t.co/v0RZ2eo5c0 pic.twitter.com/IRWw7ruiKQ

— The Verge (@verge) June 24, 2021
Based on its brief appearance, the years' worth of conceptual depictions of the File Explorer may have been overreaching as Microsoft looks to retool the Ribbon with more an iconography-focused layout for editing options.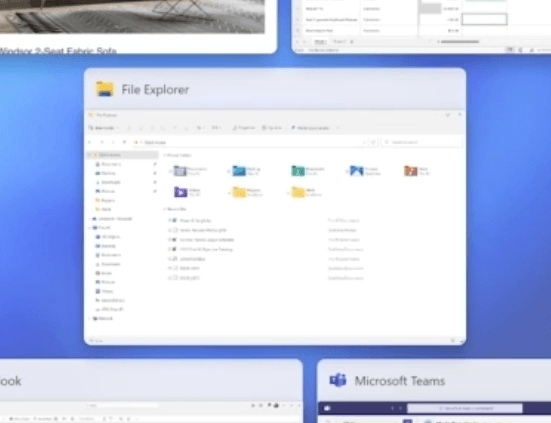 As evident by the demo, it appears the adjustments to the Filer Explorer are in place to encourage greater touch adoption by users.
Nevertheless, it seems surprising that Microsoft would be bashful in touting the changes while gushing over additional windowing options through visual prompts. Whatever the reason, Microsoft has chosen to remain mum on the changes coming to the Windows 11 File Explorer even though the appetite for it to modernize both visually and functionally, is at an all-time high for some users.