Earlier this year, Microsoft announced that new Channel information pane would come to Microsoft Teams, which should make it easier to find new and relevant information in Teams channels. The company has recently announced that the feature is now generally available in the Microsoft Teams desktop and web apps. The new Channel info pane is now accessible via a new small "Channel info" icon in the channel header. It lets you track key channel details at a glance including a description of a specific channel, system messages, the online presence of all users, as well as a list of recent contributors and members.
Members
First off, the "Members" section in the channel info pane provides a list of all members who have access to a given channel or recently contributed to it. Microsoft Teams users can click the "See full list" option at the bottom to see a complete member list.
Moreover, people who have actively posted or replied to the channel over the last couple of months are listed in the "recently contributed" section. The list could be quiet long for active channels with hundreds of members. There is also a new "Add members"
button available in the upper-right corner of the information pane.
About
Additionally, channel owners can use the About section to provide a description of their channel (as shown in the screenshot below). Channel information such as "Discuss Microsoft 365 projects" makes it easier for Team members to post in relevant channels without losing track of their projects.


Updates/System messages
Finally, system messages including recent channel and team updates are listed at the bottom of the information pane. It helps to keep an eye on who has joined or left the team during the last 12 months. Users can also click on the drop-down arrow to see more updates from a specific contributor.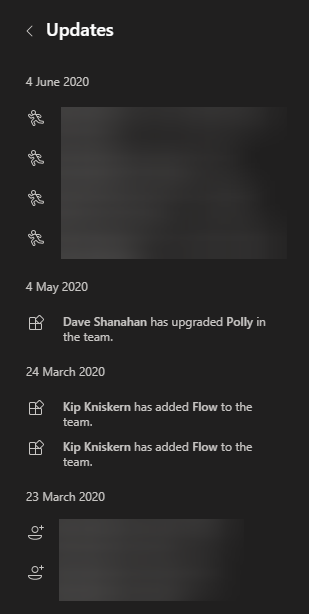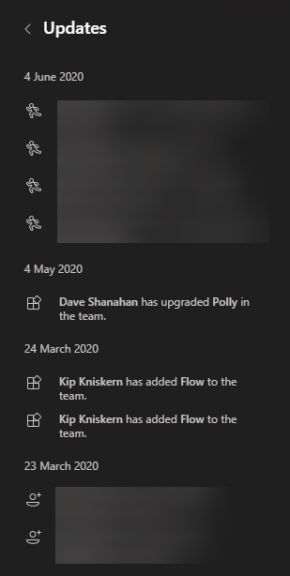 It should be kept in mind that Channel information pane functionality is a bit different for private Teams channels, and we invite you to check out the Microsoft support document for more details.