Microsoft introduced Breakout Rooms in Teams meetings back in December 2020, allowing organizers to split meetings into different groups. The company has released some updates to improve the Breakout Rooms experience in Teams, and these enhancements are rolling out to public preview users.
First off, Microsoft Teams has added a new setting that allows meetings organizers to assign the manager role to specific presenters. Once assigned, Breakout Rooms managers will be able to assign/re-assign users to rooms, make announcements, set timers, join open rooms, and customize other settings. There is also the ability to add/delete, open/close, and recreate Breakout Rooms.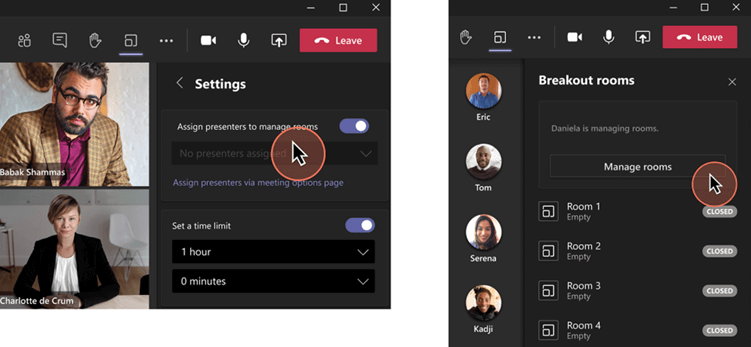 It is important to note that only in-tenant users/presenters can manage rooms, and this capability is not yet available for external users. While organizers can assign the manager role to up to 10 presenters, but only one presenter can manage rooms at a time.
Additionally, Microsoft has also released a couple of new features to help organizers manage and assign participants. The latest update brings the ability to configure pre-meeting settings for Breakout Rooms.
Microsoft says that organizers of private and channel meetings can now perform various Breakout Rooms configurations before a meeting starts, and the list includes:
Bulk creating / deleting rooms
Adding / deleting / renaming individual rooms
Configuring meeting options for each room
Adjusting settings for breakout rooms session (timer, selecting breakout rooms managers and more)
Pre-assigning participants via both manual and automatic assignment options
Selecting breakout rooms managers (only explicitly invited presenters are available for assignment as breakout rooms managers)
These new Breakout Rooms improvements are now available in the desktop version of Microsoft Teams for users enrolled in the public preview. The Microsoft 365 roadmap suggests that these features should begin rolling out to the general public next month.