The Microsoft Skype team is at it again, updating one of their clients to provide an easier and more efficient Skyping experience. This time, it's the Windows client that's getting the attention, with an upgrade to Version 7.16.
This time around, the focus is on sharing, namely making it easier to do and more informative. First on tep is adding in a new media toolbar that makes sharing photos, video messages, contacts, and emoticons more of a one-click affair.




Next up is URL previews. Rather than presenting a static, boring, and cryptic text-only URL when you send along that cat video, Skype now provides a nifty, much more modern preview.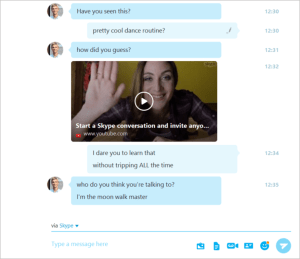 That's pretty much it, folks. It's a small update, but a nice one nevertheless. Have some patience, because these updates do tend to roll out over time. But go to Help > Check for Updates and see if you're one of the lucky early birds and get your new Skype installed.
If you're the impatient type, you can force the upgrade by downloading the newest version. And as always, Microsoft is looking for your feedback, so hit Help > Give feedback and let the Skype team know what you think.