Microsoft may have mistakenly shared a screenshot of a redesigned version of its Outlook for Windows email client. The image currently appears In the release notes for the latest Beta channel update for Office for Windows (via Windows Latest) where the company detailed the new Org Explorer Outlook feature that was announced at Build last week.
However, after installing this latest beta version of Outlook for Windows on one of our PCs, this redesigned Outlook app and new Org Explorer feature are nowhere to be found. It's possible that the Office team announced the feature too early and published the screenshot by mistake, but this redesigned Outlook app looks like nothing we've seen before. The image could also well be a mockup as the Outlook app doesn't even appear in the taskbar at the bottom of the screenshot.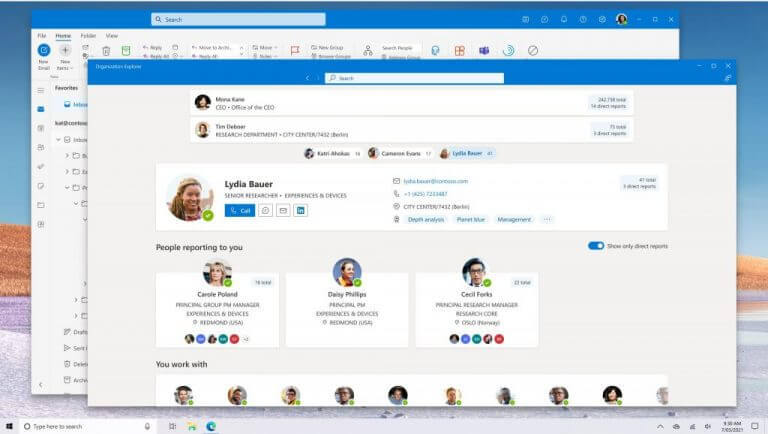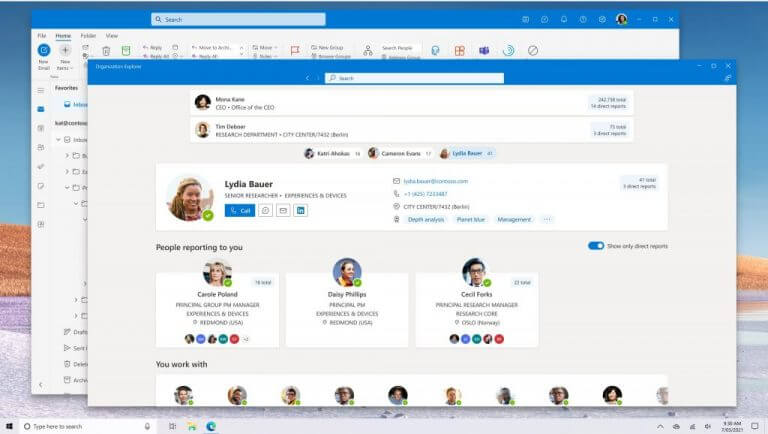 Overall, this new client looks like a mix of the current Outlook app with its familiar ribbon and the new PWA-based "One Outlook" app that Microsoft is currently working on. The left panel with the hamburger menu, app shortcuts, and email folders look to be coming straight from the Outlook web app, and you can also notice icons for settings, notifications, and more in the top right corner of the app bar.
If you pay attention, you can also see that the redesign Outlook app in the background has slightly rounded corners, while the Org Explorer window on top of it still has the regular square corners. Microsoft is rumored to be experimenting with rounded corners for the upcoming "Sun Valley" design update planned for Windows 10 version 21H2 later this year, though we hope that more visible changes are in the card.
Microsoft CEO Satya Nadella himself teased "the next generation of Windows" at the company's annual Build developer conference last week, and the company is expected to share more details during a dedicated digital event that could be announced later this month. In the meantime, a new Windows 10 Floating Taskbar menu has been spotted in recent Windows Insider builds.