Microsoft briefly went over the new features coming to OneDrive during its developer's conference last week. During the presentation, Microsoft explained that OneDrive files would be transitioning from the traditionally referred to the shorthand of placeholders to a much more nuanced called On-Demand state.
After a brief demo by Windows executive Joe Belfiore which highlighted the feature and "upcoming" development, the company quickly moved on, leaving some in the audience wondering about the details the company had yet to reveal.
Fortunately, Microsoft was ready to talk about On-Demand and OneDrive rather quickly after the developer's conference. In fact, during its SharePoint Summit, the company went into rather explicit details about SharePoint, Windows 10 and OneDrive.
OneDrive:
When it comes to OneDrive and new features, users can expect to share files directly from File Explorer while either on Windows or Finder for the Mac.
"Today, we also announced that starting this summer you will be able to share Office 365 files directly from File Explorer on PC and Finder on Mac. The sharing experience has been simplified, so you can share a file or folder with specific people or send a link that enables anyone who needs access, inside or outside your organization. In addition, you can now control how long a link provides access, and you can easily view and modify the permissions you have granted. The new sharing experience is the same, whether you share on the web, in Explorer on Windows 10 and Windows 7, or in Finder on Mac."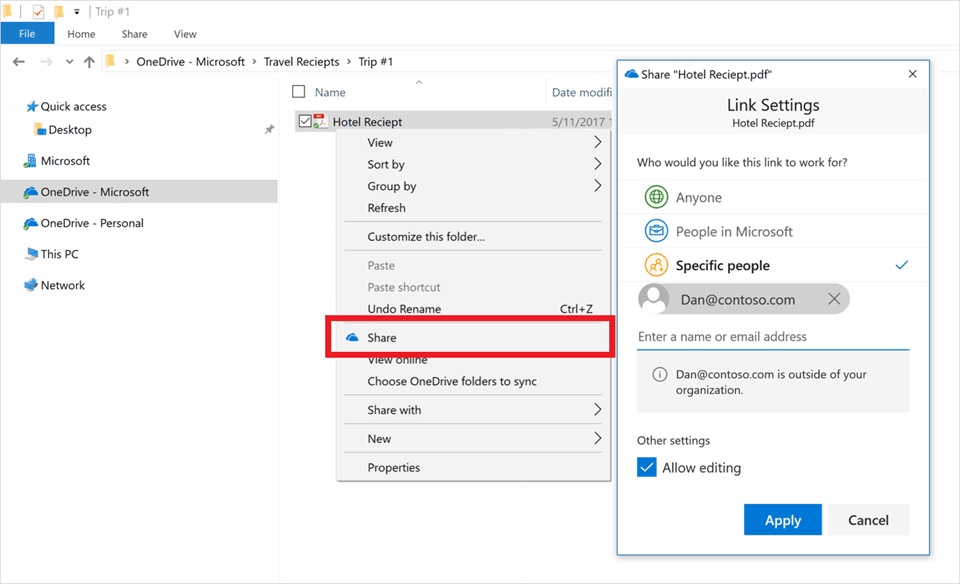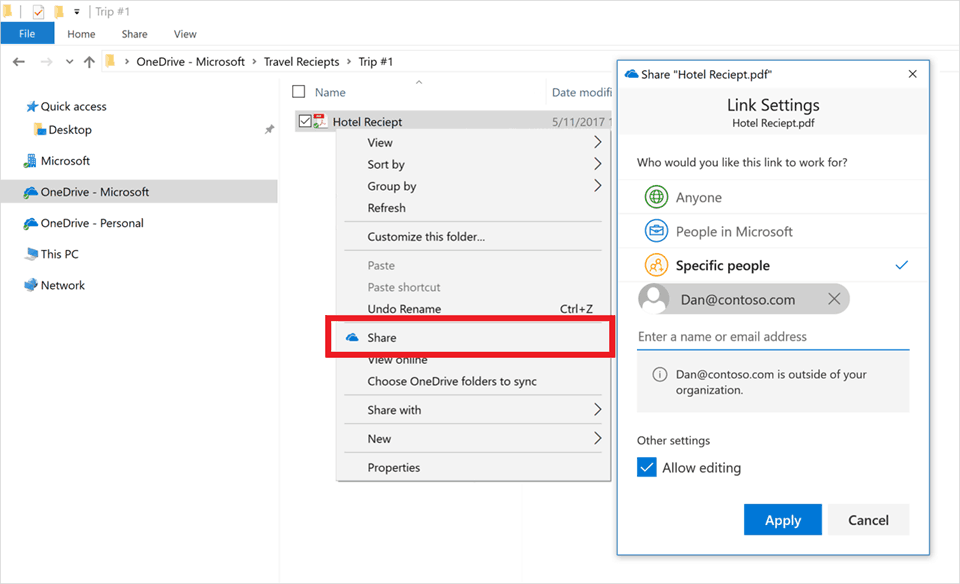 SharePoint:
As for SharePoint customers are now going to be able to connect even more services to the project management software as well as leveraging PowerApps to create custom forms and new digital experiences.
"Over the last year, we modernized SharePoint team sites and connected them with Office 365 Groups. Today, we announced additional enhancements—coming later this year—which will further unify collaboration experiences in Office 365, including:
The ability to connect existing SharePoint team sites to Office 365 Groups, so you can augment existing sites with shared conversations, calendar, and Planner.

Support for adding SharePoint pages as tabs in Microsoft Teams so you can add a tab to a news article or your team site's homepage, for example. This builds upon the existing ability to add tabs for SharePoint document libraries in Teams. More integration between Teams and SharePoint will be shared at Microsoft Ignite."

Other features coming to SharePoint include an improved search engine to find contacts quicker, the ability generates communication sites due out this summer, streamlined approval processes, and tweaks to the SharePoint admin center.
The laundry list of new and upcoming features is a rather impressive one and customers can find out more about today's announcements by either visiting the Office Blogs or taking a look at the SharePoint Virtual Summit page.