Microsoft's focus on "Cloud first, Mobile first" continues to pay off for the Redmond giant. In the quarterly earnings report for Fiscal Year 2017, the tech giant saw a major increase in revenue. Much of it was driven by Microsoft's success among cloud services.
The intelligent cloud revenue was reported to be increased by 8% compared to last year's earnings report. Investors have increased their interest in cloud services as compared to the more traditional enterprise services which are now slowing to a crawl.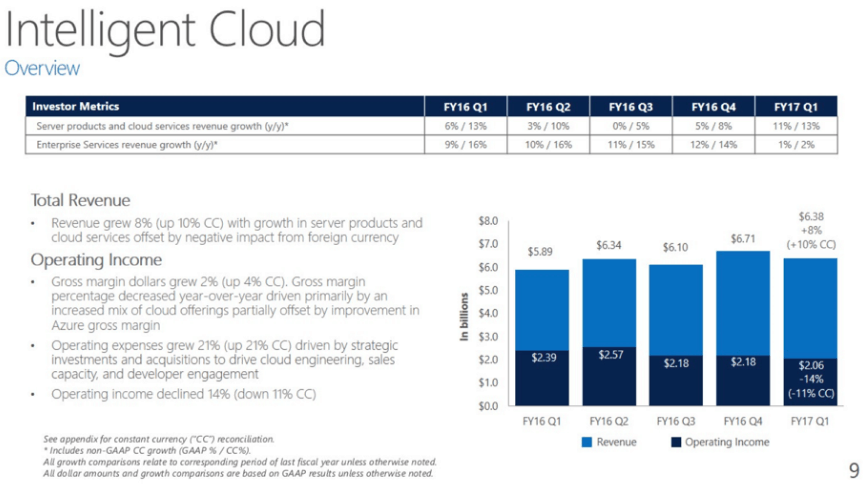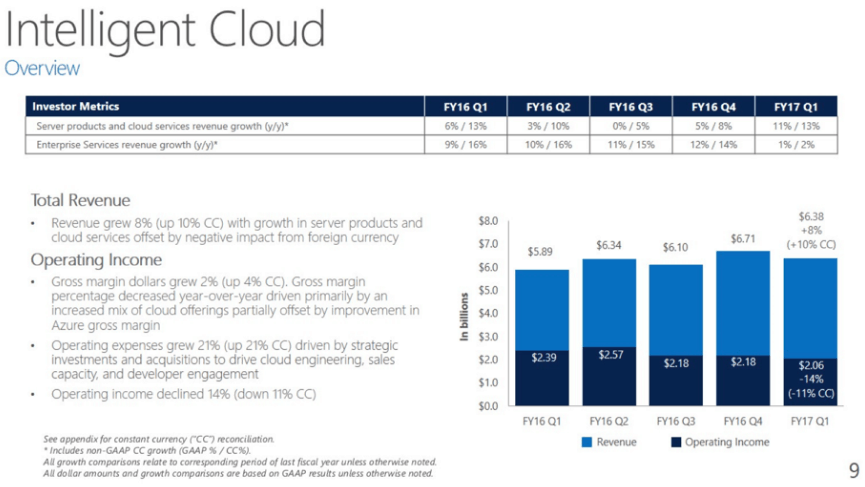 Executive vice president and chief financial officer for Microsoft confirmed the significant demand for cloud-based services.
"Our first quarter results showed continued demand for our cloud-based services. We continue to invest, position ourselves for long-term growth, and execute well across our businesses."
Other key points about the cloud's success included:
Server products and cloud services revenue was up 11 percent from a year ago.
Azure revenue was up 116 percent with compute usage more doubling.
Enterprise mobility customers topped 37,000 in the quarter.
On the productivity and business process front (think Office 365), Microsoft also fared well. To wit:
Office 365 consumer subscribers ended at 24 million.
Office 365 commercial seat growth was up 40 percent in the first quarter, which has decelerated sequentially each quarter for the last year.
Microsoft has bragged a lot about its cloud services, preaching security and accessibility and the numbers don't lie. It seems the company made good on its promise to provide the additional investor metrics and even met the $20 billion goal that they had set. Overall, the intelligent cloud continues to grow momentum as the company sets its sites to provide cloud services to more government agencies across the nation.